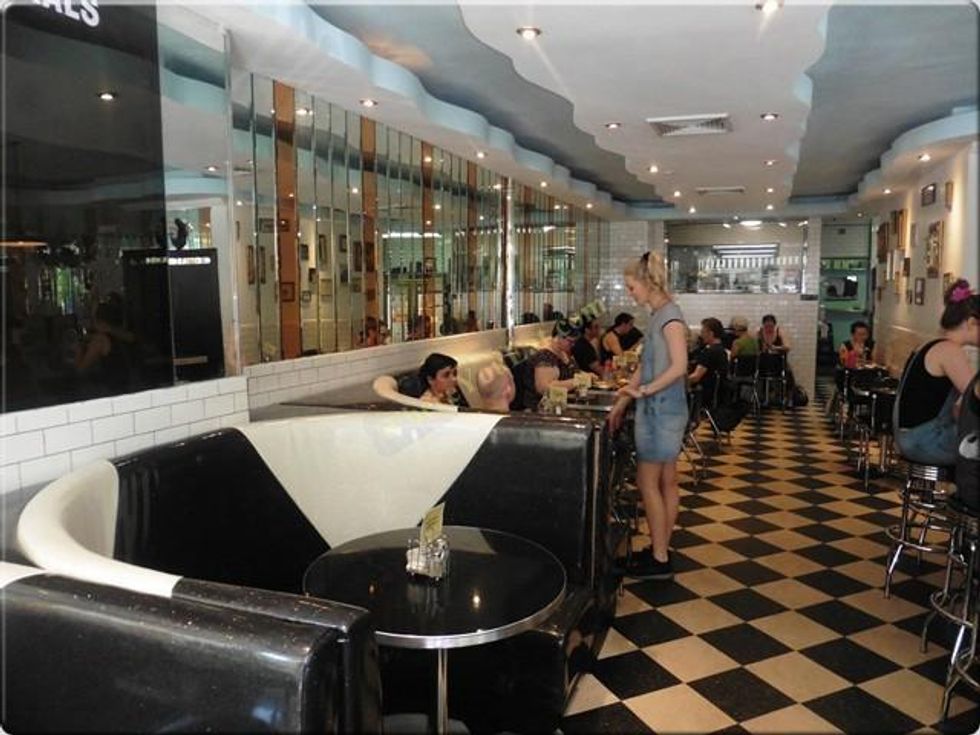 Meet Champs, the best Vegan diner in Brooklyn
This Williamsburg vegan diner is a neighborhood staple
If you live in Brooklyn, chances are you've heard of Champ's Diner. The cafe that's nestled onto a quaint block in the Williamsburg borough has quickly become a neighborhood staple amongst it's vegan residents - however, the food is just so outstanding that even non-vegans make it a stop on their way home. After opening it's doors five years ago, Champ's has been serving up all-vegan American comfort food with a laidback attitude.
The diner itself is styled like an old-school diner, with a bit of a dive bar atmosphere - spend five minutes in here and you'll find tracks from Fall Out Boy and Blink 182 in rotation. The vintage wall art and bathroom grafiti offered a home-y vibe, even if it can get a bit cramped. It is a bit on the smaller side, so be prepared to arrive with a bit of extra time to wait for a table, but boy is the wait worth it. Champ's offers hand-sifted pancakes, their infamous "drunken cowgirl", and cauliflower po boy amongst their most popular dishes. Their ingredients are fresh and always feel like they were just brought in that very same morning. The staff is always knowledgable about what they're serving and do so with a smile.
On my last visit to Champ's, I ordered the Seitan Asada Fries to start. It comes with sour cream, chives, cheese, and seitan (a meat substitute made out of gluten). As an appetizer dish on it's own, it was incredible bite by bite but the amount of flavor can quickly become overpowering. I also ordered the infamous Drunken Cowgirl - I had heard a lot about it from friends and needed to see what the hype was about. It's tofu scramble with avocado, chili, cheese, plus toast and home fries. It had a rich smokey flavor, and I can guarantee now that this is one of Champ's best dishes.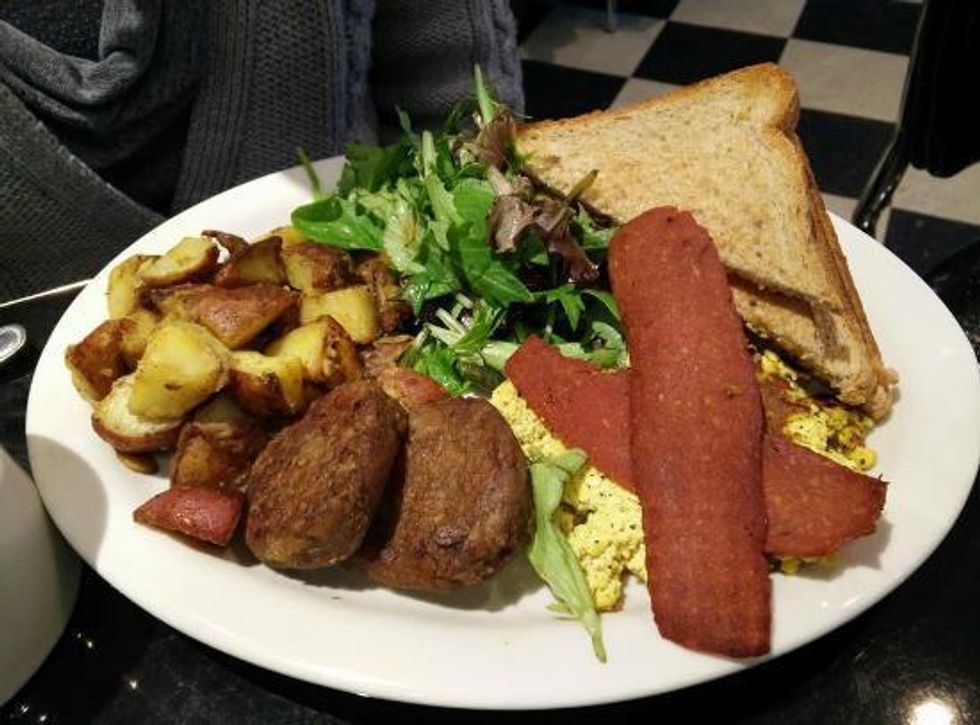 A vegan breakfast of champions served at Champ's Diner
As for it's price range, it's definitely not for the average student on a budget - I'd love to eat at Champ's every Sunday morning if I could, but I can imagine it becoming quite an expense. The milkshakes, even with their $9 price point, are some of the best in the city. The average plate ranges from $9 to $20, so it won't break your wallet.
In itself, Champ's is a unique diners experience because of the wild variety of it's menu at all times of the day - while still remaining completely 100% vegan. I would feel confident even bringing non-vegan friends here, because it's just that good. Champ's offers delicious comfort food and a fun mirror-paneled aesthetic for the average Sunday morning brunch. I highly recommend making a stop here, because you won't know what you're missing until you try it.
"I would eat here every single day if I could. Super delicious food that you'd never know was vegan, friendly staff, awesome music, great coffee. We had pancakes with sprinkles and coconut whipped cream, gluten-free avocado toast and hash browns, biscuits and gravy, chocolate chip pancakes, and the belgian waffle with fresh fruit," writes Katie A over at Yelp. "Holy moly, was it all amazing! Even my insanely picky non-vegan kids loved everything. One of my favorite meals during our spring break weekend in NYC for sure!"
Champ's Diner can be found at 197 Meserole St.