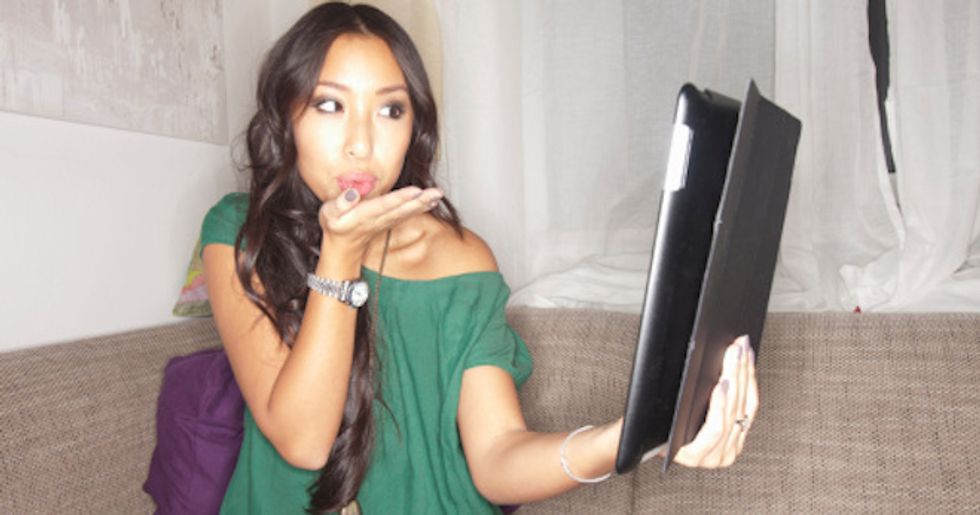 Best Overall Dating Site
So you're ready to put yourself out there, and that's a big step. Whether you're back on the dating scene after your ex cheated on you with a personal trainer, you're sick of horrendous set-ups by your well-meaning (but are they really?) friends, or all your bffs are paired up and that "third wheel" thing is getting a tad too wobbly, finding a partner online is easier, and more common now than it's ever been before. Since you'd likely desire to find your special someone sooner than later, we've done the dirty work and picked our choice for the best overall dating site.
Topdust's Pick: Match.com
Why Match? Match is, by far, the farthest-reaching mass market dating site out there, and they have helped create more relationships and more marriages than any other site. The dating site is one of the online matchmaking pioneers, having just celebrated its 20th anniversary (something you may toast to one day as well, provided you start your Match profile in the immediate future).
Match has paired millions of singles with its modern and user-friendly interface which can be accessed via computer or smartphone. Members get to personalize their profile with everything from their appearance, to their fave foods, to their smoking preferences, to their ideal mate's age, past marital status, proximity, sexual preference, and more. Once you fill out your info, Match will then send you your matches in case there's no free time to search on their own. Match.com leaves no guessing as to who may be right for you and with so many members, you could have a new date ready to meet you every day of the week (if that's what you're going for).
You can start poking around on the site for free, and once you are convinced Match has the right pool of potential dates and you'd like to contact someone, you can choose a subscription plan. All plans are around the $20 mark, but the best deal is their 6 month plan which comes with a guarantee you'll find someone within 6 months or the next 6 months is free!
UPDATE 10/05/15: The awesome team at Match is now offering a 3-day free trial, which gives you full access and member benefits. Follow this link to start connecting with singles in your area for free!
eHarmony
eHarmony takes a more scientific method to matchmaking, founded by a clinical psychologist with over 35 years of dealing with the woes of married couples destined for counseling. Over 600,000 married couples met on eHarmony since its inception in 2000, so all his time listening to what's wrong with couples helped formulate what could be right. There's an extensive questionnaire, so be ready to put some effort into what you are seeking with eHarmony's complex software and algorithms. The site matches singles with their best fitting mates and the magic goes from there. One month is $59.95, so let's hope they hit the nail on the head quickly, or else you may need to hit up a Sugar Daddy/Mama site instead.
BlackPeopleMeet.com
If you are a black man or woman or are seeking to date one, BlackPeopleMeet is a fine choice. The site sees about 1.2 million visitors per month making it the largest site for African Americans on the dating scene. A cool feature of BlackPeopleMeet is the ability to post audio and video to the member profile. The site is also quite affordable at $10/month for a 1 year plan. BlackPeopleMeet has been around since 2002, so they are evidently doing something right.
OurTime.com
Just when you thought the 50+ crowd was only looking for love at bingo night, the real senior winners are actually sipping a glass of Pinot Noir in front of their laptops searching for "mature" relationships with folks their own age. OurTime is one of the more popular sites for seniors with nearly 1.5 million visitors per month. Sign up is simple and membership is also affordable. There is even dating advice by experts offered to members who need a little boost in their game. Listen, you're not getting any younger, so why not make the most of the romantic years you've got left!
Singles, no matter what type of date or mate you are looking for, they are out there, and it's highly likely they're a member of a dating site. If you want the most variety and highest chance to meet your Mr. or Ms. Right, go with Match, if only for the sheer volume of unattached guys and gals looking to permanently share their Netflix account with someone special. With their hundreds of documented success stories shared on the site, you could be their next!
UPDATE 10/05/15: You can follow this link to the Match.com 3-day free trial, and start connecting with singles in your area for free!