Last year, many of us found ourselves suddenly working at home. Almost overnight our kitchens, living rooms, and bedrooms became our makeshift offices. We began to spend countless hours locked into our screens in a space that used to be for relaxing.
Coming home from work, our bedrooms always offered refuge. But since working from home, our bedrooms have taken a real beating from overuse. It's time to spruce up your sleep space and make it feel more like it used to.
Instead of a complete overhaul, though, upgrading three classic items can make a world of difference. Here's to a new rug, light fixture, and bed frame.
Here's what our editors recommend:
The Bed, by Thuma
The Bed, by Thuma is a neutral, natural walnut-colored platform frame. It's sleek, chic, minimal and comes with the innovative PillowBoard and cushion-coated slats. Plus, it's so easy to put together! Thanks to Thuma's Japanese Joinery—a timeless technique that removes tools and excess hardware—assembly takes no longer than 5 minutes.
Built to last a lifetime, The Bed is made from handcrafted, repurposed wood—no MDF (Medium-Density Fibreboard) or veneers. Plus, it's officially Greenguard Gold certified, which means it's been rigorously tested and meets some of the strictest chemical emissions standards. The Bed is better for the environment and your indoor air quality.
The slats are lined with eco-fi felt that's made with recycled purified plastic bottles. This super-supportive foundation has been strenuously tested for optimum mattress support, breathability, and sound reduction. So, say goodbye to those annoying creaks and squeaks.
The Bed ships for free and will arrive at your door in 1-5 business days. It's delivered in three eco-friendly boxes and is easy to navigate through tight spaces. With a lifetime warranty and a 100-night risk-free trial, you can be absolutely sure that The Bed's for you.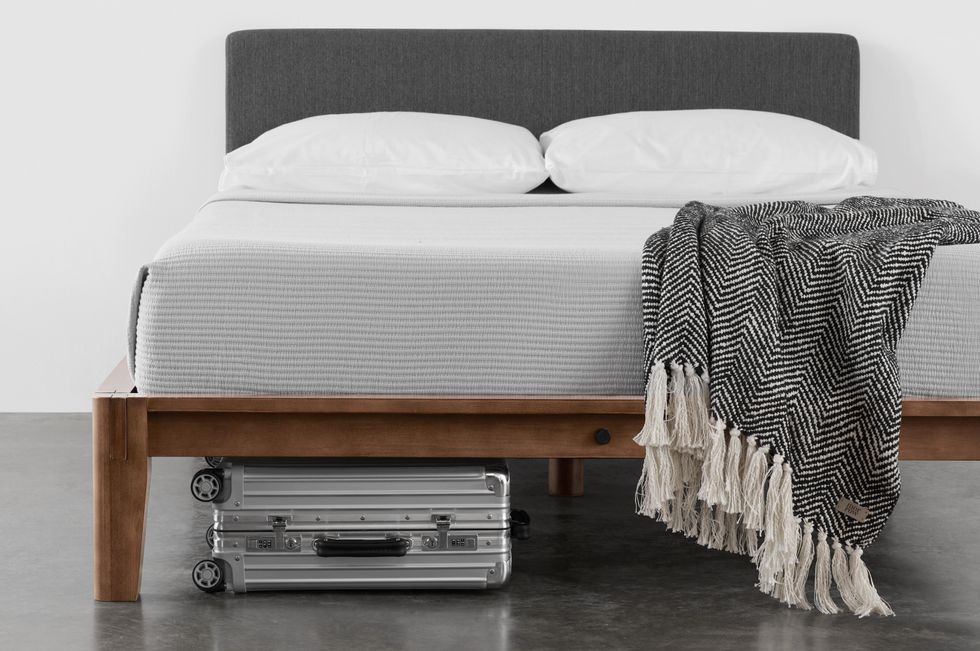 A Warm & Soothing Standing Lamp

A vintage standing lamp will serve as the perfect light for reading in bed. Art Deco designers like Walter von Nessen—inventor of the swing-arm lamp—and industrial-design visionaries of the period crafted a style emblematic of the Machine Age.
Lamps and other home accessories were assembled from spun aluminum that evokes the polished gleam of streamlined automobiles and airplanes.
As for Mid-Century Modern, the era's geometric aesthetic first appeared in post-war Europe and America. Try a famous Bubble Lamp from designer George Nelson for a warm, soothing glow. The clean lines and organic curves of lamps from this time blend exquisitely with The Bed's eye-pleasing neutral look.
A bold, colorful rug
Moving from the city to the country, a boldly-colored area rug from one of Morocco's ancient souks or a simple Amish rag rug will provide a daring contrast to the elegant modernity of your Deco or Mid-Century Modern lamp.
These three basic pieces will ground any bedroom, and offer solace as we reemerge from that seemingly endless hibernation. It's time to celebrate with that jazzy new area rug and cast some golden light on your fantastic new bed.
However, you choose to brighten up your bedroom, start with the most important element—the bed. And, for design that will feel fresh for years to come, be sure to make it The Bed, by Thuma.