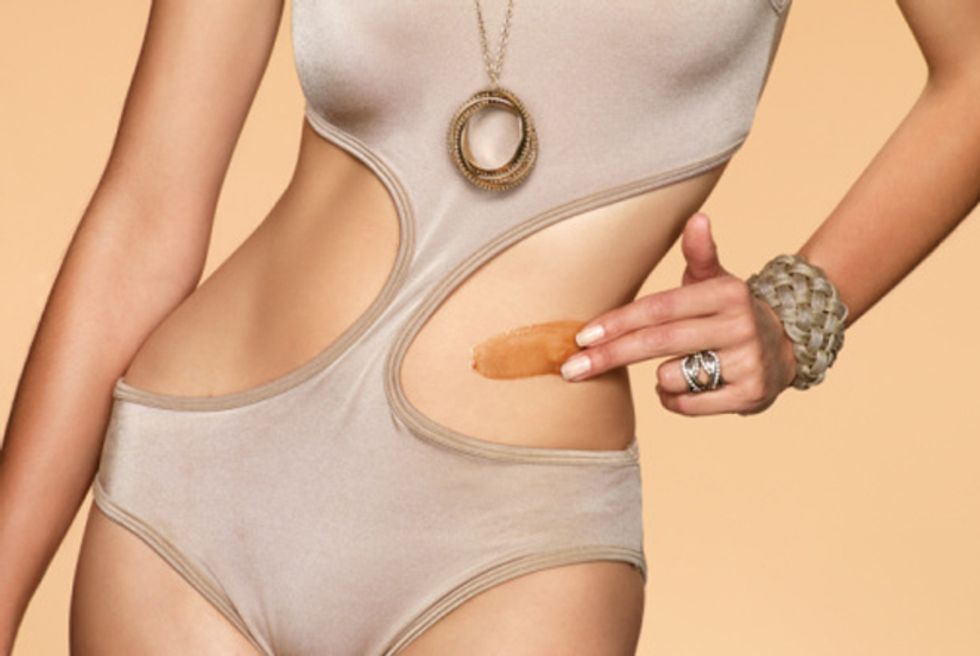 Best Self-Tanner Under $25
We all know it's no good to fry ourselves like well-oiled rotisserie chickens under the blazing sun, but many of us desire a healthy-looking golden glow, especially in the summertime. With all those limbs exposed, pasty pale is so NOT the new black. So, how to get that sun-kissed color without the UV damage? Self-tanning of course! Gone are the days of Oompa Loompa tans from those putrid smelling self-tanners of decades ago. Today's self-tanners are much more natural and there are dozens to choose from. Therein lies the new self-tanner dilemma – which one should you use? Well, provided you don't want to spend all your hard-earned money on redefining the complexion yo momma gave ya, we've tested some of the most popular self-tanners under $20. Our overall favorite is Jergens Natural Glow Daily Moisturizer! Here's why Jergens came in first, plus some other well-deserved skin-changing standouts.
Why do we love Jergens? First of all, the price is right – most places sell it for under $12.00 for a 10oz tube. The nicest thing about Jergens Natural Glow Daily Moisturizer is the fact that it works, well, naturally! The tan doesn't show up in full force right away; it develops over about a week as you apply each day to give you a naturally progressing glow. It comes in 2 formulas, one for fair to medium skin and another for medium to tan, so you can choose the tone that's best suited for your natural skin tone. Other perks? Jergens Natural Glow Daily Moisturizer is also a moisturizer (in case you didn't catch that in the name), so as you self-tan, you are also getting supple, soft skin – something the scalding sun surely won't provide. Additionally, the formula contains a botanical blend of healthy antioxidants. Application is streak-free and the smell is as good as any moisturizer you'd use. So, get glowing with Jergens and everyone will think you've just spent a week at the beach when you've really been depleted of vitamin D in your cubicle.
Another option we tried was Australian Gold Faces Sunscreen with Instant Bronzer Plus Gradual Self Tanner, with a 3oz tube coming in for just under $10.00. By the looks of Nicole Kidman, one would not think Australia is the hotbed of tanning, but apparently, we don't know too many folks from Down Under. Pale jokes aside, Australian Gold Faces Sunscreen with Instant Bronzer Plus Gradual Self Tanner has some notable perks. For starters, it's a self-tanner, bronzer, and sunscreen (45 SPF) all in one. Now, the sunscreen part should appeal to just about everyone, but not everyone cares for an instant bronze. Like Jergens, this one's a moisturizer as well, with no sticky feel and a pleasant aroma. It's water resistant too, so you can apply and take a dip right away. Australian Gold Faces Sunscreen with Instant Bronzer Plus Gradual Self Tanner is a definite nice option, but despite its name, Jergens won the gold over Australian Gold.
Want to be organic and natural? Then you should go for Beauty by Earth which costs $24.99 for a 7.5 oz bottle. If you have sensitive skin, are pale as ever and wish you had instant true tanned color skin, this is for you. Beauty by Earth contains natural aloe vera, shea butter, coconut oil, jojoba oil, argan oil, green tea and witch hazel work to moisturize your skin and give it a soft texture. Get a sun tan without damaging your skin or chemicals.
Last up are Tan Towels Tan To-Go Self-Tan Towelettes Plus (say THAT 3 times fast). These towelettes cost about $24.00 per box which includes 2 full body towelettes and 2 half-body ones. All the tanning product you need is soaked into each towelette, which is less messy than a spray and helps control the amount you use. Along with that perk, other positives include a delightful citrus scent, exfoliators in each towelette, and no sulfates or gluten in the product. The self-tanner dries in seconds and in about 3 hours your skin will look bronzed. On the negative side, this product isn't ideal for super-fair skin and is recommended for medium to dark skin tones. Mirror, mirror on the wall. Don't the fairest of us need a tan most of all?
So there you have it. For price, perks, skin smoothing, and natural looking self-tanning, Jergens Natural Glow Daily Moisturizer is our #1 for fun in the (no) sun. Grab a tube today and say hello to a new hue for you!