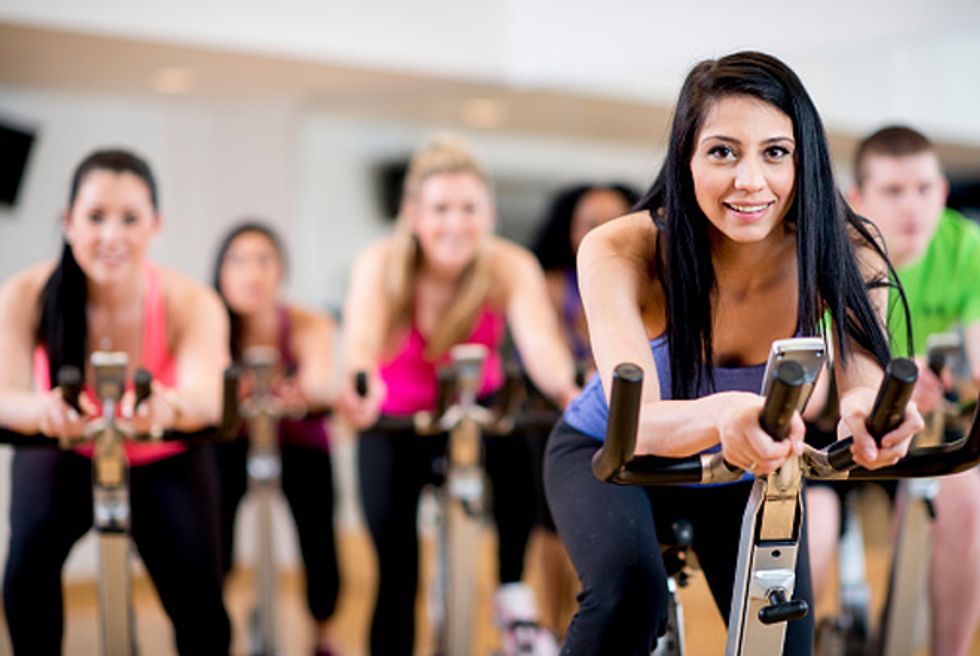 The Wheel Deal: Why This is the Best Exercise Bike
Just like the upbeat lyrics from the rock band Queen, "I want to ride my bicycle, I want to ride my bike. I want to ride my bicycle, I want to ride it where I like," you too can ride your bicycle where you like with an at-home stationary bike (we are taking the liberty to assume 'home' is where you'd like to ride your bike). Why head to a smelly, crowded gym or heaven forbid step outdoors when you can get your workout on in the comfort and privacy of your own abode? We've compared two high-end in-home bikes to help you choose the one best suited for your wants and needs. Now, these two are not some rickety, crappy, last-for-three-months kinda bikes. We want you to own quality equipment that will last and give you remarkable perks that will have you excited to cycle day after day. Of the two we compared, Peloton got our pedals pumping the most. See why and learn about another choice that's the wheel deal too.
The Peloton is the bike you could have only dreamed of as you were pedaling through your neighborhood as a child. Back then, a decorative basket or ribbons on your spokes made you so much cooler than the kid with a silly horn and training wheels. If you only knew what cool really could be. Enter the Peloton. With this bike of the future, you can tune into live, high-energy cycling classes taught by top-notch instructors in NYC right on the huge 21.5" HD multitouch screen attached right to the bicycle! You'll get fully pumped up by the energy of a cycling class right from your living room. You can even interact with pals also using the Peloton with a high-tech camera and microphone, sync up your heart rate monitor, and use wireless headphones with Bluetooth and ANT+ technology. As for the bike itself, it's sleekly sized at 46" x 23", has a butt-friendly, super-comfy contoured seat, and carbon steel and aluminum construction. With its magnetic resistance, there's no need for brake pads, eliminating wear and tear. Plus, you'll never need to oil or grease thanks to the specialized belt drive. Clip-in pedals keep your feet and ankles perfectly aligned and you'll enjoy the special shoes sold by Peloton designed specifically for the bike. All this for a reasonable price of $1,995 + a $39/month subscription fee (you can finance with easy monthly payments) and just $250 for optional in-home delivery and full setup, you cannot beat this awesome piece of exercise equipment. If this doesn't propel you to get your rear off the couch immediately, nothing will!
Now, if you are not into the spunk of a live cycling class, you may want to select the ProForm TDF Pro 4.0, the official training bike of Le Tour de France for 2015. Instead of a live cycling class, you will enjoy professional cycling workouts via Google Maps routes, 24 pre-mapped courses (or create your own), and instant stat tracking from the built-in iFit technology on the ProForm's 7" touchscreen console. You can track your training with precision readouts. The bike is smooth and quiet like the Peloton, also has magnetic resistance and a comfort seat. The bike has 20% incline and decline capabilities and adjusts depending on the landscape of the route you select. This bike is a bit more cumbersome at 64" x 25", with a commercial grade steel frame. No special shoes are required and the pedals feature toe cages and straps. The bike is usually $2,999 but appears to be on sale at this time for $1,649. You must also pay an annual membership fee, but there are no shipping or interest fees.
While the ProForm certainly has its (Arm)strong suits, the Peloton is sleek, interactive, well-sized, and so high-tech that it's got the ProForm beat in our book. What can we say? We like this bike!