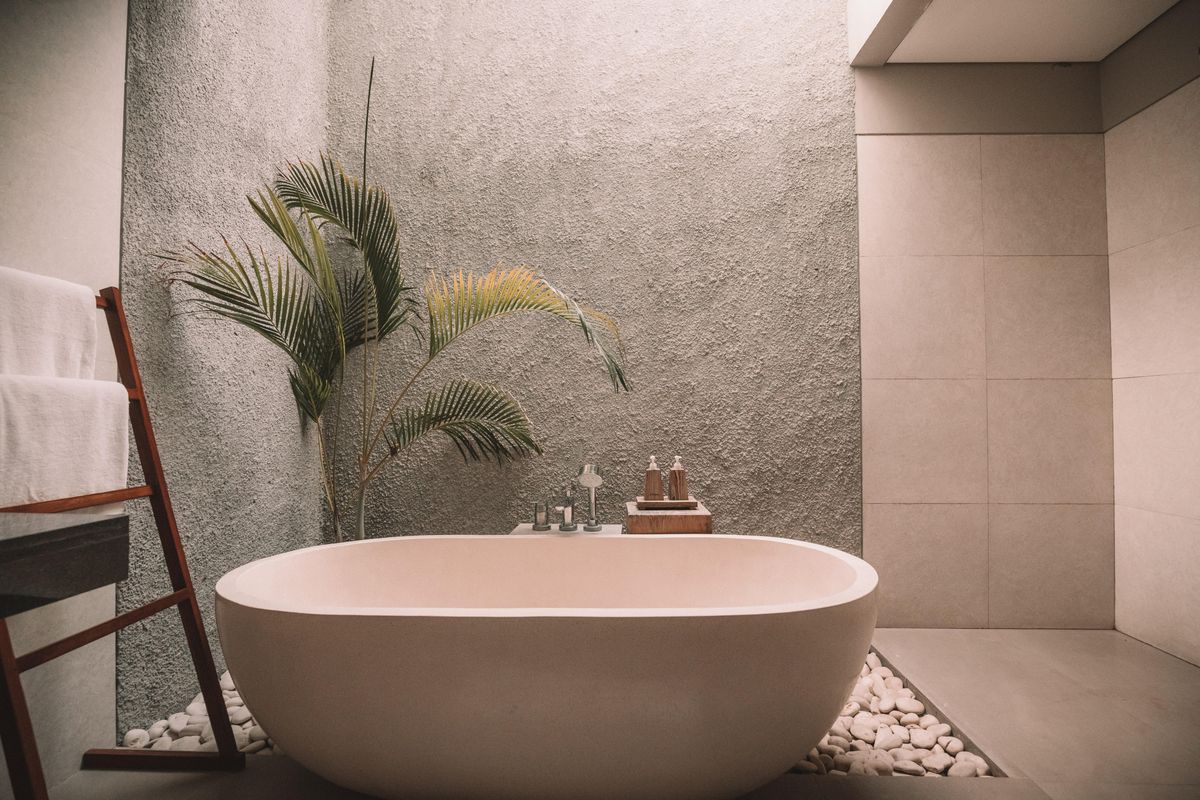 How to Craft a Nighttime Routine
Look forward to daylight savings' long nights by crafting a nighttime routine that will improve your sleep hygiene and help you unwind.
Daylight Savings just hit, and I'm doing everything that I can not to succumb to Seasonal Depression. This is a difficult feat. The sun sets at 4pm now, which makes me want to curl up into a ball until the spring. My motivation is zapped. My social battery's on empty. And my bed looks especially inviting…
---
But this year, I'm determined that the fall/winter season will actually be fun. I'm making plans with my friends, booking out the rest of the year, and getting us through the winter. I'm doing a home decor revamp — you've heard of dopamine dressing, so get ready for dopamine living. And I even bought one of those happy lamps.
But while I'm sure that enlivening my social life and my living space will provide instant hits of serotonin, I'm also implementing systems that will keep me grounded this season. Instead of chasing dopamine hits and short bursts of excitement, I want to create routines that keep me fulfilled and — yes, you guessed it — happy.
According to Dr. Brad Brenner, Ph.D. in NYCTherapy.com, "by establishing a daily routine, we can set aside time to take care of tasks and focus on our mental and physical health."
"Routines are essential at every stage of life—from childhood and adolescence to adulthood," he says. "They help us cope with change, create healthy habits, improve interpersonal relationships, and reduce stress. Studies have shown that daily routines have far-reaching mental health benefits."
So, I'm crafting a nighttime routine. But this is not an attempt to recreate the "That Girl" TikTok habits that prioritize aesthetics and performativity over actual self-care. If you've seen those "reset routine" videos, you know what I mean. Building an evening ritual isn't merely lighting a candle — though I am partial to cozy fall candles, too.
@alexisbarber_

💤 bedtime routine in the new spot #lavlogs #nightinmylife #laapartment #apartmentvlogs #bedtimeroutine
Establishing a fall nighttime routine is about centering yourself. That means paying attention to how it feels rather than how it looks. As the days grow longer and colder, you cozy up indoors. I know I'm already losing all motivation to go on my Hot Girl Walks. It's a slippery slope to spending too much time in your head and not enough time getting back to your body.
Yes, I try to get in some at-home workouts. And every few weeks, I question myself, "should I get a Peloton?" But realistically, I'm far less active in the fall and winter. I know myself — and I'd rather set a routine that's actually achievable. So my nighttime routine helps me get back into my body without making me scold myself about skipping a workout.
And so my nighttime routine is a collection of sensory experiences that ground me, relax my mind, and prepare my body for sleep. It's like a grown-up version of being tucked in at night. Except I'm putting myself to bed — and this time, there's retinol involved.
If you have kids, this routine can give you space to focus on yourself right before bed. You deserve to show the same compassion to yourself as you do your little ones. So, once you send them off to sleep, send yourself off on your own bedtime rituals.
My routine honestly makes me excited for these endless, long-suffering nights. Instead of dreading the impending darkness, I look forward to winding down using my elaborate routines.
Here are the steps I take every night to support my happiness and health this winter:
All products featured are independently selected by our editors. Things you buy through our links may earn us a commission.
Take the closing shift
I've started referring to my nightly tidying as "the closing shift." It's like working in a restaurant or retail and you have to clean up, put everything away, and prepare for the next day. That's what I call my silly little tasks. I wash the dishes. Clear the clutter. Move my clothes from "The Chair," and so on.
Even if you're living with roommates or a partner and splitting responsibilities, make sure your own space is clear before you turn in for the night. I make it easy for myself by keeping designated storage containers. I store blankets in the living room, notebooks in my office area, and random items I keep by my bedside. My favorite storage bins — from HAY — are a minimalist milk crate style, making for a stylish decor piece that also keeps tidying quick.
Take a bath
Morning showers are energizing and invigorating, but nighttime baths are the epitome of luxury. Treat yourself to a quick dip or a long, luxurious soak — depending on the night. I add Reed + Gwen bath salts to every tub to supercharge my rest and relaxation.
If you can't take a bath, upgrade your shower experience with these
ParrotFish shower steamers
. They're like bath bombs, but for your shower. Choose from a variety of scents for a customized aromatherapeutic experience.
Do a body care routine
Body care is the new skincare. Slather your body in rich oils, comforting scents, and hydrating body butters. Nothing can beat the Bawdy CBD Oil for the ultimate relaxing, all-over-scent. Then, follow up with the nourishing Amber & Vanilla shea butter from Hanahana Beauty to lock in moisture and make skin soft and smooth.
Wrap into a robe
Snuggle up in the coziest materials you can find. The best robes swaddle you in comfy fabrics like terrycloth, cotton, and towel-like blends while you go about the rest of your routine. You might know Brooklinen for their sheets, but their bathrobes are just as fundamental for your nighttime routine.
Try hair oiling
Prep your hair overnight with hair oils. This latest trend is a way to nourish your hair, repair your damaged locks, and strengthen your strands with a natural oil blend. Try Ranavat's Hair Serum and the Nuele Hair Mask.
Put on the Diffuser
You can make your home smell good without burning through expensive candles. My Plant Therapy Diffuser fills my home with essential oils rather than harmful smoke. It's one of the best purchases I've ever made. Turn it on before bed to reap the benefits of your favorite essential oil blend.