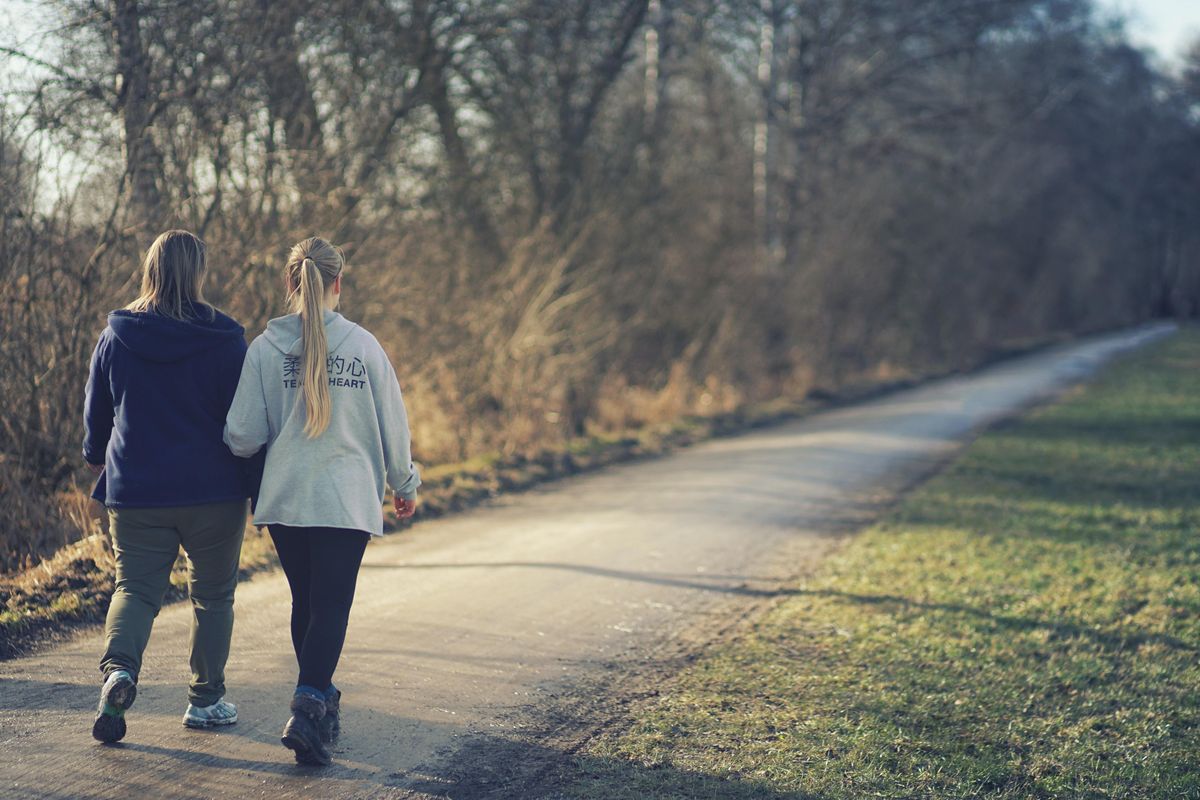 Nothing Is Hotter Than A Woman Getting Her Steps in — How To Make The Most Of A Hot Girl Walk
To get through the pandemic, we had to celebrate the little things. We had to get overly excited about things that we normally would dread doing, like exercising or leaving the house more than once a day. Cooking became a delight. So did long phone calls over texts.
---
For a while, we had nothing but time on our hands. Locked up in the house all day, who didn't slowly lose their grip on sanity? Enter the Hot Girl Walk.
There wasn't much to do besides walk around. Sure, you could do an at-home workout and bake until you fill your sink with dishes…but eventually, you run out of ideas. Looking at some sort of screen all day is incredibly toxic to your brain and mental health, so you took to living like our Pilgrim ancestors: roaming around outdoors for no reason.
Luckily enough, TikTok probably convinced you that Hot Girl Walks can be glamorous and trendy…and they are! Getting fresh air without straining yourself as you amble about your neighborhood is the new afternoon nap. Nothing is hotter than a woman getting her steps
My entire day is spent staring at a screen, either typing away at these articles or scouring the internet for more ideas. I could not be more attached to a screen than I already am. Don't ask me about my screentime. But at a point, I have to rip my phone away from my face and go outside. A Hot Girl Walk gives me the freedom to clear my head and not consume a mass amount of information for an hour or so.
Because the Hot Girl Walk isn't a chore or a task to be handled. It's a blissful break in the day. It's calculated and well-planned out, but an overall low-stress event. You have a coordinating workout set laid out, you have your playlist or podcast loaded, your over-ear headphones are fully charged, and you know your route.
HGWs either give you some much needed alone time or let you leisurely stroll and gossip with your friends. It's a way to debrief and catch up, or a way to be completely alone with your thoughts and a pod.
For those of you who are ready to jump on the Hot Girl Walk train…here's how to get the most out of your miles:
Pre-Download Your Podcasts
There is literally nothing worse than walking in an area with no reception and losing your music or podcast ep for a few minutes. I hate walking in silence, so to avoid this I'll download my preferred playlist while on WiFi.
Whether you're an Apple Music or Spotify user - I won't judge - making a playlist that is around the length you want your walks to be can help you gauge time. Podcasts are anywhere from an hour to two hours, which can keep you from having to find enough songs to walk to.
Buy Cute Workout Sets 
Nothing makes me want to work out more than having a new cute outfit. Workout sets like the Free People Movement collection became just as popular as Hot Girl Walks during the pandemic, and there's no better time to buy one than now. It motivates you to get moving and show off your fit.
Even an oversized crewneck and fit and flare yoga pants with your favorite New Balances can make you want to strut your stuff on your HGW. The world is your runway on a Hot Girl Walk.
Plan A Different Route 
I just moved, so I use my Hot Girl Walking time to explore the area and see the sights. I check my maps and plan a route that is a little over an hour. Eventually, once I'm satisfied with exploration, I will stick to a regular route that I prefer. However, switching it up can keep you from getting bored.
Walk along the water or on a path, or use your walking time to walk and do your errands. It doesn't have to be a
solely
walking trip, use the time wisely to get other things done while you're at it.
Get Stuff Done 
Like I said, a Hot Girl Walk is what you make of it. If you work, finding spare time can feel extremely difficult. I mean, who has time for a leisure walk nowadays?
By incorporating errands, you can feel productive about your exercise. You aren't wasting time. However, it's always good to be kind to yourself and just give yourself an hour of peace.
Personal time is extremely important, especially in a world surrounded by negativity. Taking an hour out of your day, or even 30 minutes, can make a huge impact on your mental health.
Hot Girl Walks are best paired with chunky sneakers and your fave pair of headphones. Enjoy!

All products featured are independently selected by our editors. Things you buy through our links may earn us a commission