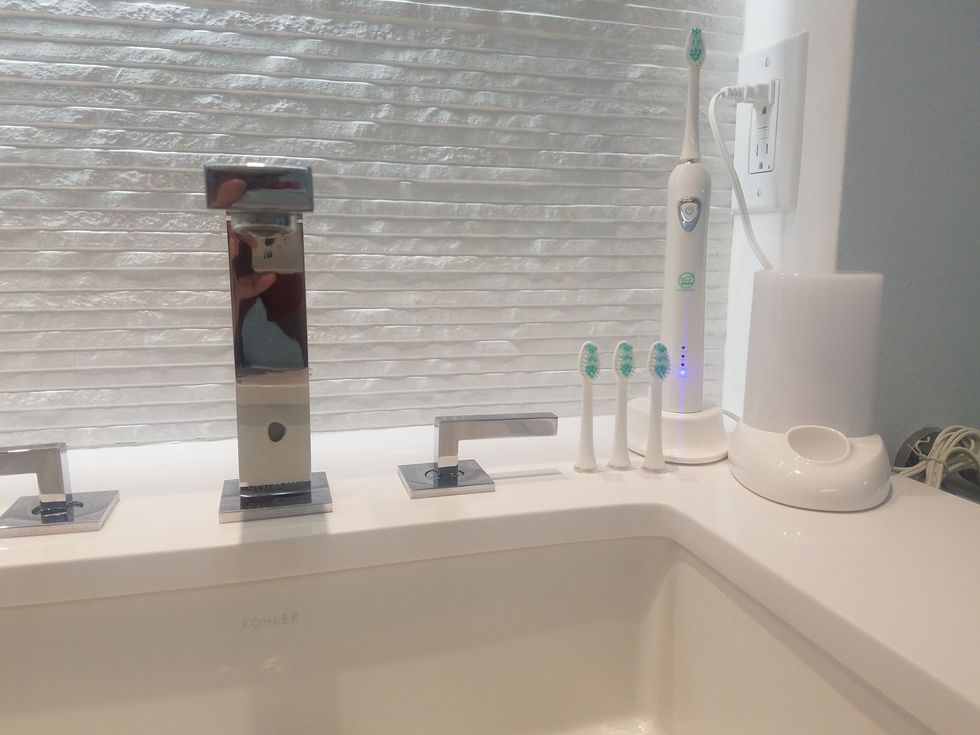 The little toothbrush that could
I put several electronic toothbrushes to the test -- the results are in.
Now I look forward to brushing my teeth...
Formerly a mundane chore motivated by the want for clean teeth and a fresh breath, brushing my teeth has turned into a lot of fun recently as I began my quest for finding the best electronic toothbrush. Tired of running to Duane Reade for another $2 toothbrush that quickly frayed and aged, I decided to invest in a quality toothbrush. Some of my apprehension with getting a "fancy" toothbrush prior was the presumably higher price point, the bulky designs, and it just seemed ultimately unnecessary. Finally, I decided to give it a show and here's how the toothbrushes competed.
Oral B | Most Basic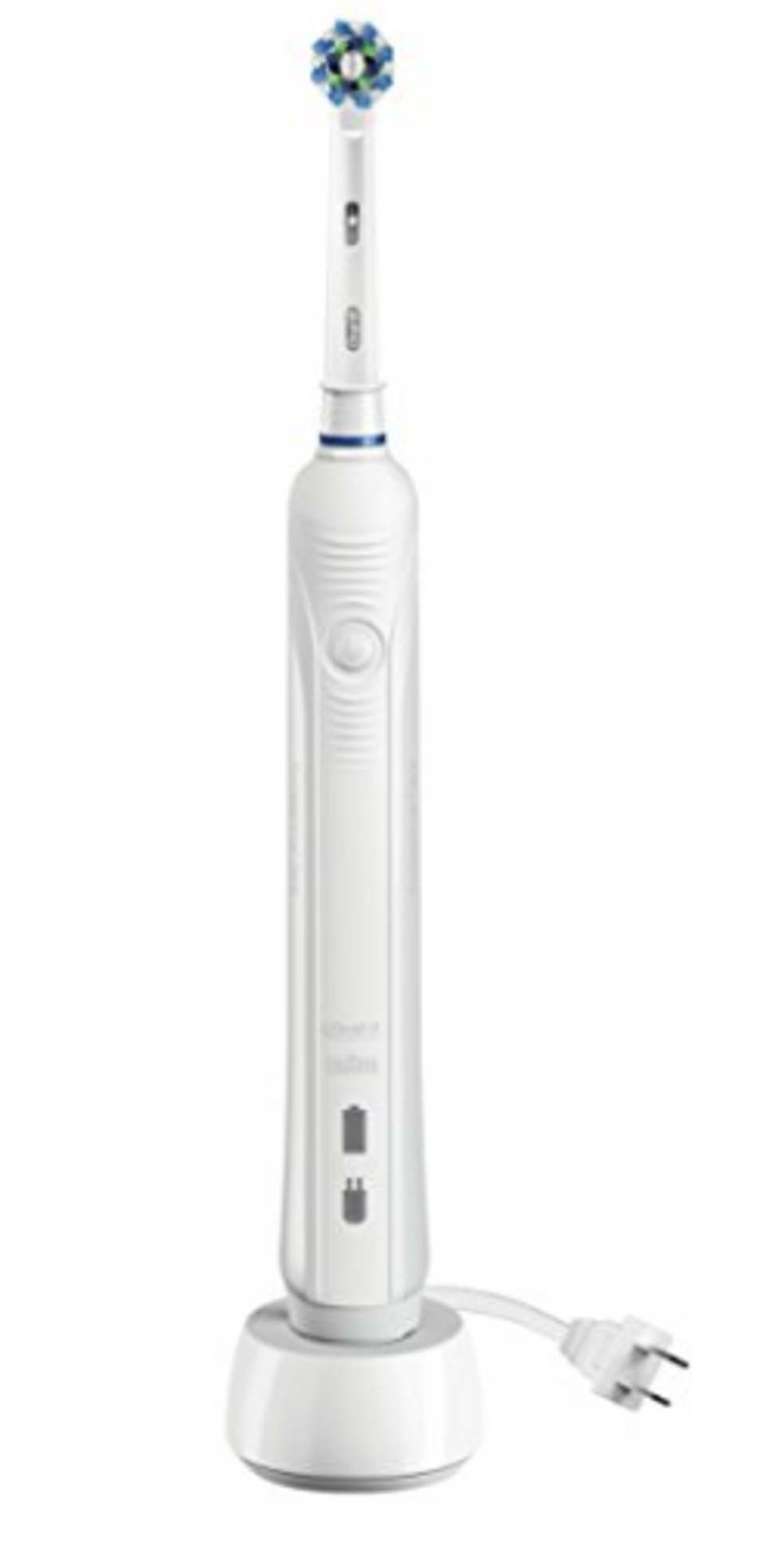 Oral B is the plain jane of the toothbrushes I tried. Your quintessential electronic toothbrush, it did a good job but I found it was a little more abrasive than I hoped. I didn't love the round head because it felt like I was at the dentist; however, if that's something you are looking for, perhaps its a good option. There are various settings and the toothbrush comes with a stand that it can charge on. It's battery lasts for three weeks before you have to charge it again making it a good contender if you travel a lot. Overall, I liked it, but I thought we could do better.

Cost: $49.97
Annual cost (replacing the head once a month): $96
Annual cost (replacing the head once every three months): $32
Vibration: 7,600
Goby | Easy to travel with

Dexigner
When I tried Goby's product, I was pleasantly surprised with how well it is designed. When I opened the box, I was shocked at how big it was and thought I'd immediately dislike it; however, the charging system is a USB which makes it super travel friendly and it even comes with a nice head cover. Unfortunately, I felt that the highest setting was a little to abrasive for my liking, while the next setting was a little too mild. I would have liked something in between. As someone who is used to using manual toothbrushes, this product felt a little intense for my liking but it might be someone else's cup of tea.
Cost: $50, + $6/head
Annual cost (replacing the head once a month): $72
Annual cost (replacing the head once every three months): $24
Vibration: unknown
Quip | Most Attractive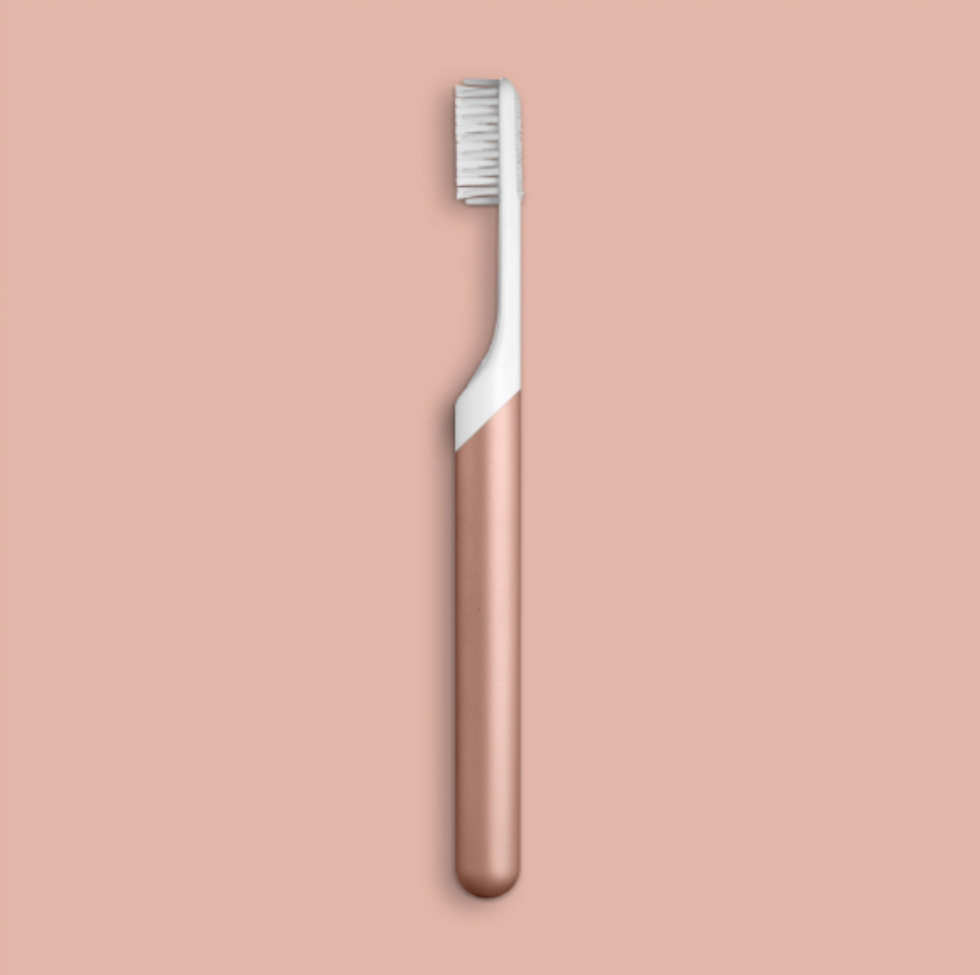 BuzzFeed
As someone who is attracted to all things sleek, minimalistic, and rose gold, I was immediately drawn to the Quip model like a moth to a flame. In my mind, when I saw it, there were no competitors. That situation changed; however, when I tried it. Though as a normal toothbrush user, it was the closest in proximity to what I was used to with a thick, rectangular head and a pretty relaxed vibration, I knew that in terms of hygiene the other models were probably doing a better job. Nevertheless, I really like this model because it wasn't too intense, because it easily hung from my mirror, and because it was sleek and easily transportable. It almost looked like part of my bathroom design.

Cost: $45, $5/head
Annual cost (replacing the head once a month): $60
Annual cost (replacing the head once every three months): $20
Vibration: 15,000
Buck Brush Co. | Best All Around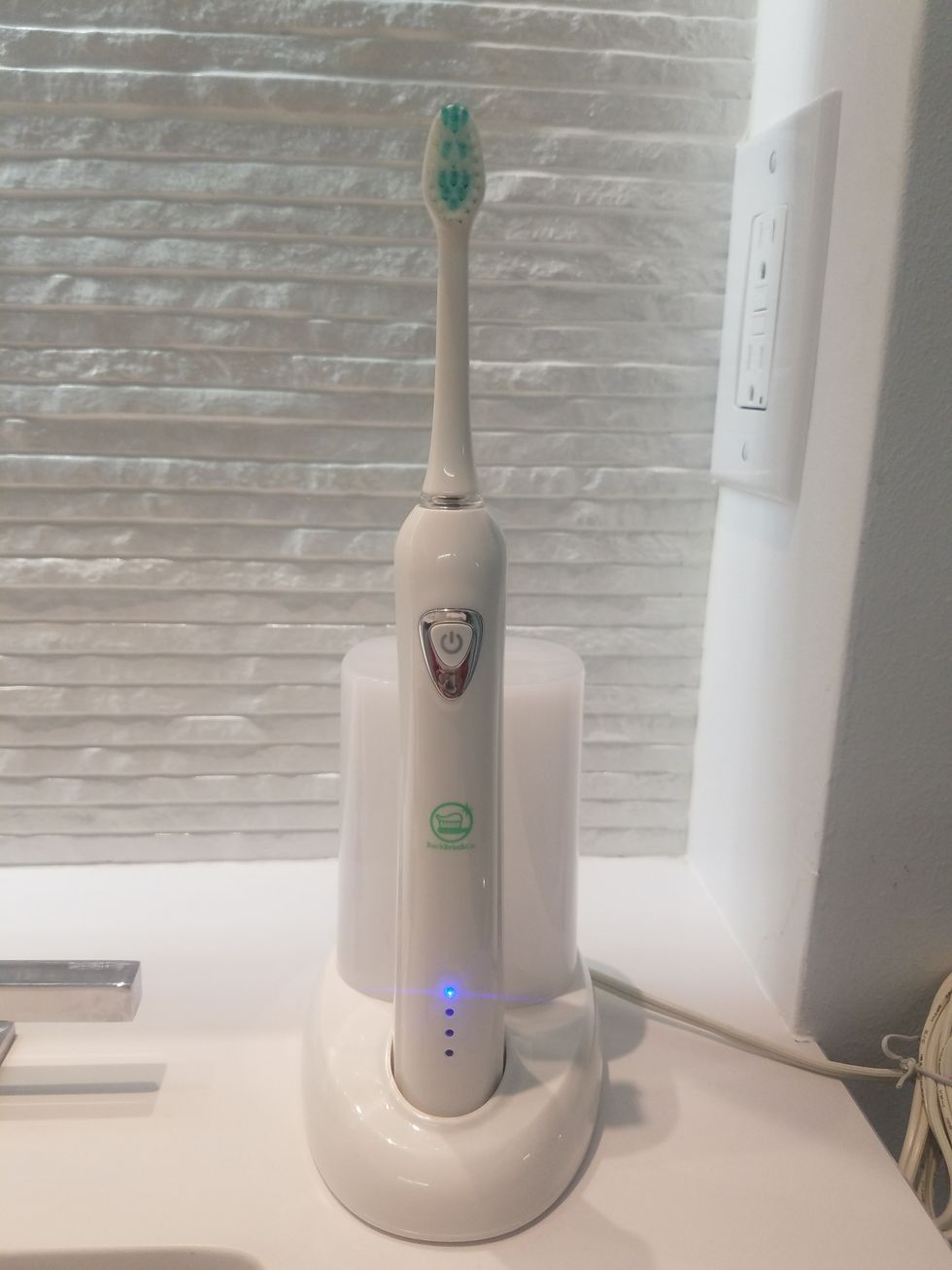 Buck Brush Co.
Because of Buck Brush Co's simple design it wasn't the first contender to catch my eye, but my affection for the product grew exponentially as soon as I gave it a try. Buck Brush seemed to be the happy medium between all of my issues with the other brands. The settings on the toothbrush were the most customizable with an effective but gentle vibration and a pulsing option which was my personal favorite. The shape of the head was easily my favorite. Unlike Goby and Oral B, Buck Brush was more traditionally shaped, but not quite as wide and basic as the Quip design. The Buck Brush Co. model comes with the first four toothbrush heads, so you only have to worry about replacing it quarterly which should only run you $4 every four months.

With this cost structure, Buck Brush Co. has made it affordable to practice the most excellent dental hygiene possible. Think about all of the things you spray in the bathroom: hairspray, perfume, cologne or the fact that toothbrushes are often in the splash zone near the sink. With all of the bacteria and products being spread across the bathroom it's shocking that I ever used a toothbrush for longer than one month. With this model, I feel confident that I can practice better dental care and even better, I don't have to think about it. Initially, I wasn't on board with monthly subscriptions, but I've seen how easy it is with Hubble, the monthly contact lense service and that in hand with how amazing Buck Bush Co.'s product is has encouraged me to subscribe to Buck Brush.
Cost: $35, + $1/head
Annual cost (replacing the head once a month): $12
Annual cost (replacing the head once every three months): n/a
Vibration: 48,000
The verdict? Buck Brush Co. is our pick for best electronic toothbrush.
---
Read more...
Why you need Felix Gray glasses for digital eye strain
MILK's Dab + Blend Applicator is the product beauty gurus can't stop raving about
Bring out your inner '90s baby with these five liquid lipsticks