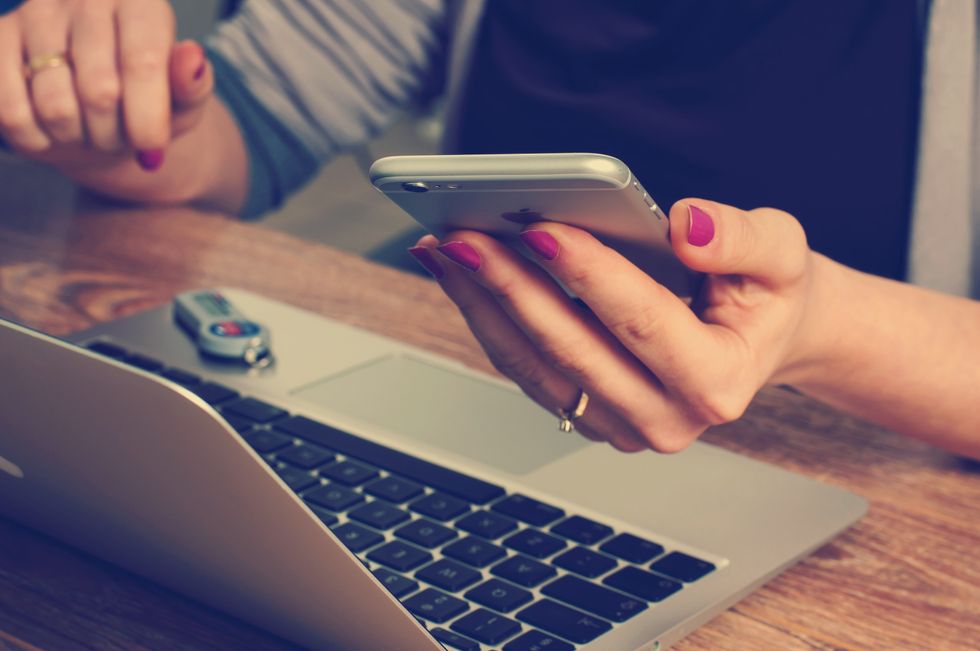 Five apps that help you keep track of your spending habits
"New year, new you" starts at managing your finances
Now that we're well into the new year, are you keeping up with your resolutions? Maybe your gym membership card is looking a little lonely on your key chain, but one resolution you shouldn't throw away is saving more money. Managing your finances can be tough — there's so many stray subscriptions and credit card bills to keep track of that something is bound to fall through the cracks. And who can resist the convenience of a hot coffee purchase in these frigid mornings.
Luckily, we're in the 21st century now — and there's an app for everything. So if you're having a bit of trouble saving up your coins, here are five apps that'll help you keep track of your finances for the new year.
1. Simple
This app asked itself, "Why is banking so difficult nowadays?" And the answer, quite bluntly, was "Simple." This banking method remodels your whole idea of managing money with a new innovative interface and features to help you save up for a big purchase.

A huge perk for me was the "Goals" tool — you can take money out at whatever rate you want to save up for bills or other purchases. Since I'm making a huge trip to Europe soon, I've made a separate category for each trip budget and put in about 50 dollars each time I receive a paycheck.
Another useful tool is the "Safe-to-Spend" feature — create and maintain budgets for yourself from coffee run allotments to girl's night expenses. And the best thing is, Simple has no branches, no fees and is FDIC-insured to provide you with the modern banking we truly deserve.
2. Digit
@hellodigit is already one of our fave money-saving apps, and now they've upped their savings interest rate!… https://t.co/fyUPTzEK2T

— Stash Wealth (@Stash Wealth) 1510153344.0
Digit promotes a "smart" aspect of banking — think the Internet of Things, except with your bank account. The mobile app calculates the exact amount of money you should save everyday based on your income and spending habits — and automatically sets it aside for you.
To use Digit, you'll have to connect your bank account so that it can work its "smart" magic. After Digit calculates your saving plan, it'll transfer money from your checking account into your Digit account — don't worry, there's a no-overdraft guarantee. And when you need the money, simply send Digit a text to have your money transferred back.
Digit is FDIC-insured, protected by 128-bit bank-level encryption and you can make as many transfers as you like without fees. However, it is $2.99 a month after the initial sign-up and 100 days free.
3. LearnVest
LearnVest is another finance tracking app that borders on the pricier side — however, if you have the moolah to spend, it's got some pretty cool features. In addition to a completely customized financial plan, you'll also have a REAL person to talk to 24/7 about any questions or advice.

Financial planners are all certified and go through an extensive training process so that you're ensured quality service. They'll provide you a foundation to start your savings along with other layers of any personal goals you may have — finding a balance and giving useful advice is their forte.
4. YNAB
A cheaper alternative to LearnVest is YNAB — shortened from You Need A Budget, which is kind of a mouthful to be honest. Connect your bank accounts with YNAB and make categories for all your monthly or weekly expenses — after that, you can customize yourself how much to put into every obligation.

For the bigger, less often expense, YNAB has a "True Expenses" option in which you can budget out stuff like Christmas money or maintenance fees. And of course, they'll help you decide how much money to save each month.
5. Mint
Mint is definitely the most popular app for managing finances and creating budgets — and the best part is, the app is free. See all your finances in one place — make budgets, control spending and get your credit score.

As for bills, Mint will send you alerts and make scheduled payments for you when the time comes so you don't miss a payment or accumulate those dreaded late charges. The interface is also very smooth and modern so you don't have to worry about those outdated banking apps.
Mint utilizes multi-factor authentication and protects your data with 256-bit encryption — it's brought to you by the makers of TurboTax so you know it's the real deal.
With all these apps and options, it can seem pretty intimidating — however, your finances are not simple and like it or not, it will take a little extra work to manage. If it's all a bit much, do some research and start off with just a pen and paper to map out everything you need to pay for. Once you're more comfortable, switch to the tech and let it take over from there. I promise you, it'll make your life much easier — and you'll also get bragging rights for keeping a resolution.