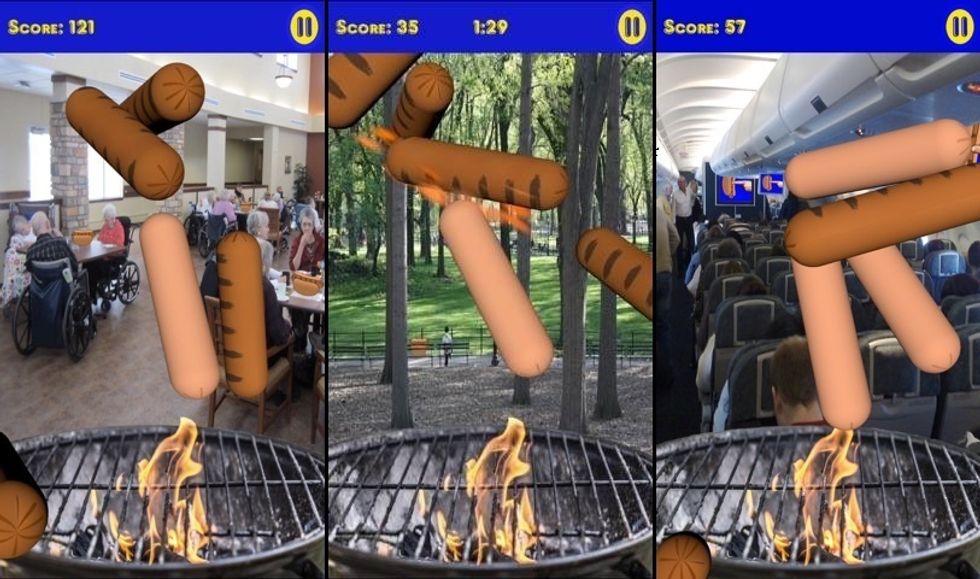 Wiener Tapper: The best silly new game just in time for summer
Serve up those hot dogs juuuuust right
The sunlight streams through the trees in the park. It's a beautiful day, you've got the grill roaring in front of you, and it's lunch time. In Wiener Tapper, one of the newest games for iOS, your job is to grill hot dogs-- but there's a catch! Those dogs come flying up in front of you and you've got to think fast to get them all grilled to perfection! You don't want to miss any and you don't want to burn them either-- that's the Wiener Tapper challenge.
We spoke to the game's creators, AdriAnne Curtis and Joshua Smith, both high school teachers, about their hot dog-grilling creation. When asked about how this game came to be, Curtis said they were attending a training seminar about coding for iOS and learning to code a project similar to Fruit Ninja. She was sitting next to Smith who pointed out that some of the shapes they were creating looked like hot dogs, and Curtis excitedly decided, "I'm making them ALL hot dogs!" It was then that the pair stopped paying attention to the class and began work on their project. Curtis explains that by the end of the day, she'd "written something that spawned hot dogs that were on fire," and both creators found that to be pretty entertaining, so they decided then and there that they should put the work in to make it a playable game. It was kismet.
Curtis explains that Smith is the "real programmer." She, on the other hand, is still learning and could do some things, like create hot dogs on fire, but Smith did most of the coding while she stuck to graphics. Speaking of graphics, the park scene I mentioned before isn't the only place you can grill dogs on Wiener Tapper. There are a myriad of locations for hot dog-flinging fun, like on an airplane, at a nursing home, and even in front of national monuments. Curtis explained, "friends of ours contributed ideas for the different backgrounds, which ended up being the most fun part of the whole project for me. We're about to release the first themed mode for the 4th of July, and photoshopping hot dogs onto Mt. Rushmore was one of the highlights so far. And the other patriotic backgrounds, but I'll let those be a surprise."

Curtis is new to game creation, but Smith has another game already, and it was under his company they released Wiener Tapper. Smith says this is the first game he's worked on to receive any real attention, and adds, "it was really fun to be able to release a game with so much collaboration from other people and a group of followers that were excited to play the game when it released."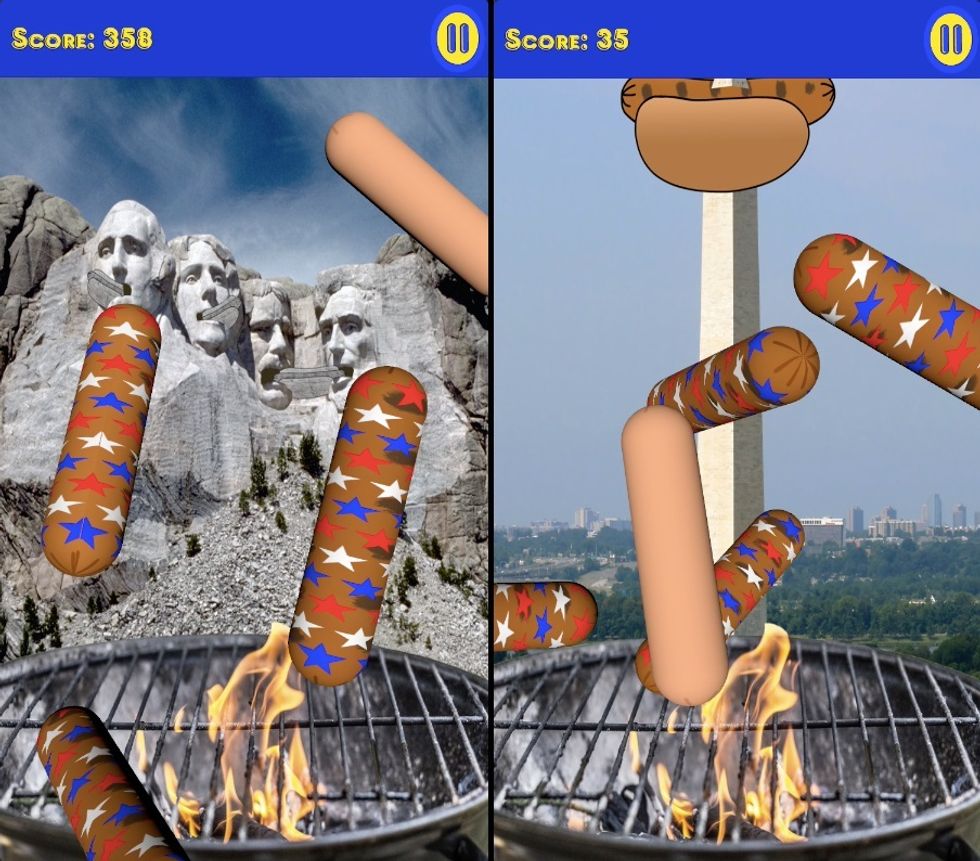 When I asked who this game was for, the answer was simple: Everyone! Curtis added, "we're high school teachers, so our students and coworkers/friends were the audience we thought of first, but it's been really cool to see how many of our friends' kids enjoy the game." Smith is just as excited about their wide audience. He says his favorite thing about the game is that "it's simple enough for everyone." He goes on to list some Wiener Tappers who got into the game early. He says, "my aunt has played it, my little cousins have played it and friends and colleagues have played it. I love checking the leader boards to see just how many people have dedicated themselves to trying to get a high score."

We gave Wiener Tapper a shot ourselves, and it is as addictive as it is ridiculous. With both a free and timed mode, players can challenge themselves to grill up more dogs than their friends or try to beat their own personal high score. This game is perfect for when you want an escape from the complications of your day, and especially if you want some good, clean, silly fun. And now, we're hungry for hot dogs.
Give Wiener Tapper a try in the App Store here, and be on the lookout for our 4th of July theme mode!