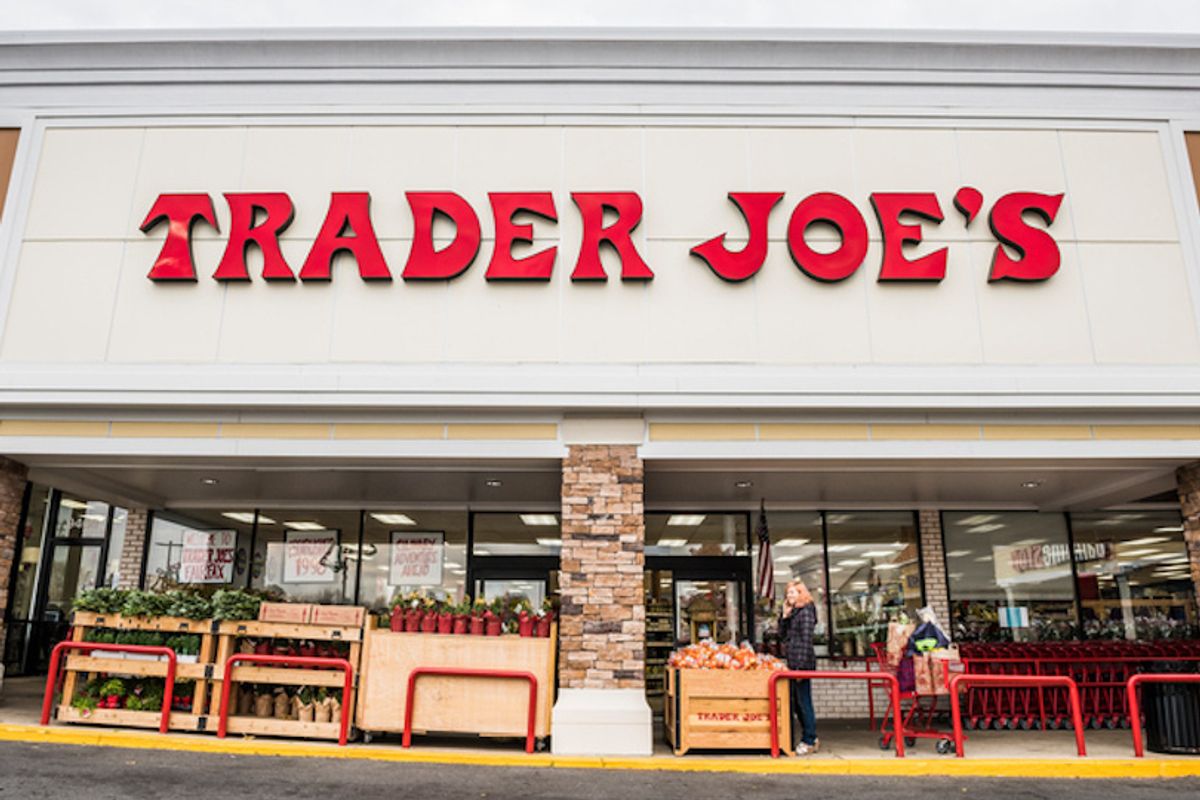 11 of the Best Vegan Finds at Trader Joe's
Go vegan at Trader Joe's.
It's never been easier to go vegan than it is now. Basics like rice, beans, and tofu have been grocery store staples for years, but what happens when those basics get boring? Though many supermarkets are hopping on the anti-animal product bandwagon with more inventive options, Trader Joe's takes the cake for taste, convenience, and, most of all, affordability. If you're already vegan or just dipping your toe into the plant-based lifestyle, here's your roadmap of Trader Joe's best vegan-friendly picks.
1. Miso Instant Ramen
The temperatures outside are dropping, which means it's time to reintegrate the coziest possible foods into your diet. Look no further than Trader Joe's alternative to Cup Noodles, which is just as quick and cost-efficient as the original. Better yet, it's entirely vegan and incredibly tasty.
2. Organic Red Lentil Sedanini
Pasta is one of the easiest meals to veganize, and the Trader Joe's pasta aisle is spilling over with various gluten-free options. Try this red lentil pasta for a quick and hearty protein-packed meal; it tastes great with sauteed spinach and mushrooms and sprinkled with nutritional yeast.
3. Jumbo Cinnamon Rolls
Colder weather also means the holidays are on the horizon. Figuring out vegan-friendly entrees for the occasion is a whole other beast, but if Pillsbury cinnamon rolls are a staple in your family's meals, Trader Joe's has you covered. These jumbo rolls are so gooey and sweet that your family won't be able to tell the difference.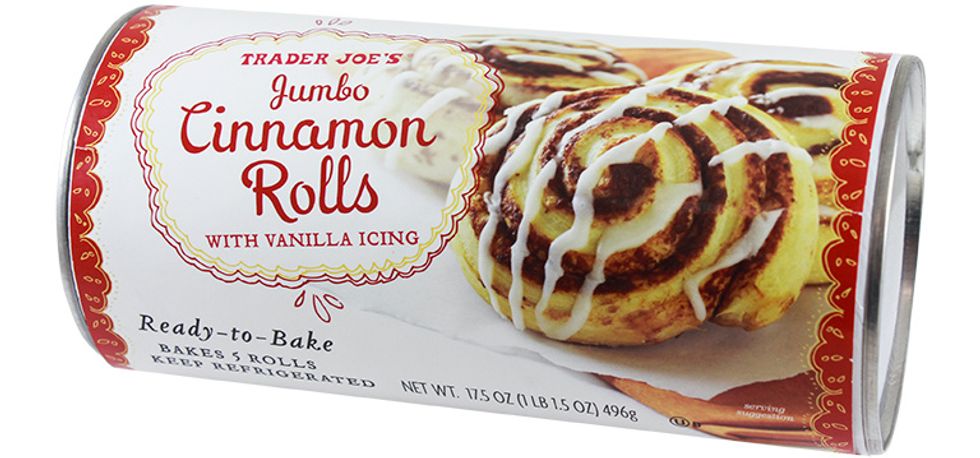 4. Cashew Fiesta Dip

Many vegans can concede that cheese is one of the toughest foods to quit. If you're particularly missing queso, this cashew-based dip is a pretty good replacement. You'll find it in the refrigerated section, but try heating it up over chips for your own delectable vegan nachos.
5. Vegan Tikka Masala
We all find ourselves struggling to figure out dinner on those weeknights when we have absolutely no time. Keep a serving of this veganized Indian classic on hand for when you have the urge to just order takeout instead. It's full of hearty flavor already, but give it an extra dash of garam masala if you're craving an extra kick.
6. Cauliflower Gnocchi
What isn't made of cauliflower these days? When hunger for Italian cuisine strikes, skip the flimsy pizza crust and opt for this health-conscious gnocchi option instead. Give it a toss in some marinara for a low-carb weeknight dinner that hits the spot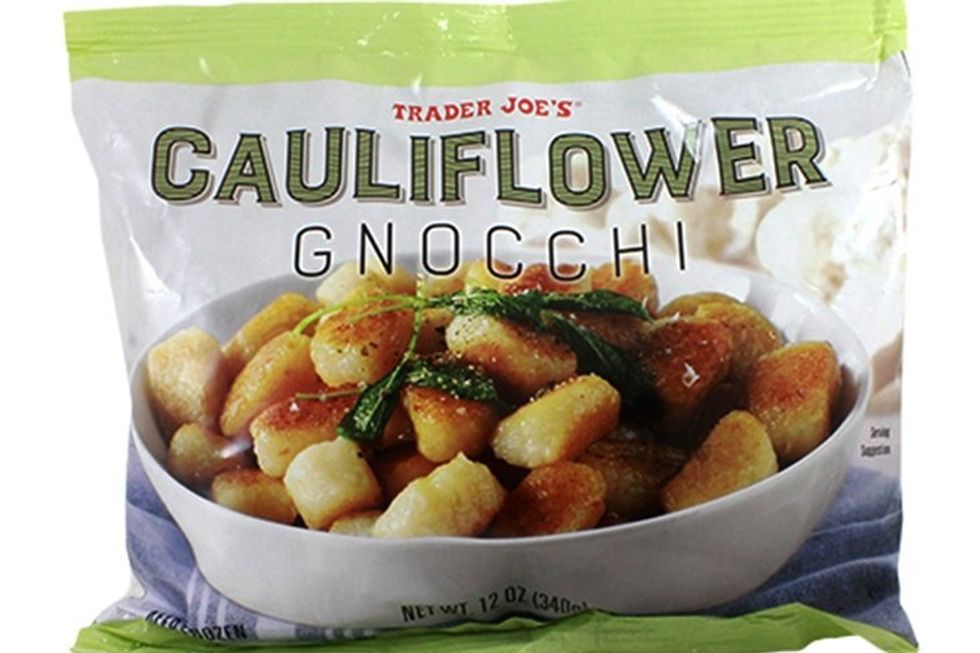 7. Falafel Mix

"But how do you get your protein?" Next time someone hits you with this nutritionally uninformed question, tell them about all the delicious falafel dishes you've been making lately. All this mix needs is water and about half an hour in the oven to make plenty of delicious falafel that you can put on a salad, over couscous, or in a pita.
8. Vegan Kale Cashew Pesto
Kale haters need not worry—this pesto is packed with so much basil and just enough lemon juice that you won't be able to tell it's actually really good for you. Spread it on a sandwich or mix it up in some pasta. Sneaking leafy greens into your diet has never been tastier.
9. Chickenless Crispy Tenders
We get it. Whether you've been vegetarian for years or you've just started trying to cut down on animal products, you just miss fried chicken sometimes. While this Trader Joe's swap might not be quite as delicious as the nuggets from your childhood, these "chicken" tenders do still make a great option for when you need a comfort meal.
10. Soy Chorizo
If you find yourself gravitating towards Chipotle's sofritas, you'll love this soy-based chorizo. It's a great ground beef substitute that's perfectly spicy. It tastes extra delicious scrambled up with tofu and wrapped into a breakfast burrito, or stirred with beans and diced tomatoes for an easy vegetarian chili.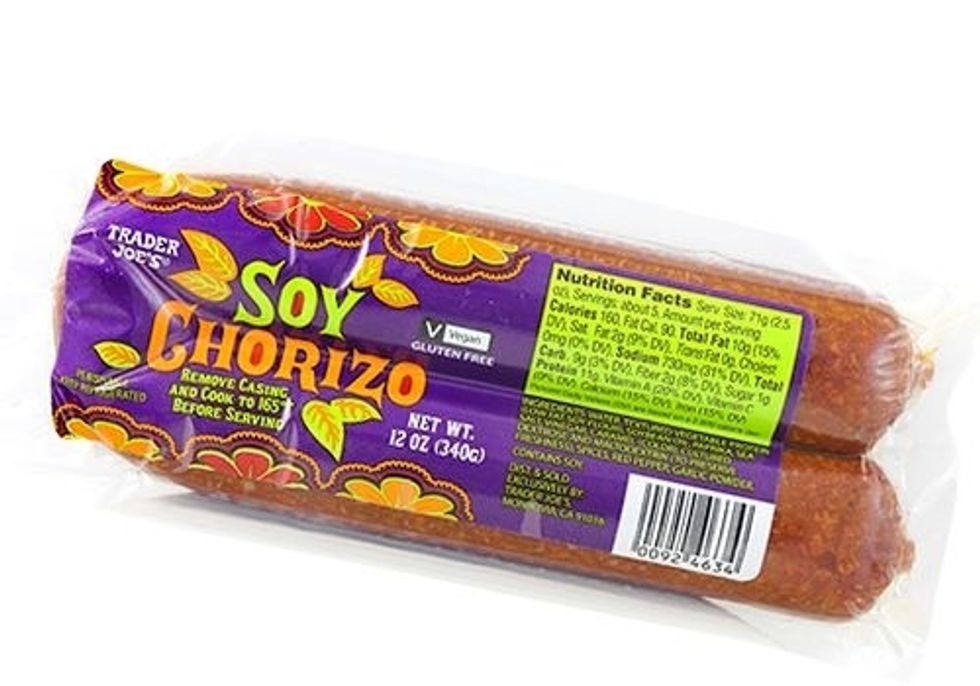 11. Rolled Corn Tortilla Chips with Chili and Lime

You probably already know Trader Joe's has a knack for creating slightly healthier copycats of your favorite junk foods. These rolled tortilla chips pack enough "fuego" flavor to give Takis a run for their money.
Of course, this is only the tip of the iceberg—Trader Joe's is a goldmine for all sorts of delectable treats and full meals that make shopping vegan easier. Whether you're just scouring for Meatless Monday ideas or trying to make going vegan a week-long habit, this is a great place to start.