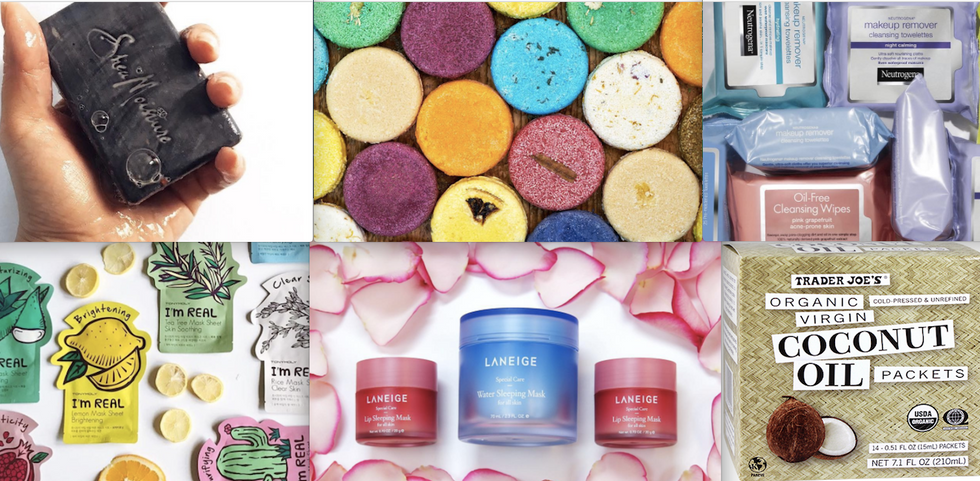 The best travel toiletries
Look Flawless - Even With a Small Suitcase
Yes you want to look flawless on your trip so you need to bring your makeup and skin routine, but how will you fit it all?! Here's how to make the most of the limited room that you have without sacrificing looking amazing.
Ditch the Liquid Cleanser

sheamoisture lushcosmeticsneogen_us
The time of rubbing a Dove soap bar on your face is over! With the advancements of solid face cleansers you don't have to use the stripping harsh bar soaps of the past. There are many products that are formulated with powerful ingredients, soothing botanicals, and moisturizing oils. You could explore African Black Soap to cure your acne and irritated skin. Grab a ph friendly hydrating Korean solid cleanser for sensitive skin care. Try an array of eco-friendly solid face washes from Lush. And do it all while saving room for liquids in your bag. No leaks, no spills, and all the benefits of a great product. This extends to great solid shampoos and body soaps full of happy healthy ingredients. Hey, Lush even has solid toothpaste if you're looking for that kind of thing! Whatever you can do to get those heavy liquids out of your bag!
Happy Hydration

tonymoly.us_official laneige_us
Keep your skin happy and healthy by avoiding the dry skin that accompanies traveling. Whether you're in a new climate or a lack of sleep is dulling your shine you can pack some foolproof helpers. Sleep masks will inject an intense amount of moisture into your skin overnight. Sheet masks take up virtually no room in your suitcase and pack a lot of punch into their tiny package. Trader Joe's single sealed packages of coconut oil make a powerful hair and body moisturizer that are easily transportable. Don't let the wear and tear of travel show on your skin by keeping it happy and hydrated!
Mini Mania

sephora
You aren't going to use and entire bottle of makeup on your trip are you? Then why bring it? Sephora kits can save you money and hassle if you shop smart. Save some dough by getting their package deals and grab yourself some tiny makeup buddies. Beware of little bottles priced beyond their worth, the value sets are usually much safer than the products waiting just before the register. If you ever empty the mini, no problem! Just move some of the product from your big container back into the travel size. Whether it's a tiny bottle of highlighter, little lipsticks, mini compact cases or even smaller skin care bottles you can bring everything you desire with room to spare. Think about what you need a full size bottle of and what you can shrink.

Makeup Removers

makeuperaser neutrogena
You can't fit a big ol' bottle of makeup remover! Now you don't have to. Taking off your makeup at night is an essential part of a nighttime regime but luckily these products are here to help! The much beloved Makeup Eraser cloth will take all your makeup off by just adding water! No running out of remover on the go because all you'll need is this little cloth in your choice of color. Neutrogena take all the hassle out of taking off your face with its quick and effective wipes. You can choose which kind you need depending on your skin type and it'll always be affordable.
Safe Travels!
[rebelmouse-proxy-image https://media.rbl.ms/image?u=%2Fmedia%2FZy6qOiYY54BMs%2Fgiphy.gif&ho=https%3A%2F%2Fmedia.giphy.com&s=100&h=9f0b237f91dd7a66aba3a3b758d87494b8e773088199eeaf31a1cca29bc5e406&size=980x&c=2150849391 crop_info="%7B%22image%22%3A%20%22https%3A//media.rbl.ms/image%3Fu%3D%252Fmedia%252FZy6qOiYY54BMs%252Fgiphy.gif%26ho%3Dhttps%253A%252F%252Fmedia.giphy.com%26s%3D100%26h%3D9f0b237f91dd7a66aba3a3b758d87494b8e773088199eeaf31a1cca29bc5e406%26size%3D980x%26c%3D2150849391%22%7D" caption="" pin_description="" image-library="0" expand=1 photo_credit=""]