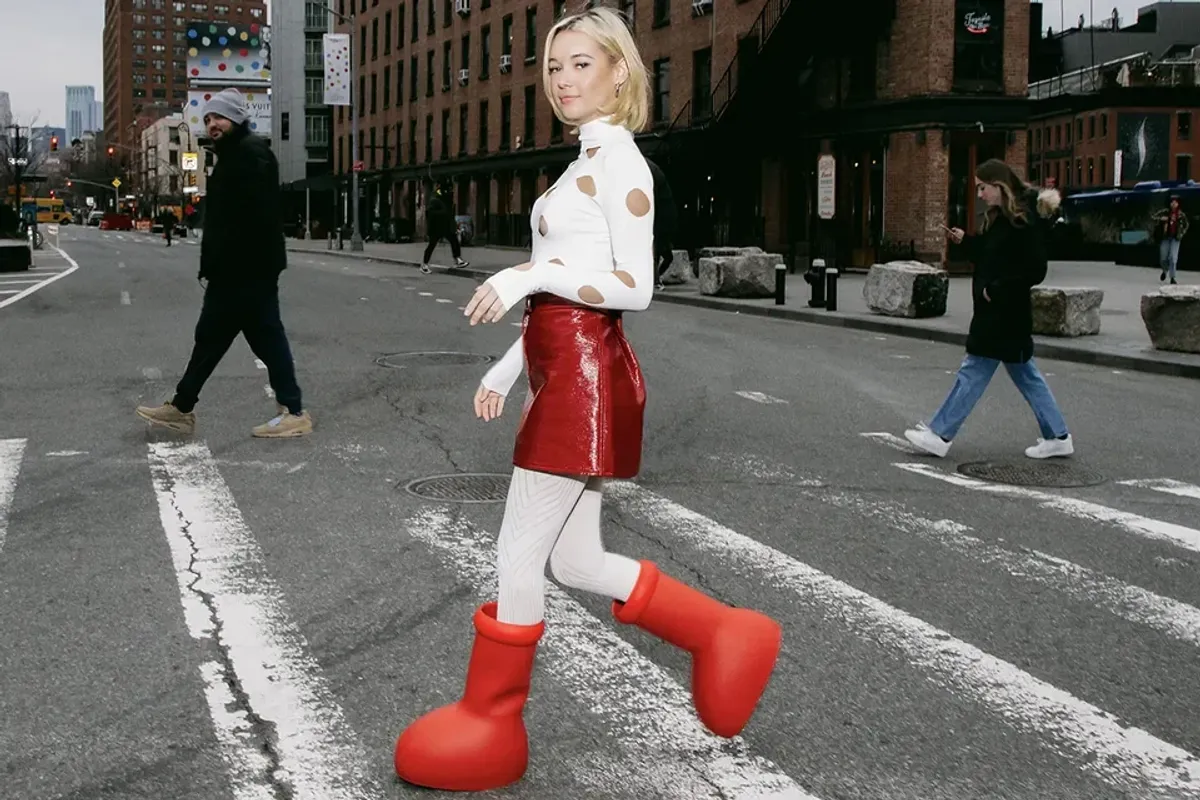 Just Because It's Viral, Doesn't Mean It's Fashionable
A month ago I watched the NBA's most fashionable player,
Shai Gilgeous-Alexander
, walk into the Crypto.com Arena in a cartoon-esque outfit. These round, fire-engine red boots paired with jeans that were intentionally wavy. It felt like you took some sort of psychedelic looking at him.
---
And I laughed, because of course this was just the tip of the iceberg for the Big Red Boot fashion movement. MSCHF's newest headline-worthy drop was New York Fashion Week's most talked about shoe. You remember their Satan Sneaker, you've heard of their Birkenstocks made out of Birkins — MSCHF (who are actually not designers, but a Brooklyn-based art-collective) loves to make a statement.
At the low price of $350, MSCHF offers an escape from reality with these boots via their press release:
"Cartoonishness is an abstraction that frees us from the constraints of reality. If you kick someone in these boots, they go boing!"
Look, if this is how you want to spend your money…don't let me tell you not to. However, I have to wonder what the line is between fashionable clothing and viral fashion statements. Sure, I want to feel as cool as Shai Gilgeous-Alexander, but I don't think wearing Big Red Boots will get me compliments at a bar.
In an article by Laura Reilly for The Cut, she dons a $1,400 Diesel belt skirt that was thrust into mainstream fascination by, of course, TikTok. The only problem, the rigid leather belt barely covers anything. She muses whether or not viral fashion is meant to be worn, or to just remain viral. The perfect example that comes to mind is Bella Hadid's Coperni spray-on dress: the most viral fashion moment of 2022, but not meant to be worn in public.
"During New York Fashion Week last month, there was a lot of discussion about viral fashion and its place at the shows, and since a 59-second TikTok video can often lack critical context, I set out to see what would happen when I wore the skirt in the real world: Would people stare? Would they be outraged? Would they even know I'm wearing theeeee viral skirt?"
The answer seems a bit underwhelming for those who want to have that viral piece of fashion: not everyone is going to understand (or necessarily care about) what you're wearing…even at NYFW. Sure, you'll get attention from avid TikTokers who are keeping up with the trends, but you will get some side eyes from others who aren't so knowledgeable.
Viral fashion has the same effect on me that most fast fashion does: I could wear it once, get a few photos in it…and then it'll sit in my closet, never to be worn again, until I come to my senses and donate it. Much like Lizzie McGuire, I don't like being called an outfit repeater, and viral fashion is too memorable and too niche to be a staple in my closet.
However, there are the rare pieces that catch the public eye, and stay there. So instead of obscure, camp-y fashion statements…here are some of my favorite viral fashion-inspired moments that won't cycle out of your wardrobe in 2-5 weeks.