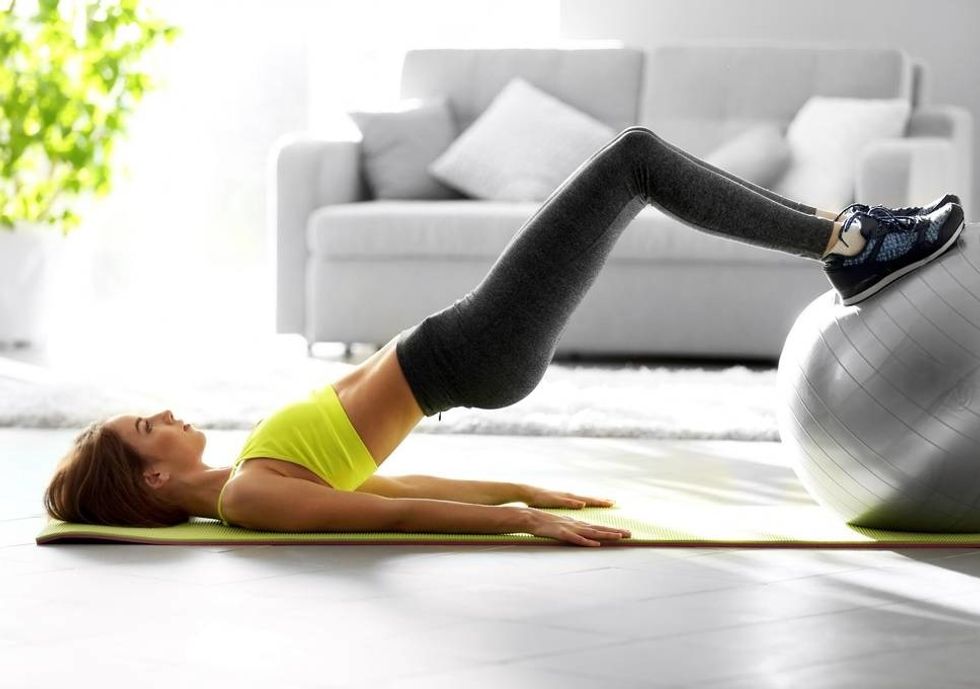 How to Build a Home Gym
Ready to make the move to equip your home with a gym? If you have the space and the motivation, getting the right gear in order is the first step towards a fitter and healthier you. While everyone's budget is different and fitness goals vary, this list covers the basics for anyone seeking to outfit a home gym with an array of items designed to work all muscle groups and engage the body in a cardiovascular workout. No more excuses for not going to the gym when yours is right in the next room!
YouTube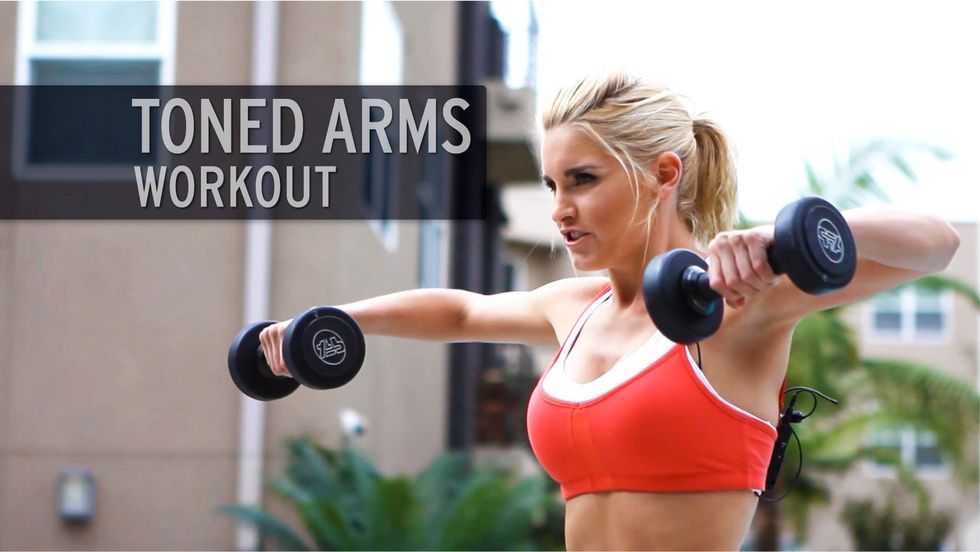 Search and sweatyoutube.com
No, we're not taking movie trailers, cooking demos, and cat videos. YouTube offers a wealth of content when it comes to "bodyweight workouts," meaning no equipment required, just your body and some strategic moves to whip you into shape.
Certified personal trainer, Aaron B of Aaron B Fitness suggests, "Simply search YouTube for 'bodyweight workout' and your particular goal, for example, 'calorie burn for weight loss,' and you'll find a number of well-produced and safe workouts to follow right in your home gym or living room." He adds, "Bodyweight workouts can be suited for everybody's goal, whether it is weight loss, toning up, or even putting on significant muscle."
Resistance Bands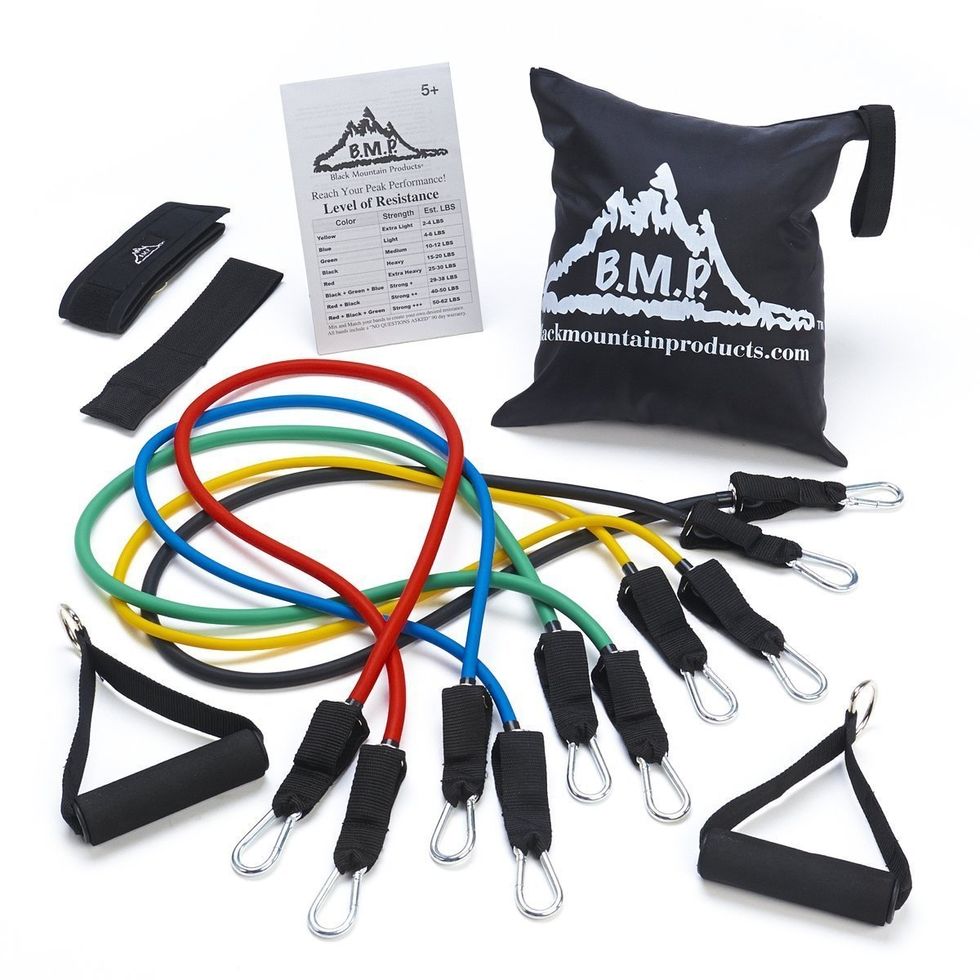 Black Mountain Resistance Band Sethttp://velocity-pt.com
Who could resist resistance bands? They make exercising at home convenient, fuss-free, and easy to execute. As per Greatist, "Resistance bands are a great addition to any strength training routine or rehabilitation program and come in a variety of sizes, lengths, and strengths. This portable exercise equipment is also easily stored, making it perfect for home use. Exercise bands come in a range of resistance levels, from highly stretchable to heavy-duty strength."
Aaron B recommends resistance bands to his clients. "For most people, I suggest using the ones that come in different color surgical tubing with attachable handles, rather than the ones that look like giant rubber bands with no handles. The sets come with a collection of varying weights (noted by the different colored tubing), and you can even double them up when you need more resistance. They can simulate just about any machine exercise and take the place of other gear that you find in a commercial gym. You can work every single muscle and muscle group from squats for your lower body to simple bicep curls for the arms. You can get a terrific quality set of resistance bands online for less than $25. And again, you can find great (resistance band) workout routines on YouTube. Additionally, your bands will usually come with a poster or booklet demonstrating a full range of exercises."
Check out 33 resistance band exercises onGreatist.
Adjustable or "Selectorized" Dumbbells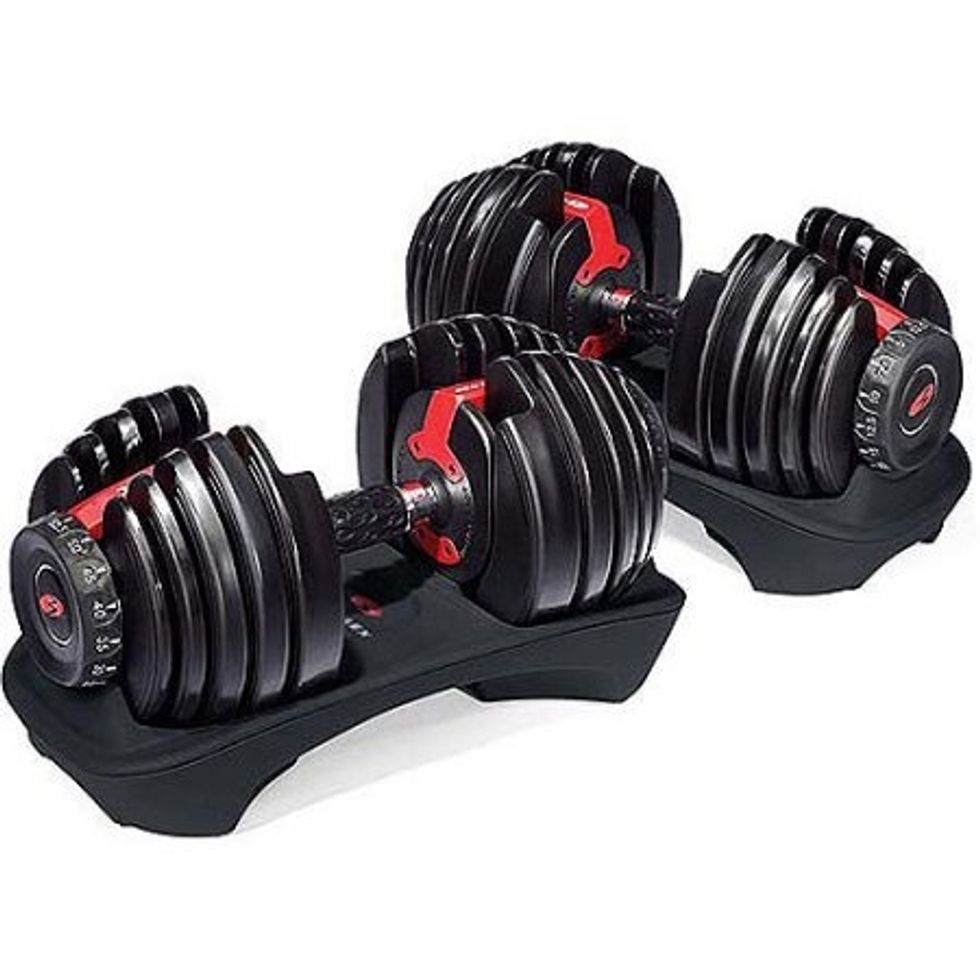 Bowflex SelectTech 552 Adjustable Dumbbellswalmart.com
Unless you live in a sprawling pad, you'll need to be mindful of space when it comes to equipping your home gym. Multiple sets of dumbbells will take up lots of room you probably cannot afford to fill up. Adjustable or "selectorized" dumbbells are a smart space-saver in place of traditional dumbbells.
AsLivestrong explains, "A regular, or fixed, dumbbell is a set weight. You most commonly see these dumbbells in commercial gyms and fitness centers. You cannot change the weight of a regular dumbbell, but you can change the weight of an adjustable dumbbell, available as a 'selectorized' or plate-loaded unit."
Aaron B prefers the selectorized style for their convenience and sleek, stowaway style. While this item can be pricey, you'll save in the long run by getting these in place of numerous sets of standard dumbbells of varying weights. He describes selectorized dumbbells as, "free-weight contraptions that substitute for the giant rack of various weights of dumbbells that you see in the gym. You can grab one with each hand, like an ordinary dumbbell. You move a pin or turn a dial to choose how much weight stays connected to the handle when you are ready for your particular exercise. And if you are going with selectorized dumbbells to have some hefty free-weights at home, you will probably want abench that can you position to various angles for your chest, shoulders, back, and arm workouts."
Wirecutter recommends the Bowflex SelectTech 552s. They note, "Out of the six sets we tested, some excelled at strength-training exercises ("pumping iron" to build muscles) and others were better at fast-paced conditioning workouts (more aerobic, like CrossFit, P90X, or calisthenics), but the Bowflex set proved the best overall when testing for both uses."
Stability Ball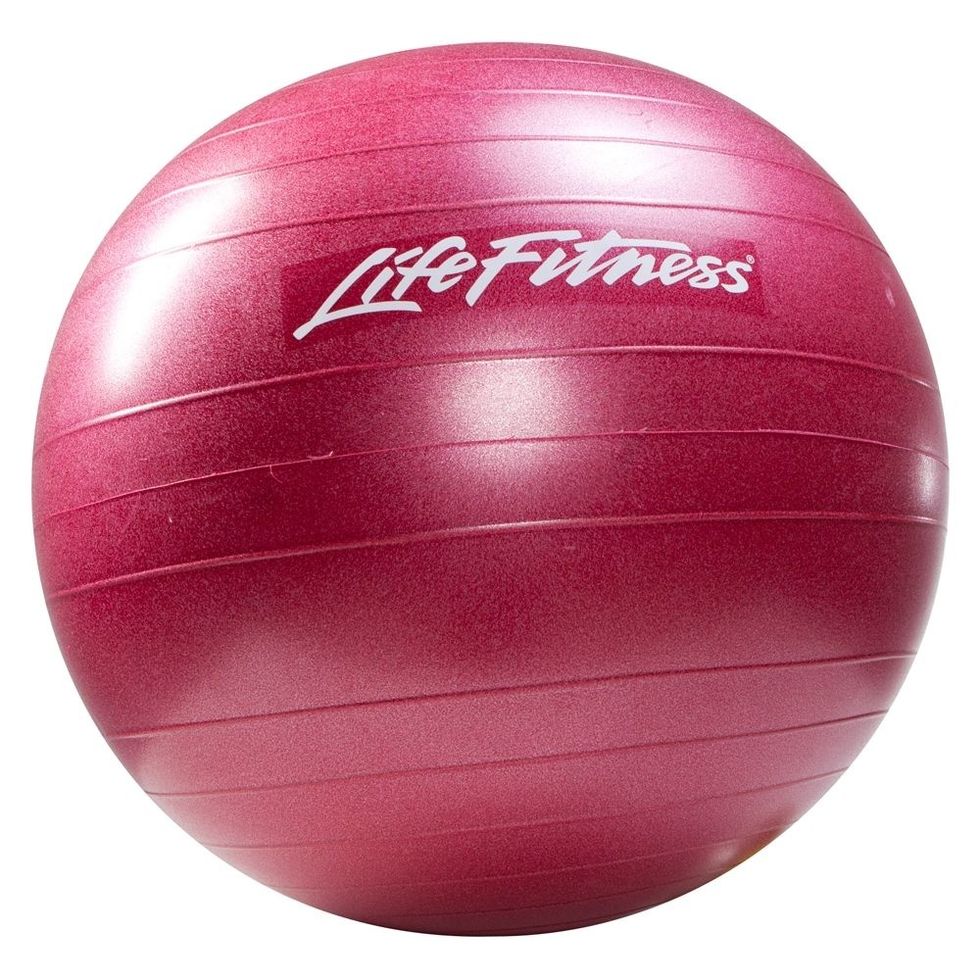 LifeFitness Stability Ballpower-systems.com
Get the ball rolling on your home workout with a stability ball. As EXOS explains, "The stability ball (also called an exercise ball, Swiss ball, or physioball) is a simple yet versatile piece of training equipment that you can use to train your whole body with fun and innovative moves. Stability ball training is effective in building balance, stability, and pillar strength."
According to Greatist, "To get the most from a bouncy fitness routine, make sure to choose the correct size stability ball. Most balls come in three diameters based on the user's height: 55 cm for those between 4'11" and 5'4," 65 cm for people between 5'4" and 5'7," and 75 cm for tall (people) between 5'11" and 6'7." A good rule of thumb for finding the right fit: Sit on the ball and make sure the hips and knees are at right angles with the floor."
Check out some fun fitness moves you can do with a stability ball onGreatist, from planks to squats to leg curls to push ups and more.
Cardio Machine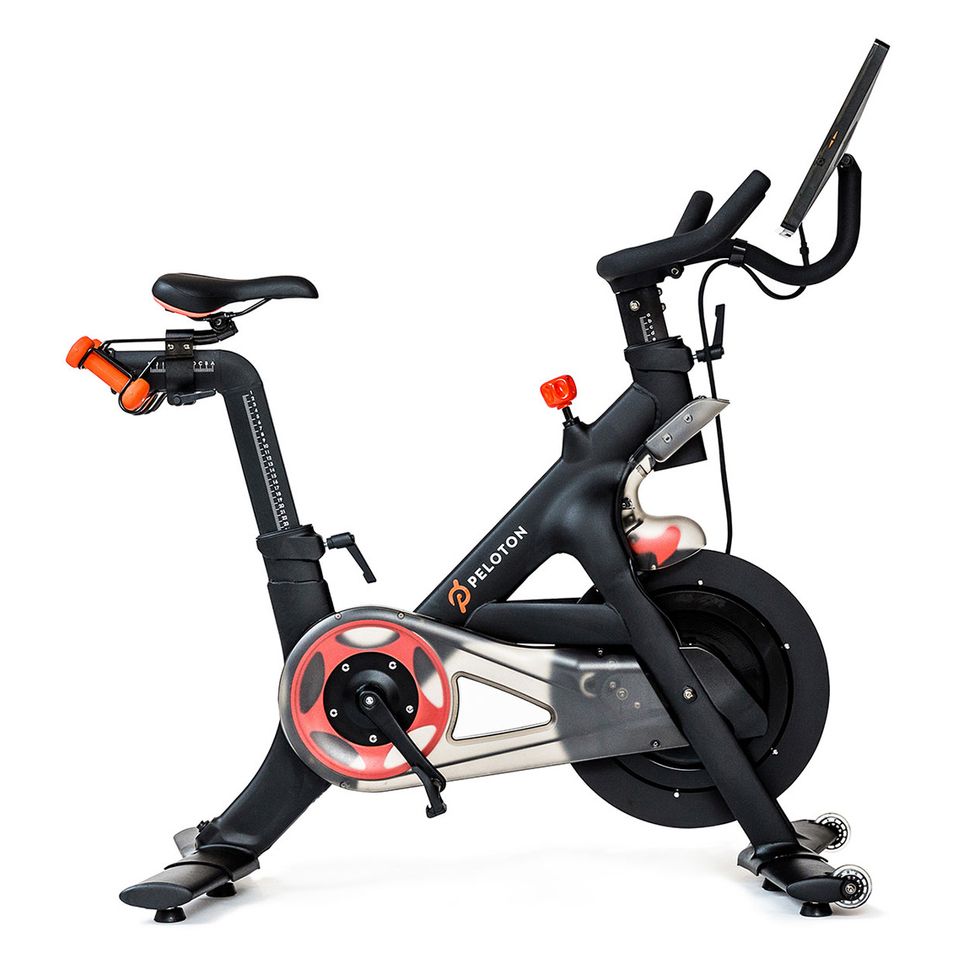 Peloton angel.co/peloton/jobs
This one's up to you. What type of cardio do you enjoy? And which will you actually do? Walking or running on a treadmill? Whizzing around on an elliptical trainer or climbing a stair stepper? How about a stationary bike? And rowing machines surely get the heart rate going. There are lots of options at a wide range of price points. So, choosing can prove challenging.

NBC Better suggests to "get clear on your goals" when it comes to picking your home gym cardio equipment. For instance, the treadmill is a solid choice if you are training for a marathon or want to lose those extra lbs. Ellipticals are low impact, easy on the joints. Stair stepping machines give the lower body a superb strength training workout. Bikes are great for those with back pain. And so on. Talk to your physician, an exercise equipment store manager, or a personal trainerif you're not sure which type of machine to invest in.
If you love the idea of cycling your way to success, consider Peloton. With this super-modern machine, you can tune into live cycling classes taught by pro instructors via the multi-touch screen attached to the sleek bicycle. Motivation-meets-movement! You can finance your purchase making the expense doable as the bike delivers on its promises.
Some additional home gym must-haves:
Fitness App
Keep tabs on your plans and progress with a fitness app. Here are five apps that will help you stay on track and reach your goals.
Mat
Particularly if you don't have carpeted floors, a matis useful for stretching and floor exercises like sit-ups and yoga poses.
Mirror
A full-length mirror will allow you to mind your form and see how your body changes with each workout. Lookin' good!
Playlist
Create a playlist that gets you pumped or tune in to one that has already been curated. Fitness Magazine lists their picks for the 100 best workout songs. Working out to an up-tempo beat will get you in the mood to move.
Good luck building your home gym! Membership not required.