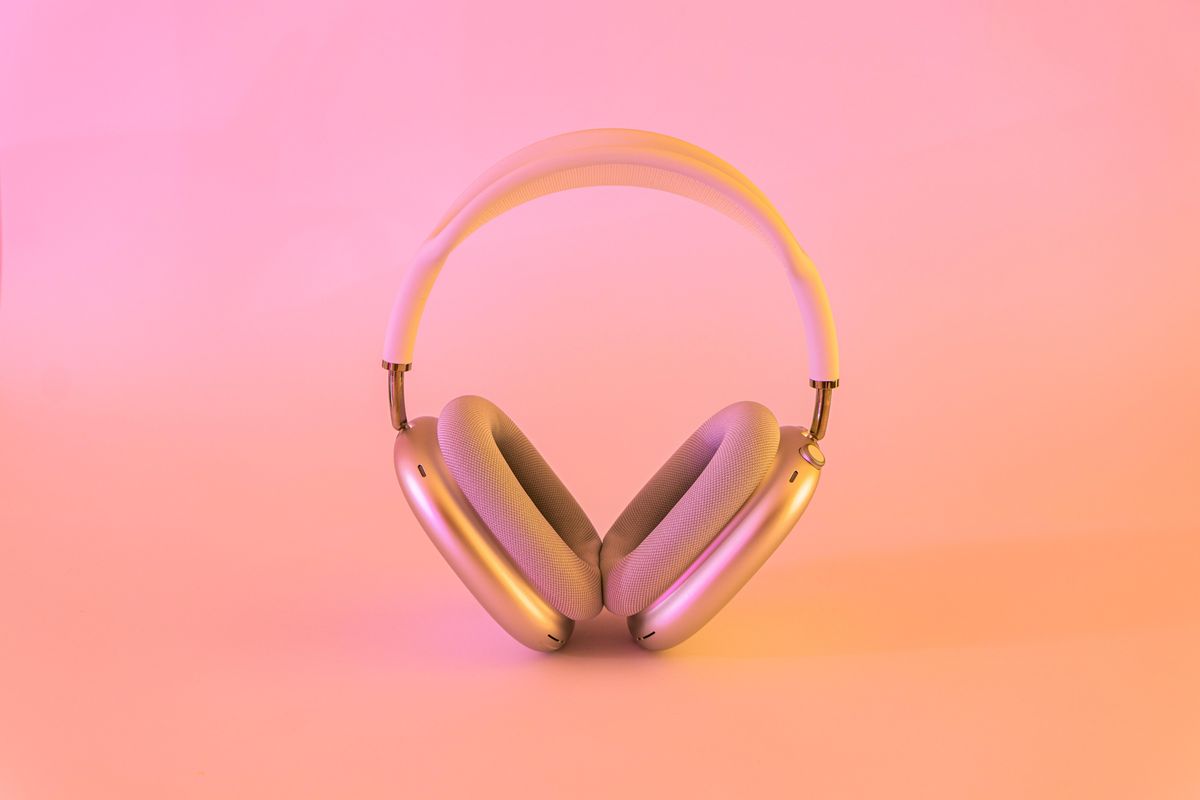 Headphones Are The Hottest New Fashion Accessory — But Which Ones To Get?
Photo by Ervo Rocks on Unsplash
Statement accessories come in the most surprising forms. It's not always a chunky necklace or a bedazzled headband. Sometimes a shoelace belt, an Eiffel Tower keychain, or, now, a pair of headphones.
In the age of hyper-individualism and micro-trends any and everything can be a personality trait. Where you shop, where you go to dinner on a Friday night, the tote bag you carry. It's all fair game. Everything contributes to your image that others will judge you for.
The latest super-specific signifier in this game of sartorial semiotics is the humble headphone. For DJs and music lovers, this retro-accessory has never gone out of style. Recently, earphones and AirPods flooded the mainstream, for those for whom convenience is key. People bemoaned the annoying over-ear model, claiming they preferred to run or workout or commute with something less obtrusive. Thus, the reign of AirPods — the ultimate flex.
But now, in the wake of Apple's newer — and pricier — wireless accessory, Hot Girl Headphones are trending.
It took a few months for it to catch on — probably the time it took for people to swallow the $549 price tag. But soon, street-style pictures of It-Girls like Bella Hadid started trend-casting on TikTok and….here we are.
It's not the first time cell phone accessories are integral to one's aesthetic. In 2021, Vogue reported that wired headphones were back — both the in-ear and over-ear versions. It-Girls like Zoe Kravitz and Lily-Rose Depp were spotted rocking the trend, and — of course — the fashion-obsessed (read: me) followed suit.
It's time to cut the chord — literally. Wires are fired. Cause Hot Girl Headphones are the giant, wireless, over-ear variety.
This just proves it's not all about the looks. For the music fanatic, noise cancellation and impressive audio quality alone might justify the price tag. And the aesthetics complement a maximalist return to shiny statement pieces such disco balls, sequins, and — now — headphones. While I never would have predicted this trend, I can't help being convinced by it.
HighSnobiety is just as puzzled by this emergent phenomenon as we are, musing: "One may wonder how on earth Apple managed to create a fashion trend. But when it comes to TikTok, a lot of the time there are no real answers, just a complex algorithm, and users that are quick to spend."

With that in mind, I won't analyze this new internet fascination. As I am wont to do, I will simply embrace it.
But here's the catch — while the iconic Apple AirPod Max headphones are the products that forged this phenomenon … some of the fashion girls I follow have already eschewed them as … basic.
To avoid this humiliating moniker — basic — I've been researching other brands to get the look for less. Hopefully, much less.
However, there's always a newer, shinier toy out ther on the horizon. Wait a couple of months and AirPod Maxes may become gaudy and gauche.
Kim Kardashian's recent partnership with Beats is making a stylish case for in-ear wireless earphones. Her collaboration is classically Kim K. Her collection of wireless headphones come in three neutral colors — various shades of brown and beige dubbed Moon, Dune, and Earth.
"I wanted to break away from the idea that headphones always have to be colorful. This collaboration is special because it allows you to mix it up and stand out. And Beats is known for creating products that champion individuality," says Kim Kardashian of the collaboration.
The new Beats Fit Pro includes both the active noise cancellation and spatial audio of larger headphones, just in a more compact case. There's something to be said about the convenience aspect. And the neutral color tones make a startling statement. But the allure of the dramatic, metallic over-ear model currently has the fashion world in its grip. Sorry Kim K.
Luckily, there's a host of cool options that cost less than the Apple AirPod Maxes while giving you a chic look. March to the beat of your own drum while participating in this fun accessory trend. For high-quality audio and fashionable street cred, here are the headphones you should get:
All products featured are independently selected by our editors. Things you buy through our links may earn us a commission.
Okay … I admit it … the Apple AirPod Maxes are still my first choice too. The blue ones are on my vision boards. And I'm an Apple Music stan — what is a girl to do?
2. Beats By Dre Silver Solo Wireless Over-ear Headphones
I'd skip the Kim K Beats this round. But Beats by Dre have proven themselves a mainstay for music and fashion lovers alike. Beats Solo headphones were a fashion staple in the early 2010s, so I'm all for reviving this snappy trend.
Koss headphones are one of the coolest alternatives out there. If you want to look like you really know what you're doing, this iconic design lends instant clout along with impeccable sound design.
Aesthetically, these leather headphones are the style equivalent of carting around a record player. You look sophisticated, serious, and stylish all at once. Don these form-meets-function, luxurious leather earpads while exposed aluminum antenna provide best-in-class signal range and unmatched sound. Fashion mavericks are picking these up in droves. Get them while they're still hot.
5. Lenovo Yoga Active Noise Cancellation Headphones
Perhaps you're one of those people who's still using over-ear headphones when you work out. Good for you. These unshakable headphones stay put as you kick and move. The padded earpads continuously cancel noise no matter where you are and what you're doing. They're bound to look great with an athleisure set.
6. AIAIAI Wireless TMA-2 Move XE Headphones (SSENSE)
For a sleek, elevated look — turn to SSENSE. These modular wireless headphones are an effortless touch to your minimalist look. The memory foam earpads and PU-foam headband make them as effective and comfortable as they are stylish.
7. HamiltonBuhl HA-7 Deluxe Over-Ear Headphones (B+H Photo Video)
For a more affordable take on the space-age look, these metallic 90s-looking headphones are the perfect compliment to your disco-girl outfits without setting you back over half a grand.
8. Panasonic Wireless RB-M700B
Don't sacrifice quality for affordability. These Panasonics provide both. They rival many more expensive headphones in comfort, as well as clear, superior sound.