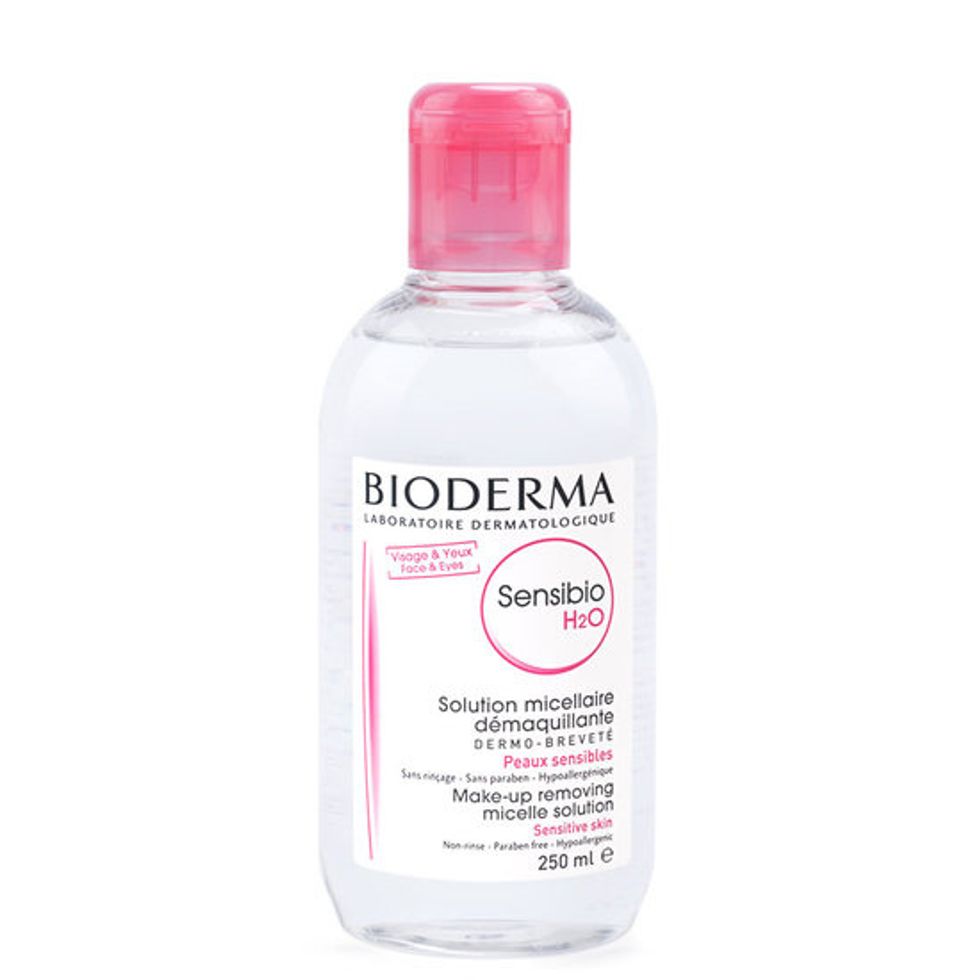 Why Bioderma's Sensibio H20 cleanser is one of the best
This mineral water cleanser will do wonders for your skin
As a skincare lover, it's safe to say I've been on the hunt for a good hydrating mineral water cleanser for a long time. Many are not the most equipped to handle oily skin. Some offer too little, too much hydration control. Some manage to find the perfect balance between cleansing and rejuvenating. Bioderma's Sensibio H20 cleanser just happens to be one of them.
I first came upon this product when I was living in France and had easy access to their wide variety of pharmaceutical skincare. Bioderma is known as being one of the top French skincare brands, but what I didn't know is that their Sensibio H20 cleanser is the holy grail of all their products. As they state on their website, "Sensibio H2O is the 1st and only dermatological micellar water perfectly compatible with the skin: its fatty acid esters, the constituent elements of micelles, are similar to the phospholipids of the skin cell membranes and naturally help rebuild the skin's hydrolipidic film."
I love wearing makeup but I hate taking it off. The process has always seemed long and tedious to me - whether you go by the lotion, wipe or cleanser route, it's not always the easiest making sure you got rid of it all. Sensibio H20 makes things simple. It's a light and easy water-based formula that will take all of your makeup off in a single swipe. It won't strip your skin of its natural moisture. It's sensitive, especially around the eyes, so it's easy to use for any skin type. The best part? Rinsing is not necessary. That's not to say you don't have to wash your face, but if you happened to skip it every once in a while on those lazy days, it'll be okay.
Sensibio H20 provides a sensation of instant freshness. It's incredibly easy to feel how silky and smooth your skin will feel once it gets adapted to using it every day. It soothes and clears up irritated skin, making it the perfect product to turn to for any sudden outbreaks. My skin has noticeably improved by miles ever since this little bottle came into my life, and I don't see myself stopping using it any time soon.
As Betty Blue wrote on Amazon, "This cleanser is very gentle and effective. It didn't remove my eye makeup magically, it took some soaking, but in its defense, I wear heavy black eyeliner and tons of mascara (think Gothic heavy)...there's not much other than an all out nuclear war that's going to remove that instantly! After using it, my face does not feel dry, tight, or irritated as it can with most cleansers I've tried (and I've tried almost everything from medically prescribed to drugstore). I didn't detect a scent and it didn't foam up or anything like that. You soak a cotton square with the product and wipe away makeup and oil. Continue use until the cotton comes back clean. You don't need to rinse. It usually takes just one cotton for me if I'm not using makeup. If I'm wearing eye makeup, I soak two cottons and place over my eyes for a bit to soak in and wipe away make up, and use another for my face. It didn't require any pressure or rubbing to cleanse effectively, which I like as I'm getting close to 40 years old (yup, time flies!). Moisturize as usual. It seems like this bottle will last quite some time."