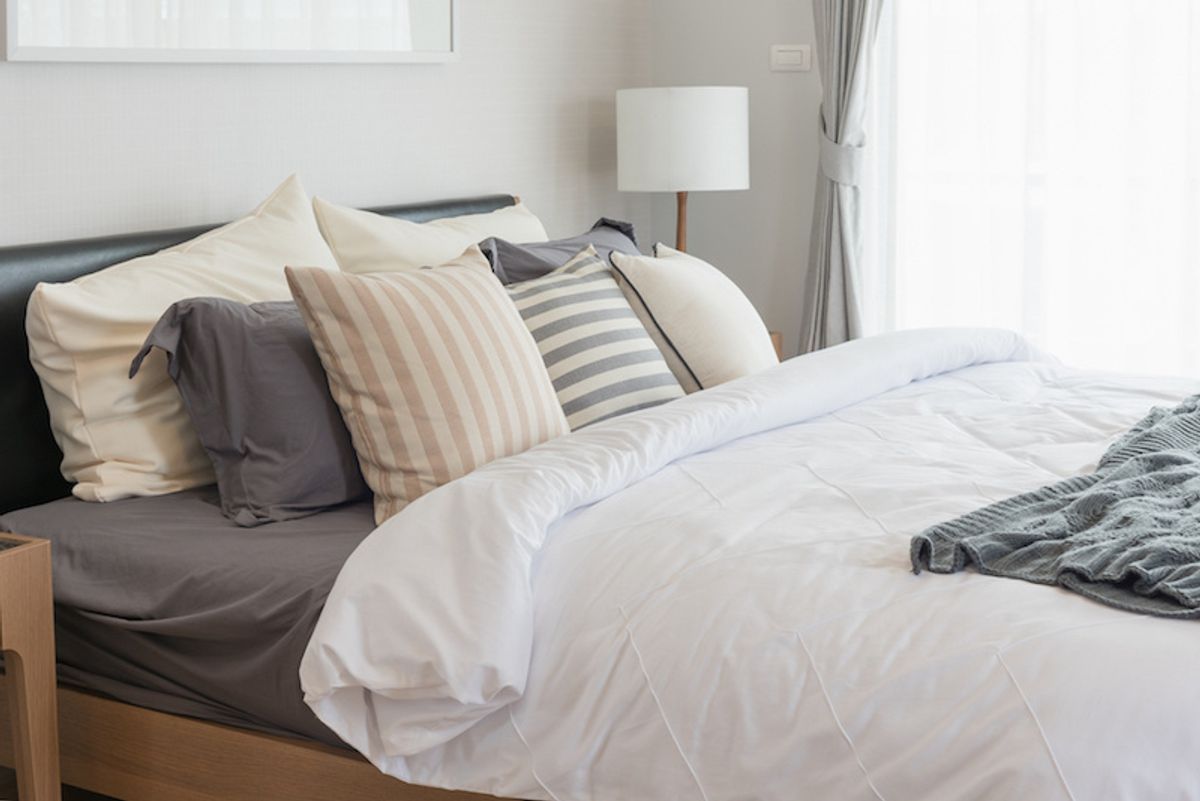 Best Sheets on Amazon Under $100
We've made a list of the best sheets Amazon has to offer (that won't break the bank) so you can rest easy at night.
One of life's greatest pleasures is slipping into a soft, clean set of sheets after a long day.
If you're going to spend at least a third of your life in bed, why not make sure its at least a comfortable experience? We've come up with a list of the best sheets on Amazon (that won't break the bank) so you can rest easy at night.
1. AmazonBasics Microfiber Sheet Set
These are an excellent option for anyone looking for an ultra budget-friendly option. Don't let the price fool you; these sheets are surprisingly soft and make an excellent choice for a college dorm room, a kid's bedroom, or a first apartment. They're also a great set to keep as a spare in case you ever have overnight guests.
2. California Design Den 400-Thread-Count 100 Percent Cotton Bed Sheet Set
These are the perfect cotton sheets. According to Amazon users, these sheets are so soft, luxurious, and crisp, that it may be hard to tell them apart from some of the most expensive bedding out there. These 400-thread count sheets come in a series of vibrant and muted colors and are made of pure, natural cotton, making for a super breathable, durable fabric.
3. Pinzon 300-Thread-Count Percale Sheet Set
Sleeping in these sheets will make you feel like you're at a 5-star hotel. Super crisp and fresh-feeling, The Pinzon 300-Thread-Count Percale sheet is made from 100% cotton and has a matte finish. If you tend to overheat at night, the breathable 300-count weave allows for a cool night's sleep so might be a great choice for you.
4. Sweet Home Collection 6-Piece Fine Brushed Microfiber Deep Pocket Sheet Set
If you're looking for something a little more quirky, these striped sheets are a perfect fit. This 6-piece set is one of the best bangs for your buck since it includes two extra pillowcases. These are a great way to add some style, comfort, and design to your apartment.
5. Mayfair Linen 100% Egyptian Cotton Sheets
If you've always dreamed of sleeping in sheets of Egyptian cotton, but always thought they would be out of your price range, the Mayfair Linen 100% Egyptian Cotton sheets are here to fulfill your most luxurious snoozing desires. These durable, pure 800 thread-count sheets come in 10 colors and six sizes. The more you sleep in them, the softer and shinier they get.
6. Cozy Fleece Microfleece Set
For those that live in colder climates or find themselves more susceptible to getting chilly at night, these cozy sheets are the perfect budget-friendly option. Constructed from quality microfleece polyester material, this sheet set comes in seven soft shades, fits full, queen, king, and California king beds, and won't pill after several washing machine cycles.
7. Perú Pima - 415 Thread Count Sheet Set
These 100% Peruvian Pima Cotton sheets are imported from expert artisans in Peru. The set includes one flat sheet, one fitted sheet, and two pillowcases. These durable sheets are often used in hotels, and for $100 you could feel like you're sleeping in the Hilton every night while remaining in the comfort of your own home.
8. Sleep Restoration Luxury Bed Sheets With All-Natural Pure Aloe Vera Treatment
Experience the healing, soothing aspects of a spa from your bed. These sheets are treated with natural aloe vera, which improves softness and promotes moisturizing, calming, and rejuvenation for your skin. Also, these sheets are hypoallergenic and resistant to dust mites, mold, mildew, and other allergens.
9. AmazonBasics Heather Jersey Sheet Set
Sleeping in these sheets is like cuddling up with your favorite old t-shirt that's been worn soft over time. They come in neutral colors and won't pill when you put them in the wash.
10. Utopia Bedding Soft Brushed Microfiber Sheet Set
For a truly affordable option, you can't go wrong with this $21 Utopia Bedding Soft Brushed Microfiber Sheet Set. The queen size 4-piece bed sheet comes with one fitted and one flat sheet, plus two pillowcases. The fabric is incredibly soft, and the microfiber is wrinkle, fade and stain resistant.