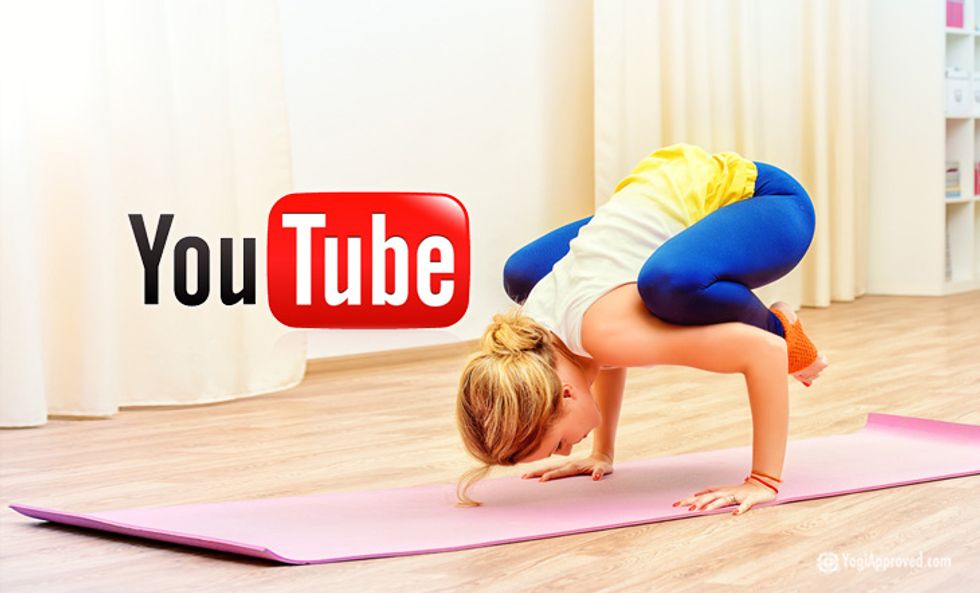 5 Youtube channels for those trying to get into Yoga
If you can't make it to the yoga studio, no worries - the best yoga instructors are now coming to you
We always wish we had enough time in the mornings to make it to the yoga studio. In my particular case, I've always longed to get into practicing yoga, but found that time, money, proximity or some combination of all three always got in the way. That's when it dawned on me that didn't have to stop me on my quest to being a yogi - in fact, I didn't even have to leave my bedroom to have access to some of the best yoga gurus around.
Luckily, there are plenty of free videos on youtube that will motivate you to get off the computer chair and onto the yoga mat. No matter if you're in a time crunch and only have ten minutes to spare, these are some of the best yoga routines meant to make the most use out of your time and energy. We've compiled a list of our favorite channels to kickstart your journey into the world of yoga:
1. Yoga by Candace

Candace is an international yoga instructor and the founder of yogabycandace.com. As of June 2017, she's reached over 150,000 Youtube subscribers who follow her yoga routines on the daily. Besides keeping up with her popular lifestyle blog, she regularly uploads different yoga routines as well as a new yoga class every Tuesday. The videos range from 15 to 60 minutes with a variety of different themes and movements for that day. There's so many to choose from, that you'll never find yourself getting bored with Candace's uplifting and positive presence.
2. Yoga with Adriene
Adriene is one of the most popular Youtube Yoga instructors, and you'll quickly realize why. Adriene is not a typical instructor - she approaches yoga and wellness with a sense of humor and a playfulness that will easily put you in a good mood. Yoga with Adriene is a growing and positive community that encourages yoga for it's health benefits more than anything. Her videos, often with a diverse variety of themes like 'movement medicine', can span from anywhere to 10 to 60 minutes which you can pick and choose to best fit your schedule.
3. Bad Yogi
Bad Yogi can be most easily summed up by her own introduction: "My name is Erin Motz & I'm not your traditional yoga teacher: I'm the carnivorous, red wine and French cheese-loving type, and my aim is to keep my classes fun and accessible. You won't hear much Sanskrit, I totally forgive you if you don't know your asana from your elbow, & I firmly believe that yoga is for everyone, from the kale-loving vegan to the prize-winning deer hunter." Bad Yogi is the ultimate youtube channel for those just starting out in yoga and, despite not knowing any sort of position, can still make the most of their time with instructor Erin. The channel's videos range from yoga classes to Q&As, which you'll find will begin to feel more personal and welcoming than any Youtuber before.
4. EkhartYoga
EkhartYoga was founded by Esther Ekhart, who's been a widely followed yoga instructor for over 20 years. From a minute to an hour long, Ekhart offers videos to seniors, pregnant women, office workers and beginners to advanced yogis, to name a few. Her wide range of knowledge when it comes to yoga have earned her a solid reputation as one of yoga's best. If you have an ailment concern, this channel probably has a video to address it.
5. LivestrongWoman
LivestrongWoman provides quick and effective fitness videos for the woman on the go. Their Yoga series, Yoga with Tara Stiles, is the ultimate guide to any yoga beginner. Stiles offers yoga to relieve stress as well as improve health and fitness. Whether you're new to yoga or not, Stiles is sure to provide you with a stable routine that will leave you feeling refreshed and ready to go.