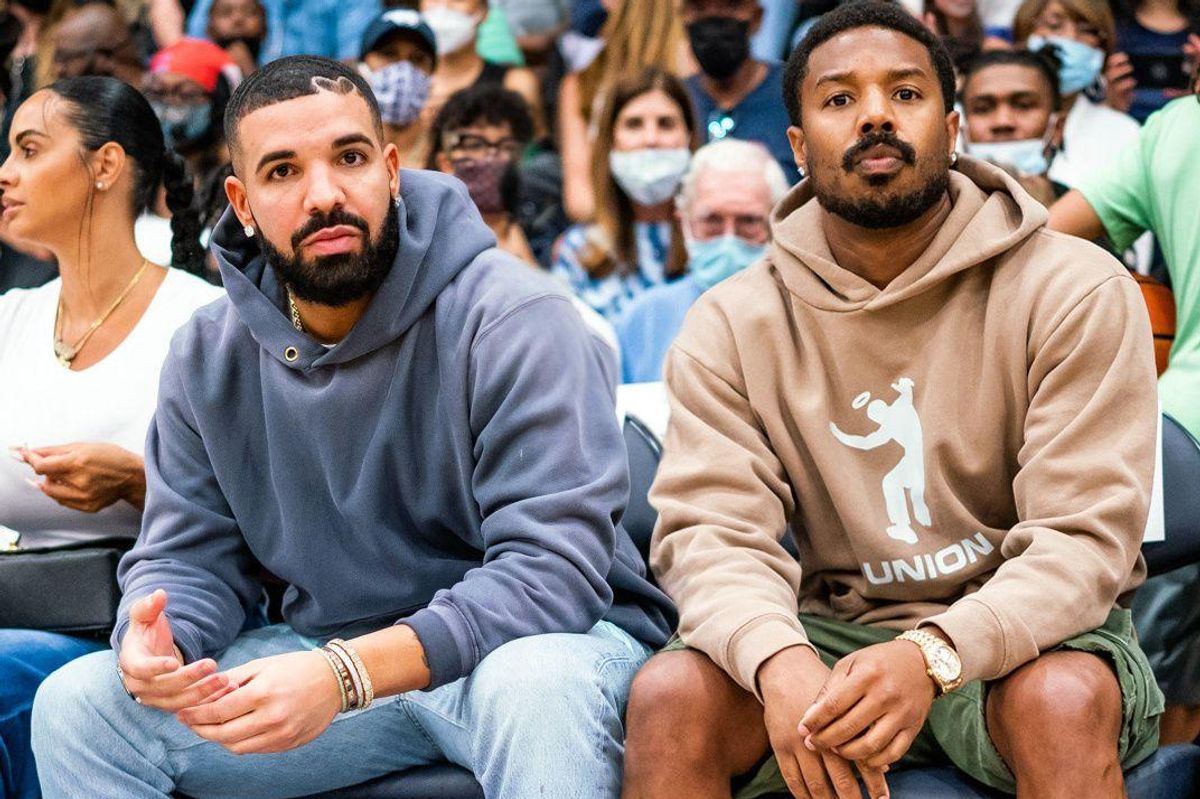 Your Fit is Mid! Black Owned Brands on SSENSE to Elevate Your Style
Celebrate Black Creators by supporting these indie brands, now available on SSENSE!
If all the good girls go to heaven, all the fashion girls go to SSENSE.
SSENSE is an online shopping platform that's synonymous with daring, alternative styles — always at the cutting edge of the latest trends and hottest brands.
---
This fast-moving platform sits comfortably at the intersection of culture, community, and commerce. It features a refreshing mix of established and emerging luxury brands across womenswear, menswear, kidswear, and home. SSENSE will inspire unique, thoughtful design into every aspect of your life. Want to elevate your style? Start here.
The bible of all things anti-basic, you'll find fashion students, influencers, and internet cool people scrolling through SSENSE. Whether they're carting like crazy or merely analyzing the trendscape, SSENSE is a fashion lover's guide to staying relevant.
But don't be intimidated. SSENSE is accessible to all. It may be a fashion aesthete's best-kept secret. But if you're only dipping your toes into alternative fashion, there's hope for you yet!
Have the sneaking suspicion you could do more with your white sneakers? Shop fresh silhouettes and covetable collabs for your favorite shoe staple. Or are you fruitlessly trying to liven up your white-tee-and-blue-jeans uniform? Guilty! SSENSE has surprising cuts and eye-catching washes by high-quality brands, so you'll never look blah even when dressing basic.
Take a deep dive into the minds of fashion's most thrilling personalities, their editorial section is not to be slept on. Call me a style nerd, but their profiles of my favorite designers, creators, models, and Insta baddies always delight and surprise! (As an ex-skate rat turned fashion devotee myself, their interview with Nico Hiraga is fantastic — let's hear it for the male crop top!)
SSENSE also boldly champions diversity. When it comes to fashion in America, many style trends adopted by white people have been co-opted from Black culture. Yet Black people tend to be underrepresented in the fashion industry.
Content creator Pierrah launched a platform that exhalts Black Owned brands you can shop wherever you shop for any occasion. It was no surprise when she recently posted about the exciting brands available on SSENSE.
On SSENSE, you get a clearer picture of culture. It's a cornucopia of singular, vibrant pieces from Black-Owned brands that makes shopping according to your values easy.
February is Black History Month, so we're advocating that you incorporate more Black-owned brands into every aspect of your beautiful life. We've rounded up nine Black-owned fashion brands to help you spruce up your wardrobe, from shoes and accessories to swimwear.
Go ahead. Treat yourself. And remember to keep supporting Black Businesses moving forward.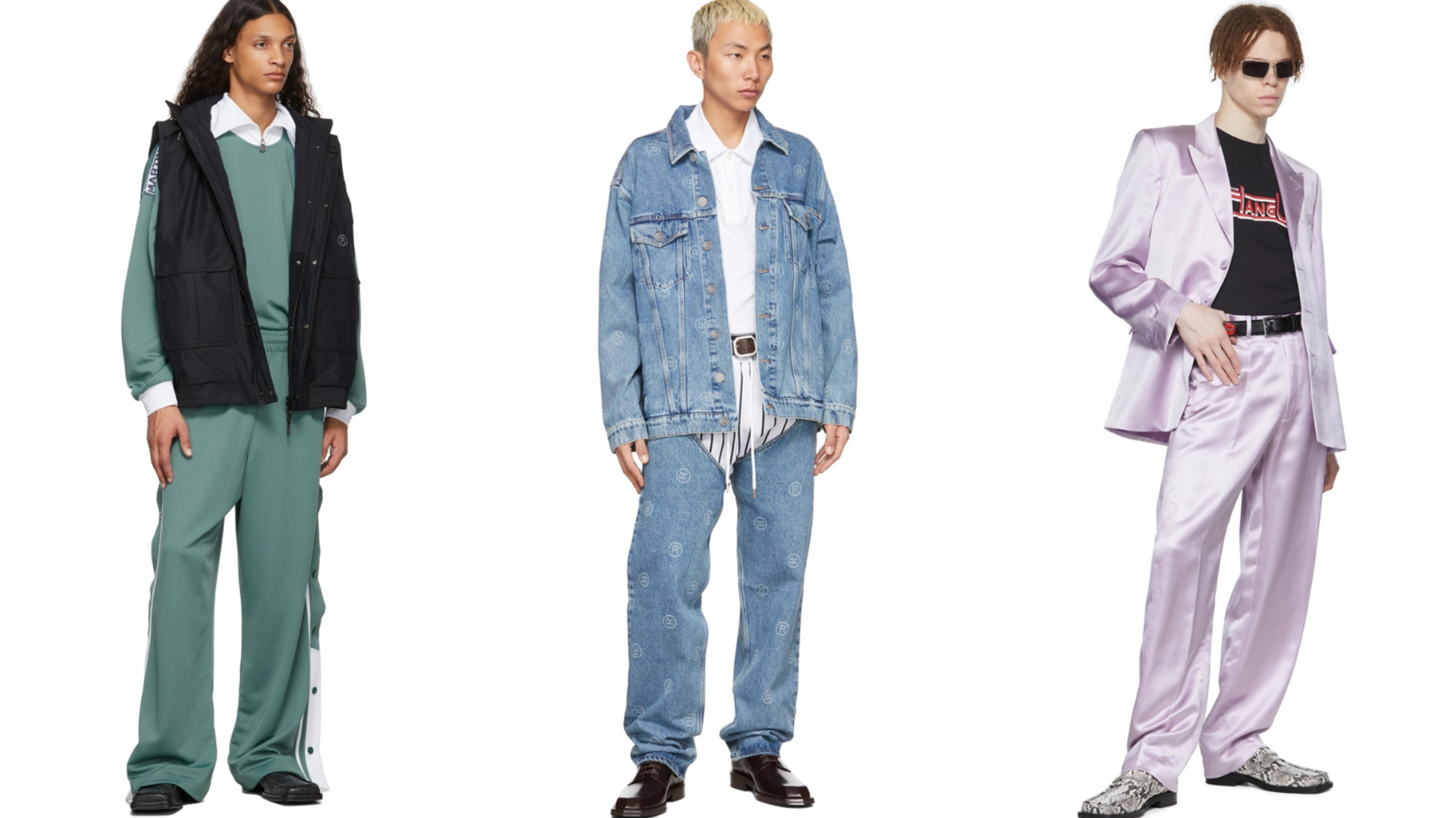 via SSENSE
Showcasing a subversive vision, London-based label Martine Rose draws inspiration from elements of the early '90s-era rave and hip-hop cultures. Combined, these two influences inspire a catalog of reinterpreted menswear staples. Oversized French terry hoodies, sweatshirts, and bonded cotton shirts are blown out to exaggerated proportions.
Signature wide-leg jeans, billowing cord trousers, and denim jackets make a strong statement. Nylon flight jackets and athletic windbreakers are rendered in deconstructed silhouettes. Embroidered patches, cursive logos, and striped rib knit trims elevate soccer shirts and basic tees. Unexpected draping, ruching, and cut-out accents are all part of the label's discerning eye for detail.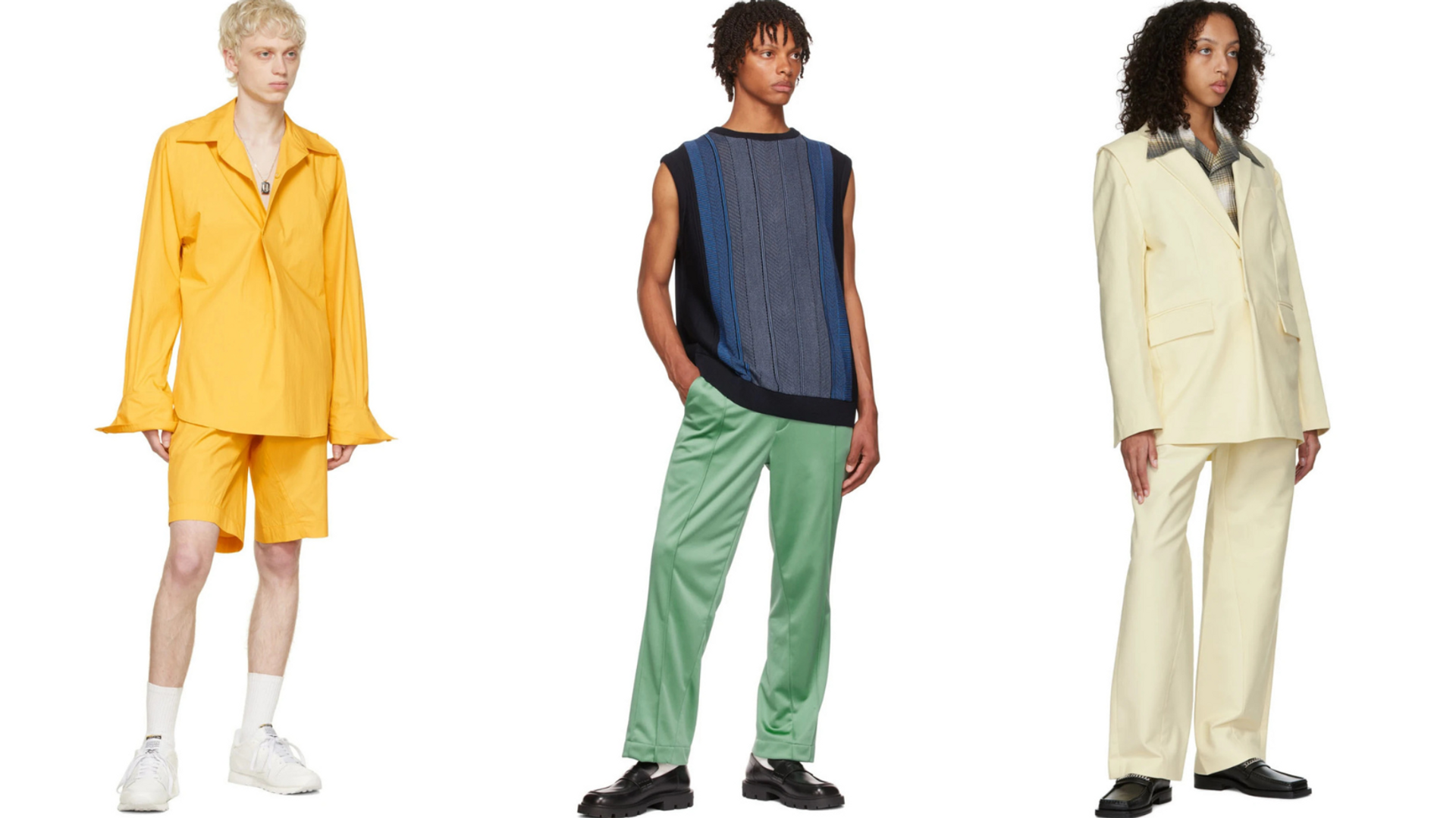 via SSENSE
Taking inspiration from her British and Jamaican background, the Bianca Saunders brand is spearheaded by award-winning Designer & Creative Director Bianca Saunders. Addressing the tension between tradition and modernity, between masculine and feminine, the brand's multi-disciplinary attitude that brings cross-cultural references to reinvigorate the evolution of menswear.
Based in London, Bianca Saunders has garnered international recognition since its inception in 2017. The British Fashion Council deemed the brand 'One To Watch' in 2018. And in 2021, it won The 32nd Andam Grand Prix Fashion Award.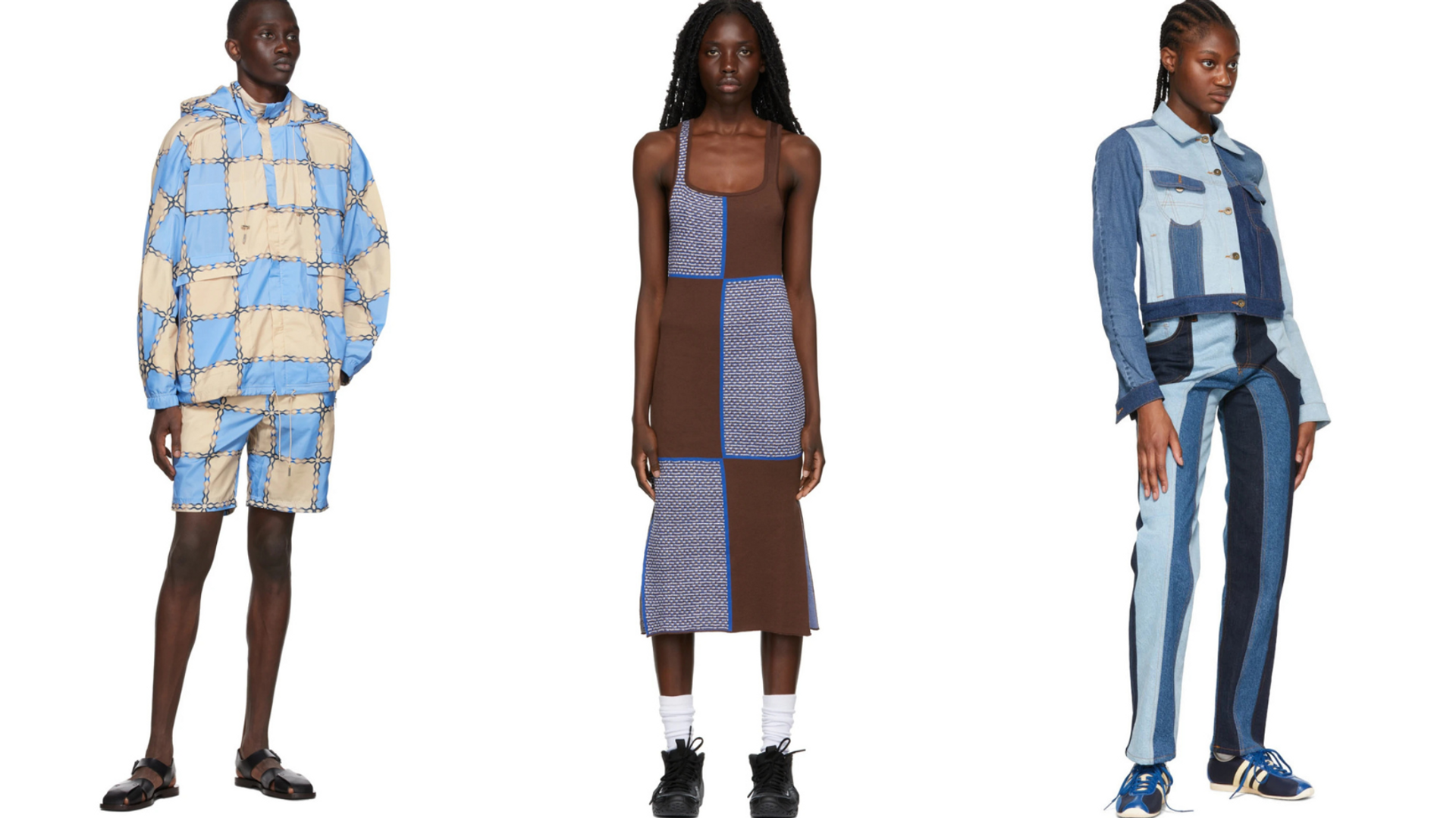 via SSENSE
Multi-award-winning label Ahluwalia was launched in 2018 by Priya Ahluwalia. The label blends elements from the designer's dual Indian-Nigerian heritage and London roots. It leverages the potential of vintage and surplus clothing by giving existing material a new life through textile and patchwork techniques. So, many Ahluwalia pieces are one-of-a-kind.
This startlingly sustainable design approach combines an eclectic mix of influences like art, music, and literature. Much of Ahluwalia's creations extend beyond her collections to collaborative campaigns, books, and films.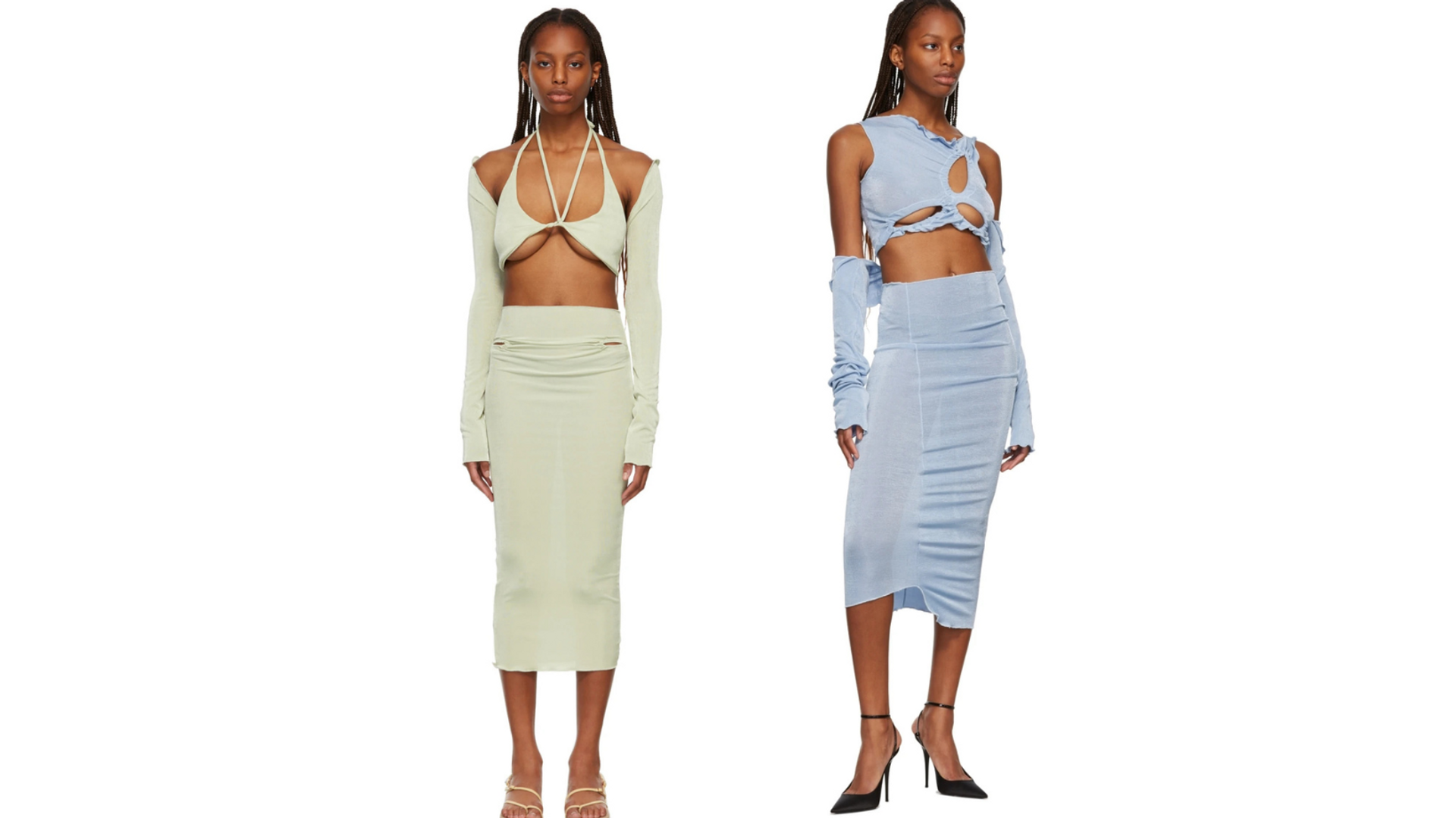 via SSENSE
Launched in 2017 by Toronto-based emerging designer Tyrell Harriott, Tyrell is famous for its slinky and sensual silhouettes. Tyrell garments are designed with a warm vacation in mind and readily transition from day to night. Inspired by architecture and the feminine form, Tyrell's cutouts and asymmetrical lines empower the wearer. Tyrell's versatile fabrics and cuts revealing or concealing skin as desired.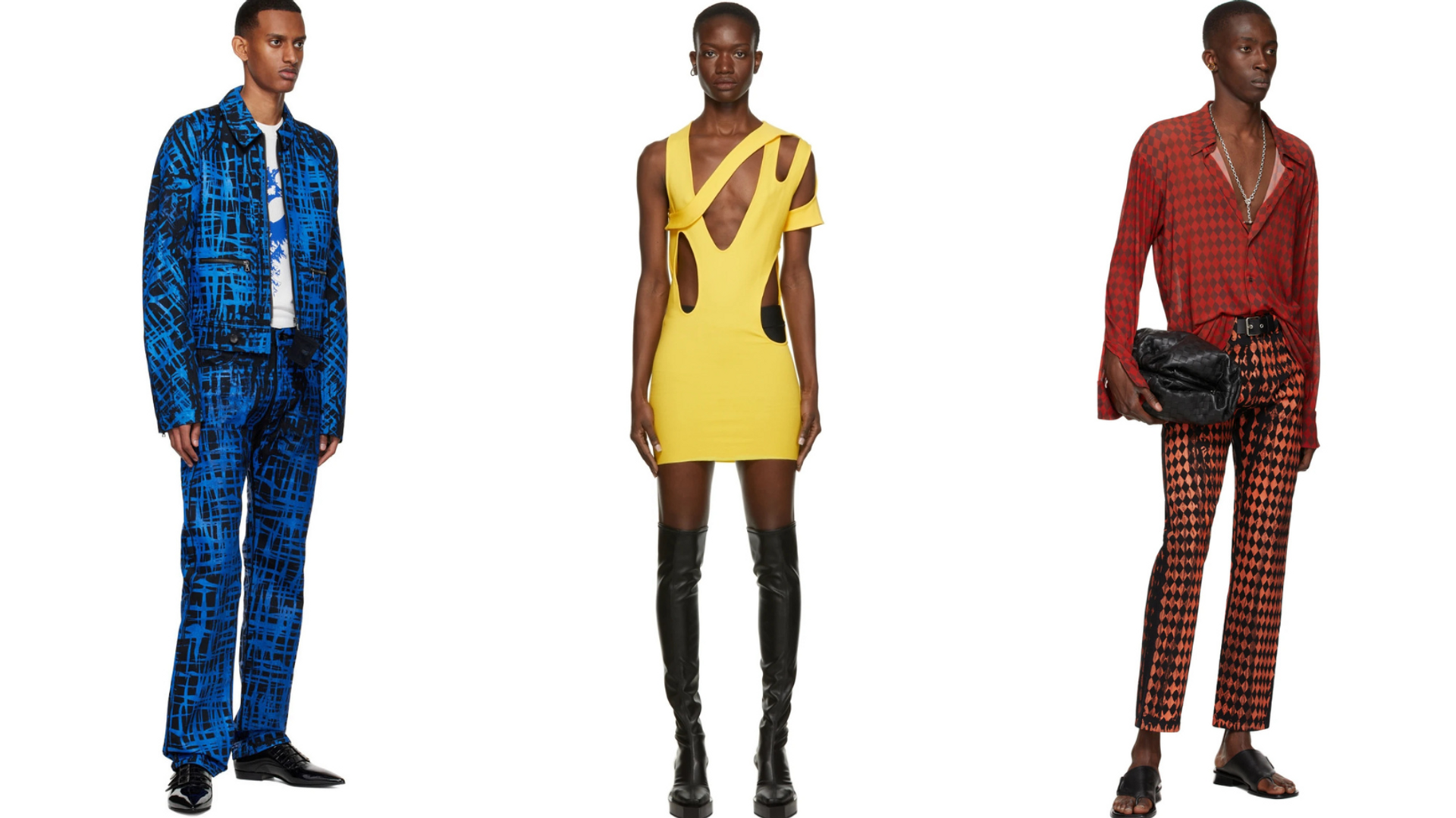 via SSENSE
With influences ranging from nineteenth-century West Indies fashion to early 2000s MTV, Maximillian Davis is an East London designer whose celebratory designs merge with a devotion to precise tailoring. After graduating from The London College of Fashion and working under Wales Bonner, these fresh, unconventional designs are delightful. The audacious, young designer is brazenly translating the spirit of Trinidadian Canboulay into contemporary cityscapes with bright, bold prints.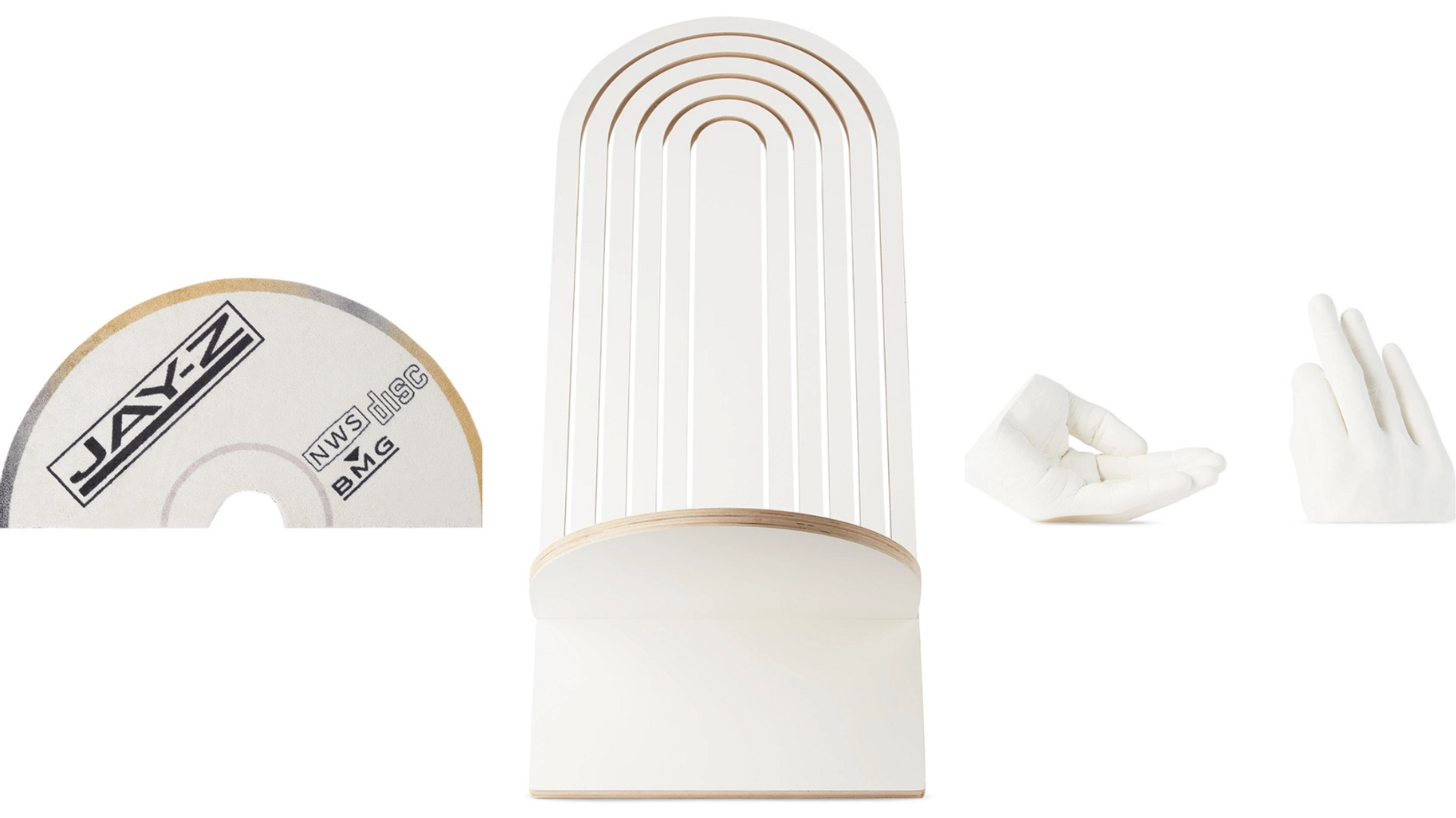 via SSENSE
Toronto-born multidisciplinary artist Sean Brown dedicates his career to seeking meaning through process. His first solo exhibition — a 2018 interactive multimedia show that featured archival ephemera and process work — inspired Curves by Sean Brown. This was an expansive line of contemporary homeware and everyday objects. The brand's signature collection of handmade CD-shaped rugs contrasts the notion of obsolete tech with the lasting nature of art. Interactive objects such as sculptural incense holders and puzzles promote Brown's mission of engagement and exploration.