Finding the right pieces for your home is fundamental in creating a functional and comfortable space – especially when it comes to the bedroom. Your bedroom is not only your sanctuary, but it should be a direct reflection of your aesthetic. So finding the perfect, lifestyle-enhancing furniture is essential when shopping for the most important room in the home.
Thuma is a bedroom furniture brand that has taken the industry by storm with its modern, yet minimalist designs. Founded in 2018, Thuma quickly gained a reputation for crafting high-quality pieces that balance both form and function.
Let's take a closer look at just what makes Thuma's pieces so special:
1. Easy Assembly
Assembling furniture can be a pain. Between complicated instruction manuals and multiple tools, putting together the simplest of furniture can be a frustrating experience. Thankfully The Bed, By Thuma, is super easy and straightforward to put together. By using a technique called Japanese joinery, each piece locks in together. Assembly takes just 5 minutes, no tools needed. And The Dresser, By Thuma, is just as easy to assemble. The Dresser's drawers come ready to nest, just add or remove drawers for completely customizable organization.
2. Timeless Aesthetic
Nothing is more annoying than your outdated bed frame clashing with your room's decor. Nothing to worry about with The Bed, By Thuma. The classic design features clean lines, subtle curves, and plenty of under-bed storage with its space-creating design. And with a lifetime warranty, this means you can keep The Bed for years to come and it will never go out of style.
3. Premium Materials
Thuma uses upcycled, repurposed rubberwood for their collection of bedroom essentials. The wood has been sourced from trees that have reached the end of their 30-year latex-producing life cycles and would otherwise be discarded. Choose from three premium stains – Walnut, Natural, or Espresso – to suit your bedroom's vibe.
Bonus: Each piece is one-of-a-kind with its own natural imperfections and beautiful wood grains of repurposed wood!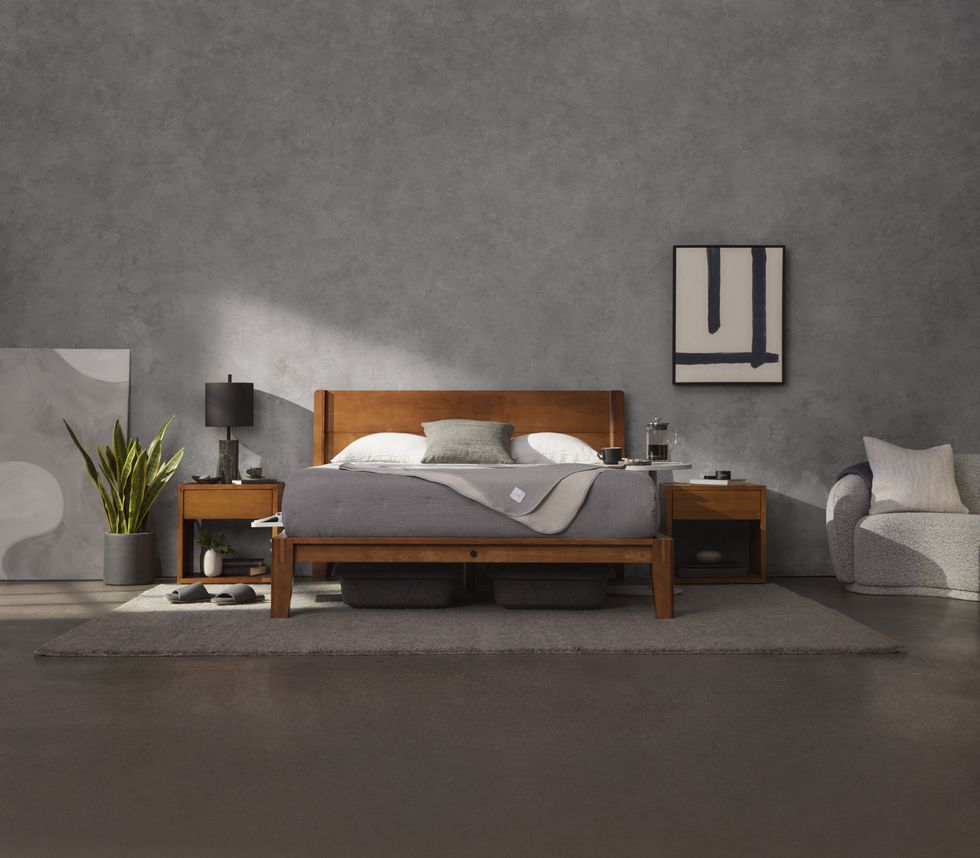 4. Strong & Silent
The cushioned slats and Japanese joinery technique are designed to ensure noise minimization, optimum support, and breathability. So, say goodbye to those irksome creaks every time you roll over in bed.
5. Sustainability
Many of Thuma's Bedroom Suite pieces are GREENGUARD Gold certified, meaning materials used in the construction have undergone extremely thorough testing for chemicals, including off-gassing VOCs, formaldehydes, and all aldehydes. Plus, Thuma partners with One Tree Planted to plant a tree for every bed, nightstand, dresser, and headboard sold.
6. Headboard options
With The Bed, you can choose to have The PillowBoard or upgrade to The Headboard. The PillowBoard is a hybrid headboard + pillow that fits between your mattress and the wall. For a taller, sturdier option, The Headboard is made of the same upcycled rubberwood as The Bed and comes in the same three stains.
7. Fast, free shipping
Thume delivers their bedroom pieces straight to your doorstep. The Bed ships in three easy-to-maneuver boxes, perfect for tight hallways and staircases. And they only use recyclable packaging-no styrofoam in sight!
Along with The Bed, Thuma has expanded their Bedroom Suite collection with The Dresser, The Mattress, The Nightstand, The Two-Drawer Dresser, and The Side Table. Whether you're looking for a bed frame, nightstand, or any other bedroom piece, Thuma will bring you a lifetime of better Bed Time with their bedroom essentials and upgrades.