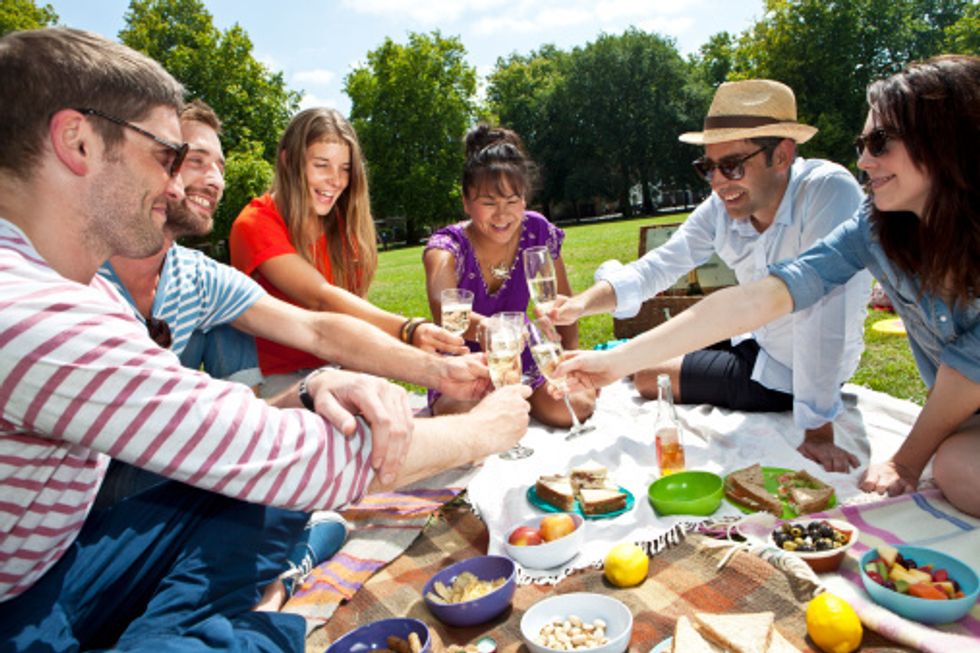 Here's What You Should Bring To Your Picnic
Who doesn't love a good picnic? It's the ideal way to spend the summer -- a true way to stay in touch with nature and eat some delicious food, drink refreshing drinks, and have fun conversation with friends and family (and maybe even the dog!). Here's what we suggest you bring.

Herbed Cucumber Radish Tea Sandwiches
This recipe, courtesy of food blogger and stylist, Maria del Mar Sacasa, couldn't be easier. All you need is Labne (a specialty yogurt cheese -- if you can't find it, just strain 4 cups of Greek yogurt overnight), some herbs, lemon juice, Worcestershire sauce, and a bunch of cucumbers and radishes. The Labne and cucumbers are cool and crunchy, and they don't sog up the bread.
Cajun Lemonade
Because we're going simple and light on the main course, we're going to need a cocktail with a little kick. With a splash of Tabasco and a shot of rum or vodka, you'll be sure to get your picnic started off right. Get the recipe here!
Coconut-Raspberry Thumbprints
These cookies are tiny, but they pack a punch. The sweet, light cookie is perfectly complemented by tart raspberry jam. They'll hold up to hot weather and won't get too sticky on you. The coconut adds an exotic flair that will transport you to an island getaway. Find these addicting delights here!
We think you're all set for your next picnic. These recipes impressed us, and were a hit at our picnics. Now it's your turn.