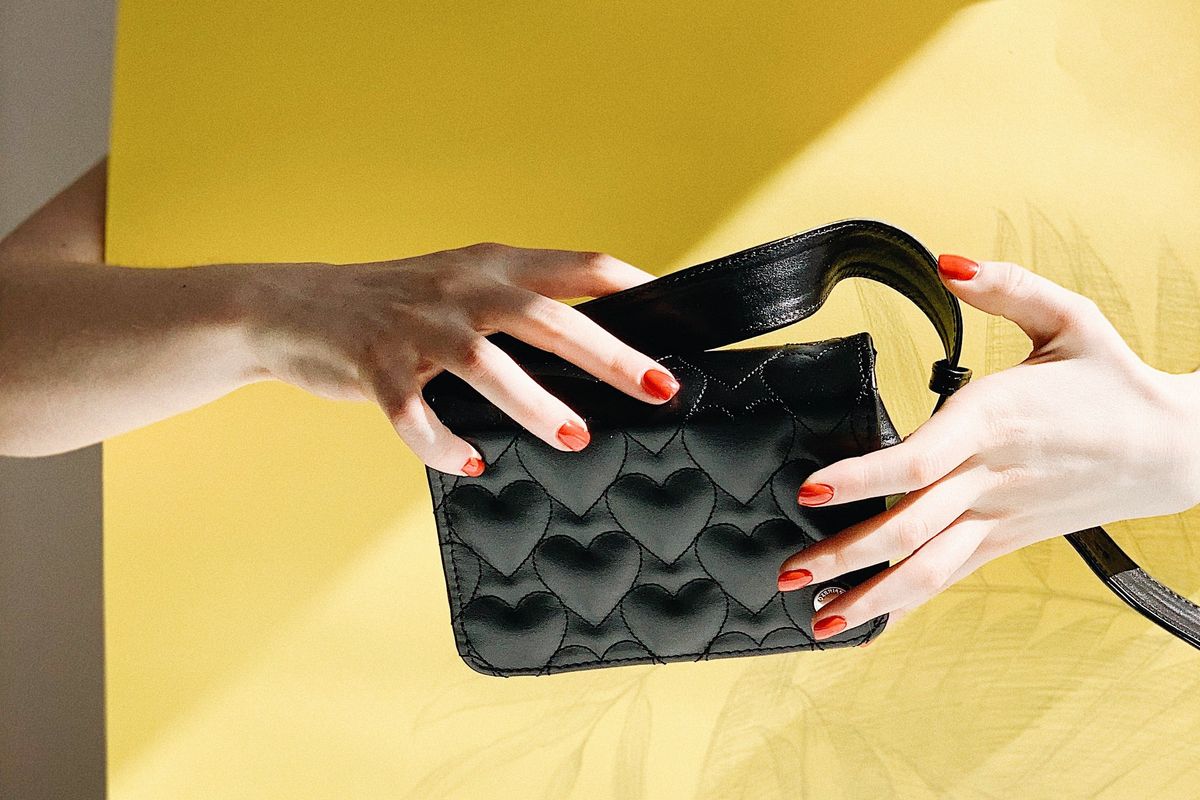 Is The RealReal Dead?
I used to be obsessed with The RealReal. Here's where I'm shopping instead.
I remember when I first heard of The RealReal. A magical marketplace promising high-end fashion finds hiding in plain sight just waiting for me to snatch up. There was a point when I definitely logged more screen time on the TRR app than on Instagram.

I'd scroll through their endless stream of finery for hours, curating my search filters, and piling up aspirational pieces in my saved items that I'd never actually buy. But that was the fun of it, the joy of discovery. I'd swoon over rare vintage finds and reminisce when I scrolled past a sneaker I'd coveted back in 2013. And there it was, on a shelf in a warehouse somewhere ready to ship to me.
---
While I own a number of treasured TRR finds, I barely think of it now. What once was a revolutionary player in the sustainability game now seems like a means for people to keep up their overconsumption. All while justifying designer splurges with the fact that they'll make some of their money back when that direct deposit from TRR hits on the 15th of every month.
And I'm not the only one who thinks The RealReal has lost its luster.
In the early days of The RealReal, they were a digital solution. Then came the flagship store in New York. Then more NYC locations. After its IPO in 2019, things only got messier and messier. In the span of just a couple of years, they opened 13 more stores, making 16 retail spaces in total. TRR has expanded to Los Angeles, Greenwich, Connecticut, and Austin, Texas — any big city known for its shopping.
This made shopping and selling items infinitely easier. And so came the floods. The site was soon inundated with more inventory than they could deal with. And with their quantity rising, their quality slipped. The standards for what they accepted was way lower than in the early days, leading to well-photographed clothing which were truly on their last legs.
And then the horror stories. People were shipped the wrong items. They were also exposed for a flood of fakes clogging the feed. Not very Real Real of them.
The most shocking: one person discovered a pair of worn underwear in the pocket of a recently purchased parka. Gross. Perhaps Parka-gate was the last straw. Or perhaps the platform has just lost its glow.
It's certainly losing money.
In 2022, The RealReal announced it was on track to be profitable by 2024. Over the past year, its shares have plummeted at a loss of 80% of their value. They reported a net loss of over $50 million in a recent quarter.
So, to deliver on their promise, they're downsizing. The company stated in a recent SEC filing that it plans to lay off 230 employees and close four stores this year. That's about 7% of its workforce. So, say goodbye to the San Francisco and Chicago flagships, as well as two stores in Atlanta and Austin. Some of its consignment offices are also on the chopping block, as are its office spaces in NYC and San Francisco.
But as The RealReal shrinks, consignment stores aren't all dead. Maybe the fall of this giant will make room for more consignment opportunities in the luxury resale space. I've experimented with local consignment stores, plus other digital platforms and I'm here to tell all the former TRR addicts that there is hope!
In fact, many of the more niche sites offer better deals, and a better overall experience. Plus, with sites that connect you to the sellers and the buyers, it makes for a more personal interaction. Your clothes hold memories. They're reflections of who you are. Rather than handing them off to a pushy consignment agent (who else has started screening those calls from TRR?), you can be sure your items are going to a good home. And as a buyer, you can screen your purchases and ask more questions.
Here are my favorite consignment platforms for all my needs:
All products featured are independently selected by our editors. Things you buy through our links may earn us a commission.
At my core, I'm a streetwear girlie. Though I consider myself a reformed hypebeast, there's nothing that can replicate the rush of waiting for a 2013 Supreme drop. Finding those rare, limited grails is a close second. If Grailed had existed in 2013, I'd have been insufferable.
Maybe you're not a streetwear devotee, but if you like sneakers and have been wronged by the SNKRS app, StockX is the platform for you. It also reveals the pricing history, so you can be sure you're getting a good deal.
If you're seeking community in the resale space, Basic Space if where you'll find it. It's a platform for clothes, collectibles, art, and more from your favorite fashion insiders and tastemakers.
Vestaire Collective is like shopping the closet of your cooler, more fashion-forward friend. It's like an elevated version of Poshmark, with verified pieces from verified shoppers. For well-maintained, timeless gems, you know where to look.
Rebag is a beloved platform for both sellers and buyers. For sellers, it offers cash upfront — always a score. For buyers, it offers a giant inventory of well-priced, pre-loved choices to expand your bag collection. Those Chanel flap dreams just might be on their way to coming true.
There's a reason why Rent The Runway has been around for so long: its premise is simple but genius. Rent and return in-season pieces and occasionwear without having to overshop and cram your closet with exorbitant items you'll never wear again. You can even buy some of the pre-worn pieces at a major discount.
Vivrelle is a tad pricey. But if you adore designer bags and aren't ready to invest in one of your own, this subscription service allows you to rent out an in-season bag for a few months. Then you switch it out with a new one. It can help you try out styles, figure out your taste, and refresh your looks each season. You'll always be on-trend — or ahead of them — without dropping a mint on a new bag every season.