I've had the same bed for at least a decade. I inherited it from my aunt, and it's gotten the job done, but it is super outdated looking and constantly creaks.
I wanted to get something new, but not if it was going to be a cheap frame that would go in a year or two—sure, I complain about the style, but my aunt's bed will probably still be around next century.
I wanted to upgrade to something high-quality and modern, but I figured I'd have to compromise on one. So when I stumbled on The Bed by Thuma, I loved the sleek design, but was skeptical. Could it last as long as the much larger and more traditional beds of the past? Plus, it comes in three shades: Natural, Walnut and the brand new Espresso.
Still….it was so beautiful, minimal, and easy to assemble (apparently), thanks to the technique of Japanese Joinery.
The browser stayed open on my computer for a week, so I decided to finally look up some customer reviews to make my decision.
"My husband and I love this bed!"
"My husband and I love this bed! It is beautiful, sturdy, and easy to assemble. The directions [were] clear and assembly took about 5 minutes. I was surprised by the clearance underneath and was easily able to fit all of our storage containers." - Terrah A.
"Doesn't make a single squeak"
"This isn't just The Bed, it's THE Bed! It was so easy to put together once we brought it up the stairs...it's so beautiful and supportive. It gave new life to my mattress and doesn't make a single little squeak when I roll over at night. I HIGHLY recommend The Bed!" - Megan B.
"Assembly as easy as advertised"
"We bought the Thuma king size frame...We are so pleased with the superior craftsmanship, careful packaging and easy to follow assembly instructions. We are senior citizens and found the assembly as easy as advertised." - Audrey C.
"I couldn't be happier."
"I love this bed more than I thought I would. It arrived securely packaged in three boxes that I could manage on my own (as long as I made sure to lift with my legs!). The individual pieces are really well made and SOLID. I laid the pieces out as shown in the instructions and video from the site and it was put together in less than 10 minutes. The color is a gorgeous warm brown that matches some of my other furniture well even though they are not the exact same shade. I really love how minimal the design is. It's really nice that the pillowboard's cover comes off for washing, but I'll probably buy the other color just for variety! There is no wobbling or squeaking or anything. I couldn't be happier with my purchase." - Angela F.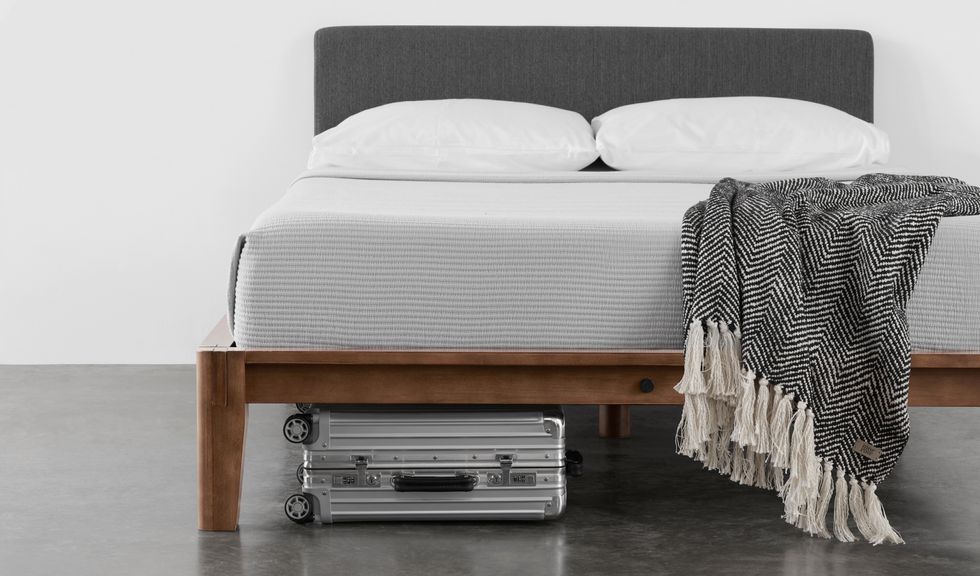 "Simple and elegant"

"Solid and beautiful. Just the simple, elegant piece we were looking for." - Heather B.
"Where has Thuma been all my life?"
"Oh my god—where has Thuma been all my life?? We'd been putting up with a futon frame for almost 20 years, and it was fine until I tried to move it on the carpet, and the stress on the flimsy construction meant that it was never right again. Then we moved, and I knew the old frame would NEVER go back together due to the damage. So when we moved into the new place, we bought The Bed, by Thuma. It's like NIGHT and DAY. Goes together super quickly and easily and is so sturdy. I love this frame with a passion. So glad we got it." - Catherine W.
After reading through all of these reviews, it was clear that The Bed lived up to its promises of easy assembly, quiet and supportive design, and enough clearance for storage. Plus it's eco-friendly, made with real wood and eco-fi felt, and so beautifully minimal. I fell in love and bought it!
When it arrived, it was very easy to assemble. It felt like a fun puzzle. And, it looks incredible. Plus, it's completely noise-free. I can't imagine that there's a better bed out there than The Bed, by Thuma.