We used to buy a ton of throw-away furniture. The lesson we've learned? Invest in well-designed, well-made, quality pieces that will last you years. Your future self will thank you.
A bed should be one of these pieces. Finding one that ticks all the boxes is time-consuming, and those reviews make for terrible bedtime reading. It should be the right size, height, color, fit and design, sturdy, and built with high-quality material that lasts - if you want to have it for years.
Our editors have done a lot of research into the best beds out there and have uncovered a lot of beds that seem good but are pretty much just clones of each other. Recently, a new, innovative bed came on the market that intrigued us, The Bed, by Thuma. Its minimalist design instantly caught our eye. And once we heard about its Japanese-inspired craftsmanship and 5-minute assembly, we had to try it out. Plus, it comes in four shades: Natural, Walnut, Espresso, and the brand new Grey.
We expected The Bed, by Thuma, to be much the same as the other beds we've had in the past, but we were so wrong. After using it for the last two months, it is now #1 on our bed-to-buy list. Here are 5 reasons why.
1. Timeless Design
The Bed will look gorgeous in any bedroom. It's evident that so much time went into its design, with smooth curved edges and extra under-bed storage. The PillowBoard adds the finishing touch with interchangeable and washable linen-weave covers.
2. Quality Materials
The Bed features real wood with a walnut, natural, espresso, or grey stain - it's built to last a lifetime. If you've only ever had a flimsy, creaky bed, you will immediately feel and love the difference.
3. Simple Assembly
If you've ever self-assembled any pieces at home - the indecipherable instructions and sorting through the hardware scattered about your carpet - then you will seriously appreciate The Bed. One person can assemble it in 5-ish minutes. With the Japanese joinery, each bar locks into the adjacent bar at the leg - no drilling or hardware needed!
Then the slats simply lock into place. When it's time to move, disassembly is just as easy. And it's delivered in three separate boxes –no pivoting an oversized box up a staircase or through a tight doorway.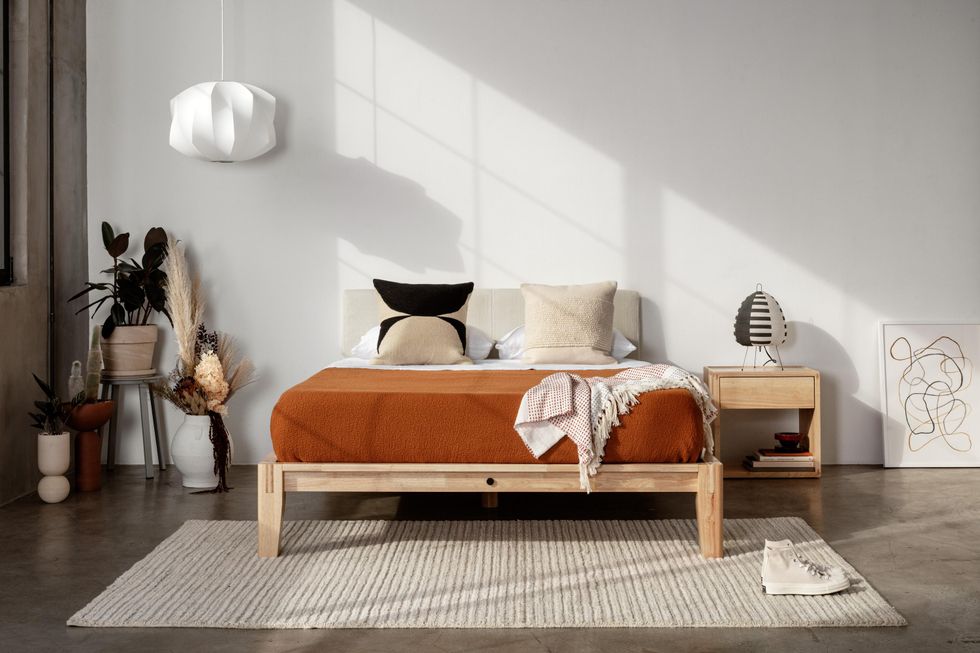 The Bed, By Thuma in Natural
4. Environmentally friendly

The Bed is composed of upcycled rubberwood and other mindfully selected materials. The boxes are made from recycled cardboard, and the packaging uses no styrofoam.
5. Supportive
The Bed wins on sturdiness for sure. It will withhold any and all bedroom activities. But the best part is no more awful creaky noises! The Japanese joinery and cushion-coated slats ensure not just durability, but also sound reduction. So, no noise as you snuggle down into your favorite sleeping position and drift off to sleep.
If you are in the market for a new bed and value simplicity, stunning design, and convenience, The Bed, by Thuma is for you. With a lifetime guarantee, it will be the last bed you ever have to buy. The perfect investment piece that really pays off!