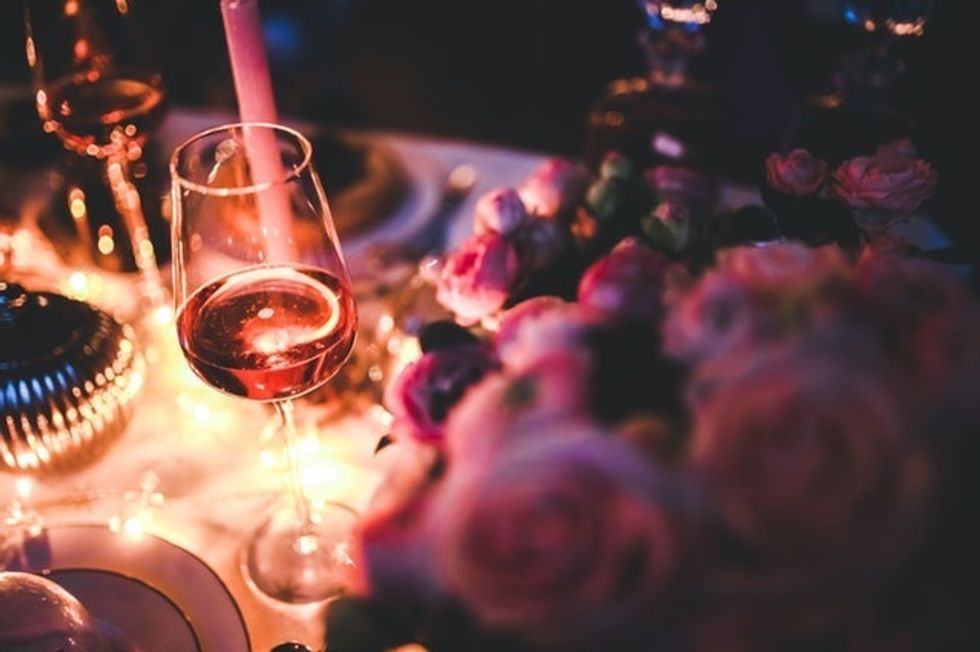 The best wine accessories for any wine lover
Charge up your chardonnay, rev up your rose, and perk up your pinot noir
Wine lovers, rejoice! Along with the delectable wines you enjoy, you can now take your passion for wine drinking to new heights with accessories worthy of a toast. Charge up your chardonnay, rev up your rose, and perk up your pinot noir with five wine accessories as delightful as the wine itself.
Grab a glass and pour yourself something special, made even more so with these wonderful wine additions.
Wine stopper: Rabbit L.E.D. Bottle Stoppers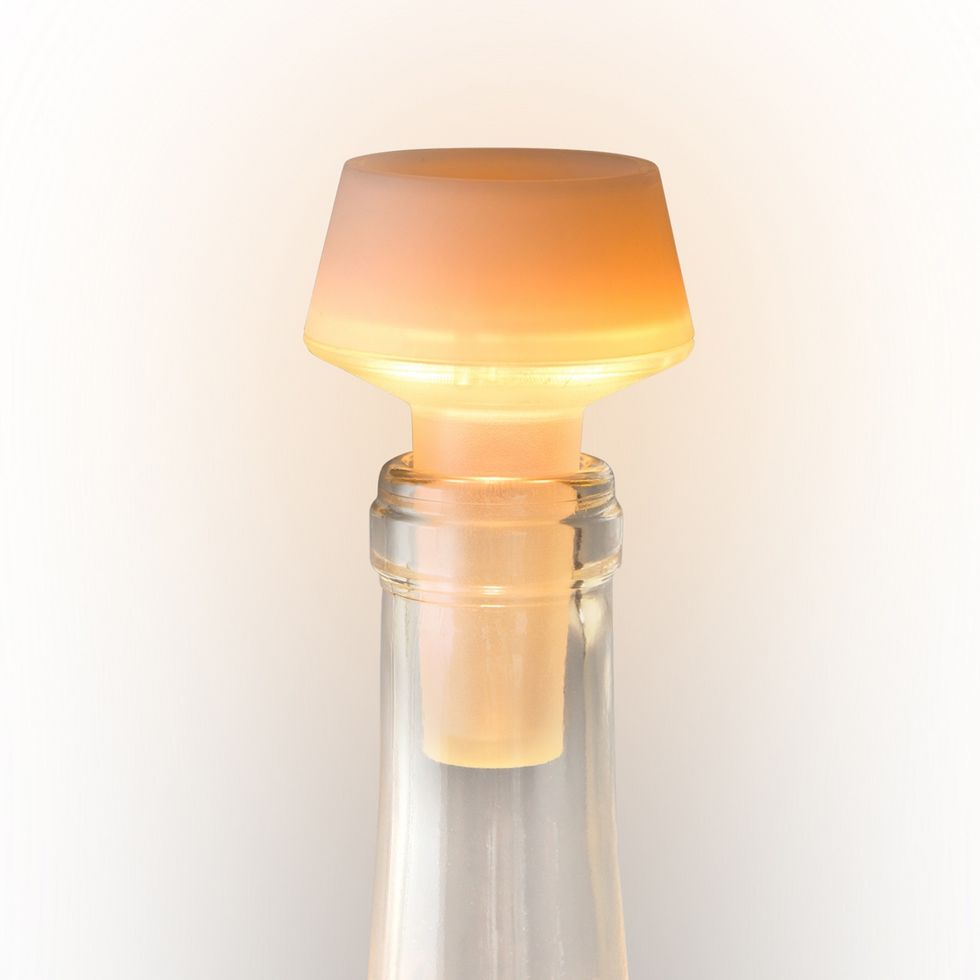 Via rabbitwine.com
There are plenty of types of wine bottle stoppers out there, but why go for the "been there, done that" stopper when Rabbit L.E.D. Bottle Stoppers can light up your life? These illuminating stoppers give off a subtle radiant glow, giving the room a delightful ambiance while keeping your wine bottle capped when you are not pouring a glass. Attractive and useful, the light lasts for 96 hours of beautiful bottle-topping. The set of two means a "bottle of red, a bottle of white…"
Cost: $16 for two stoppers
Decanter: Le Chateau Wine Decanter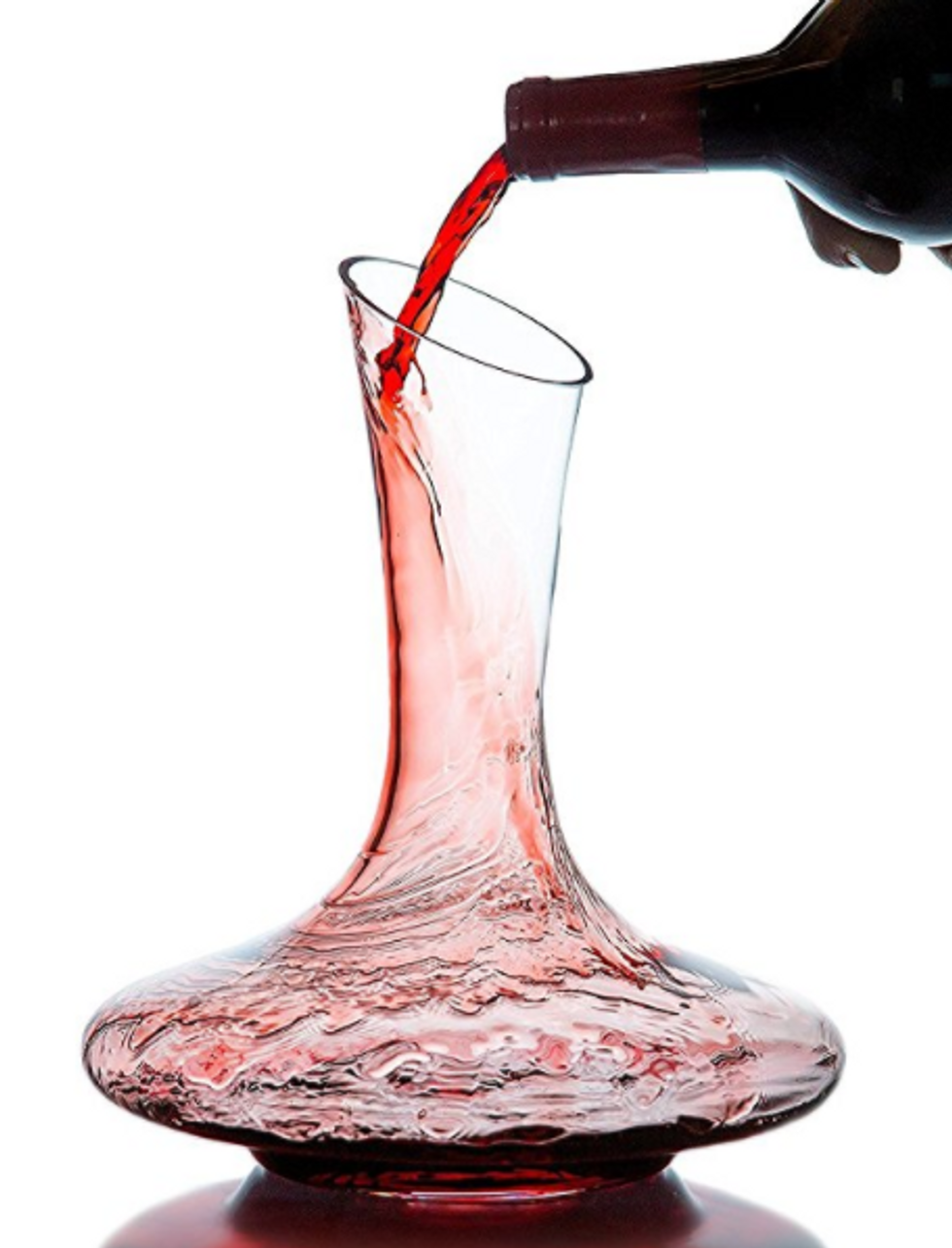 Affordable and attractive, Le Chateau Wine Decanteris not only a lovely sight on your tabletop or bar, but makes every sip all the more sensational. The brushed stainless steel base and chic glass design is classic and timeless, and the functionality of the aeration and oxygenation applied to your wine makes it smell and taste better than pouring straight from bottle to glass. This decanter makes for a nice housewarming gift for the wine aficionado, and coming from Wine Enthusiast, you know it is a tried-and-true item.
Cost: $39.95
Wine Chilling Stick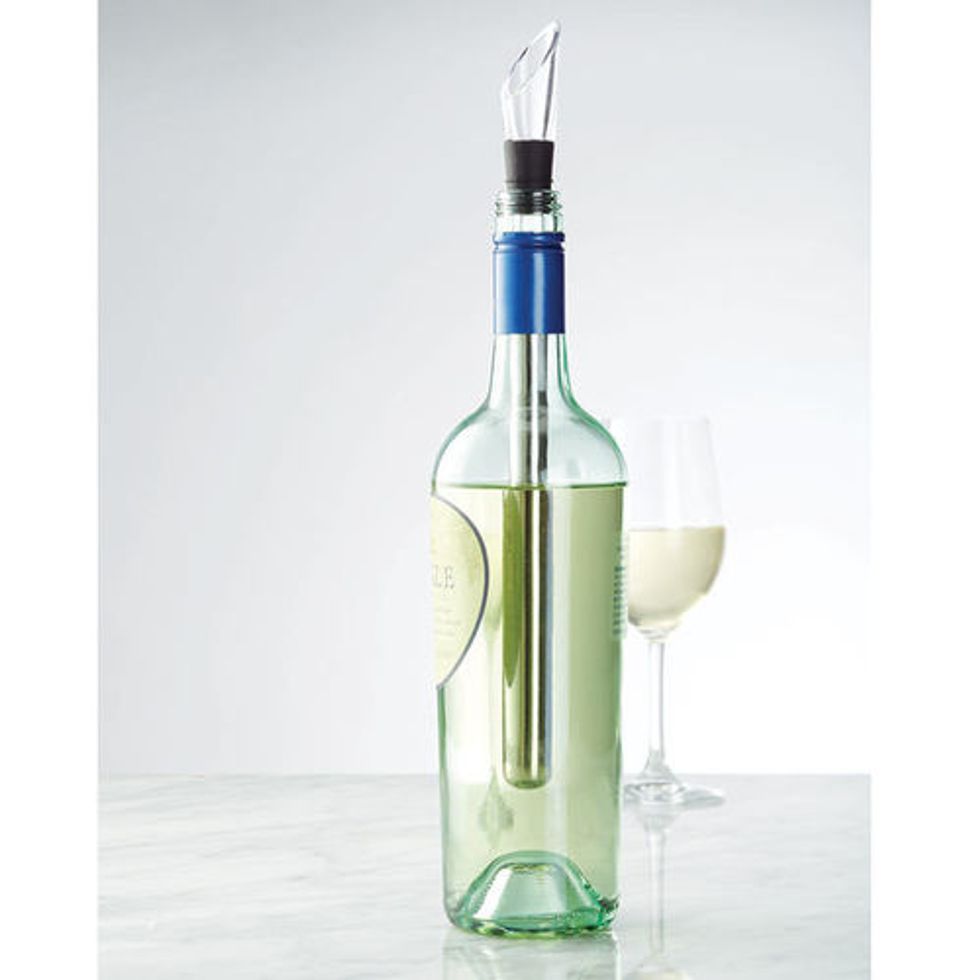 Via brookstone.com
When you want to keep that white wine or rose cool all afternoon or evening, running back and forth to the fridge is no fun, and ice cubes will just water down your wine. What to do? Get a Wine Chilling Stick and perfectly chilled wine is just a pour away. Prep the easy-to-use stick for at least an hour in the freezer, pop into your bottle, and pour through the connected drip-free spout. It cleans with a quick rinse, ready for the next bottle whenever you are. Pretty cool, heh?
Cost: $8.99
Electric Corkscrew Wine Opener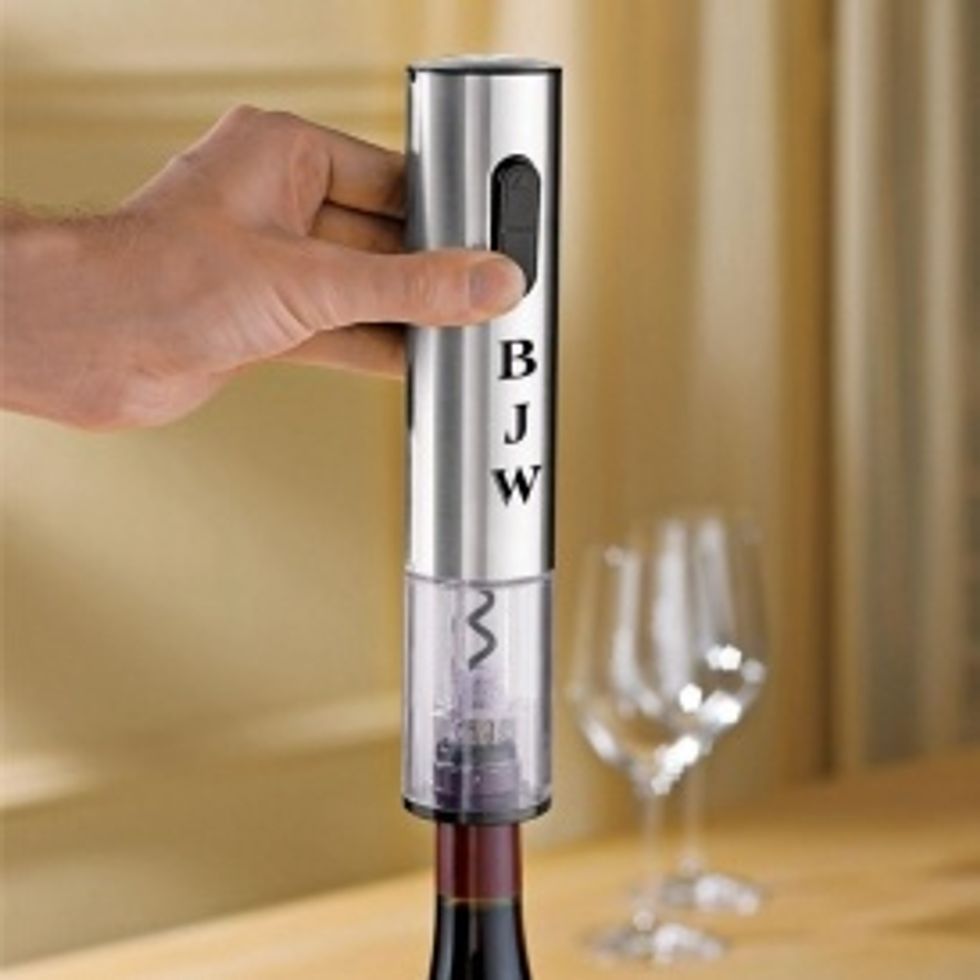 Via lazerdesigns.com
Old-fashion corkscrews get the job done, but with today's modern conveniences, why not go the electric route? Electric Corkscrew Wine Opener is a breeze, since it does all the work for you. The stainless steel opener includes a foil cutter, and with the push of a button, it works its magic. Watch the opener's telltale blue light so you know when your wine is ready for pouring and drinking. Personalize yours with an etched engraving for even more wine-opening excitement. Great for gifts, but you'll want one for yourself.
Cost: $19.99
Wine Glass Charm/Marker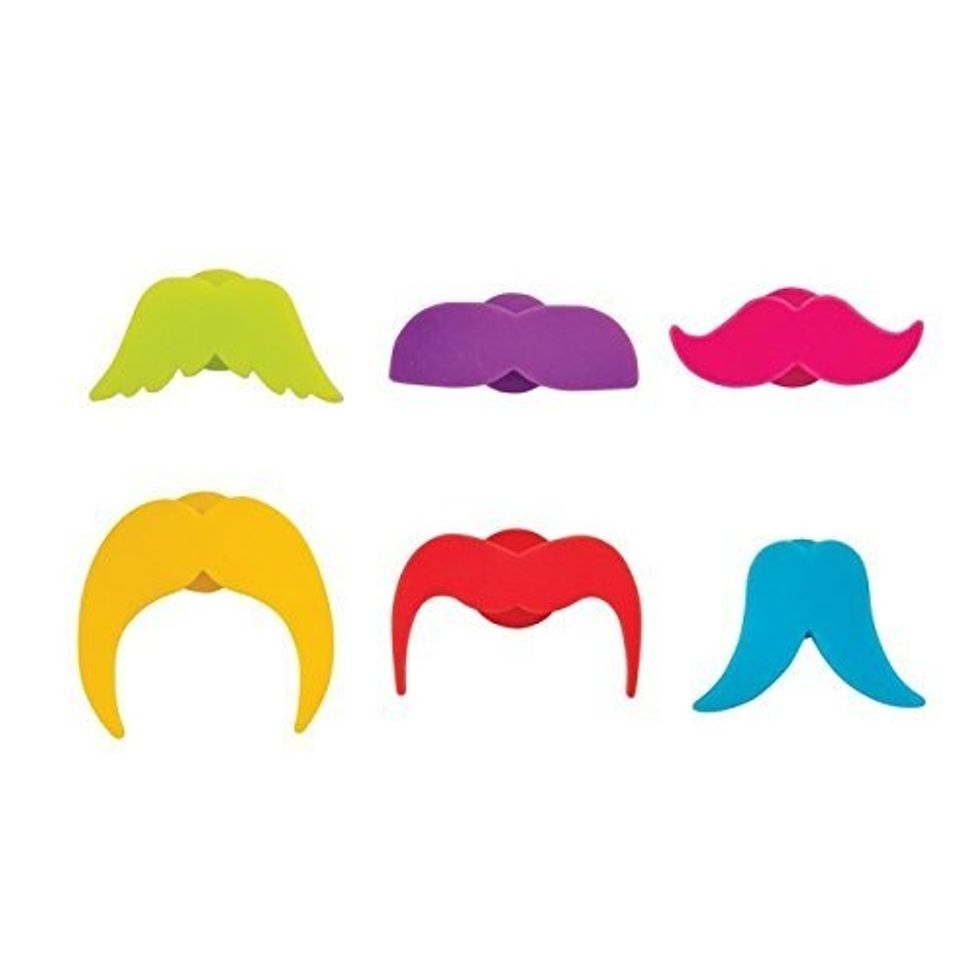 Via amazon.com
Never forget which glass is yours when you mark each wine glass with a quirky mustache. Wine Glass Charms / Drink Markers are fun and entertaining, with each one from the six-pack in a different color and mustache shape. Place one on the rim of a wine glass to identify the glass while making for some laughs as you take each sip. Made of durable silicone rubber, they are flexible and washable, and won't damage the wine glass. Perfect for parties where merlot meets mustache with these adorable smile-making markers.
Cost: $12.95 for a set of 6
Wine is always better with accessories to take each bottle up a notch. Before you pour, explore the many ways to elevate your experience. Cheers!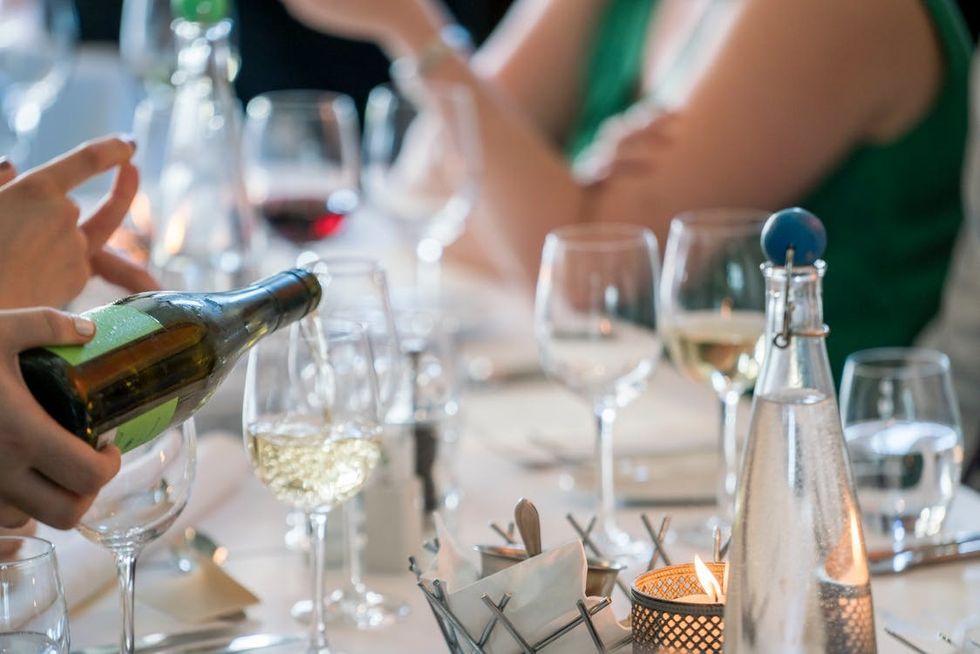 Via pexels.com