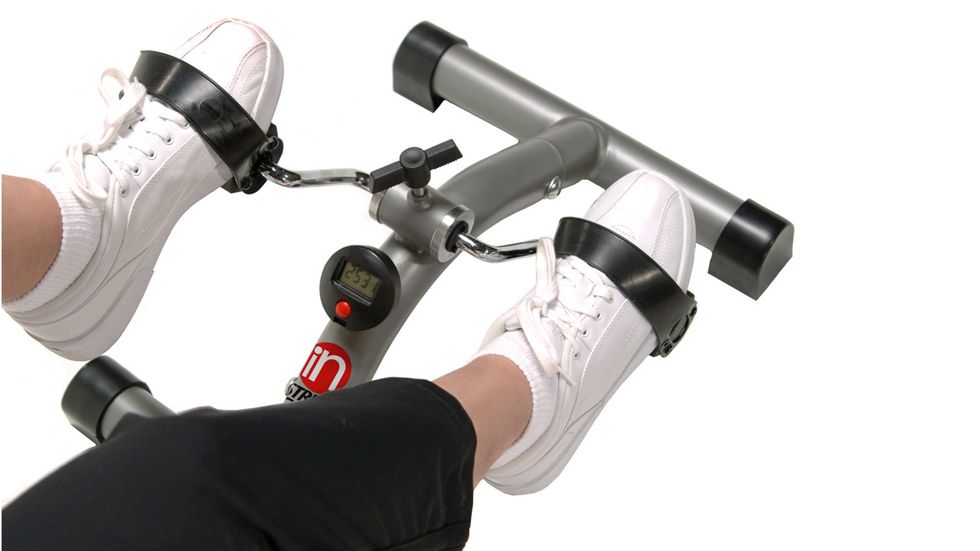 Get fit and look fabulous – Our picks for the best desk peddlers
Here are five of our favorite desk peddlers that will get your legs moving and your heart pumping
Mini exercise bikes, often known as desk peddlers, are super-convenient and easy to use. When you can't get outdoors for a bike ride and you don't have the room for a traditional stationary bike, these smaller versions allow you to get in some body-boosting exercise at nearly any time of day.
Aaron Bernstein, of AaronB Fitness and creator of the A2BFastFit programs recommends desk peddlers to his clients. "So many of us have jobs or daily routines that keep us seated all day. All activity is good activity. So a mini desk peddler is a great way to add some movement to your day!"
Whether stashed under your desk or situated by a sturdy chair, a desk peddler can be used in nearly any room, making your excuses for not having the time or space to move your body no longer valid. Here are five of our favorite desk peddlers that will get your legs moving and your heart pumping.
Loctek U1 Under Desk Bike Upright Stationary Foldable Exercise Bike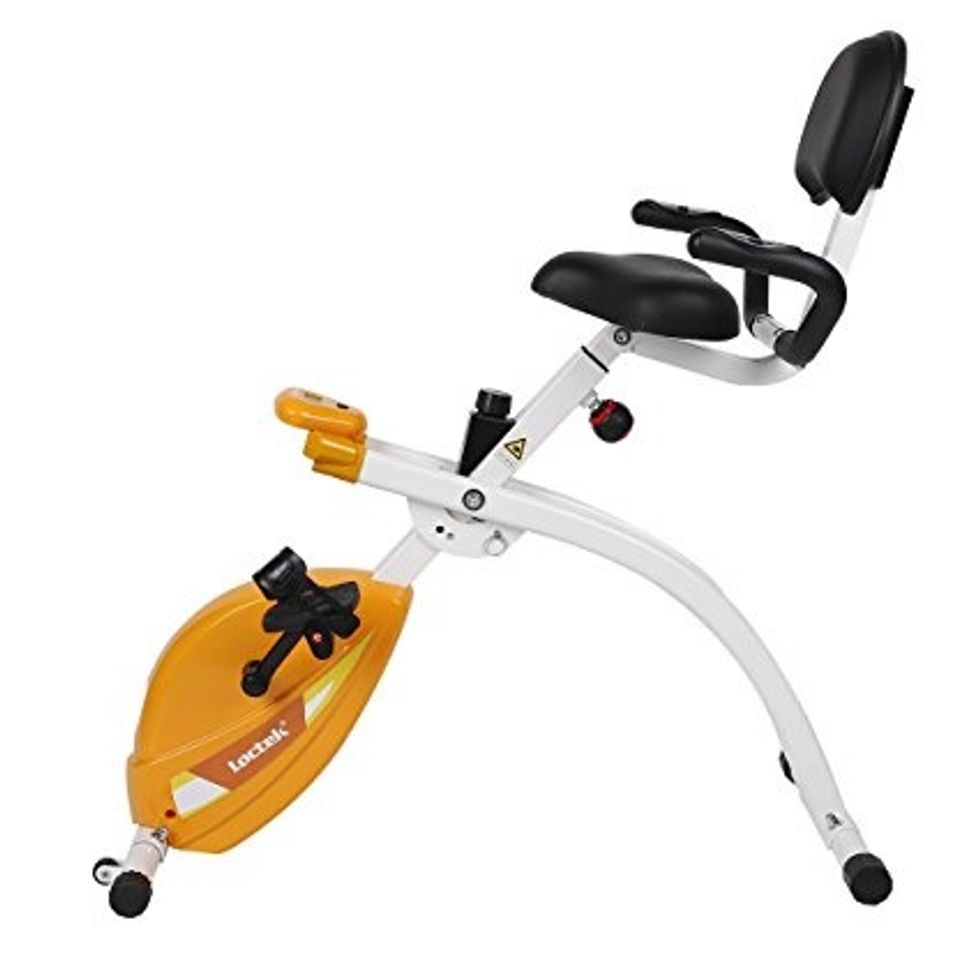 LocktekVia amazon.com
The Loctek U1 is a sleek posture-improving desk chair and mini peddler all in one. This one is perfect for use while working, making the countless hours spent at your desk better for your health. No more slumping or slouching, or being sluggish and sedentary when you can pedal as you perform work tasks. The Loctek is lightweight, compact, and foldable, so you can swap it out for a regular chair in mere seconds. It is made of steel for sturdiness and no cords or batteries are required. Smooth motion makes this machine a breeze to use, so you won't give up on your fitness goals.
Cost: $159.95
Marcy Deluxe Mini Cardio Cycle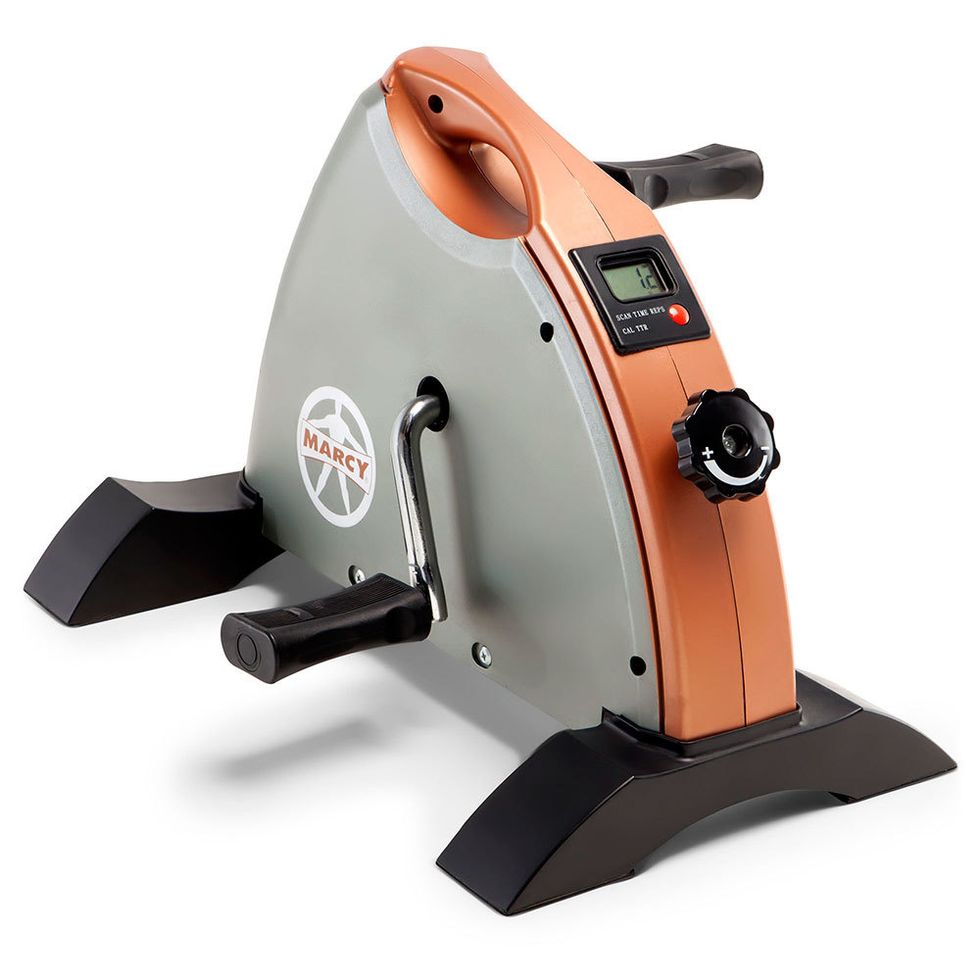 MarcyVia marcypro.com
Marcy Deluxe Mini Cardio Cycle may be "mini" but the results will be major when you make the effort to pedal your way towards your prime physique. This lightweight and compact peddler is perfect for under-desk use and can be used as an arm toning machine as well when placed on a higher platform. The nifty computer display will keep tabs on calories burned, time spent peddling, etc. Marcy Deluxe is battery operated and easily portable, so take it on-the-go to squeeze in a fitness routine whenever you have a break to bike.
Cost: $54.99
The Lakeside Collection Digital Pedal Exerciser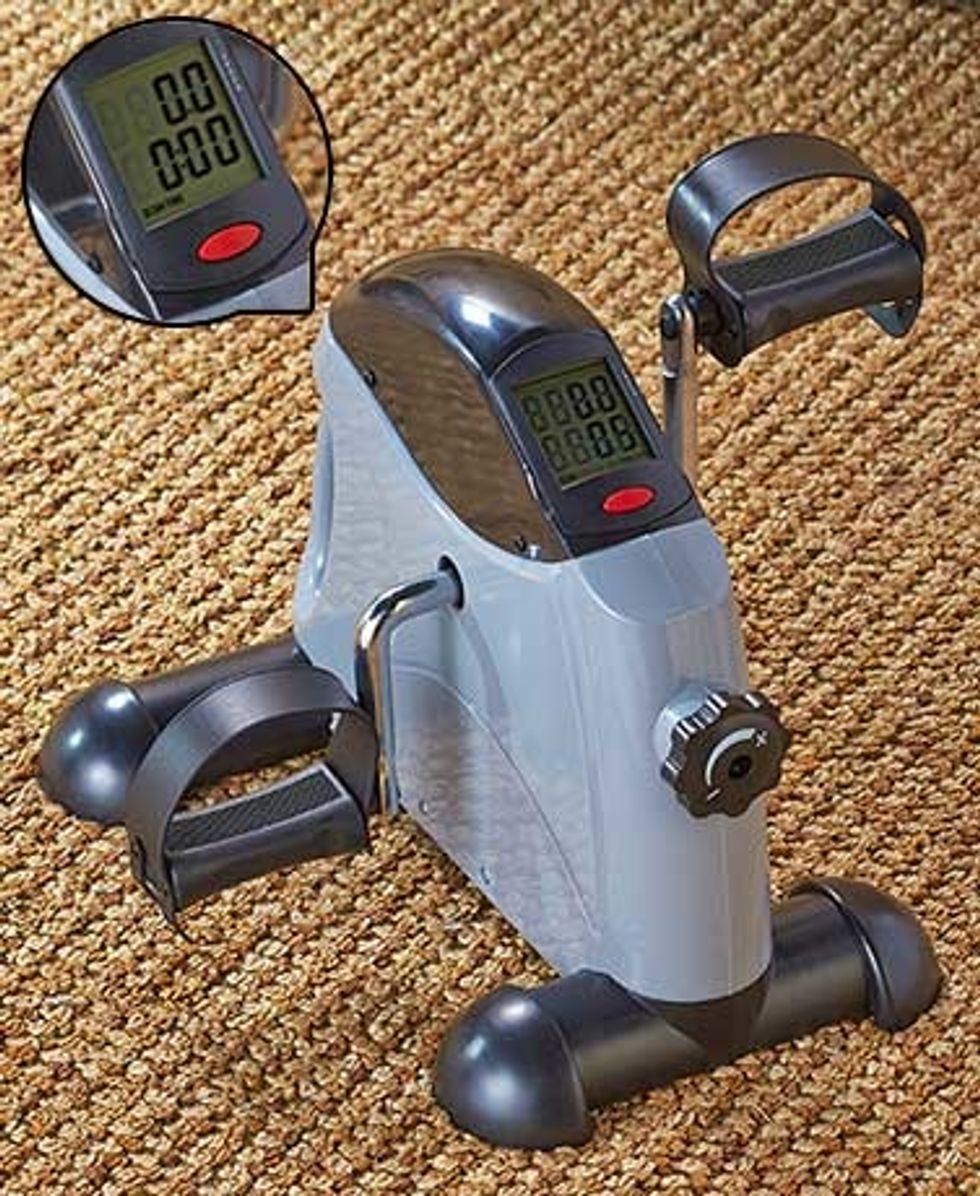 Lakeside CollectionVia lakeside.com
Whether you're at your desk or watching TV, The Lakeside Collection Digital Pedal Exerciserwill get your legs moving while you go about your usual daily routine uninterrupted. Make your workout as easy or as difficult as you'd like by adjusting the tension-control knob. The peddler will display distance covered, rotations completed per minute, speed, and calories burned. The non-slip stabilizer pads allow you to use the peddler on nearly any surface – even tabletops for giving your arms a workout. This peddler is battery-operated and portable, so you can transport it from your home to your office seamlessly.
Cost: $52.98
Stamina InStride Folding Cycle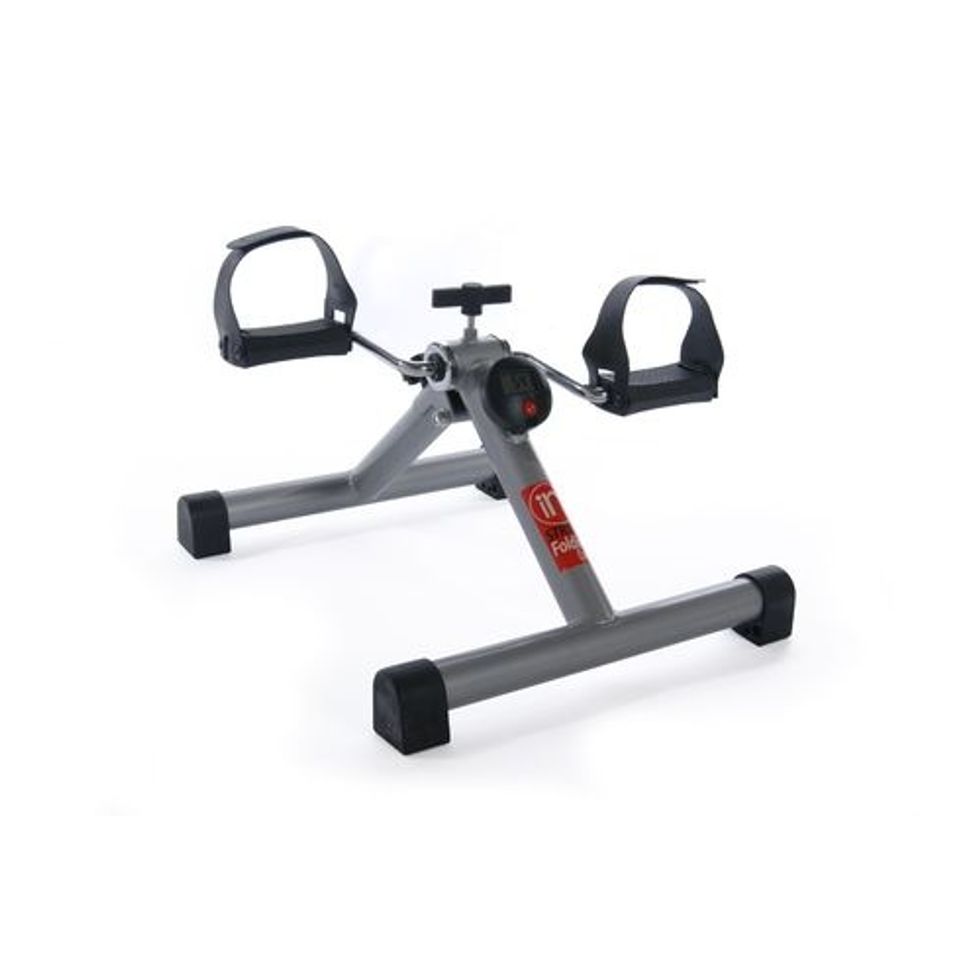 Stamina Via academy.com
Foldable and ultra-portable, the super-light 6.2 lb. Stamina InStride Folding Cycle is low-impact and low-maintenance. Perfect for beginners or those looking to add a healthy dose of extra movement to their day. While geared primarily towards toning legs, this fitness machine can be used to get arms moving and in better shape as well. The adjustable tension knob allows you to decide on the intensity of your workout while the built-in timer will keep track of your minutes spent peddling. With no assembly required, this peddler is ready to roll!
Cost: $29.99
BetaFlex Smart Exercise Bike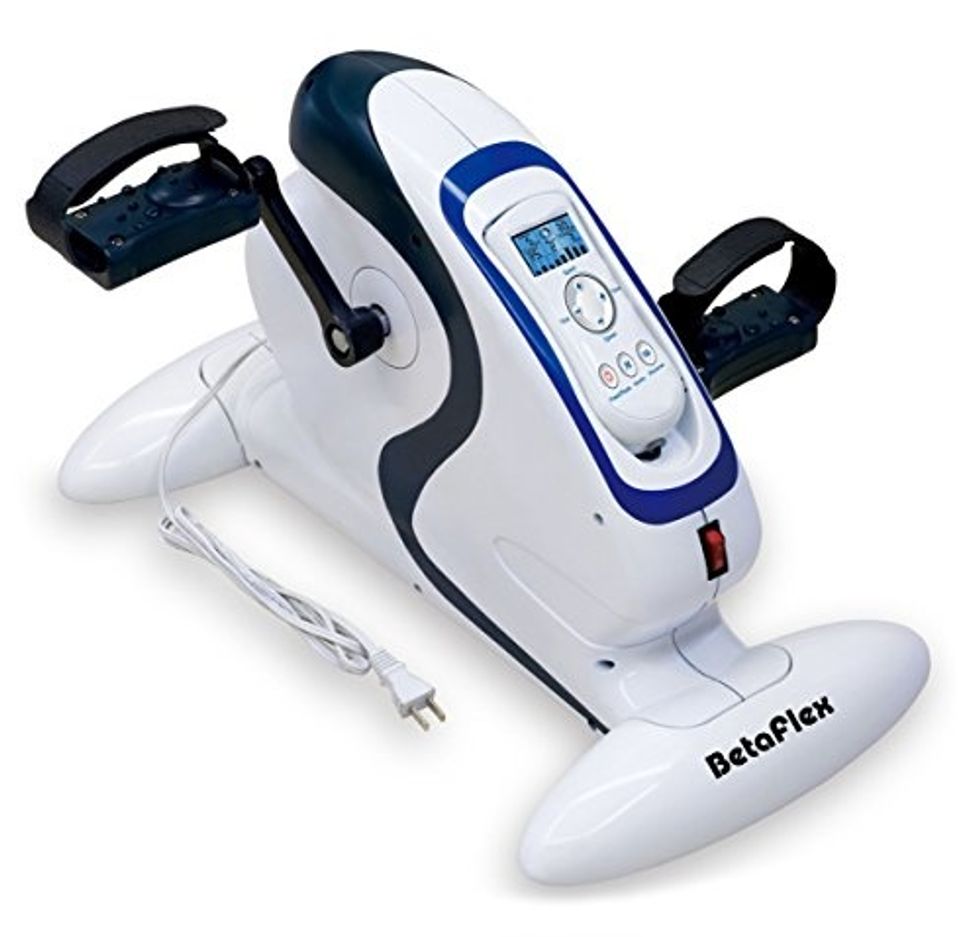 BetaFlexVia amazon.com
Plug yourBetaFlex Smart Exercise Bike into an outlet, take a seat, and pedal with perfect balance as you shape up, slim down, and move your body conveniently. BetaFlex can be set to the automatic or manual setting, allowing you to create just the workout that suits your fitness goals and activity level. Various speeds and modes make for mix-and-match workouts, so you will never become bored with your bike. Compact and modernly-designed, this peddler is a pleasure to use.
Cost: $159.95
Get your feet in motion and pedal those pounds away. Sit, spin, and see the results.