We spend a third of our lifetime in bed, so buying a bed should definitely be an investment that we put a lot of thought into.
Buying cheap, throwaway furniture is not something you want to do when it comes to your bed - it's not exactly easy to replace.
If you want a bed that will last you years, it should be sturdy and high-quality, and you should like the aesthetic! We've done a great deal of research into beds to find one that is really one of a kind and will tick every box: The Bed, by Thuma.
Its amazing minimalist wooden design was the first thing that caught our attention. It really is eye-catching, with smooth curved edges and extra under-the-bed storage.
Other than the way it looks, we figured it was just a regular wooden bed. But when we looked into all the features, we realized it was so much better.
Here are all your questions answered on your next bed purchase.
What is it The Bed, by Thuma made from?
Thuma is made from genuine wood that has a natural walnut coloring for The Bed. It has no veneers or MDFs. Each bed is unique, with natural imperfections of handcrafted repurposed wood. The Pillow Board is made of 100% polyester pebbled with two interchangeable linen-weave covers on top of a premium tapered foam fill. The double-strength slats are lined with eco-fi felt made from eco-friendly recycled plastics. Their furniture pieces come in four shades: Natural, Walnut, Espresso and their all new Grey stain.
Does it come all in one piece?
Nope, it comes in 11 pieces that you can assemble yourself.
Is it easy to assemble?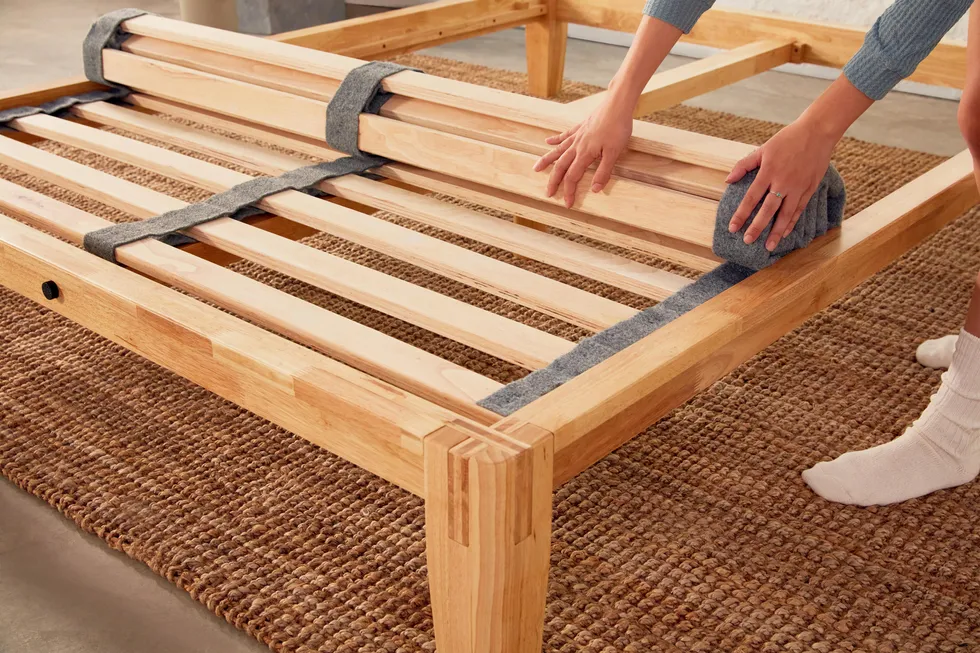 Thuma's assembly could not be any easier - no power drills, countless screws, allen keys, detailed instructions, or hours of effort needed. To build The Bed, there is no need for excess metal hardware. And it only takes about 5 minutes!
The Bed utilizes the Japanese Joinery technique - each rail locks into the adjacent rail at the leg, and the slats simply lock into place - no screws or drilling needed! The Bed arrives in three easy carry boxes designed to fit through hallways, doors, and around corners with ease, so it's easy to transport.
What are the benefits of Japanese Joinery?
Apart from the easy assembly, using this technique, it creates a bed that's naturally noise-minimizing. No more awful creaky noises whenever you reposition yourself in bed.
How long does it last?
The Bed is built to last a lifetime. Perfect for your current home and your next.
What if I move?
When it's time to move, disassembly is just as easy as the assembly, and will only take a few minutes. Each piece is easy to carry and transport –no pivoting oversized boxes anywhere.
The Bed by Thuma really is as high quality as you can get. It looks sleek, it's sturdy, plus it's convenient to assemble and move. Another major plus is that it's environmentally friendly since it's made from up-cycled rubberwood and mindfully selected materials. Even the boxes don't use styrofoam.
If you're on the market for a new bed, we'd recommend The Bed by Thuma. It ticks all the right boxes.