Like everybody else, my partner and I have spent a ton of time at home lately. As you can imagine, "home" became so much more than the place where we ate, slept, and kept our things—it became our whole world.
And because it became our whole world, it started to have a strong effect on my mood. When our home is clean and organized, I feel great. When it's cluttered or dirty, I feel miserable. I know it sounds oversimplified, but a friend's explanation really blew my mind: It's all about feng shui.
Marci explained that feng shui is a traditional Chinese practice that harmonizes an individual's energy forces with their environment. Streamlining your space and arranging things properly aligns your energy with the greater world, and allows you to work, think, and live with greater clarity and ease.
She said that—if I had to pick one room—I should feng shui our bedroom because it's the most important room in the home. Since a third of our lives are spent sleeping, not to mention all the waking hours we spend just relaxing, the bedroom should have a flow that allows for free and unblocked energy.
The first step was to clear out the clutter since it immediately clogs the energy flow. Next, we considered the most important object in the room—our bed. Marci advised that we ensure it's properly placed and aesthetically pleasing.
Our bed should be welcoming and exude comfort; an oasis from the rest of our everyday lives. Turns out, she'd just bought the perfect platform bed frame that fits perfectly with the feng shui aesthetic— The Bed, by Thuma.
I was slightly embarrassed by the monstrosity we'd been sleeping on for years. Add in the jumble of books, storage bins of winter clothes, the dusty unworn shoes, and two old laptops that hadn't worked in years under the bed and it was obvious why things didn't feel right.
I set on cleaning, clearing out, and organizing like it was my job, and I made a ton of progress. It started to feel better, but I still knew it wasn't there yet. We just bought a mattress last year and loved it, so that wasn't the obstacle.
The problem had to be the ugly, bulky bed frame that I often stubbed my toe on. So annoying! It was my partner's when we moved in together and I knew we both hated it, but we kept it out of convenience. The heavy look, clunky design, and sharp corners were a real downer. It was definitely time to check out Thuma's site.
I was first attracted to the natural walnut-colored frame, not to mention the sleek style and minimalist design. I love the smooth curved edges, neat PillowBoard, and under-the-bed storage.
Made from high-quality wood (no veneers or MDF's), The Bed is built to last a lifetime. Plus, they're GreenGuard Gold certified which is pretty hard to find. I loved the idea that, in addition to getting a great-looking new platform bed frame, we'd be making the best decision for our indoor air quality.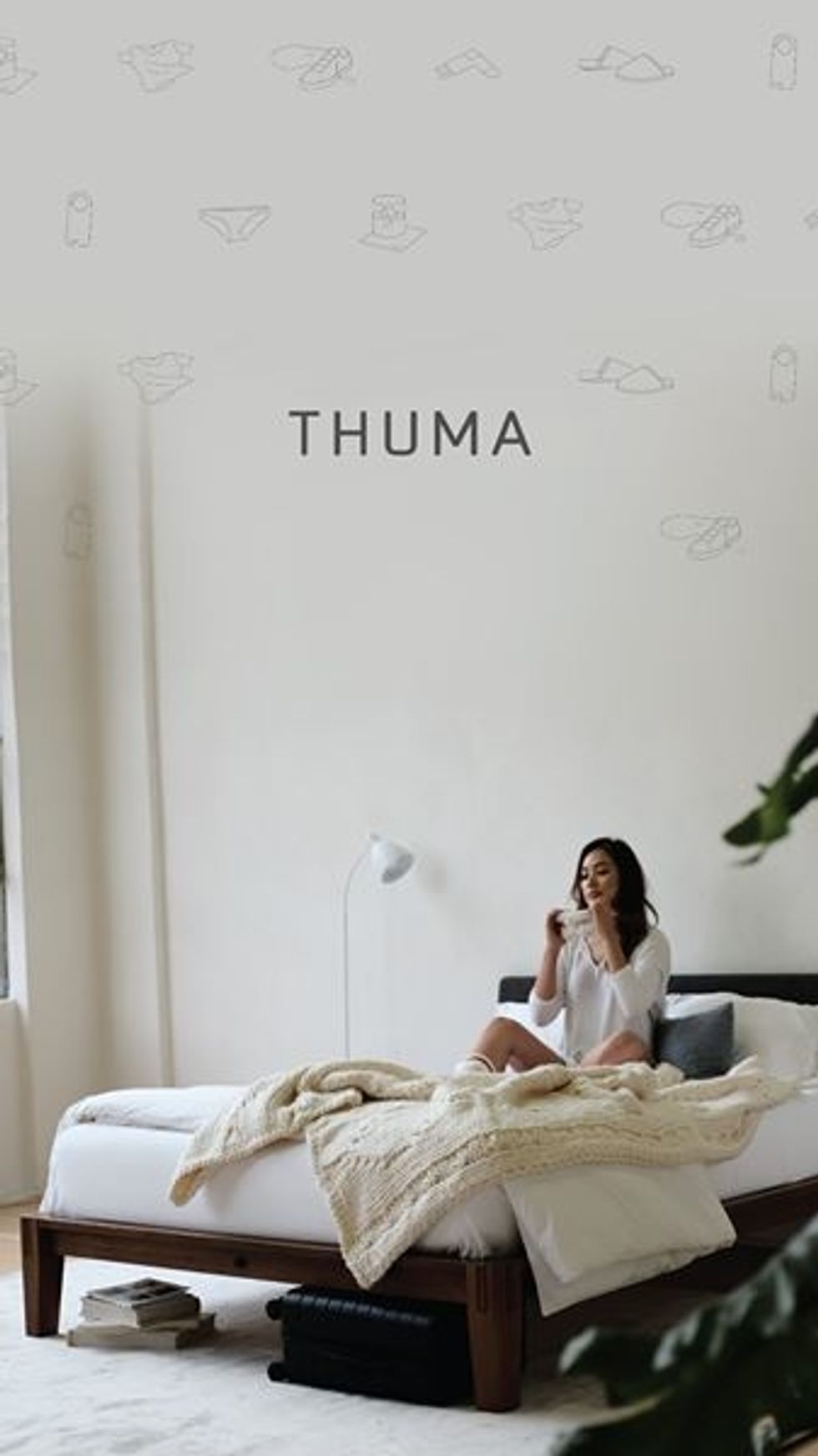 So I ordered one. It was delivered promptly, in three easy-to-carry boxes. I was really impressed with the eco-friendly packaging. There was no styrofoam, and everything was recyclable. Plus, The Bed is Greenguard certified, which means it's been rigorously tested and meets some of the strictest chemical emissions standards. Put simply? The Bed is better for the environment and better for us. Tough to argue with that!

The Bed was amazingly easy to assemble due to its Japanese Joinery—a timeless technique that interlocks the base and creates a built-to-last platform. It literally took us four minutes to assemble which, based on all of my other furniture purchases over the years, was a breath of fresh air. I wasn't expecting it to be so easy—plus, it took no tools!
The cushion-coated slats are double-strength and lined with eco-fi felt made from recycled plastic bottles. They fasten into place to prevent slipping. The result is optimum mattress support, breathability, and sound reduction. It was such an improvement over our creaky old bed frame.
We set The PillowBoard in place on the back of the frame between the mattress and the wall, and we were good to go! And should we manage to one day buy our dream house, packing it up and moving on is easy-peasy.
Thuma's so confident that customers will love The Bed it comes with a lifetime warranty and a 100-day free trial. If it doesn't suit your feng shui, simply send it back within that time period.
In the morning after our first night on The Bed, Terry said, " We are not sending this back."
Feng shui maintains that beds are the foundation of our lives, the centerpiece of our homes, and our relationships. Because they play such a huge role in our lives, it's only common sense to get the best. With Thuma, that's just what we did.
The Bed, by Thuma will provide good energy and smooth, restful nights for years to come.
Update: Click Here To Elevate Your Bedroom Today With The Bed, By Thuma