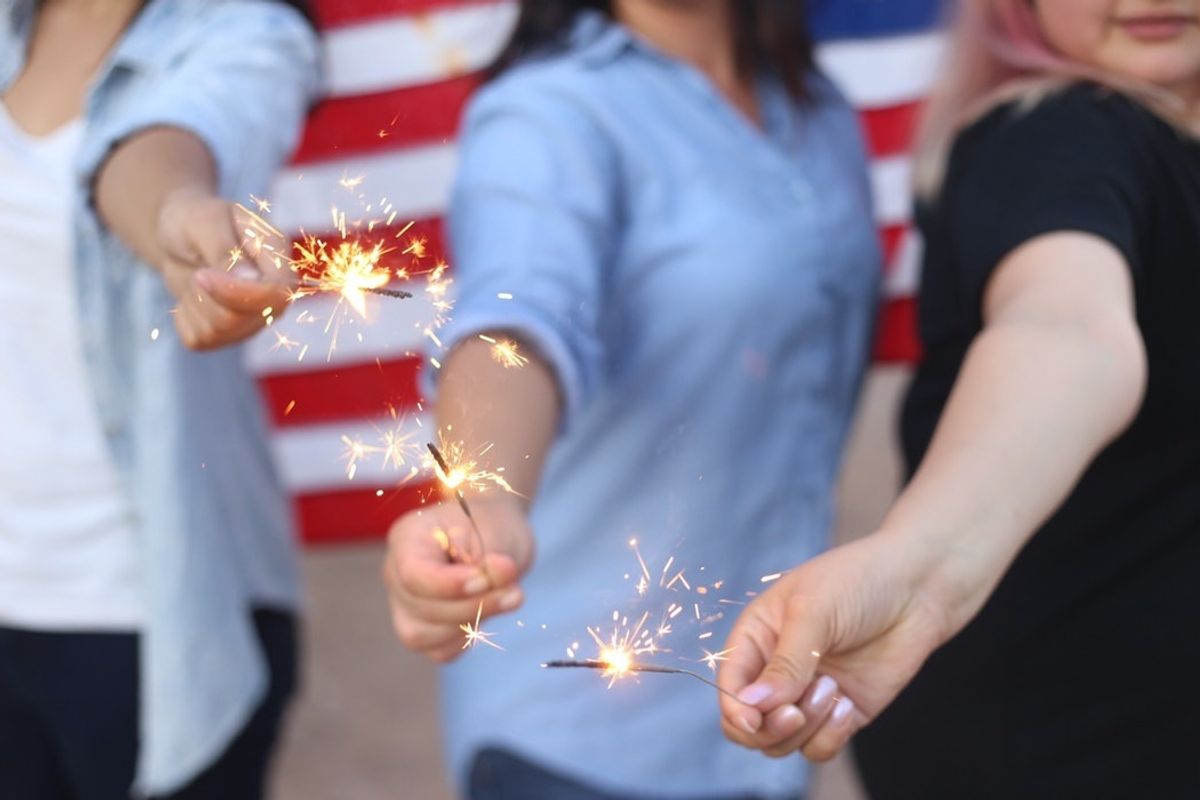 Celebrate in Style with the Best 4th of July Looks
The fireworks may be poppin', but you'll be the main attraction this July 4th with a look that screams summer. What better way to celebrate the holiday than to get into the spirit style-wise? Here are some suggestions for fashion and fun to make your fourth even more fabulous. From head to toe, we've got you covered.
DazzleMeGlitter - Red, Blue & Silver Holographic Stars Cosmetic Face and Body Glitter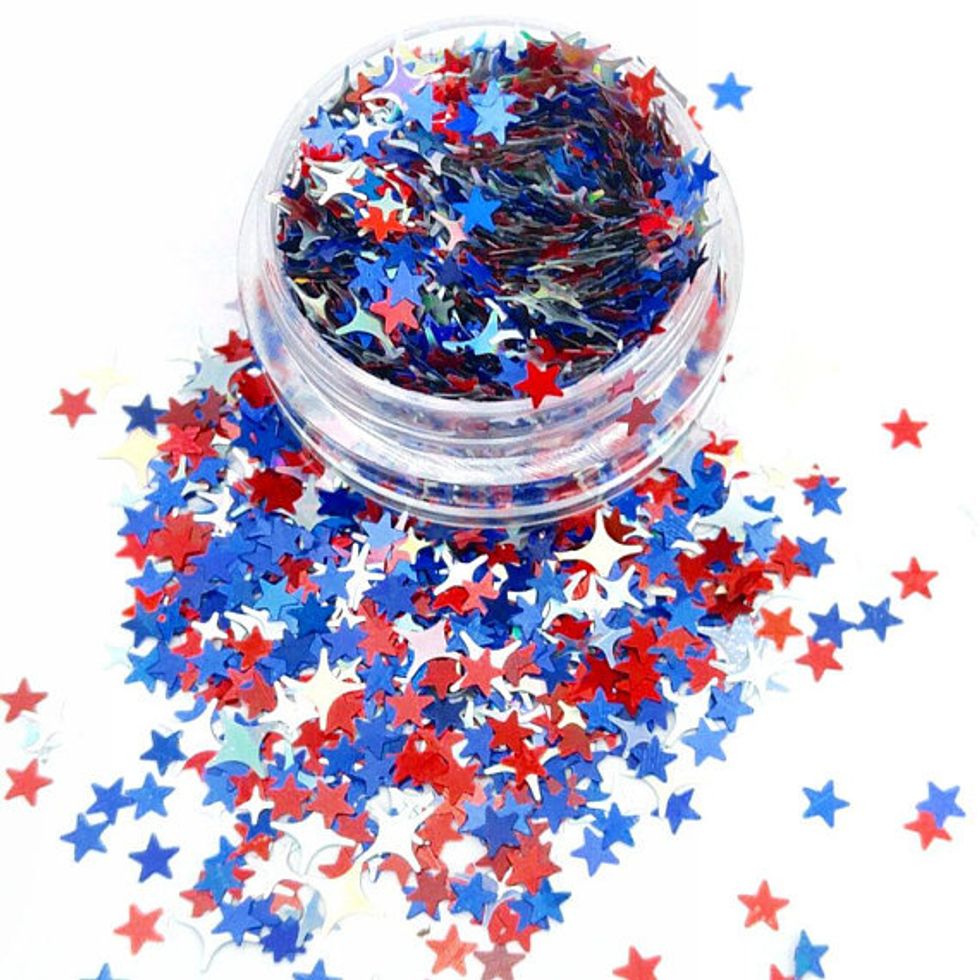 Face and body glitterVia etsy.com
July 4th is all about the stars and stripes, so get your glitter on and show off your summer shimmer. Body glitter may not be for the everyday, but when you're celebrating, it's time to shine. Glue a few of these red, white, and blue holographic stars from DazzleMeGlitter to your face and body to stand out and stand proud. You've always been a star, after all.

Cost: $2.33 for .018 oz
Oriental Trading Company Patriotic Glitter Tattoos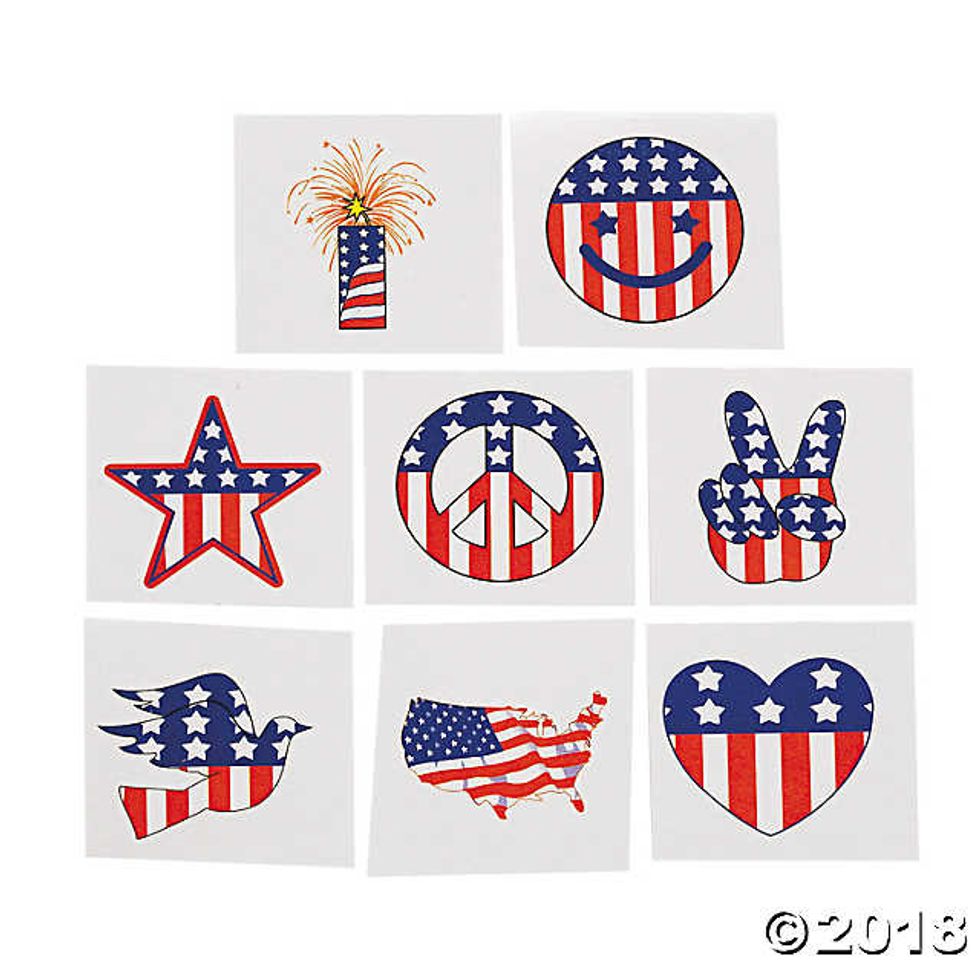 Temporary tattoos Via orientaltrading.com
If you are not ready to ink up permanently, test the waters with temporary tats for the fourth. Oriental Trading Company makes some super-cute patriotic glitter tattoos that feature the flag, fireworks, and all-around fondness for the U.S.A. They go on easily, they're safe for your skin, and they are a great way to show off your dedication to the day.
Cost: $4.99 for 72 Pieces
ChrisiesCollection 4th of July Canvas Tote w/ Matching Makeup Bag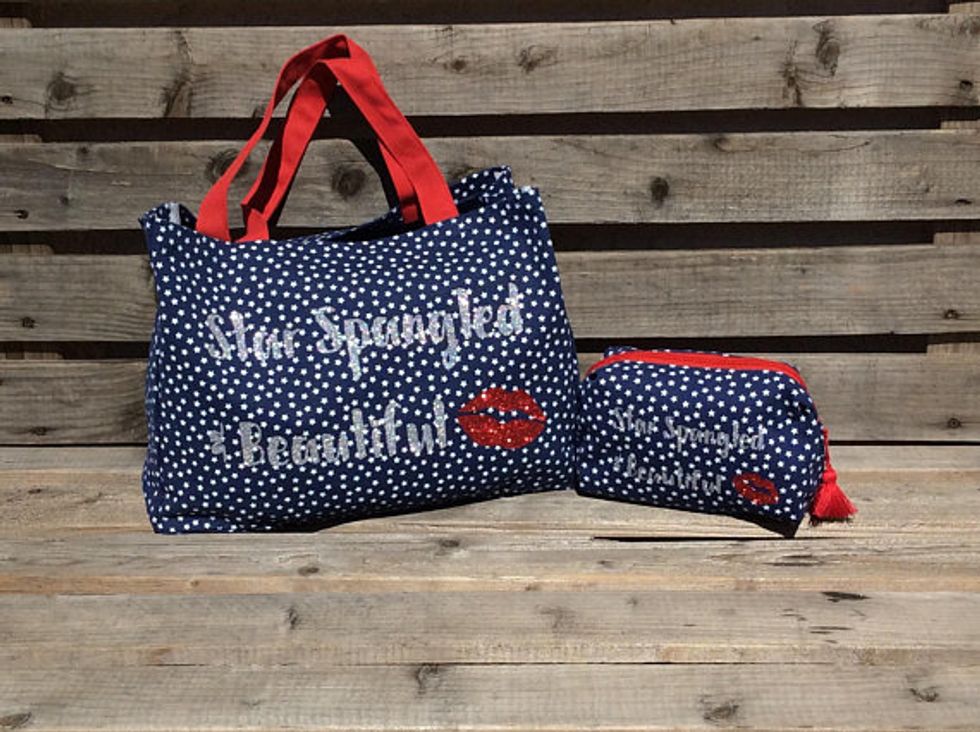 Canvas tote and makeup bagVia etsy.com
Carry all your essentials (and then some) in your "Star Spangled Beautiful" 4th of July canvas tote with matching makeup bag from ChrisiesCollection. The red, white, and blue "blinged-out" bags are emblazoned with silver and red glitter and a set of luscious lips to top off your summery look with a kiss. While these bags are perfect for the fourth, you are "star spangled beautiful" all year long, so use these canvas carry-alls whenever you are feeling festive.

Cost: $34.95 for Both Pieces
imPRESS Gel Manicure 4th of July Press-On Nails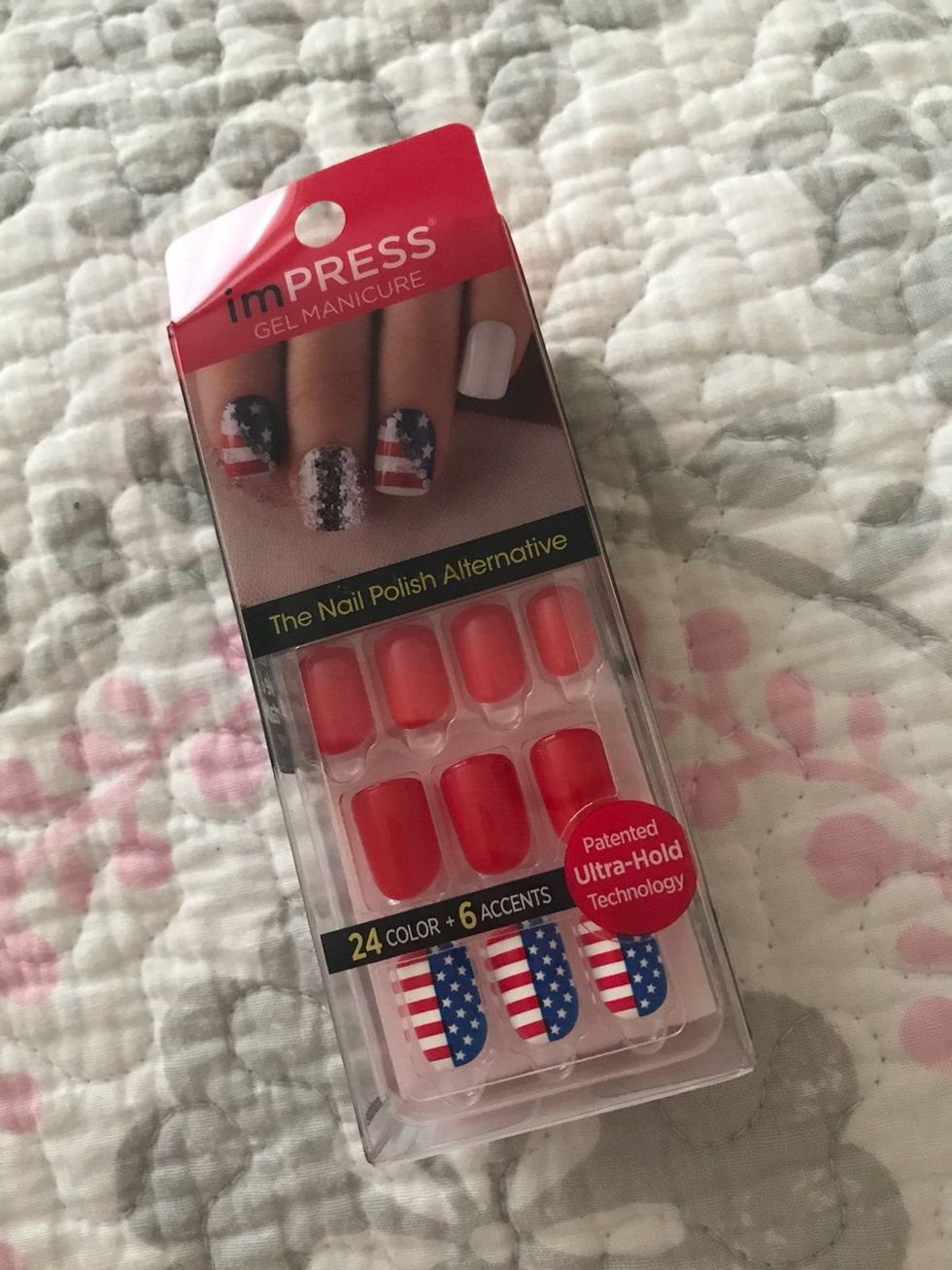 Press-on nails Via mercari.com
Press on the pretty withimPRESS press-on nails this July 4th. Mini-flags, plenty of sparkle, and red and white mix-and match nails will finish off your holiday look with fierce fingertips. The patented "ultra-hold" technology will keep them stuck on tight, so you can sport the sass from the 4th onward. A basic mani is nice but add some spice with nails that really nail it!

Cost: $7.00 for a Set of 24 Color Nails & 6 Accent Nails
4th of July American Apparel Jean Skirt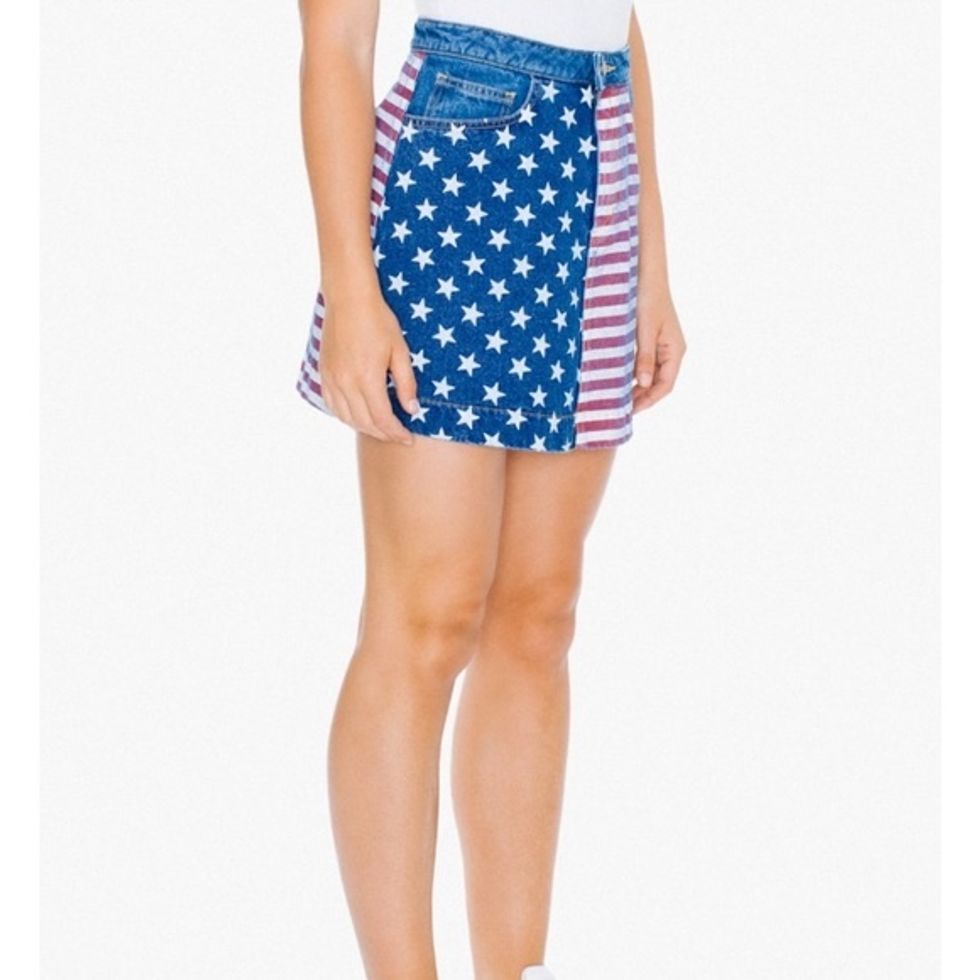 Denim mini skirtVia poshmark.com
Show off your great legs and your holiday spirit in a cute denim mini from American Apparel. Stars and stripes sure look nice on this slim-fitting skirt perfect for those sultry summer days and nights. Pair with a crisp white tee or tank and your fourth look is complete. American Apparel is the perfect brand to wear as you celebrate this American holiday. Comes in sizes XS – L.

Cost: $15 (On Sale, Down from $40)
Flag and Banner Patriotic Stars Novelty Sunglasses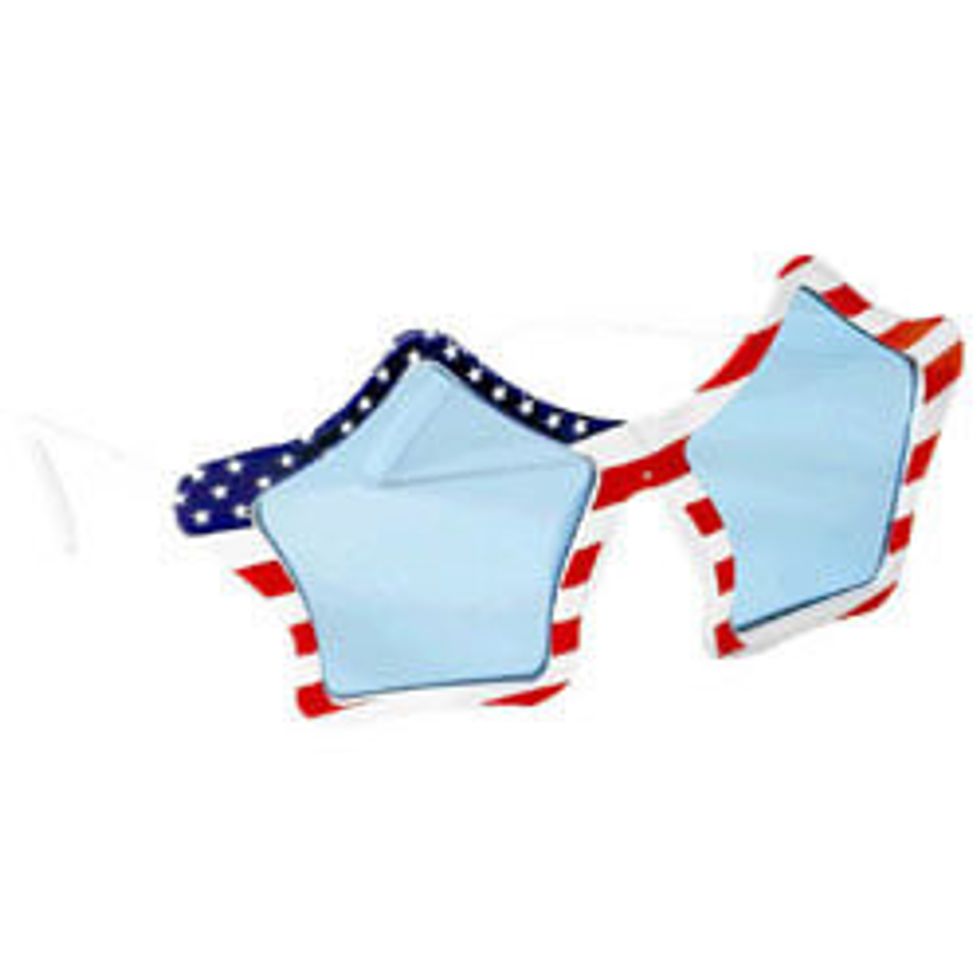 Sunglasses Via flagandbanner.com
The sun will be shining bright on the fourth, so protect your precious peepers as you look perfectly patriotic in a pair of cool shades to show off your spirit. Flag and Banner's sunglassesare star-shaped and decorated with snazzy stars and stripes. You will be accessorized in all-American awesomeness!

Cost: $10.49
Xhilaration One Piece Swimsuit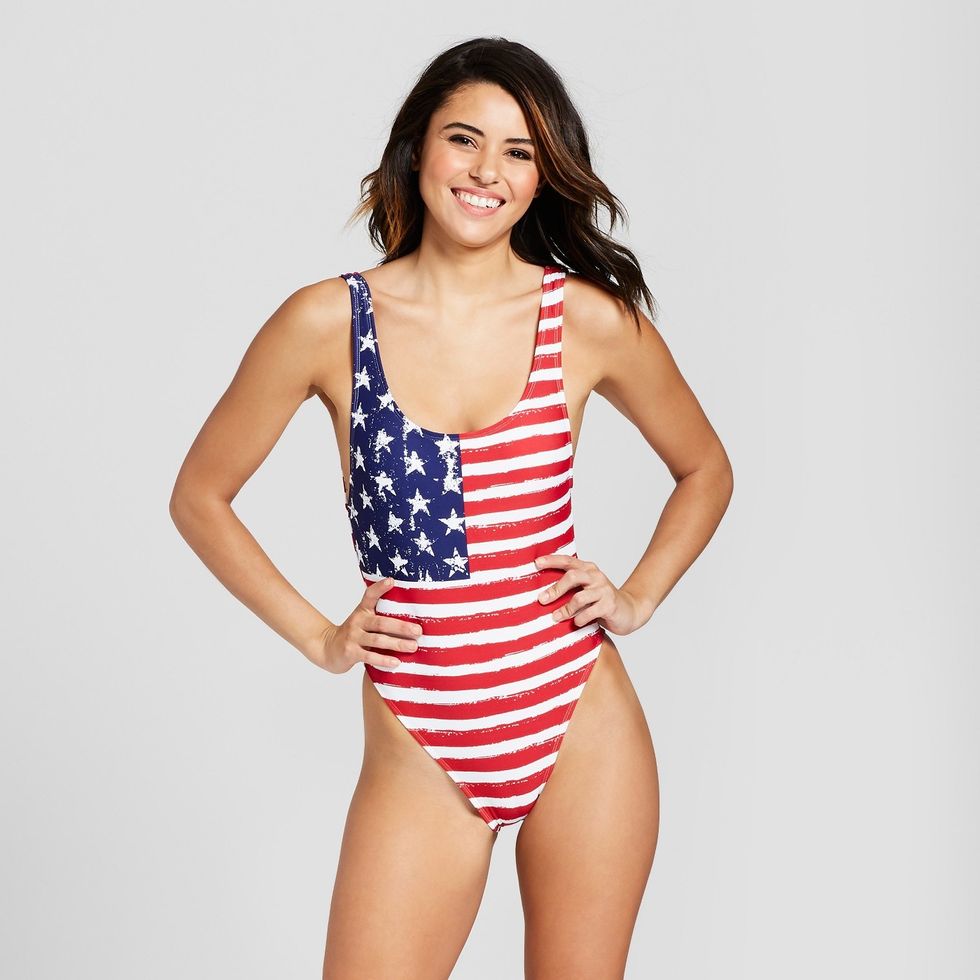 One-piece swimsuit Via target.com
Splash around in the pool or hit the beach in a one-piece suit that's patriotic and pretty, with a flattering scoop neck, high-thigh cut, and a fun design from Xhilaration. From size XS to XL, this suit will fit a number of body types and sizes, all ready to celebrate the fourth with plenty of swimming and suntanning. The American flag design is always a winner especially when you want to salute July 4th via swimsuit.

Cost: $29.99
Have a happy 4th. Celebrate our country in style!