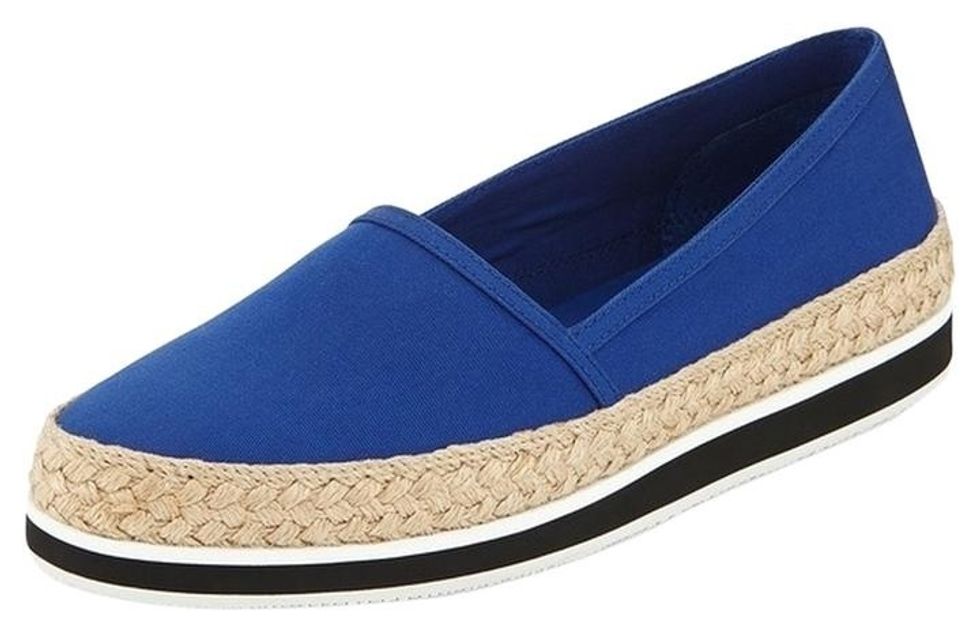 Spring's hottest shoe: the ageless Espadrille
Wear 'em on the beach. Wear 'em to a wedding. Wear 'em anywhere where the sun's out!
Chances are if you were a peasant boy or girl during the mid-14 century in Basque or Catalonia regions of Spain, you were wearing handmade espadrilles.
Or perhaps a Spanish woman, working in the market of a bustling city in the Spanish Mediterranean during the late-19 century, might opt for flat, laced canvas espadrilles for a comfortable option as she barters with her customers. In a few decades or so, Lauren Bacall dons a pair in the film noir Key Largo, making an impression on American fashionistas.

In Europe, the wealthy werewearing espadrilles while they sun on the Mediterranean coast while workers wear the same shoe to and from their tasks. Yves Saint Laurent turned them into a high-heeled, high-fashion spectacle in the 1960s and then the 80s TV show Miami Vice resurrected them. And now they're back as the hottest shoe for the sunny months of 2017.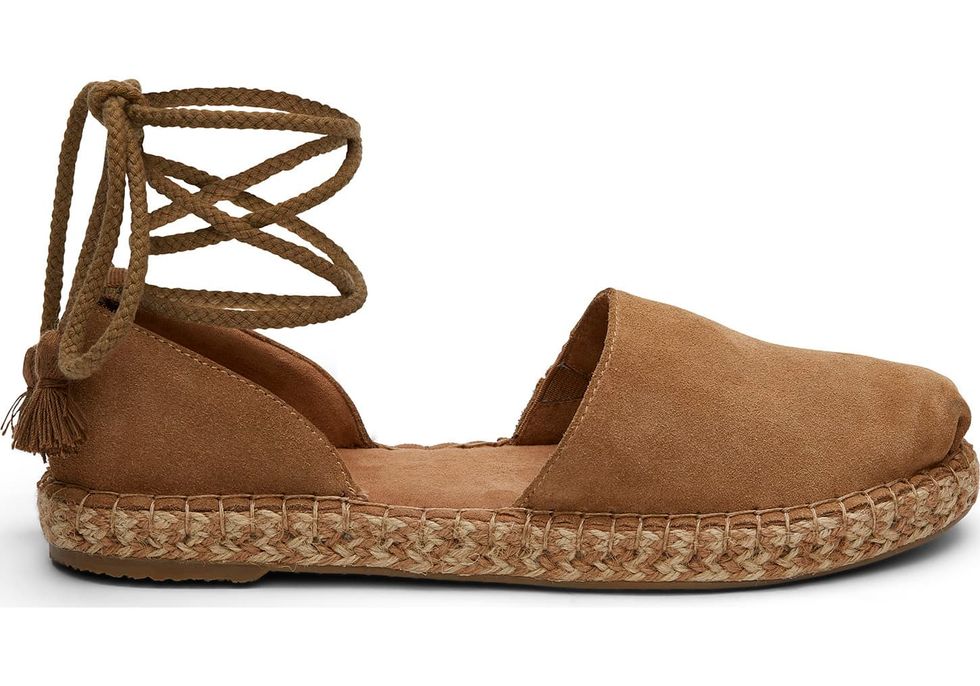 We love these suede espadrilles by TOMS
Efficiently trendy, the espadrille, with its strappy ankle ties, platform and a canvas for embellishments, can be seen on everyone without looking the same. Since it is normally made of natural fibers, the shoe is light like a flip-flop but much more stylish.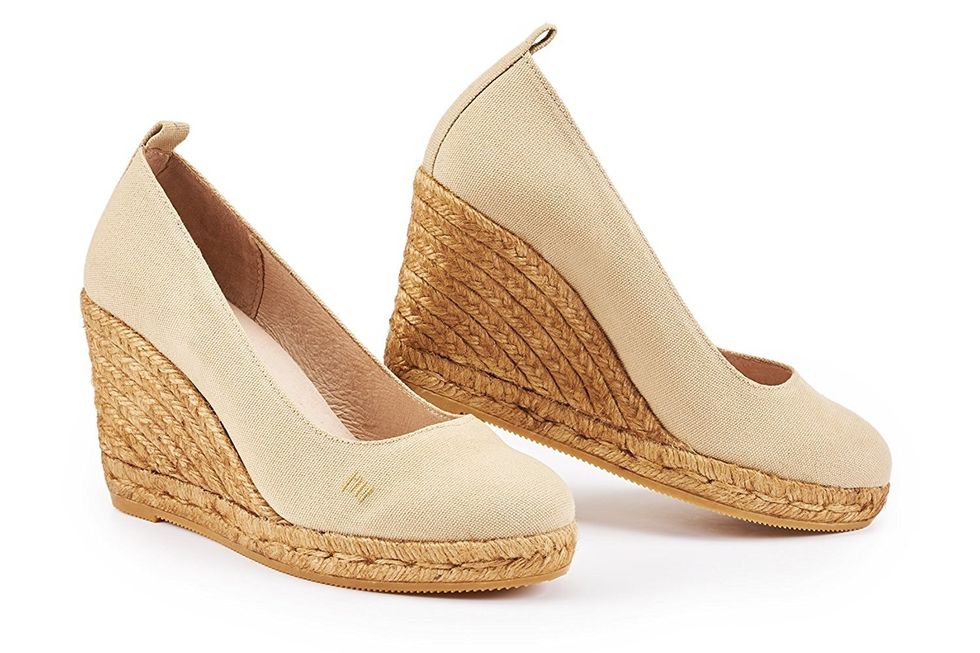 Espadrille pumps, by VISCATA Barcelona on Amazon
A natural vegetable fiber, jute's coarse threads are spun into thin ropes to create the base of the shoe.
Rubber sole is added. Leather or canvas makes the upper of the shoe. From whimsical pineapples, logos or a simple brightly hued fabric, the personality of the shoe depends on the brand or your personal style. The versatile shoe looks good with pants, dresses, shorts or your itty-bitty yellow polka dotted bikini.

It 's also friendly to any budget.
Brands from Target to Chanel carry some form of an espadrille. Toms are a socially conscience pair. If you want a pair from one of the oldest modern manufactures, it will set you back $80. The Castaner brand has been making the warm-weather shoe since 1927 and has made shoes for Chanel, Maison, and Christian Louboutin, as well as under its own name.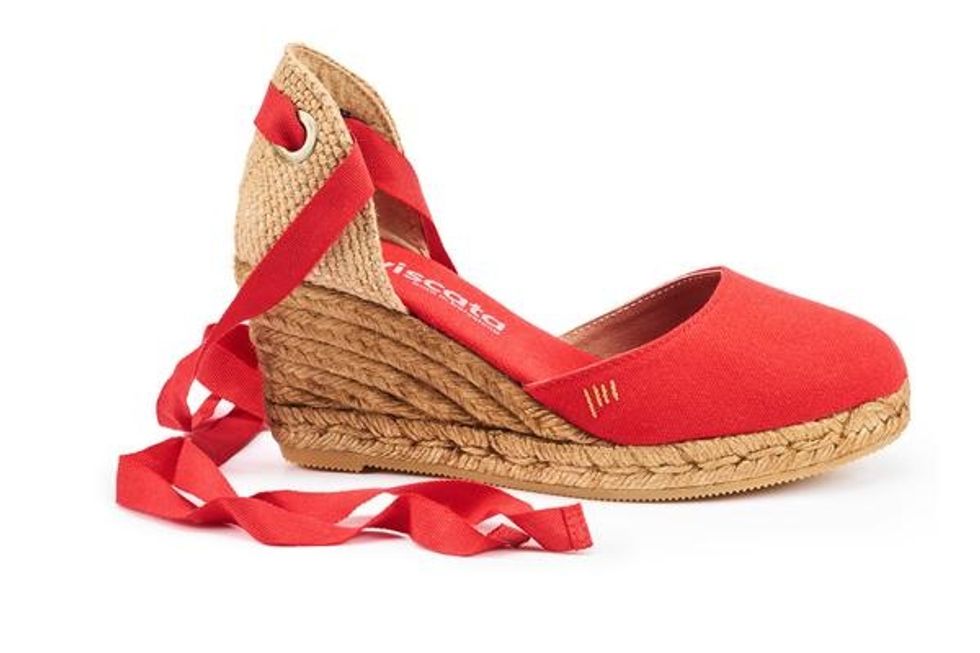 Red pumps, also by VISCATA Barceloa
The ageless shoe is also unisex.
King of Aragon's army wore them 800 years ago, Cary Grant wore them in the 20 century and GQ finds them smart enough to wear either your summer suits or summer trunks.

Wear them on the beach. Wear them to the store. Wear them to a wedding. You can pretty much wear them anywhere where the sun's out.