All pet lovers understand the importance of good food for their canine friends. We've all tried the store-bought kibble, home-cooked food, or even went as far as to save leftovers for them. But that isn't always healthy; each dog's needs vary, like humans, and they all need something different - it's not a one-size-fits-all.
Our editors looked at some of the best dry dog food available for your canine friends - we found Spot & Tango's Unkibble and Purina's dog food. We gave them both a try to find out if Spot & Tango or Purina is good for dogs. Read our opinions below and see which one we would feed to your best friends.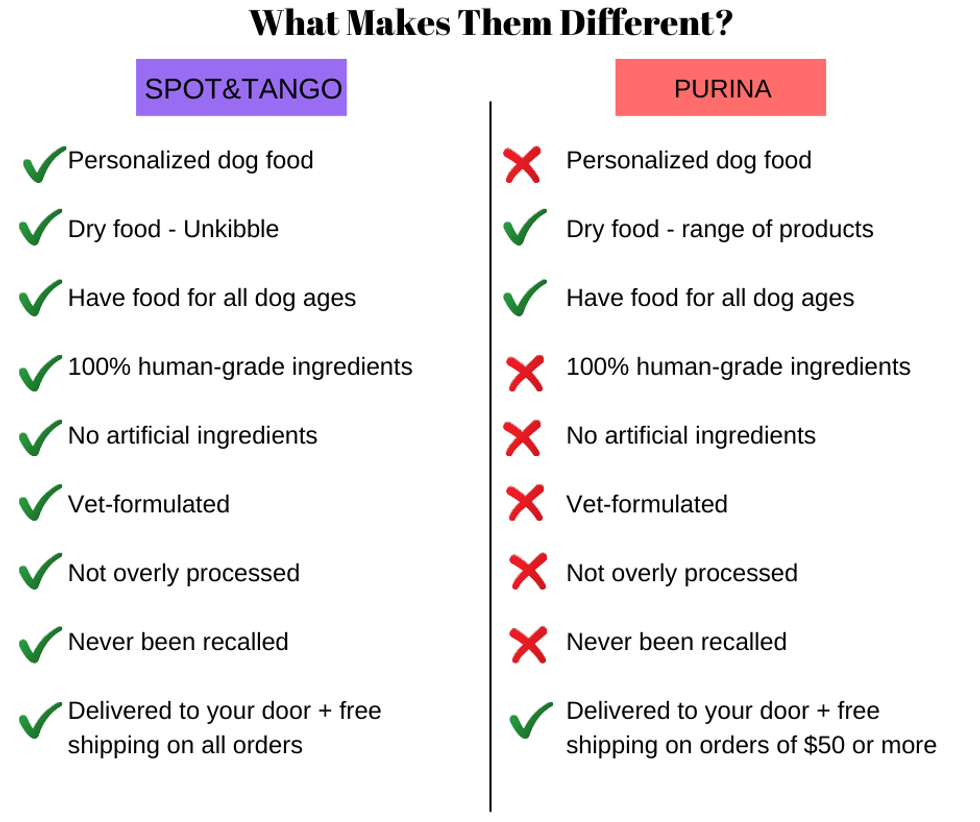 Spot & Tango Overview:
Spot & Tango's Unkibble was formulated by veterinary nutritionists and is made from completely dry ingredients that are 100% human-grade. Each recipe contains 14 simple ingredients and nothing artificial. (There are no powdered "meat meals" and no artificial additives or preservatives. Plus, no soy, gluten, or wheat).
While signing up with Spot & Tango is simple, their quiz allows you to personalize your dog's meals through important information like the dog's breed, age, and weight. This helps their proprietary algorithm calculate the perfect amount of food for your canine friend and the reusable scoop in your Unkibble helps you get the perfect amount every time - no more guessing or overfeeding.
Unlike normal dry dog food, Spot & Tango doesn't use the common hot-extrusion process that kills nutrients. They gently dry food at a low temperature, making their food much fresher, healthier, and tastier.

UnKibble comes in different flavors - Beef & Barley, Duck & Salmon, and Chicken & Brown Rice. It's made for your dog and Spot & Tango will be with you through your dog's life, plus their product has never been recalled, standing to the testament that it really is good for your canine friend.
Spot & Tango is delivered right to your door and they offer free shipping on all orders.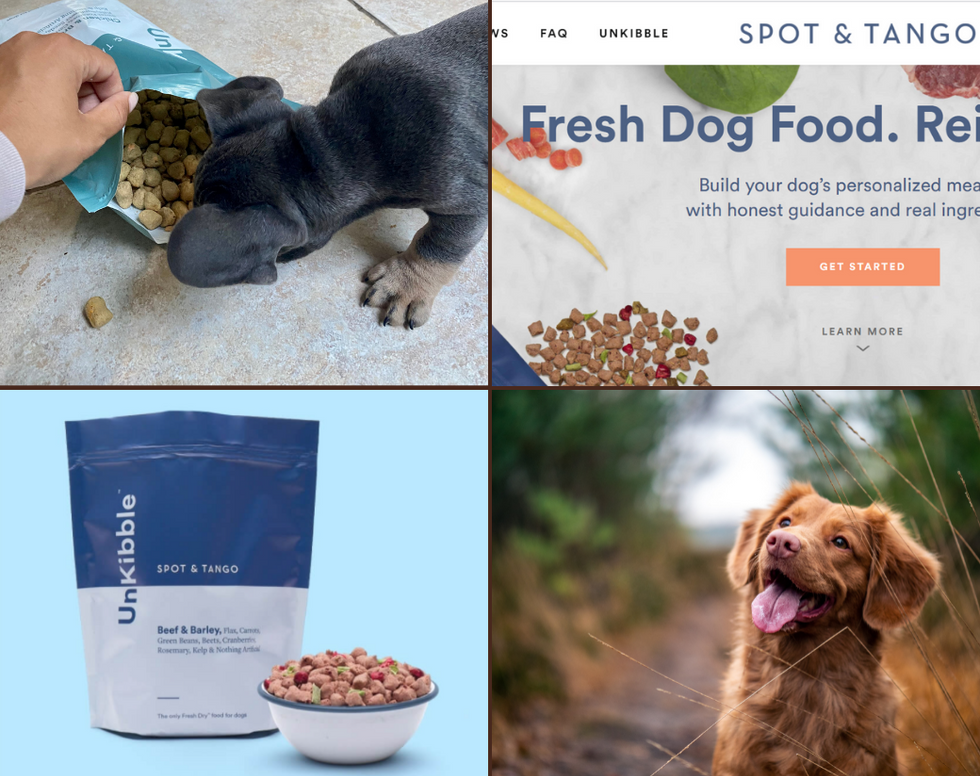 Spot & Tango
Personalized Meal Plan For Your Pup!
GMO + Hormone-Free
Get 50% OFF Now!
Purina Kibble Overview:
Purina dog food has been around for a while; they have 85 different dog food formulas spread across 7 product lines. They have both wet and dry food for dogs of all ages. We focused on their dry food, kibble.
Their website makes you go through categories and customize your plan yourself, making it challenging to find the exact food and size for your dog.
But is Purina good for dogs? Some Purina dog foods have by-products and artificial coloring and additives. They use chicken meal which isn't 'real' chicken, and although it is safe for your dog, it is not the healthiest. Their meat is also cooked on a high heat and turned into powder which is high in protein but is ultimately processed. Purina dog food can also have different variants of flour, which can be hard for your dog to digest.
Their dog food brands range from Beneful, ProPlan (most popular), One, Dog Chow, and Beyond. Their food has been recalled a few times, the latest being 2016.
Purina dog food is delivered to your door and they offer free shipping for orders of $50 or more.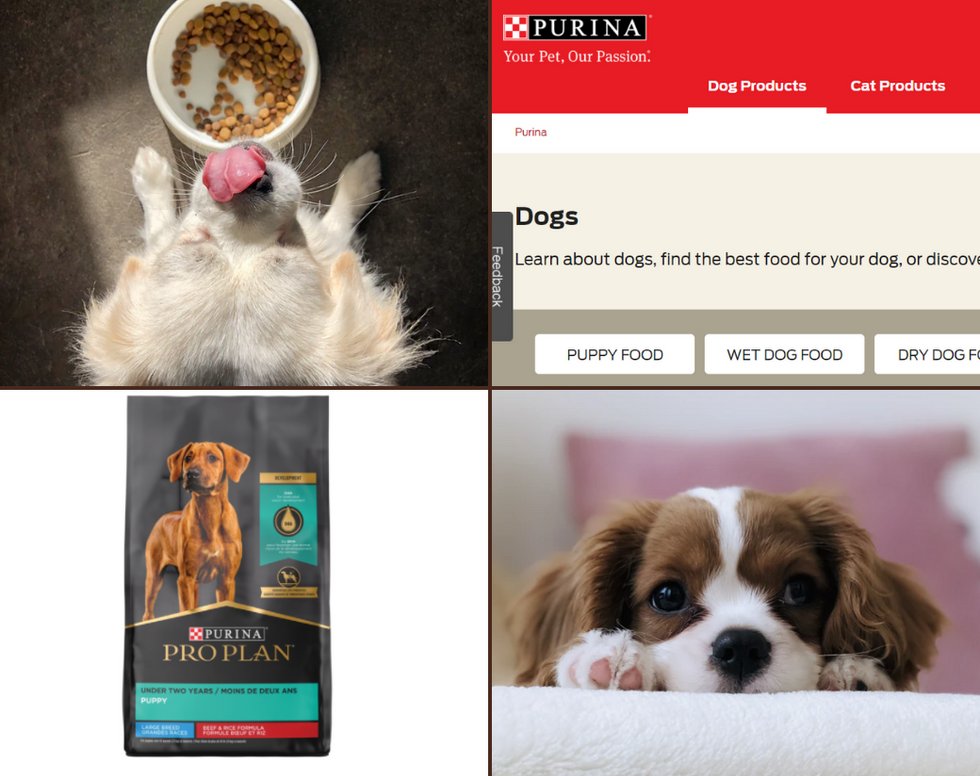 Final Thoughts:
Purina is trying to branch out and customize their food plans just for you, but with what they have so far, our editors will stay with Spot & Tango. Although they are a little pricier than Purina dog food, the ingredients they use are fresher and healthier. Plus, they have never had a recall either and that's why you can always trust them.
Dogs are our best friends; they are incredibly loyal and they deserve the best food there is. In our editor's eyes, that is Spot & Tango. Their Unkibble is uniquely made for your canine friend to love.