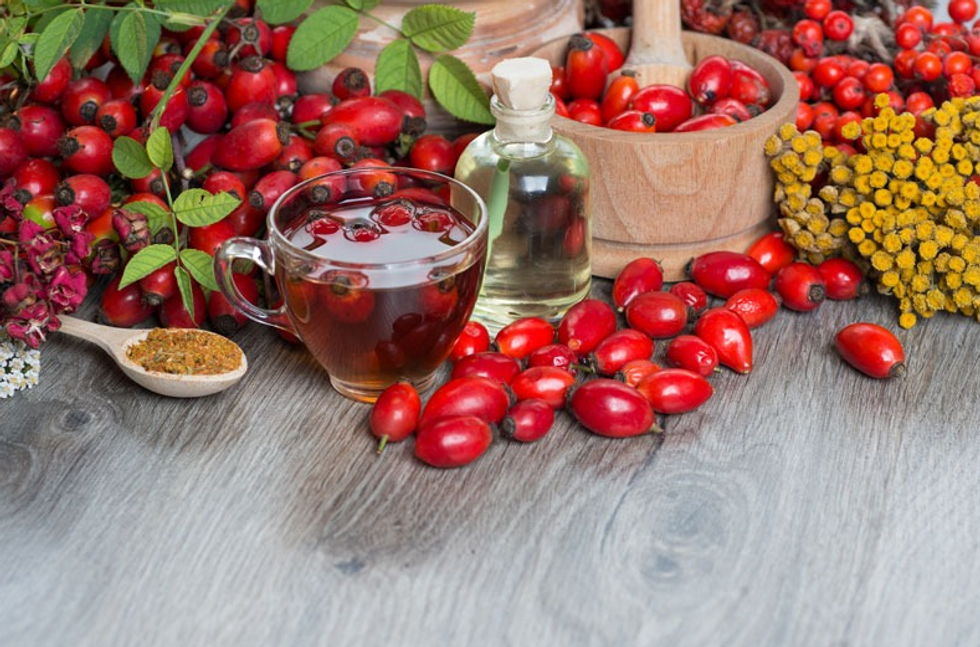 Is rosehip oil the underdog of facial elixirs?
With countless luxury products on the market—ranging from makeup removers, to anti-aging serums—it's no longer a secret: facial oils are not your enemy. In fact, they might just be the missing secret ingredient in your skincare regimen. You've heard of the benefits of argan oil, the beauty editor's darling from 2012 to present-day, and you've heard of grapeseed oil (hello Caudalie), but what about rosehip oil, the softening, antioxidant properties you need for the summer and winter months? It appears rosehip oil has been outshone (but not outperformed) by its more expensive equals.

Here's the deal. Rosehip oil is good, real good, and it's usually found for a cheaper price than the eye-rolling prices of argan oil products. Don't get me wrong, argan oil has its benefits—like lowering your sebum levels, and providing a healthy dose of fatty acids to replenish and heal the skin—but it's become such a coveted oil in the beauty industry that you often pay for the brand distributor or celebrity endorsement, instead of all those juicy, fatty acids. And let's be honest, if your government announces its increased production of argan oil with a questionable amount of co-ops dedicated to extracting the substance, you may be a little too popular in the beauty blogosphere.
Good oils don't need to be paired with anything else. An oil that is made of 80% fatty acids doesn't need the aid of nine different oils to meet all your skin needs. That's right, I'm looking at you La Mer and The Renewal Oil which retails for $245.00. Instead, save your money for a trip to Hawaii, or a beauty vault of lipsticks (you know you want too!) and try rosehip oil, a natural concoction of vitamins A and C, and fatty acids like omega-6, for all of your beauty needs. What can this stuff do? Well, almost everything argan oil claims to do, for a fraction of the price: soften your skin, lower sebum production, treat skin afflictions like dermatitis and eczema, treat acne and frequent blemishes, combat dreaded crow's feet, and help in skin renewal.
Rosehip oil is lighter than argan oil, so it's a nice substitute for people who find argan oil too heavy, or greasy for everyday use; and it usually has a lighter smell than the nuttier argan tree, which can faintly smell like rubbing dirt on your face if you have a sensitive nose. Aura Cacia makes a mean rosehip oil (brought to you by Chile) that helps soothe and soften your skin for only $7.43. Another brand is Pure, a natural skincare line with an assortment of holistic oils. Rosehip oil supply your skin with vitamins, antioxidants and essential fatty acids ($21.95). If you're not yet sold on saving some money this year, consider Milk Makeup's Sunshine Oil ($38.00), which features an assortment of oils rich in vitamin E, featuring innovative packaging that will leave you gazing at your vanity. Rosehip oil is best to use at night before bed to help rejuvenate your skin during sleep, so take some me time and get to massaging your face with this secret weapon!