How These Protein Shaker Bottles Will Change Your Life
Contigo Will Help You Stay Energized and Stay Fit
If you're looking for a way to stay full or to stay energized without crashing then consider adding protein powder into your routine. It can help you feel satisfied until you're able to eat something, it can help you gain muscle, and help keep you awake! It's the perfect thing to add to a busy day because it can be easy to transport, lightweight, and it's healthier than skipping meals. For extra flavor you could add it to a smoothie but it's easiest to drink straight in almond milk or water.
My routine changed for the better when I added in the Contigo protein shaker bottle. If I want to run to the gym and don't have time to eat I can either have the shake on the way to the gym, or bring my ingredients for a drink on the drive home. Most often I use the bottle as a standard water bottle during a workout and then add in the protein I've measured out at home along with the little shaker ball. I put the proper amount of powder into a bag then throw that into my gym bag for later. Taking protein after a workout is a great way to help 'stimulate muscle protein synthesis' which just means helps your muscles repair and grow. This does not mean you'll suddenly become a hulked out body builder, but it'll help your body on your workout journey.

The best part of this bottle is that it is tried and true tested and approved. With over 500 reviews on amazon and 4.4 stars, this is a great bottle at a great price. Just keep in mind while you're shaking your bottle to be gentle, I'm looking at you one star reviewers. The powder will get there and you won't be doing any good going overkill by shaking it so hard it breaks. You have a choice between 3 different kinds of bottles and great colors! I own the snap lid which is easy to open during a workout. There is a twist top option for those who prefer to keep their water more sealed up. The third option would be my choice if I could do it all again, they have a storage option! Pour your powder right into the separate compartment and then attach it right back onto the bottle! Any and all of these are great options at an affordable price.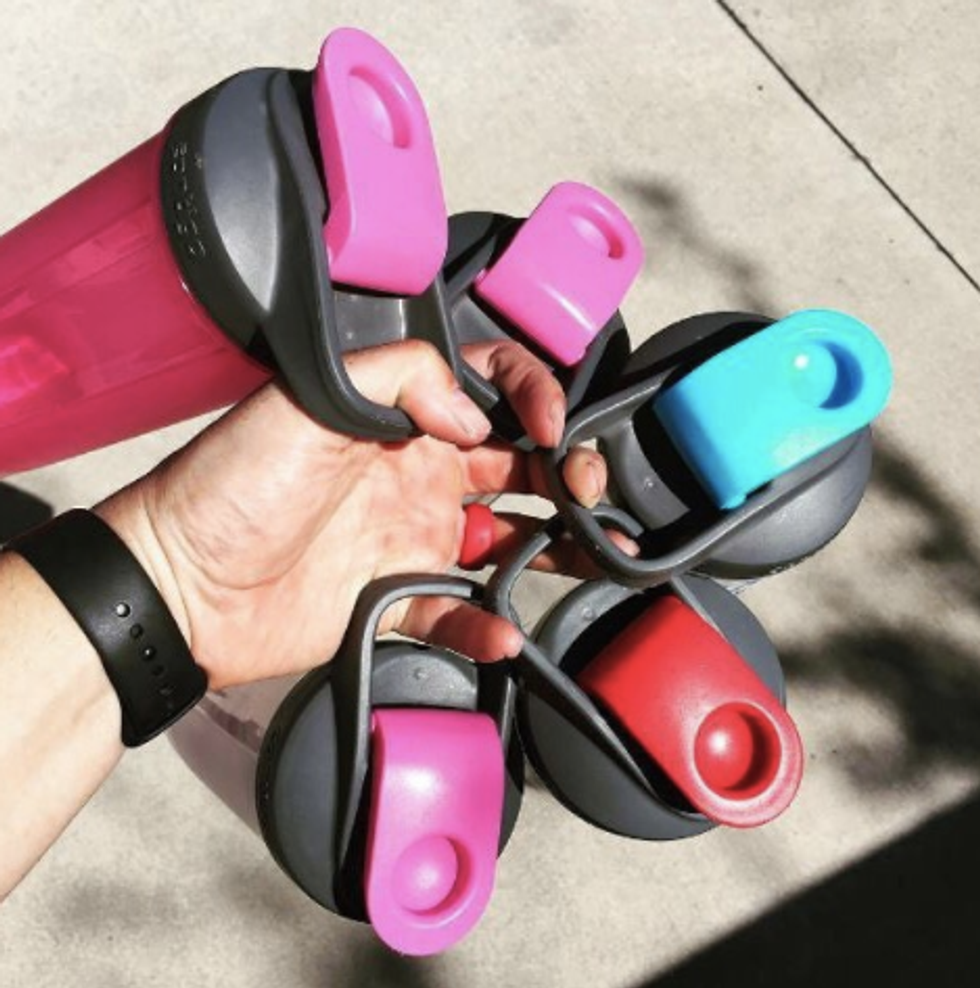 You could say, why do I need a new bottle for this? I'll throw it in an old water bottle! Now picture me slow motion yelling, nooooooo as you pour the powder in. Protein powder is different than other powders and it doesn't mix nearly as easily. I added some to my usual glass water bottle and it got so caked on I had to soak the bottle for days while trying to scrape off the remains. The little ball is crucial to mixing in the powder so it doesn't have the chance to stick together, or to anything else. It's also got a wider mouth so you can clean it more frequently. If you have anything other than water in a bottle it gets icky real fast so a easily cleaned bottle is a great help. Really you can't go wrong with any of these bottles!
Stay Hydrated and Stay Healthy!