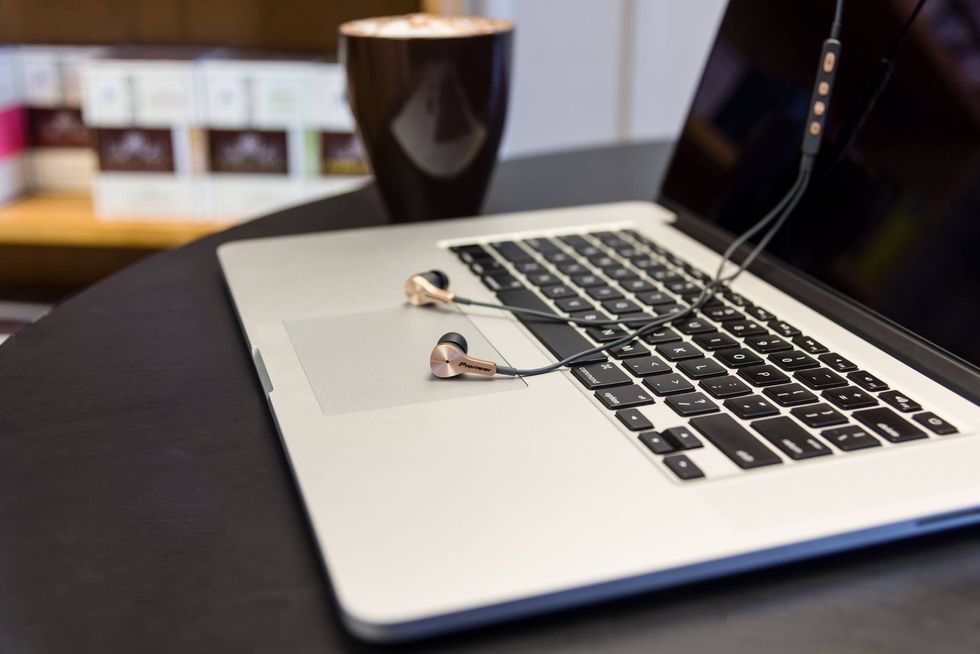 iPhone users rejoice! Pioneer finds a new, 'smart' way to use earphones
These sleek earbuds introduce a new way around the iPhone 7's missing audio jack
All we wanted was a charging cable that didn't break. Maybe a stronger screen that didn't crack. More storage space. But alas, you can't always get what you want.
When the iPhone 7 came out, yes, there were some cool features but the major cries from loving fans were about the missing audio jack. How were we supposed to plug in our earbuds? What if we were trusted with the sacred task of managing the aux cord?
Well, Apple then basically gave us two options — switch to their AirPods or buy a dongle to keep using your old earbuds. However, Pioneer recently introduced a third option — Rayz, a pair of earphones that plug into the lighting port.
Among all of Pioneer Rayz' qualities, a few stand out in particular. One is its "AutoPause" option — when you take the earbuds out of your ears, they automatically pause whatever you're listening to. When you're ready to put them back in, you'll resume wherever you stopped. Super helpful if someone stops you for a quick question.

Another feature is the "Smart Mute" which comes into play when you're on the phone in a noisy environment. When you stop talking, Rayz' microphones mute themselves. When you're ready to talk again, just begin speaking and the earphones will automatically unmute.
The Smart Noise Cancellation doesn't only rely on its physical design — the earphones actually calibrate themselves to the environment around you and adjust accordingly. The mode "Hear Thru" actually incorporates ambient sounds with whatever you're listening to.
Pioneer boasts that the Rayz Plus are the first to incorporate "Siri" commands in their earbuds along with being the first to market second generation Lightning Audio Technology.
[facebook https://www.facebook.com/pioneerrayz/photos/a.1390758964331580.1073741828.1388181191256024/1652993031441504/?type=3&theater expand=1]
But, wait. If the earphones plug into the lightning port, where would I charge my phone? Have no fear, the Rayz have an integrated charging port along the earbuds that allow you to juice up your phone while still listening to music.

Just download the app and personalize it to get started! You can activate or deactivate any of the smart features along with the ability to change their settings. Both the app and the headphones have a sleek, modern design that combine numerous features without being too bulky.
You can get the Pioneer Rayz Plus on Amazon for $150 — which isn't that steep of a price considering all the features you're getting. Sure the audio quality can be matched or even passed, but Pioneer has definitely hit smart earphones right on the mark.