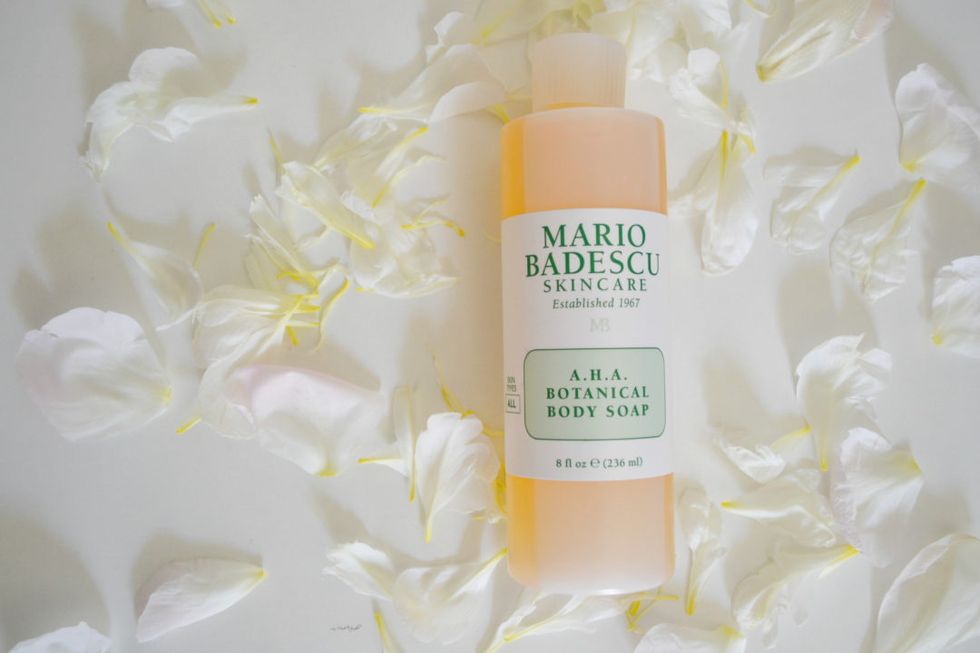 Mario Badescu's Botanical Body Soap is your next essential purchase
This body soap contains fresh fruit extracts to restore glowing healthy skin
If you've grown up with skin problems, chances are you've tested and tried every body soap on the market. There are many things that set apart a body soap from good to great. It has to work with not just your skin type, but everyone else's. As someone who's routinely suffered from breakouts around my body, I've usually stuck to aloe vera products and it's healing properties to soothe my skin. I didn't think there would ever be a holy grail product, or at least, it would take me a while until I found "the one." Luckily, I ended up finding this miracle product earlier than I anticipated - the Mario Badescu Botanical Body Soap.
Here at Topdust, we absolutely revere Mario Badescu and his products. The Rose Water Facial Spray is genuinely something I use every single day, as well as a variety of his facial skincare that never seems to disappoint. I found myself interested in learning a bit about the New York-based skincare brand and it's ethos and stumbled upon this: "For over 40 years, Mario Badescu skincare has been providing advanced formulas containing the highest quality ingredients and botanicals, specifically tailored to a range of skin care concerns. A celebrity favourite, Mario Badescu offers a complete range of skin solutions to enhance your skincare routine with every product necessary for a flawless complexion."
Not convinced? That's because you have to give the Botanical Body Soap a try for yourself. As the product description reads, "AHA Botanical Body Soap is enriched with fresh fruit extracts to exfoliate and cleanse the skin. Papaya and grapefruit extracts help breakdown dead skin cells to leave skin feeling soft and smooth. Ginseng extract rejuvenates while oat protein soothes sensitive and irritated areas. Excellent choice for those with problem skin on the back, chest and shoulders. Leaves no soapy residue and smells heavenly." It contains ingredients like grapefruit, papaya, and oat protein that will restore the healthy balance needed to keep your skin fresh and clear.
This product has been somewhat of a beauty secret for those who suffer from body skin issues, like eczema or acne. Rosebud over at Ulta Beauty wrote a promising review that sums up it's benefits: "I've been using various body washes with salicylic acid to try to control body acne for about 8 years. I'm in my early 20s now and have been growing out of my acne prone skin and decided to try a few weeks on a non-acne controlling body wash. I tried a couple different brands but my acne on my chest and back kept getting worse, and I was dreading trying to get it back under control with the salicylic acid washes. I bought this on a recommendation from a friend and it is AMAZING. I've used it about 5 times now and the difference in my skin from horribly broken out to healing and calming down is DRAMATIC. I cannot recommend this product enough, I wish I'd been using it for years."
The first time I tried the Botanical Body Soap, I noticed a difference in my skin by the next day so I was immediately hooked. It's a body soap that looks, smells and does exactly what it advertises, and for the price point it could not be a better bargain. I recommend this body soap to anyone who's looking for a staple in their shower collection. What are you waiting for? Glowing skin awaits.
Mario Badescu's Botanical Body Soap can be purchased via online beauty retailers, like Ulta.