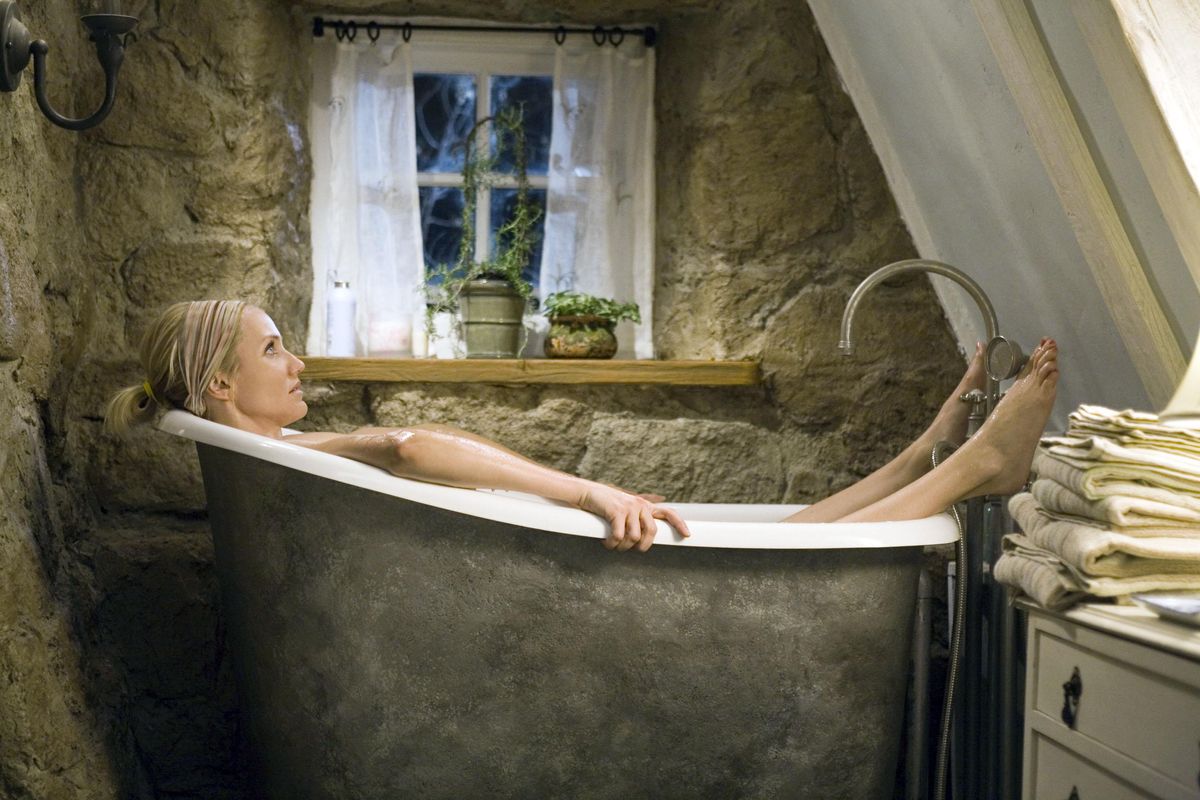 'Tis The Season To Be Lounging - How The Holiday Inspires My Winter Wardrobe
The holiday season means lounging around in your cozy clothes, but there's more than your Oh Holy Jammies out there.
Image via Simon Mein/Sony/Kobal/Shutterstock
When I talk about the holiday season, I mean it literally. To me, this is the season that compels me to rewatch one of my favorite wintery movies: Nancy Meyers' The Holiday. Each year I dive back into the classic Cameron Diaz/Kate Winslet rom-com like it's the first time.
I find the premise the epitome of spontaneity — booking a home on the other side of the ocean simply to get away. And while I'm old enough to know that a vacation will never fix your problems — just look at White Lotus, for example — I still relish the idea of a getaway.
And as a newly minted California girlboss, I've never felt more like Cameron Diaz's character than I do this year. The temps are barely below 60, but I'm already craving cozy nights, bundled up by the fire in blankets and thick socks. The ultimate cozygirl aesthetic. A pinnacle my winter nights fails to live up to.
Yet, each year I spend the holiday season in the same way. I go home, pull on my old, holey sweatshirts and college-era flannel pants, and do not drop them in the laundry until the new year. Many of us do this: hermitting in our comfy clothes, lazing the days away without a care in the world about what we look like — or, really, how we feel.
This is nowhere near as glamorous as the Cameron Diaz life I wish to live. But I recently realized that it's not the English-cottage-&-Jude-Law of it that I aspire to — though I wouldn't say no to either. It's the notion of curating a feeling. A vibe, if you will. I seek to dedicate myself to the idea of coziness.
It should be easier to curate a vibe for yourself while on vacation. Or whatever you call the mess of drama and sentimentality that comes with traveling over the holidays. When you pack up your traveling bags for the season, you take only what you need. Everything you place in your suitcase is a vote for the type of trip you want to have and the type of person you want to be. Want to abandon your basic American fashion sense for a European getaway? Want to embrace a new city's true culture? It's all in what you pack. So why do I always seem to pack the same lazy clothes?
If the pandemic taught us anything, it's that dressing lazy gets old fast. And I'm so far beyond my threshold.
This year, I'm taking a novel approach to the holiday season. I'm dedicating myself to the cozygirl aesthetic, and Cameron Diaz in The Holiday is top of my mood board. Her style is elevated but comfy. From her white turtleneck to her pristine white, chunky socks, the looks coalesce as the epitome of cold weather fits.
It's not about dressing to impress anyone else — though my family holiday photo album will thank me for putting in an effort this year. It's about valuing myself enough to invest in some quality winter gear, even if all I'm doing is lounging around drinking eggnog and hot chocolate while I rewatch all my favorite holiday comfort movies.
Goodbye to my worn-in winter wear. Hello to high-quality, stylish apparel that passes the coziness test without making me feel like a complete slob.
So if you're looking to elevate your own holiday style, here is where I'm shopping for my winter uniform:
All products featured are independently selected by our editors. Things you buy through our links may earn us a commission.
1. Sleepy Jones Henry Pajama Set via Brooklinen
For a modern take on the classic striped PJ look, Sleepy Jones makes getting dressed in your PJs feel like Getting Dressed. The high-quality materials and whimsical prints will bring out your inner child. Best to wear while opening presents or cozying up with a winter read before bed.
NAP Loungewear provides premium loungewear and home products that you can wear in the sheets or on the streets. Their skin-friendly fabrics, delicate draping, and minimalist silhouettes are suited for anyone for seeking high-quality, versatile sleepwear, and loungewear.
3. Lunya/Lahgo
One of the most luxe loungewear brands out there, Lunya and Lahgo make the best apparel to chill out in. Their versatile styles and timeless designs come in durable, yet comfy, materials, making it fun to pull on your sleepwear again.
The iconic Nap Dress is the essence of elevated loungewear. Embrace the drama of nightgowns of olde, or the playful cotton dress that's equally suited for midnight snacking sessions as it is for a quick, pop-to-the-store for more nog.
5. Araks
The dress made famous by those pap photos of Zoe Kravitz laughing with Channing Tatum is actually the slip dress of your dreams. From slinky silk loungewear to chic intimates, Araks makes sleepwear sexy in the most effortless way.
6. Daily Sleeper Party Pajamas
Sleeper's ruffled PJs became a hit during the endless pandemic wasteland. And for good reason. If you're a fashion lover, don't give it up for bedtime. Round-the-clock fits await with the perfect Sleeper set.
are
my robe lovers? If nothing is more luxurious than curling up in a fluffy white robe, look no further. This innovative robe comes with an attached belt and adjustable sleeves for personalized comfort.