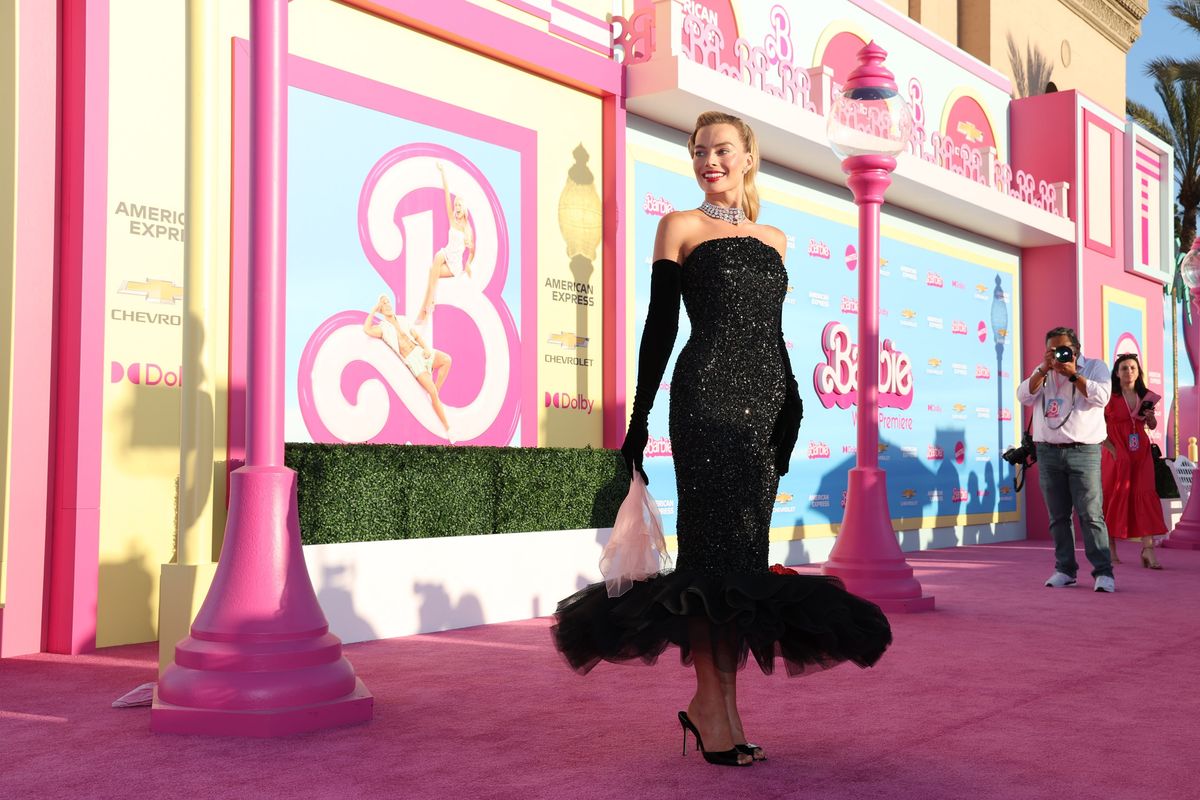 The LA Barbie Premiere Was More Fashionable Than The Met Gala
We are only 11 short days away from the world premiere of Greta Gerwig's Barbie, which features a star-studded cast in Margot Robbie, Ryan Gosling, America Ferreira, Dua Lipa, Will Ferrell, Michael Cera, Issa Rae, Simu Liu - to name a few. And that's not even including the equally iconic Mark Ronson-produced soundtrack featuring the biggest names in the music industry like Nicki Minaj and Ice Spice, Billie Eilish, Dua Lipa, GAYLE, Charli XCX, Dominic Fike - again, the list goes on.
---
But we aren't here to discuss the picturesque Barbieland or the Dream House or the Dream Car for that matter (in fact, we've already done that. So catch up on Popdust for more!) We are talking about the LA Premiere of Barbie last night. I've been so impressed with the marketing of this movie, I'm utterly gone on the Barbie dream life.
It's been so fun to feel Little-Girl-Excitement over literal dolls again . . . literally. Everyone involved in Barbie has completely leaned into the idea that Barbie is our life, and to be honest, it has taken over yet again. Suddenly everyone has a Barbie collab. Barbie-core is trending, and every product is featured in a hot pink shade (I'm not complaining, it's my favorite color).
So obviously the Barbie premiere was going to be met with major looks. Let's dig in.
The Cast Thinks Pink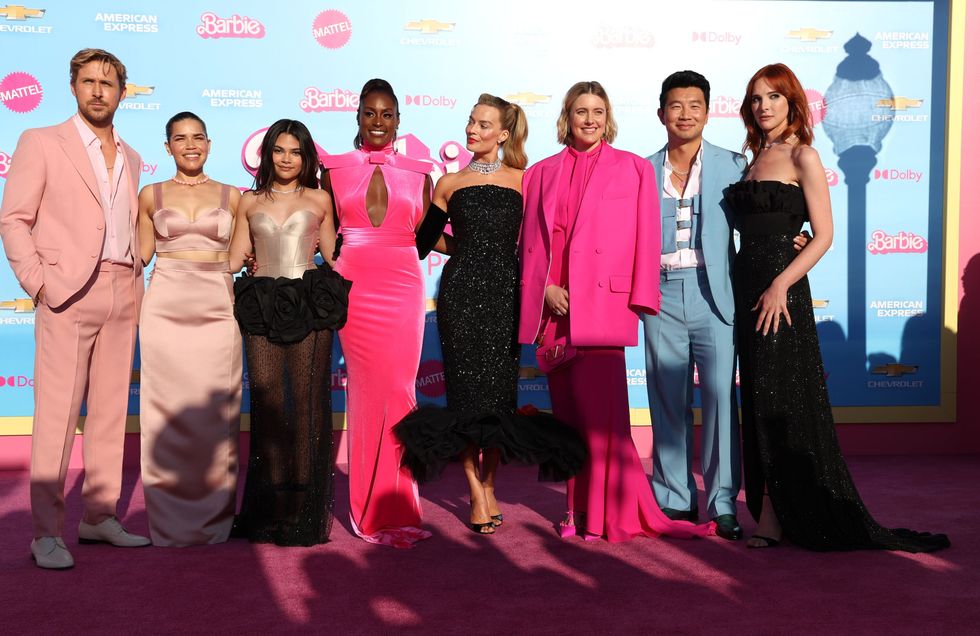 The cast of Barbie
Stewart Cook/Shutterstock
If you're going to the Barbie premiere and you are starring in the film (or directing, for Gerwig), you have to commit to the theme. It's about pink, obviously, and all things glamor. Think larger than life. So naturally Ryan Gosling, who seems to have fully adopted Ken's entire personality, is in complementary shades of light pink alongside America Ferreira. Issa Rae and Greta Gerwig opted for the more classic Barbie shade: the hottest, electric pink - so pink it's fuchsia.
Margot Robbie's Barbie Tour
We can thank Hollywood stylist Kate Young for absolutely dominating Margot Robbie's press tour looks. Robbie's been decked out as different Barbies throughout the decades at each stop. Not to mention Margot does not leave character, even positioning her hands like a Barbie would...dedication.
Fittingly, at the LA Premiere, Robbie was dressed as the 1960 Solo in the Spotlight Barbie with a custom Schiaparelli sequined gown. On the hem of the dress was a hand-painted red rose, an ode to Barbie's red nails and lip. We couldn't have asked for a better Barbie and Ken to immerse themselves in their roles, truly.
Dua Lipa's Premiere Outfit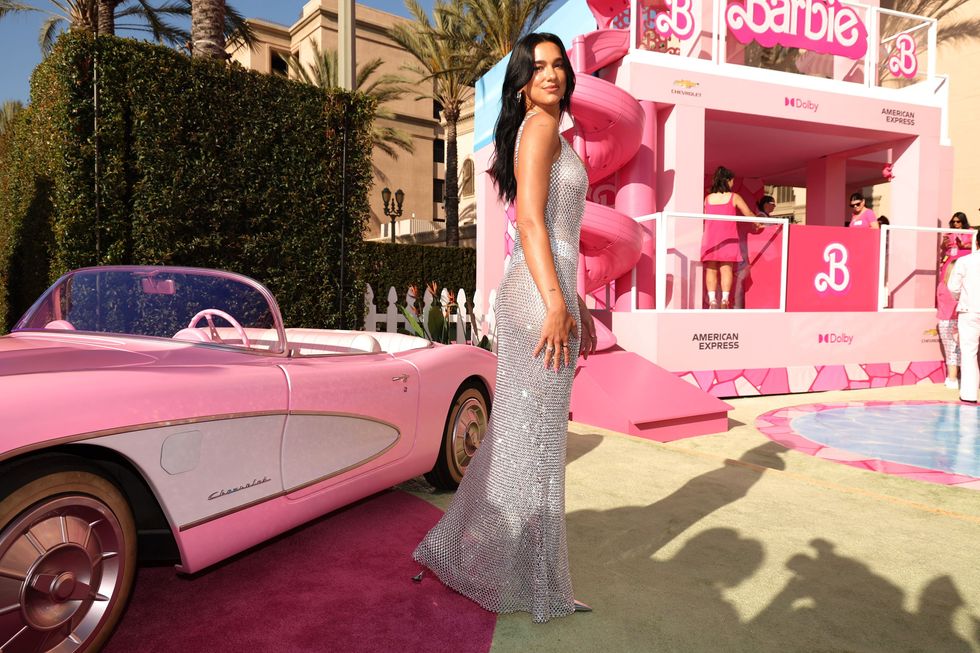 Dua Lipa at the LA Premiere of Barbie
Eric Charbonneau/Shutterstock
While some were aggravated by Dua Lipa's chain metal mesh look, calling it "off theme" or saying she often wears this style...I loved it. Barbie isn't always in pink, it's about looking spectacular...which Dua Lipa does so effortlessly - esp. in silver. Her muted glam on hair and makeup lets the outfit do the talking.
She's one of the women of the hour, with "Dance The Night Away" being the first track from the soundtrack revealed to the public and a starring role in the film as a Mermaid Barbie. Now, the woman of the hour should be talked about endlessly, and we all are . . . endlessly.
Recent Surprise Soundtrack Addition Billie Eilish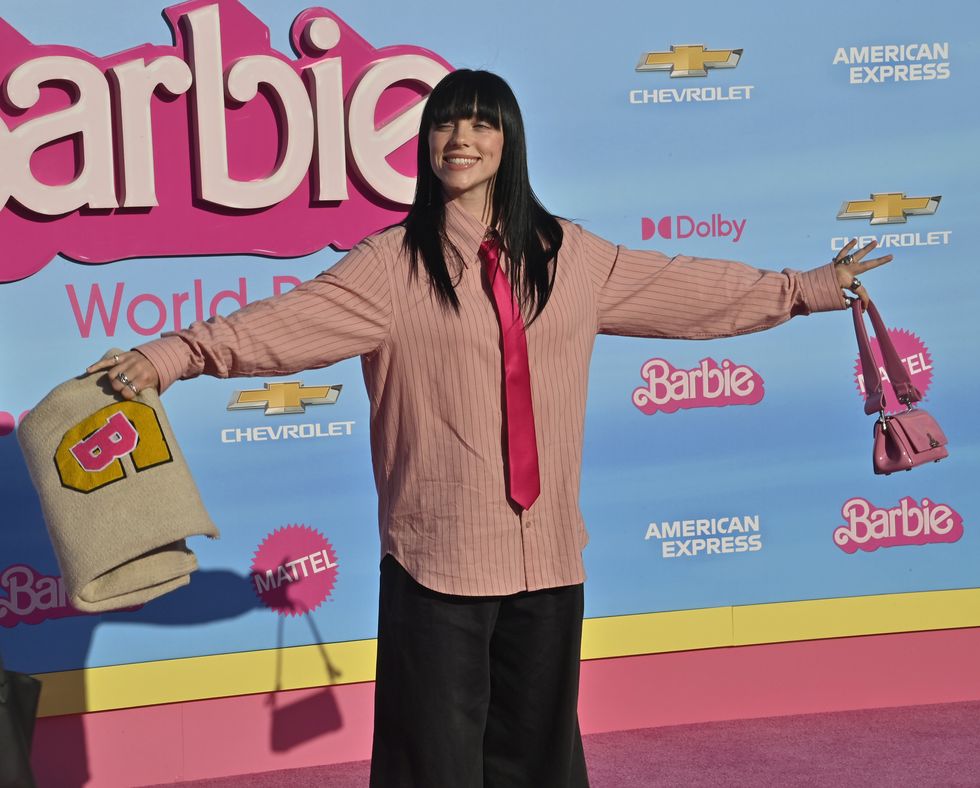 Billie Eilish at LA Barbie premiere
Jim Ruymen/UPI/Shutterstock
There were two surprise artists not listed on the Barbie soundtrack that the public has been speculating about for months. Just last week, Billie Eilish was revealed as one of them, marking her return to music since her Happier Than Ever album. The song, "What Was I Made For," is guaranteed to be a classic tear-jerker á la Eilish.
Here we have Billie in a classic oversized moment, with pink nods to Barbie's favorite color and a "B" emblazoned gigantic clutch ("B" for both Barbie and Billie). Her shoes - oversized sneakers -were a smashing touch to create a look fit for your favorite doll.