Overview
Home Chef makes dinnertime a breeze. From classic meal kits to convenient Oven-Ready and Fast & Fresh options, their meals are designed to fit different needs. They're the perfect solution for any household looking for quick-n-easy breakfasts, lunches, and dinners. You can even order snacks, and cold brews as well! They're incredibly affordable, with meals starting at only $7.99.
As a professional food editor, I tested Home Chef for a week to get a full view of how it stacks up against its competitors. Here's everything you need to know:
What's on Home Chef's Menu
Home Chef's menu features 30+ recipes and 18 extras each week. And if you consider the number of protein customizations you can make with select meals, that's a mighty robust menu. With their Customize It tool* you can upgrade, swap, or double up on your favorite protein – options include antibiotic-free boneless skinless chicken breasts, salmon filets, Impossible Burger, and more.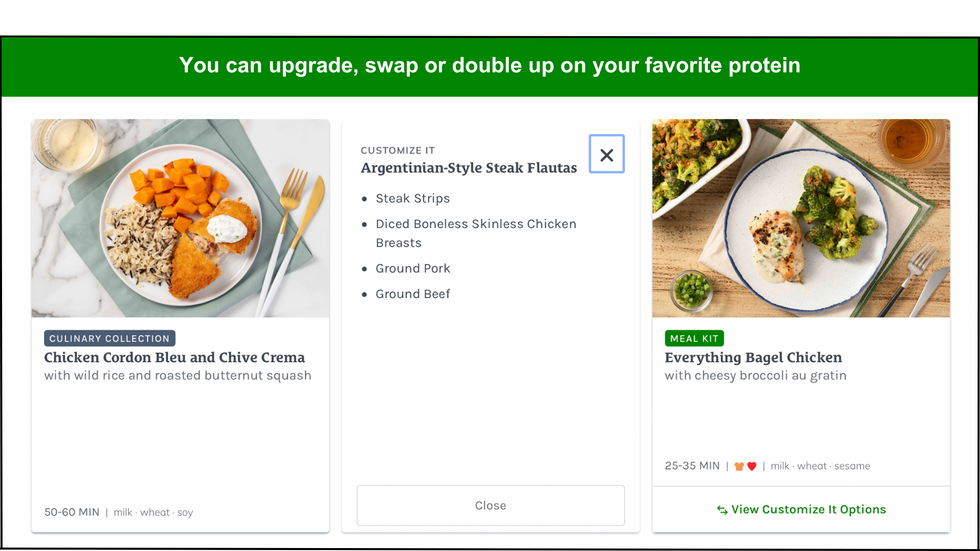 Choose from fancy dinners like their Blackened Salmon with Sun-Dried Tomato Alfredo Campanelle, or pick one of their mouth-watering Oven-Ready meals like the Cotija and Jalapeño-Crusted Chicken that requires close to zero prep. Simply assemble all ingredients in the tray you receive with your order and pop it in the oven. And on extra busy days, their Fast & Fresh microwavable options like the Cherry Chipotle Brisket Tacos are a true life savior – equally delicious but ready in only a few minutes!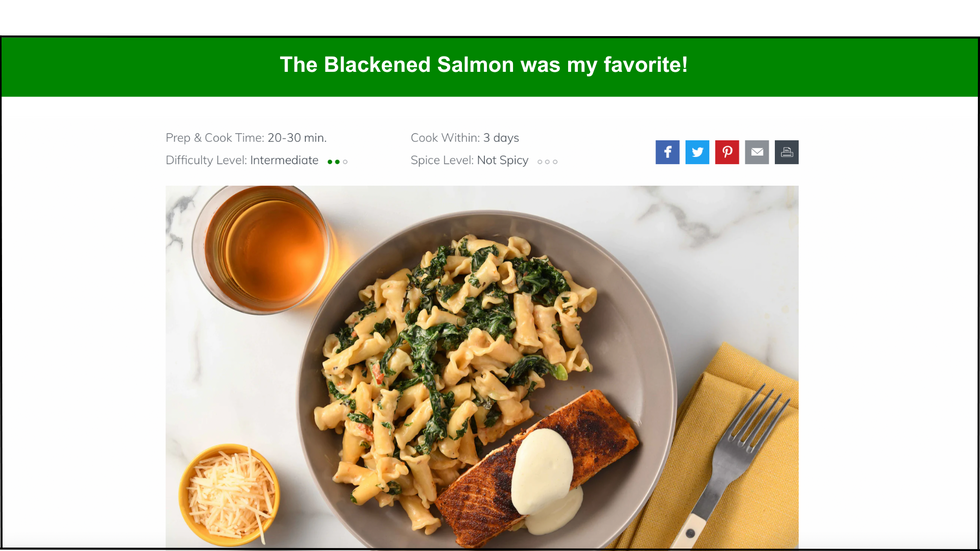 Home Chef gives you the option to filter recipes based on your personal preferences, such as:
Calorie-conscious
< 30 minutes
Carb-conscious
Vegetarian
And I absolutely love their vast selection of add-ons that you can simply add to your weekly order!
Unboxing
Home Chef's ingredients are shipped in a biodegradable, insulated box with reusable cool gel packs that keep the produce cold. You get fresh, pre-portioned ingredients organized in separate bags, making the cooking process super convenient.
Each order arrives with easy-to-follow recipe cards. Of course, they're recyclable, but the idea is to hold onto them and reuse. The cards provide clear instructions and an image of the delicious meal so you know the degree of difficulty, spice level, cook time, and what your Home Chef meal will look like once plated.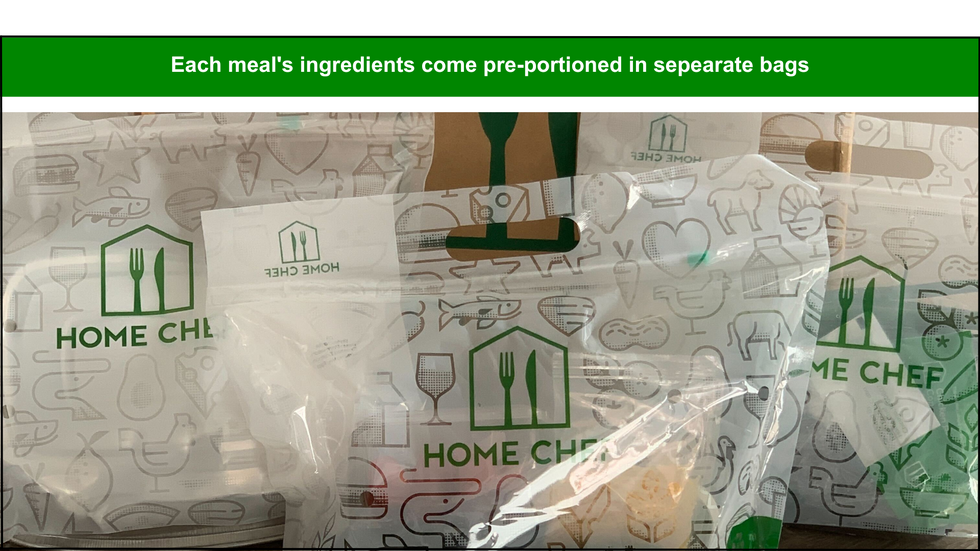 Cooking and Eating
Brainstorming recipes, driving to the grocery store, selecting all the ingredients, and cooking can get exhausting. No wonder we go for highly caloric frozen meals or greasy takeout.
Home Chef, however, takes the hassle of cooking away, by saving time and making the cooking process enjoyable! Did you know that they feature the most Oven-Ready options of leading meal kit services? Plus, you will never cook the same meal twice. Instead, you can explore a wide range of flavorful recipes and cuisines from all around the world.
It's astonishing how easy it is to develop a solid routine where the family gathers together every night to enjoy a wholesome, home-cooked meal.
Subscription
Signing up for Home Chef is super simple: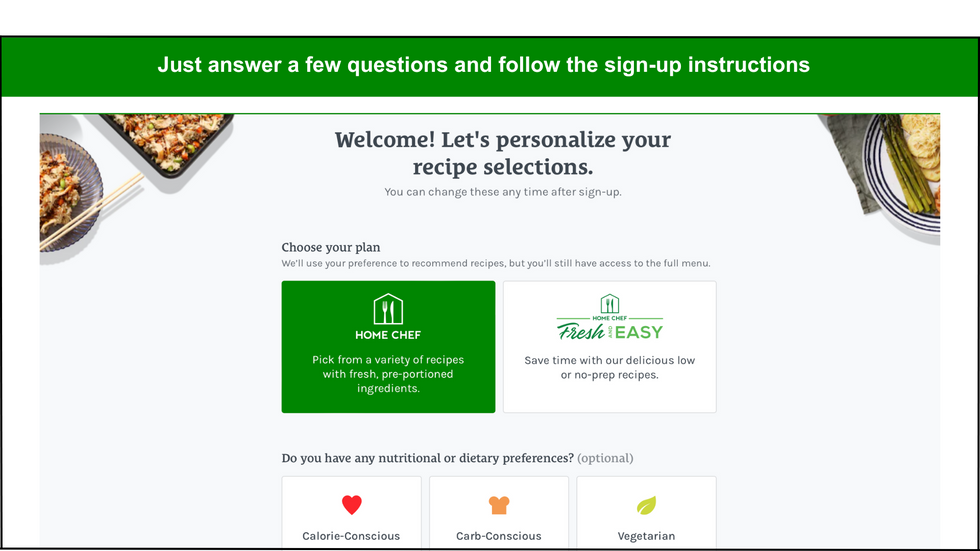 Click on one of the links below and get redirected to the Home Chef Website. Then click on your preferences by answering a few questions.
Enter your email address and zip code to create your account
Build a box that suits your needs by selecting the number of servings and recipes you would like to receive each week
Enter your address and choose your preferred delivery day. Remember, their subscription is flexible, you can skip a week or pause your account at any time in just a few clicks. You won't have to call or email anyone.
Pick your favorite meals from their menu . . . and done!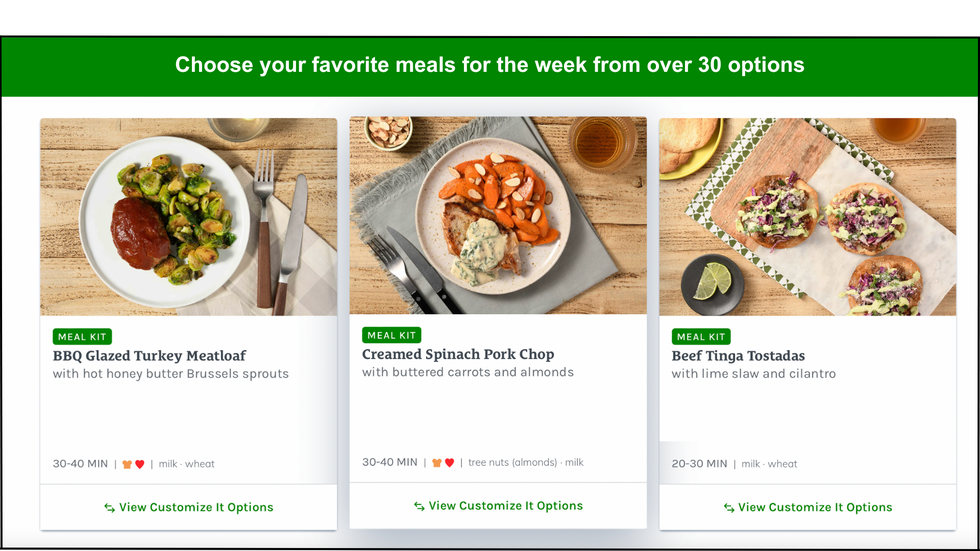 You might find it a little frustrating that you have to complete the checkout process before you get to their menu page. But don't worry. You can still change your mind after browsing their recipes.
If you need further assistance, just reach out to Home Chef— the #1 in Customer Satisfaction among leading meal kit companies**.
The Bottom Line: Is Home Chef Worth It?
Home Chef is a fantastic service for any household looking for a convenient dinnertime solution. Their recipes are tasty, easy to cook, and fit various lifestyles and dietary needs – all for a brilliant price point, with meals starting at only $7.99.
Sure, there are cheaper meal kits out there. But I can honestly say that Home Chef's overall service is of the highest quality, so I don't mind paying a little extra. What an exceptional experience, I will for sure continue with my subscription.
Home Chef is worth the investment, I highly recommend you try it!
Our friends at Home Chef are extending a special offer to our readers! Follow this link to get 18 Free Meals & Free Shipping!
*Source: https://www.homechef.com/customize-it
**Source: US Grocery Benchmark Study, April 2020, Market Force Information, Inc.