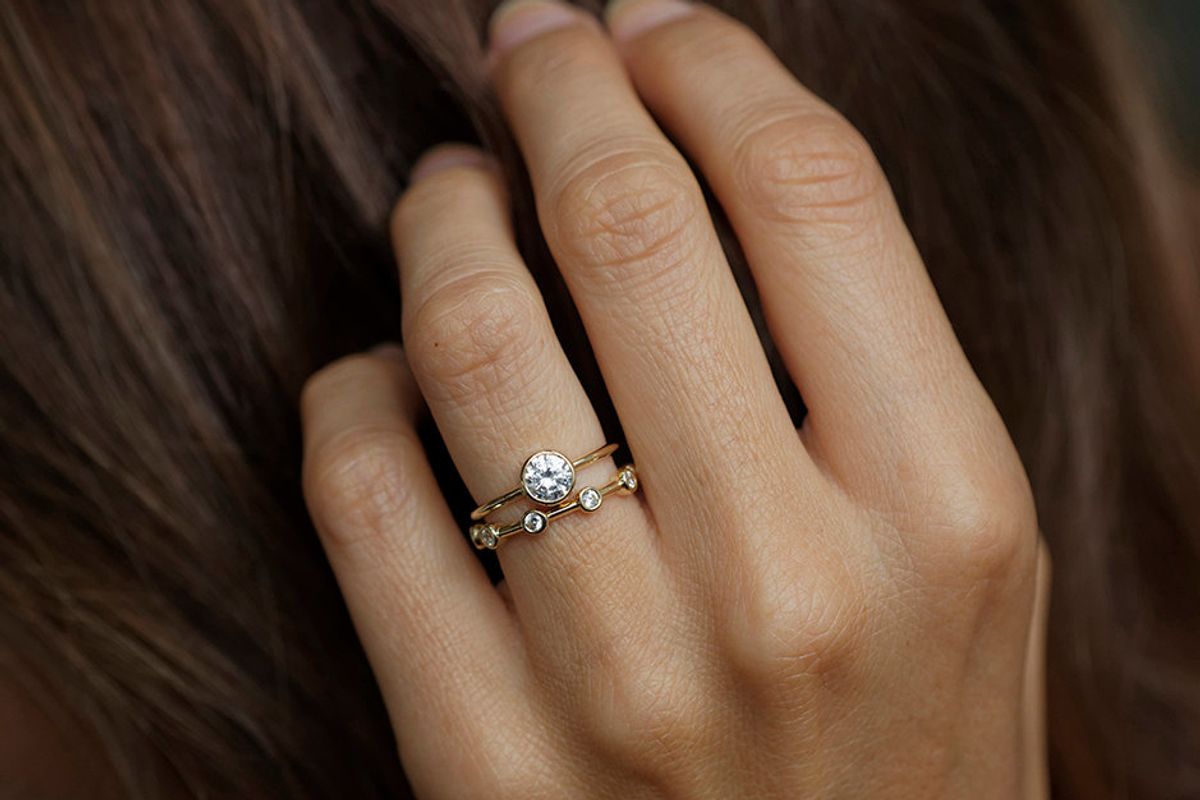 The Prettiest and Simplest Engagement Rings
Say "yes" to the understated
Not every woman is looking for a ton of "bling" before becoming a bride. Sometimes less is more when it comes to the perfect engagement ring. Pretty and simple beats out flashy and gaudy, making these eight rings ones she'll say "yes" to.
Mociun Diamond, Moonstone & Pearl Cluster Ring - $6,700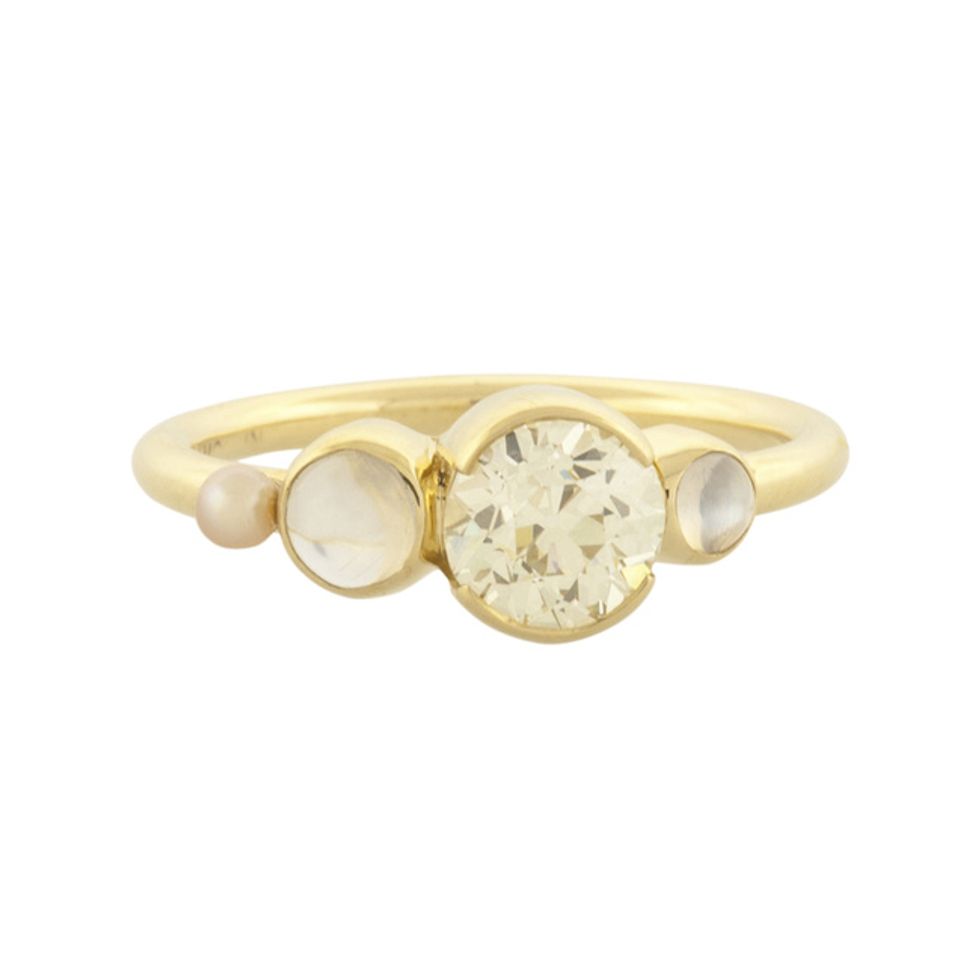 MociunVia mociun.com
Diamonds and moonstones and pearls, oh my! This lovely and delicate ring from Mociun is understated yet unique with a shiny .90ct white diamond taking center stage, flanked by moonstones and pearls. The yellow gold band is timeless, bringing past and present together as she embarks on her future as "Mrs."
YI Collection Diamond Princess Cut Chain Ring - $395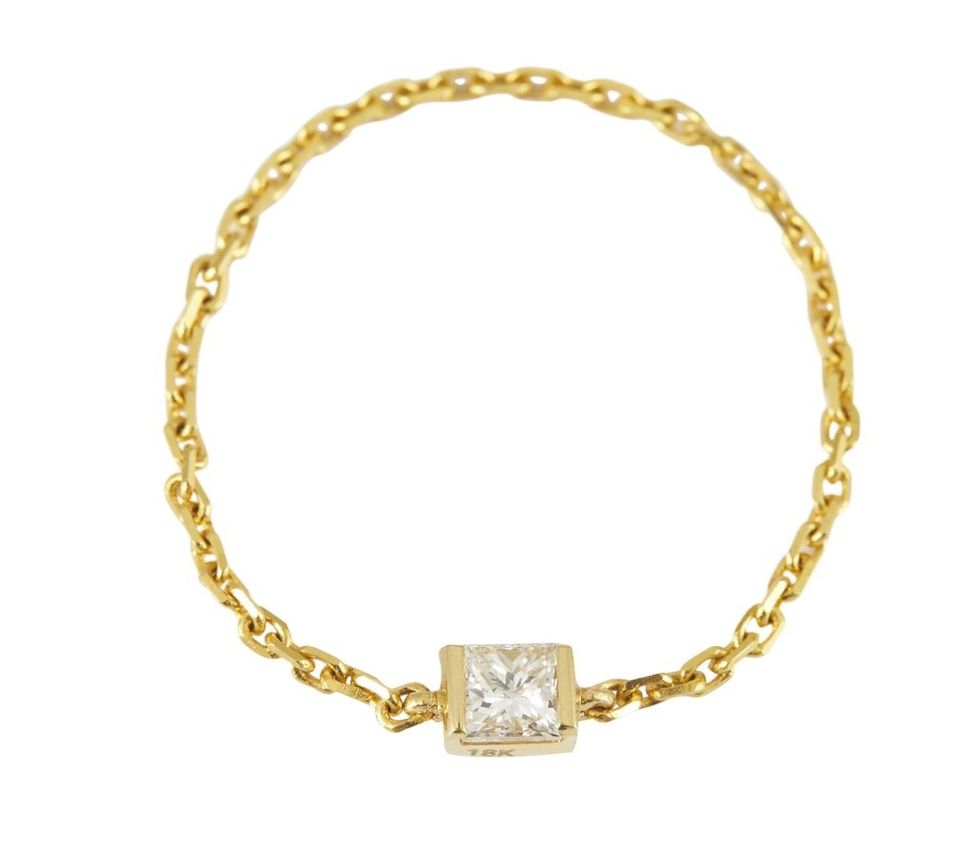 YI CollectionVia yicollection.com
Take that unfortunate "old ball and chain" term and turn it into something beautiful with this Diamond Princess Cut Chain Ring from YI Collection. The 18k gold chain element is feminine and gentle, and the princess cut diamond seems to float like a cloud. Opt for a single chain or go for two for a slightly more dramatic effect that still remains graceful.
Catbird Triple Hexagon White Diamond Ring - $3,410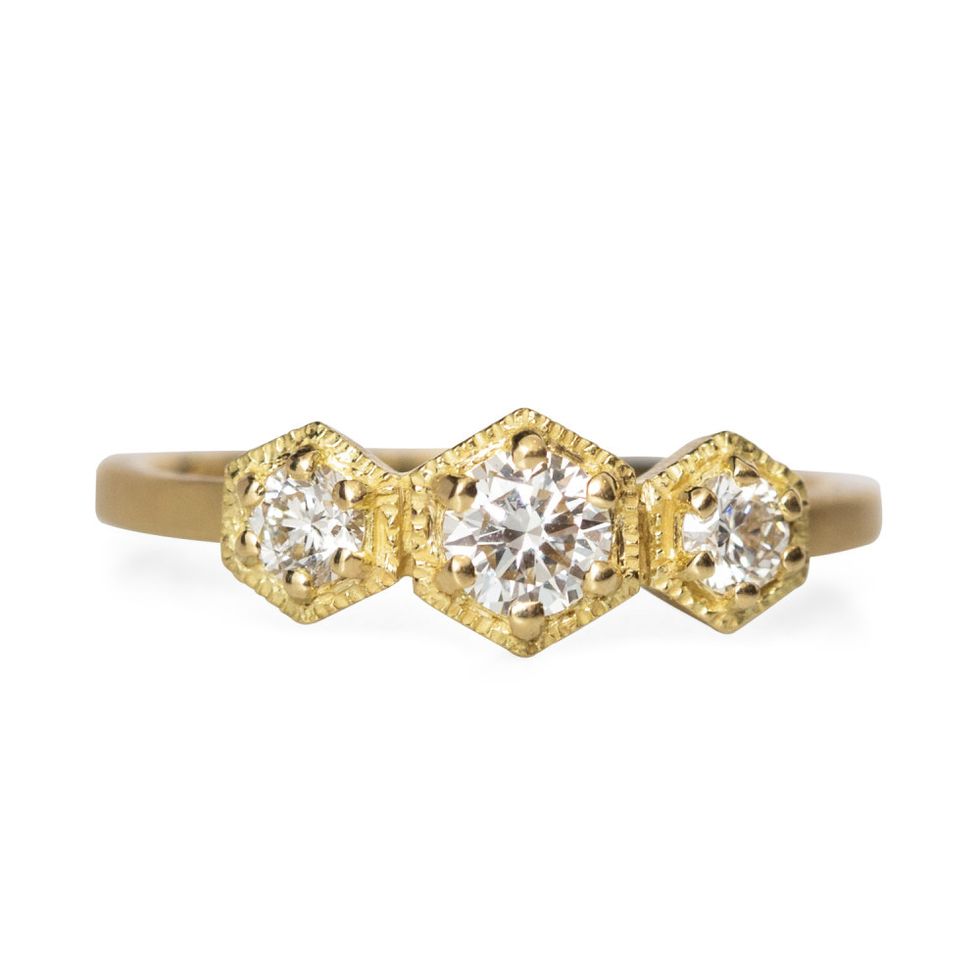 CatbirdVia catbirdnyc.com
Third time's a charm…when it comes to diamonds, that is. Why have just one stone when three's company? The Triple Hexagon White Diamond Ring from Catbird is simple and special, with an 18k gold band supporting three diamonds in hexagon-shaped settings. Diamonds are a girl's best friend, so triple the enjoyment!
Danhov Abbraccio Swirl Engagement Ring - $3,110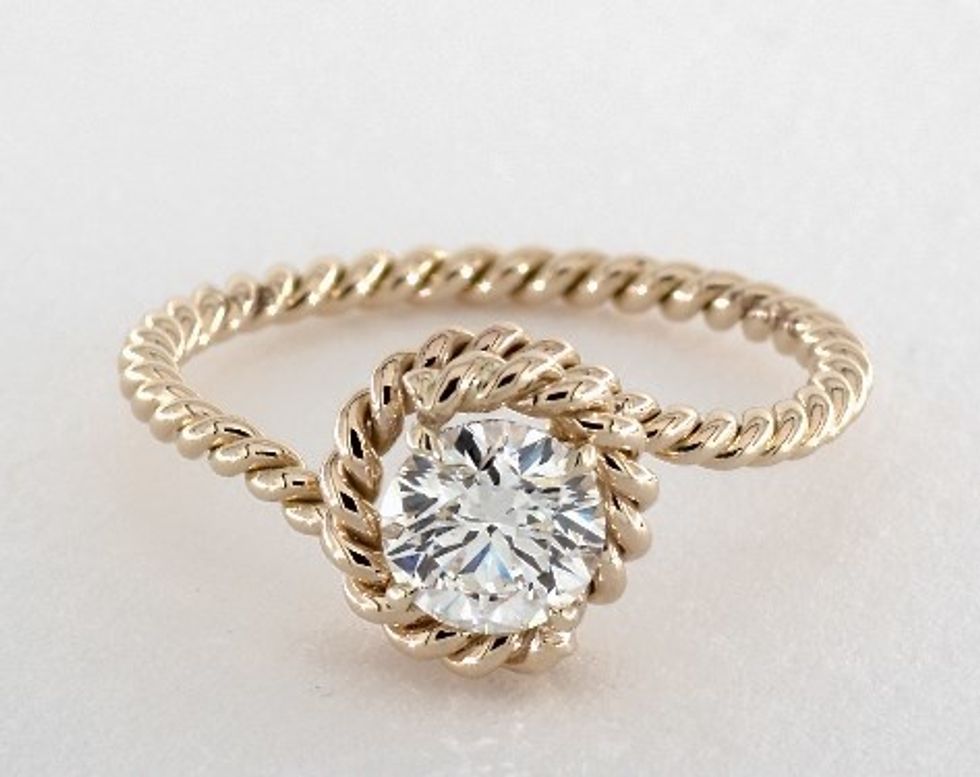 Danhov AbbraccioVia jamesallen.com
A yellow gold rope-like band makes this Danhov Abbraccio ring stand out, yet it is refined for the woman who is unpretentious. The band is "entirely handcrafted using a pulled wire techniques that provides the ultimate combination of beauty and strength." That combo sounds a lot like the women who'll be wearing it! ***Price: $3110 when set with a .77ct diamond
Van Cleef & Arpels Perlée Solitaire - $3,650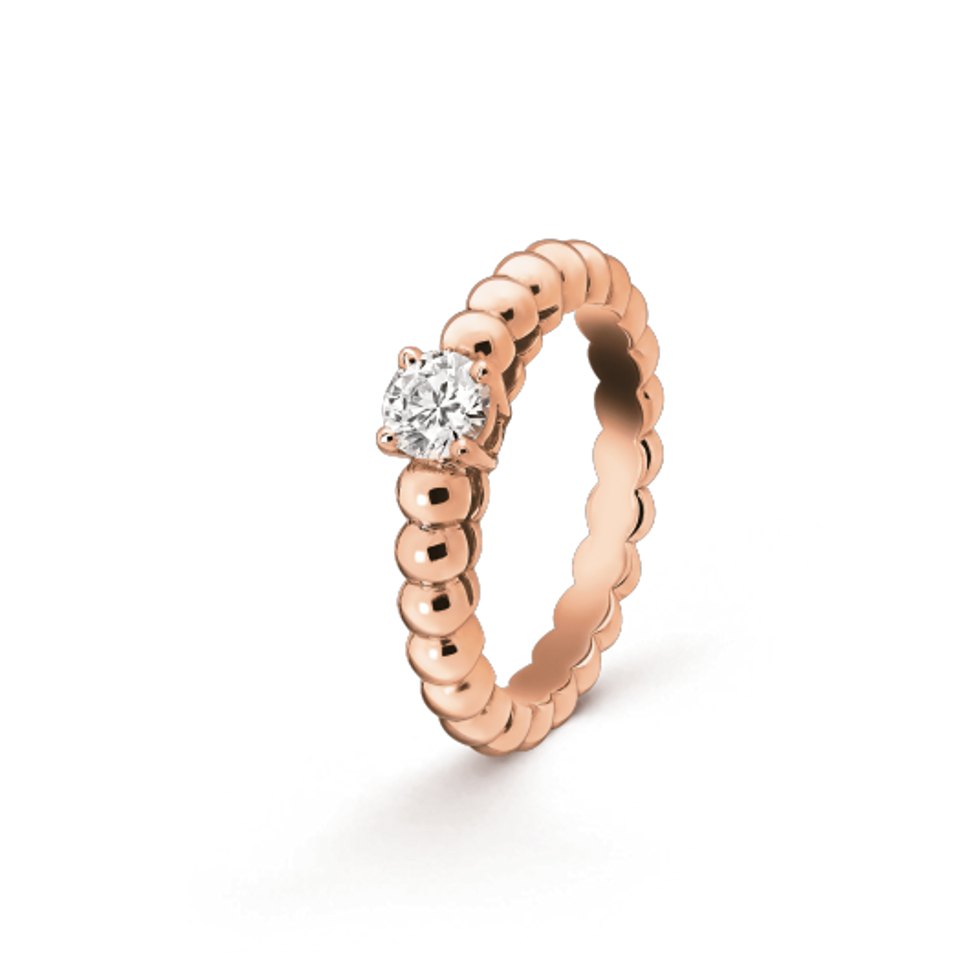 Van Cleef & ArpelsVia vancleefarpels.com
Rounded and radiant, this Van Cleef & Arpels engagement ring in pink gold is playful and pretty, suitable for the gal who is fun-loving and feminine. Unlike the run-of-the-mill bands you see on most rings, the beaded shape is whimsical and special. Simplicity with a twist makes the Perlée Solitaire a solid choice.
HelloRing Art Deco Wedding Ring Antique Unique Clover - $279 - $299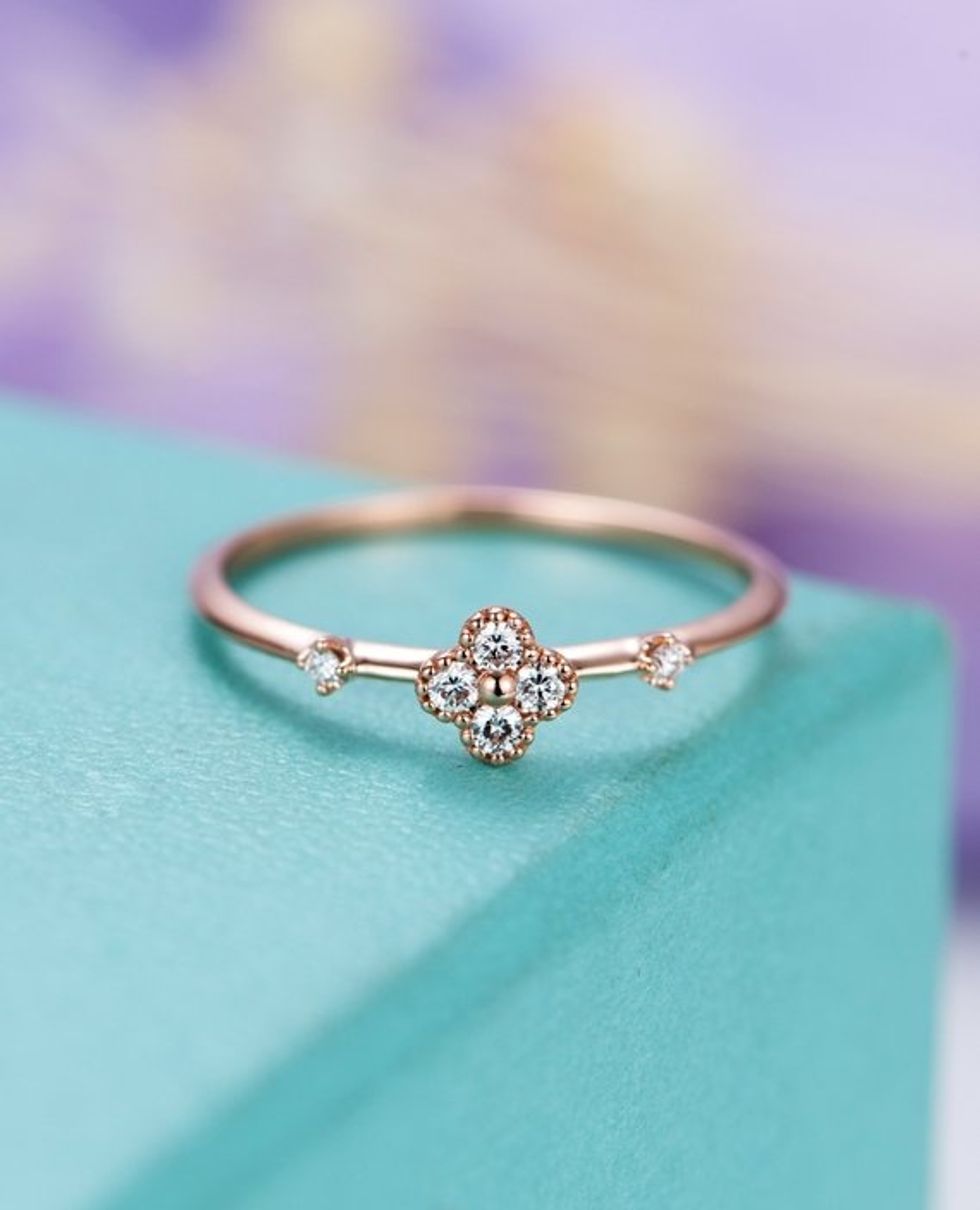 HelloRingVia etsy.com
Art deco designed with simplicity and refinement makes this antique-style engagement ring perfect for the bride-to-be who loves to embrace the understated. Five tiny diamonds adorn the gold band with a clover-shaped center that catches the eye delicately and delightfully. Available in rose, white, and yellow gold in 14 or 18k.
Chopard Ice Cube Pure Ring - $935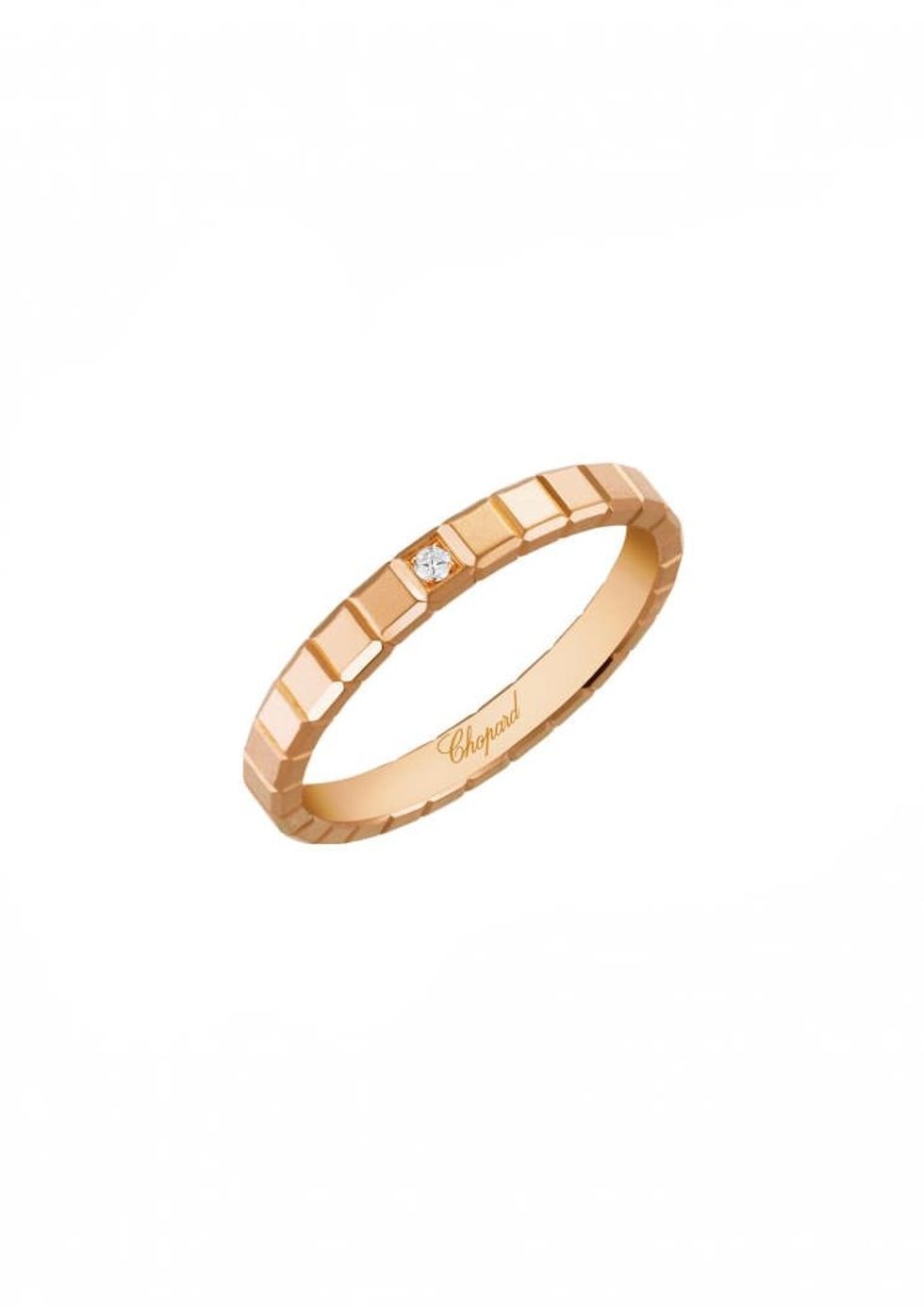 ChopardVia chopard.com
Rose gold with a geometric design and a simple round diamond, this Chopard Ice Cube Pure Ring is for the minimalist who loves to maximize her style. Modern-meets-marriage when "something new" is sparkling with sleekness and stack-ability. Hey, why not go for two or more?!
Bario Neal Pear Trillion Ring - $2,345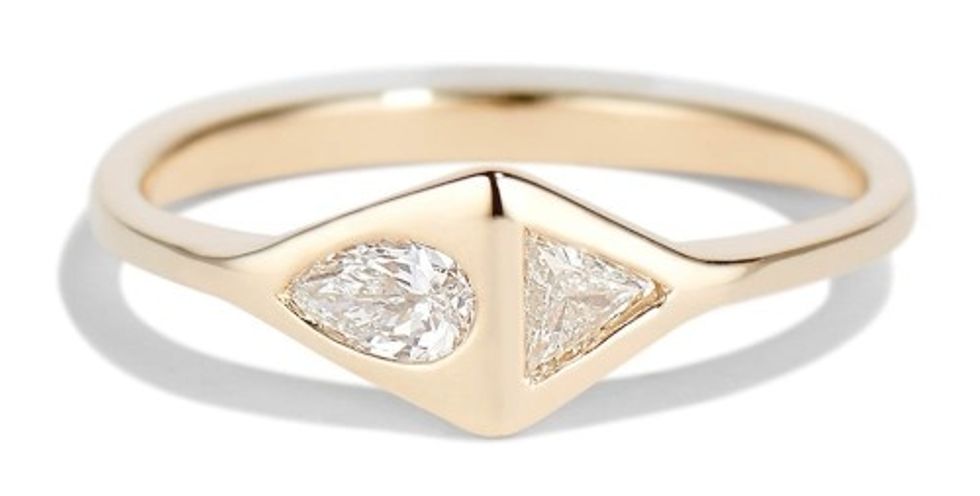 Bario Neal Via bario-neal.com
Just like two become one on the "big day," this Bario Neal Pear Trillion Ring brings a pear and a trillion diamond together to create a unique piece of jewelry that is stunningly simple. Handmade and heavenly, this ring may be understated but it won't go unnoticed.
Put a ring on it… we know you like it!
**Note: Ring prices may vary depending on size, materials used, size of diamond or cut, etc.**