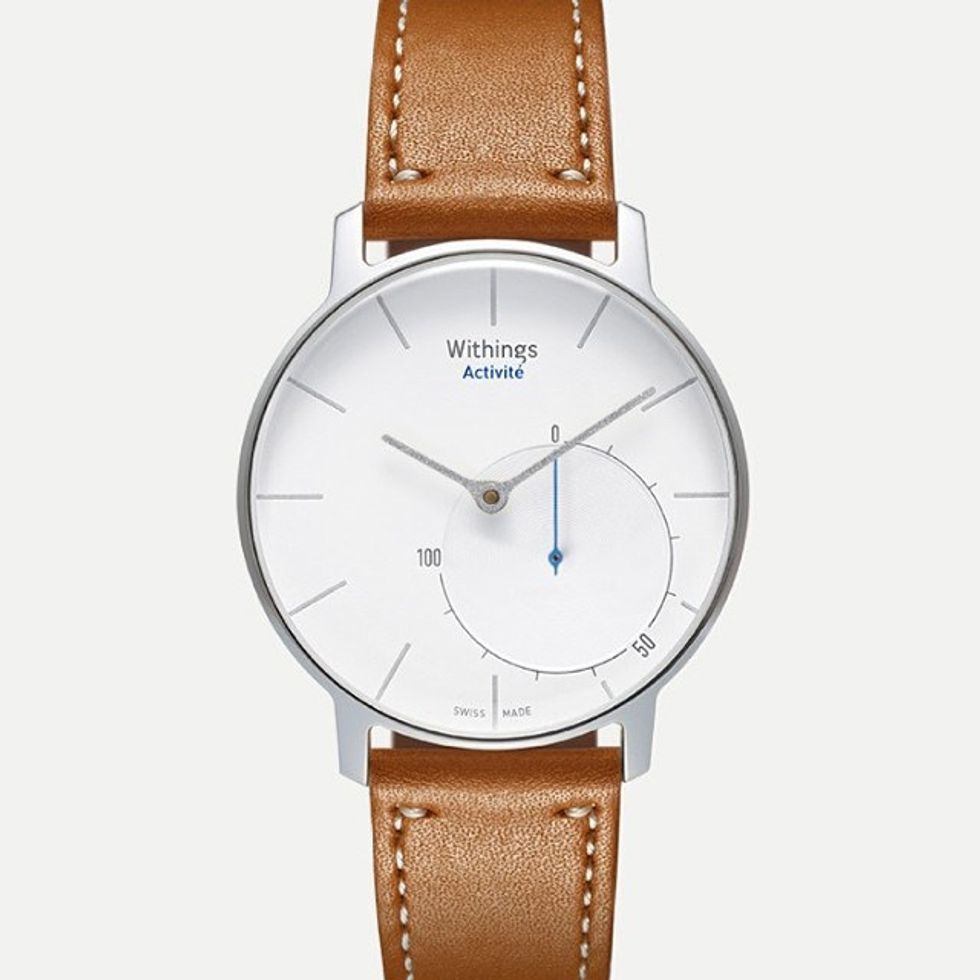 Best activity tracker that looks great too
This wearable perfectly balances style and performance
Trying to get healthier?
All your friends seem to be out and about doing CrossFit, working towards their 10,000 steps, sleeping 9-10 hours a night, and you ask yourself: how do they do it?
You look around and notice that everyone around you is wearing some kind of plastic band around their wrist. Some are thin and nondescript; others are loud and attention grabbing. It seems like you're the only one without some kind of activity tracker! That little piece of plastic around everyone's wrist seems to drive them on like a digital taskmaster; keeping them in step (and sleep) long enough to be ready for whatever life is throwing at them. But as effective as those little devices seem to be, you just can't bring yourself to make the aesthetic sacrifice that it would take to wear one around your wrist 24/7.
How can a person of style and substance be expected to wear a plastic band all the time? Well, let me tell you that your prayers have been answered by the Withings Activité Steel. A watch that is as stylish as it is functional. Not only does it look great telling the time, but it tracks steps, various activity – even swimming – and your sleep.
Aesthetic
I first purchased the Activité based solely on stylistic merits. I really like the minimalist design. A thin face that doesn't scream opulence – but it doesn't scream poverty either. The design is calm and confident with slender points to measure the time as if to say, "I don't even need numbers to tell time. That's how good I am." The silicon band that comes with the Activité is offered in a variety of colors. This is fantastic for working out as it stays clean and is easy to wash; it has a nice understated look. If you want to take it to the next level, Withings also offers leather bands that can be swapped out for the silicon; just a tad classier and it might make you feel a bit more regal when going to a party.
Functionality
As far as functionality the Withings Activité does a great job. If all you're concerned with is reaching your 10,000 steps for the day there's a small hand allocated for that. A quick glance allows you to see how close you are to reaching your daily goal. If you're looking to get more granular, then there's an app (for IOS and Android) that comes along with the Withings that provides an in-depth look at your steps, broken down by levels of intensity.
The app provides you with badges for steps that you take taken and provides you with tips on how to better reach your goals. It also learns over time whether or not you're running or dancing or yoga-ing and you can make adjustments within the app to better understand your level of activity.


The sleeping app uses your movements to track how well you're sleeping and breaks the evening down into light sleep and deep sleep. The app even has the ability to check your heart rate via your cell phone camera which is a nice thing to have once in awhile.
Unlike other activity trackers that have to be charged every night, the Withings is powered by a watch battery that you can replace every eight months or so which makes for a low-hassle process.


Bottom Line
If you've been waiting to get your hands on a solid activity tracker because you're afraid of diminishing your sense of style then wait no longer and check out the Withings steel activity. You'll be glad you did.