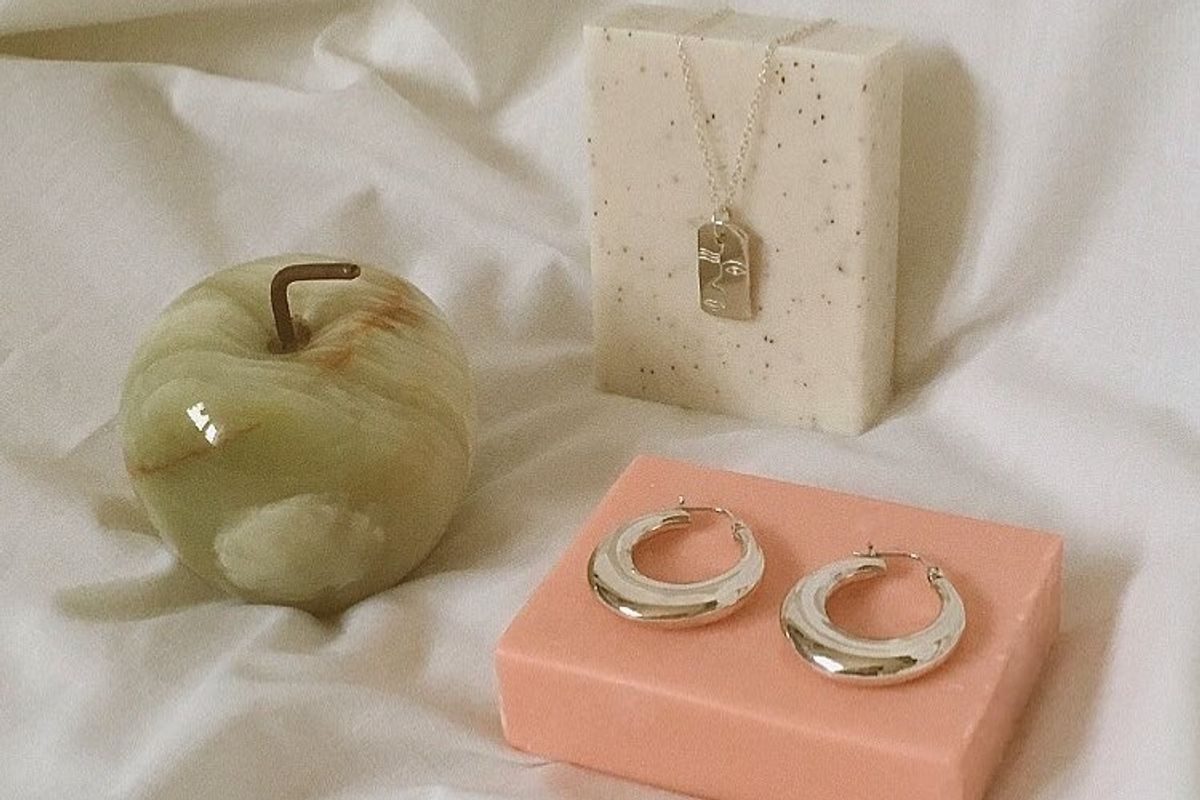 7 Unique Instagram Jewelry Brands That You Should Know
Whether you're looking for architecture-inspired hoops, vibrant jewels, or uniquely shaped rings, here are a few brands to check out.
If you've been looking to give your jewelry box a spring refresh, here are 10 unique jewelry brands that are turning the heads of fashion editors and influencers alike. It can feel like there's an endless sea of new, trendy brands that pop up in your discovery tab or through sponsored content on your favorite blogger's Instagram story, luckily we've waded through them all to show you the best of the best. Whether you're looking for architecturally-inspired hoops, vibrant jewels, or uniquely shaped rings, here are a few brands to check out.
1. Anomaly Jewelry
Anomaly Jewelry is "for the witchy, kitschy woman." The brand was established by New York City artist Karen Yost in 2000. Known for its eccentric (sometimes spooky) but always cute designs, Anomaly is the perfect place to find a unique piece. Based out of NYC, Karen crafts each unusual piece from her studio in NYC.
2. Jiwinaia Jewelry
Born in Seoul and raised in Milan, Jiwinaia designer Marisa Jiwi Seok brings together her eclectic influences to make unconventional pieces. She launched the cult-favorite jewelry brand in 2015. Since, she's garnered a huge following for her illustrated pearl drop earrings that feature ghosts, spiders, and clowns, among other animations. All of her pieces are handmade and have been stocked in stores around the world.
3. Somme Studio
Somme Studio is all about the details. The Australian jewelry label draws inspiration from architecture and design, creating pieces that are minimalistic yet playful. Their pieces are loosely based on images from vintage fashion magazines and visuals found while traveling. Each piece is handmade to look slightly irregular, so it's guaranteed that each will be unique.
4. Soko
If you're looking for a more ethical choice in your jewelry consumption, Soko is the brand to check out. Their mission is all about pioneering ethical fast fashion, working with artisan entrepreneurs, and creating sustainable practices. Their artisans use locally-sourced and eco-friendly as much as possible, like recycled brass and reclaimed cow horn and bone.
5. Young Frankk
Artist turned self-taught jewelry designer Christine Young founded the Young Frankk jewelry studio in 2011. Informed by her illustration studies at Parsons, Young incorporates elements of line work into her metal jewelry. Her collections are geometric, effortless, and elegant. Young Frankk uses recycled metals and locally made materials to minimize the environmental impact and even includes plastic-free packaging on their orders.

6. SVNR
SVNR jewelry is made from found, re-used, up-cycled and natural materials. Here you can find sea glass colored rings, geometric rocks, and seashell accented earrings. SVNR pairs a commitment to sustainable practices and conscious consumption with a unique eye for color, design, and found materials.
7. Alta Ora
Natalia Grosner's jewelry brand, Alta Ora, is all about exuberant minimalism and turning abstract shapes into wearable objects. The designs are influenced by Grosner's childhood wandering the streets of New York and Brazil, and each piece is handmade using sterling silver and gold vermeil.