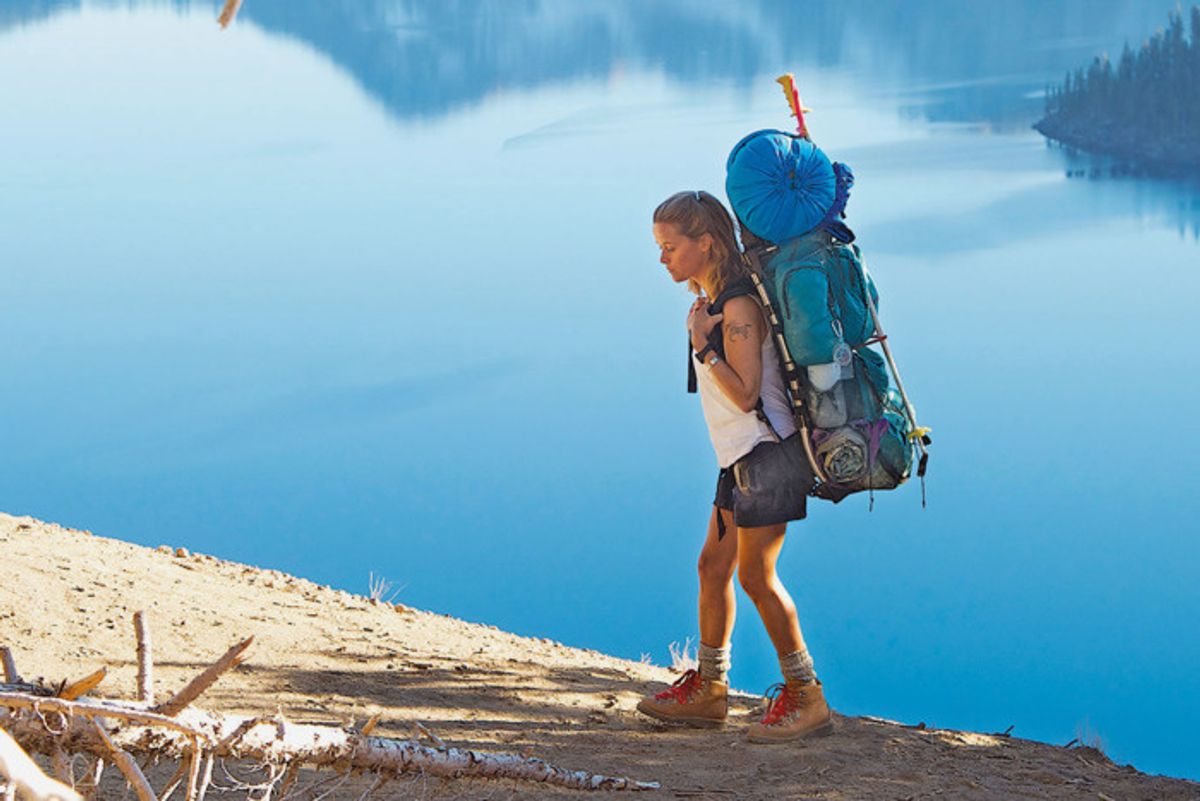 The 5 Best Lightweight, Ankle Supporting Hiking Shoes
Stay comfortable, dry, and supported on all your wilderness wanderings!
Whether you're gearing up to climb Mount Everest or for a walk around Walden Pond, a good hiking shoe that doesn't weigh you down is essential. There's nothing worse than nagging blisters slowing down an epic outdoor adventure. A lightweight hiking shoe with good ankle support is the key to happier feet and a more enjoyable hike.
It's easy to find a hiking shoe that fits. But finding one that can wheather muddy trenches, rocky mountain sides, and wick away moisture after rain is a little harder. What else should you look for in a great hiking shoe? Comfort, traction, and breathability. Choose a lightweight, waterproof hiking shoe that's built to last.
Here's our top 5 picks that'll keep you comfortable, dry, and supported on all your wilderness wanderings:
Best for Rainy Hikes: Lowa Renegade GTX Mid Hiking Boot, $230, Rei.com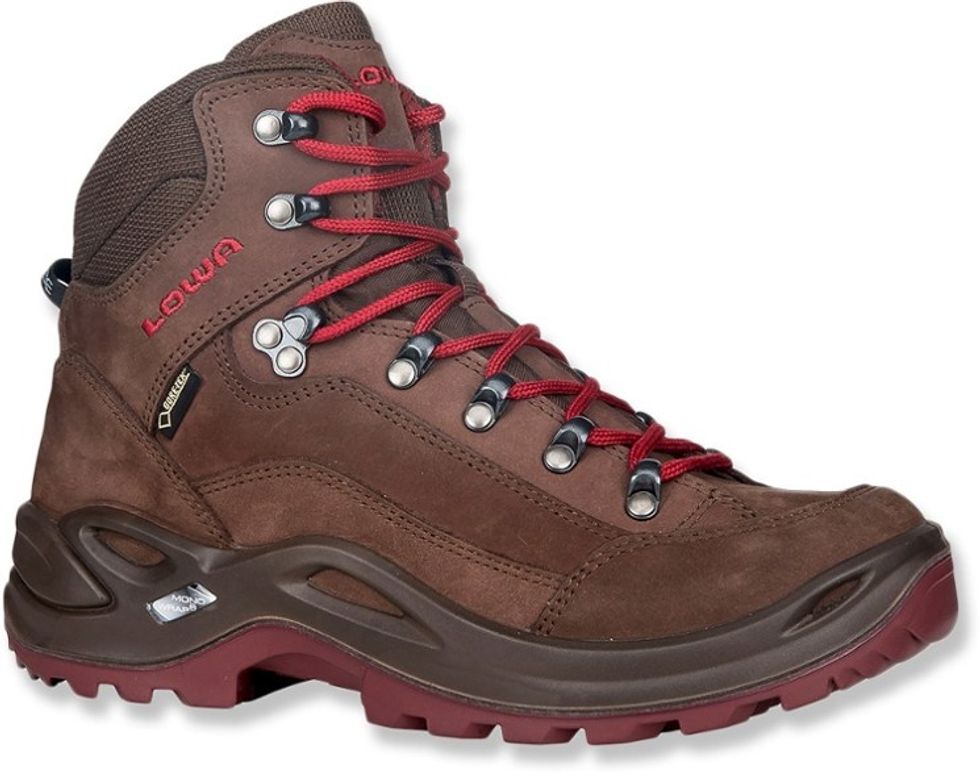 Renegade GTX Mid Hiking BootLowa
This cushy hiking boot will keep your feet dry and comfortable in even the most extreme weather conditions. It's one of the most popular hiking boots and for good reason. You get great ankle support at a low weight for such a heavy duty boot. At 17.5 ounces per shoe, these shoes won't weigh you down, but will keep your feet nice and dry. They're made of nubuck leather and a gor-tex waterproof, breathable membrane.

This hiking shoe is best for hikes where you might be met with some rainy weather conditions. They can trek through mud with ease, feature no slip grip traction, and offers great stability. The Lowa renegade GTX mid hiking boot was the winner of 2014 OutdoorGearLab Editor's Choice Award. Here's what user reviews are saying:
"I've owned many hiking boots but they always hurt my feet. Almost giving up on ever finding a pair that would feel comfortable for long hikes I found these at the store. I was skeptical these would work and was surprised how comfortable they are. I use these year-round from hiking during the winter, snowshoeing and hikes during the summer. Best purchase ever!"
Best for Summer Hikes: Keen Women's Voyageur Mid Hiking Boot, $125, Zappos.com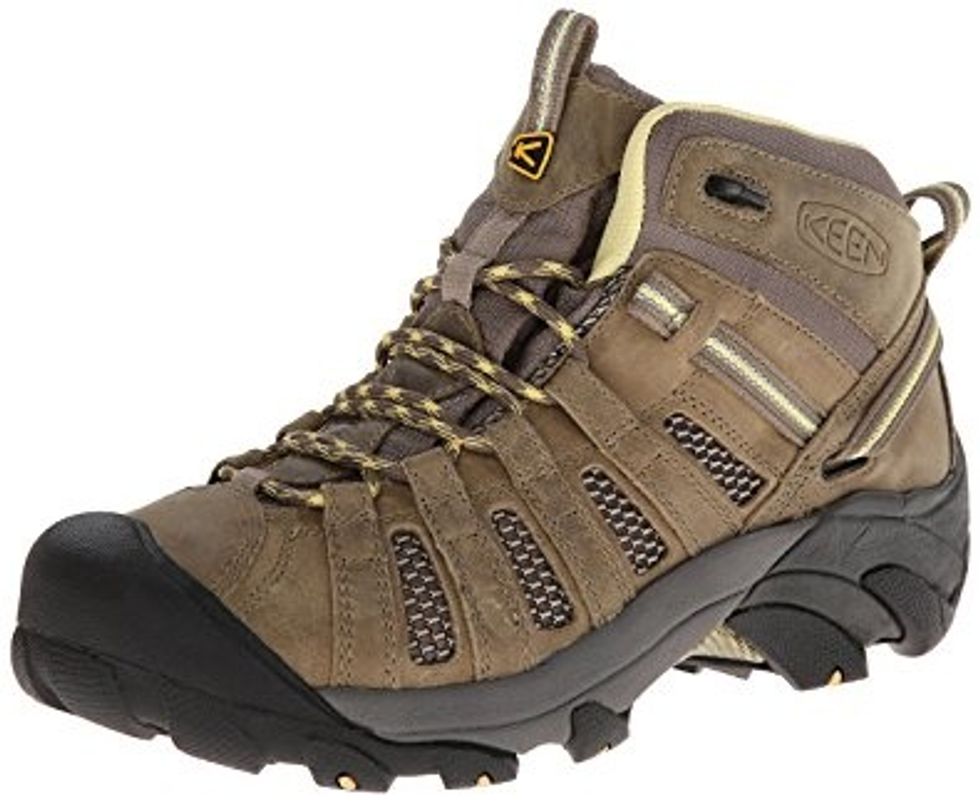 Women's Voyageur Mid Hiking BootKeen
A lightweight, breathable hiking shoe is great for summertime hiking. Who wants hot, sweaty feet on a long, grueling hike? These boots have a leather upper with a mesh webbing underlay for maximum breathability so your feet don't get too warm. They aren't waterproof though, so if want a boot that you can trek through puddles in they aren't the best choice. Although reviewers have noted that they can handle small amounts of water without problems.

Weighing only 14 ounces per shoe they're extremely lightweight and comfortable. With great ankle and arch support your feet will be happy campers even on long hikes. These boots are built to last. Here's what reviewers are saying:
"I love these boots! I reluctantly retired my 5-year-old Keen trail shoes in anticipation of a trek to Machu Picchu. Haven't left for Peru yet, but have put many miles on these botts. They're comfy from the get-go, lightweight and feel more like shoes than boots. Nice and wide in the toe box for us bunion-sufferers. Love my keens!
Best for Long Hikes: Ahnu Women's Sugarpine Hiking Boot, $64.56, Amazon.com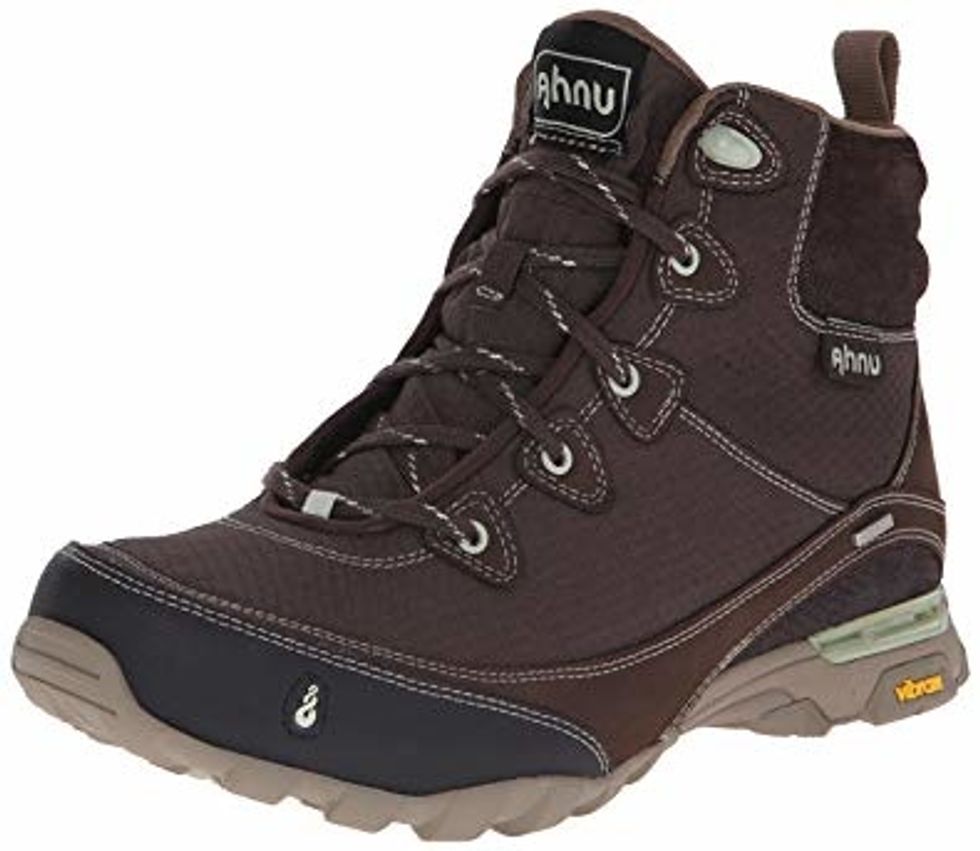 Women's Sugarpine Hiking BootAhnu
If you want a super lightweight, but durable shoe look no further than the Ahu Sugarpine hiking boot. Weighing only 11.6 oz per shoe and featuring great ankle and arch support, you'll have an little extra spring in your step even on the longest hikes. These boots are great for all day treks and travel excursions. They won't add much weight to your luggage and you'll last longer on the trail with one of the lightest boots on the market.
These boots have reviewers stamp of approval for all kinds of adventures. There's waterproof, making it easy to stay dry if you happen to be hiking through Machu Picchu in monsoon season. Made of 100% mesh, leather, and suede and featuring a cushy, padded collar, you're feet will be both dry and comfortable. Here's what reviewers are saying:
"Let me start by saying this was my first hiking boot purchase, and I wasn't sure exactly what to expect. I was planning a short hike on the Appalachian Trail last year during a week that included a few possible days of rain, so i was looking for a shoe that wouldn't soak and had some traction. After reading Amazon reviews on all women's hiking boots I decided that Ahnu was the most promising brand. So I bought the Sugarpine in Honey!I was in love with them as soon as they arrived!"
Best for Short Hikes: Xero Shoes Daylight Hiker, $114.99, Amazon.com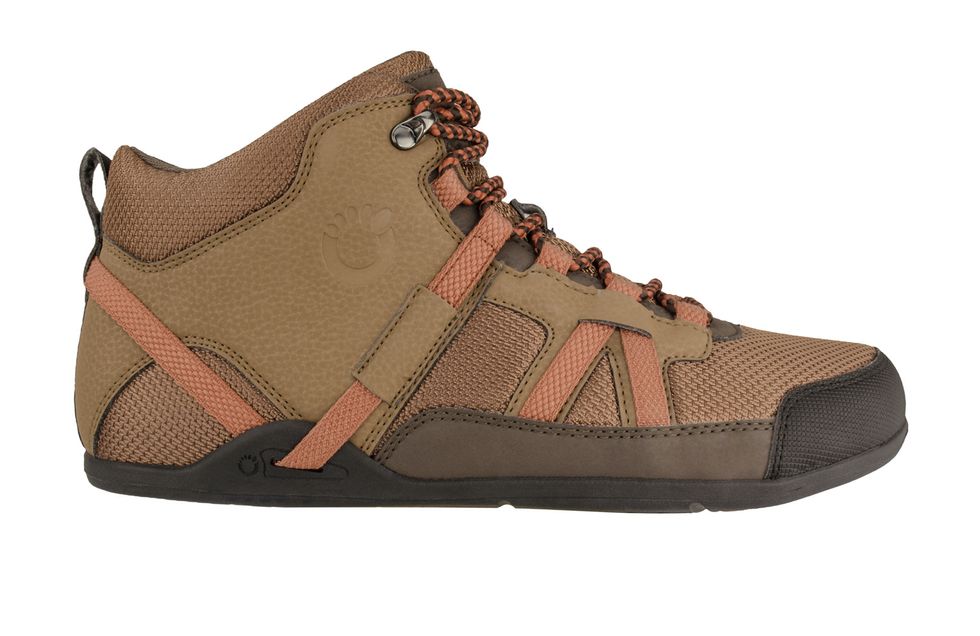 Daylight Hiker BootXero Shoes
If you're a follower of the barefoot movement, you'll love these minimalist hiking shoes. Designed as a barefoot alternative, they're some of the lightest hiking shoes you can buy. At only 9 ounces per shoe, they're so comfortable you might just forget you're wearing any shoes at all.
They feature a foot first, natural shape design so your toes can spread out naturally and relax. They're also super durable. Built with a water resistant ballistic mesh upper with a tough tech toe bumper, you won't need to shy away from rough terrain. These hiking shoes are best for shorter hikes though. Made to help your feet bend, move, and flex naturally, you'll need a shoe with more arch support to withstand longer trails.
Here's what reviewers are saying:
"LOVE these! Comfortable. Breathable. Lightweight. Very impressed. Broke them in on a 6.5 mile hike yesterday and barely felt like I was wearing shoes. Never had a pair so comfortable."
Best for Overall Comfort: Hoka One One Tor Summit WP, $160, Zappos.com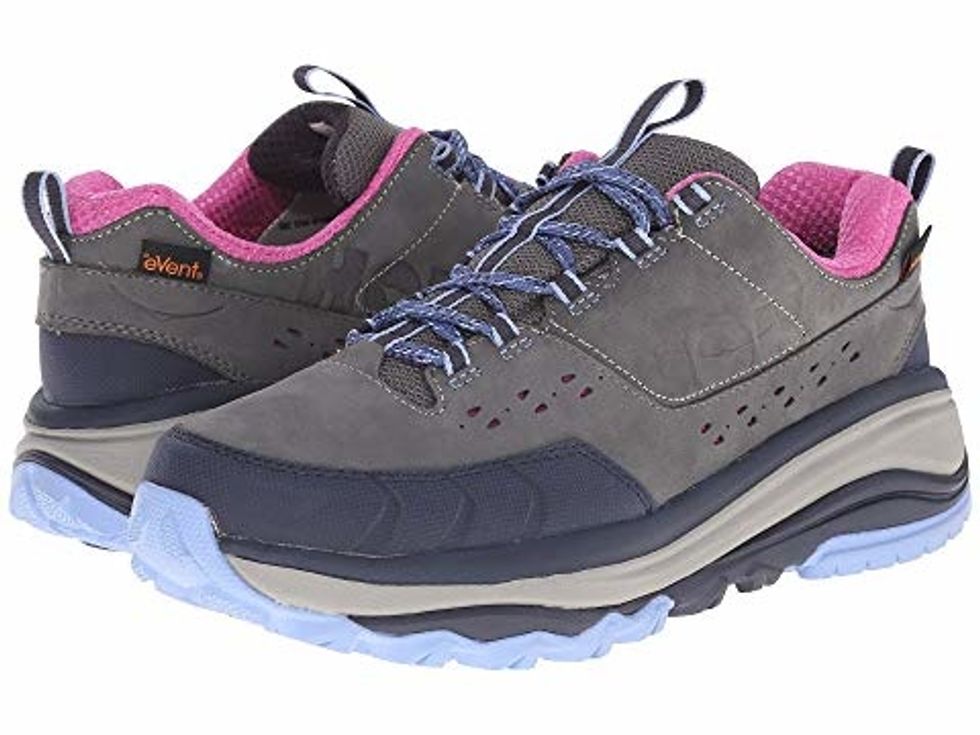 Tor Summit WP Hiking ShoesHoka One One
These cute hiking shoes will help you tackle any trail in plush, cushy, comfort. With an extra thick sole and a waterproof membrane you're feet will be nicely protected from the elements. Even though they're lower cut than a hiking boot, you still get good arch and ankle support.
At only 14 ounces per shoe they're lightweight and comfortable enough to take on longer hikes. Made of nubuck and suede leather uppers with a breathable mesh tongue they'll help your feet air out on hot summer days. If you want to wear them in the fall or winter make sure you pair them with warm, waterproof hiking socks like these.
Here's what reviewers are saying:
"Recommended by my orthopedist for bone spurs on my toe. So much more comfortable than other sneakers for this problem. Nice wide toe box and seemed to have allowed me to take long walks without any discomfort at all..finally!!"