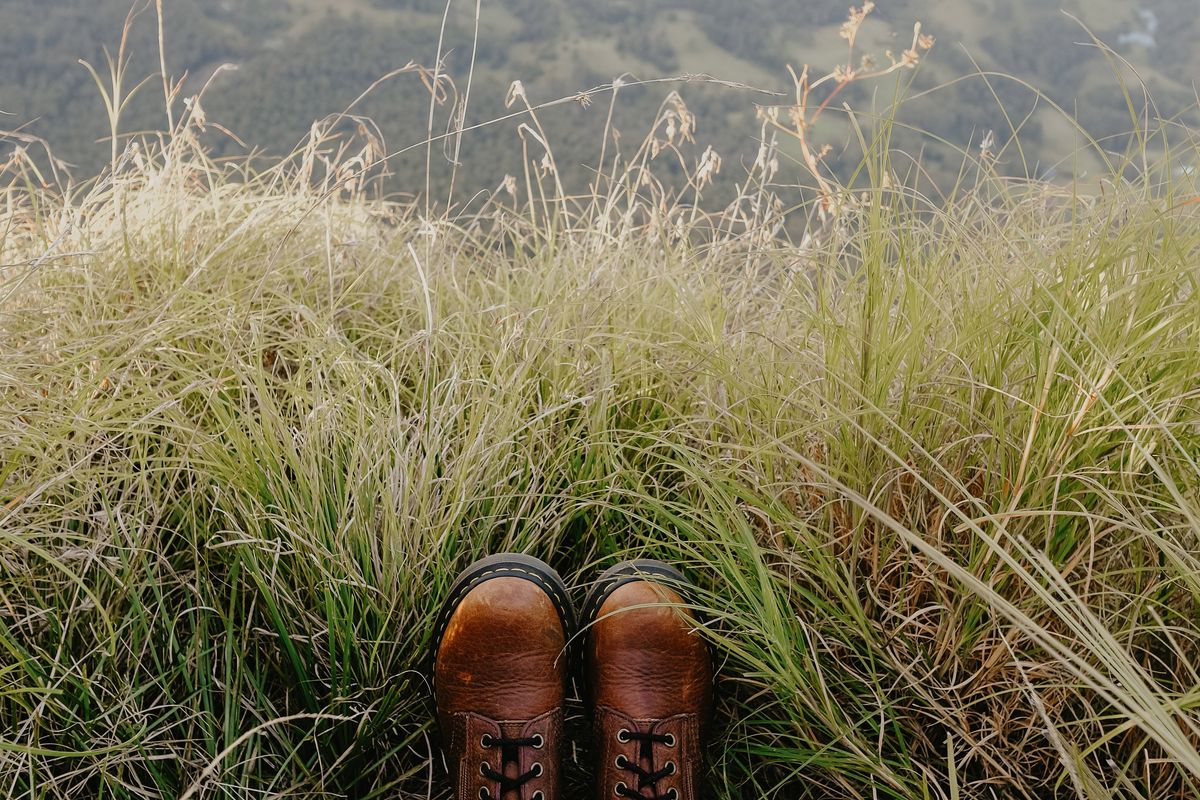 The Best Hiking Socks for Fall
When selecting the best hiking socks for fall, say hello to durable, breathable merino wool socks.
Cotton may be the fabric of our lives, but consider cotton persona non grata when it comes to hiking socks.
When selecting the best hiking socks for fall, say hello to durable, breathable merino wool socks (don't worry if you're allergic, we've got a synthetic recommendation alternative).

Quality wool hiking socks don't come cheap—prepare to spend about $20 per pair—but they are built to last on the toughest trail and can even keep your toes toasty by the fire for an apres-ski snack. Some pairs even have a lifetime guarantee!
So get out your pack, your trail maps, and your leaf-popping binoculars, because with these socks, you'll be ready to hit the trails.
For the Hiker on a Budget: People's Merino Wool, $30 for 4, amazon.com
Pros: These merino wool-blend ankle socks are unisex, and perform in warm and cool temperatures. They're also easy on the wallet. A pack of four runs under $30, meaning you're only paying $7.50 per pair — less than half what you'll pay for our other recommendations. Their durability is impressive, only showing minor pilling after forty miles on the trail.
Cons: They're not as warm as some of the other options on the list, so if it's a really crisp day on the mountain, you might want to opt for a different pair.
What the User Reviews Say:
"I'll start out by saying that I am a sock snob…. I wear these socks snowshoeing, backpacking, camping, and for watching TV around the house. They don't make me overheat when I am inside or when it is warmer out, but I have not tried them in the summer yet. I also own some Fox River Military socks and some Darn Tough Wool socks, both cost $20, and the pack of these socks are just as good."
Best All-Around: Smartwool Hike Medium Crew, Women's, $19 amazon.com
Pros: This pair won Outdoor Gear Labs' Editor's Choice award for a reason. With their mix of comfort, warmth, and breathability, these are your go-to fall hiking socks. They're super versatile—think high performance both in the desert and on wet woodland trails—soft to the touch, cushy at the soles, and downright luxurious.
Cons: If the temperatures climbs above 70 for your fall hike, you may find this medium-weight sock a bit too toasty.
What the user reviews say:
"I have nothing bad to say about these socks, I wear them as often as I can: with some leather heeled boots to work, around the house, in hiking boots, in snow boots... just a great sock. So nice and warm and cozy, and all the great benefits of a wool sock."
"BEST SOCKS EVER! I have three pairs of these in different colors. I wear them all the time."
For Warmer Fall Days: Darn Tough Light Hiker Micro Crew Review, $20, amazon.com
Pros: The Darn Tough Light Hiker Micro Crew are lightweight merino blend socks perfect for warmer fall days (they'll serve you in spring and summer, too). Made in Vermont, Darn Tough offers a lifetime guarantee for their socks; so if you wind up with a hole on mile 9,999, the company will send you a replacement pair for free.
Cons: They're a bit pricier than the other options, but with that lifetime guarantee, they're the only ones you'll never have to replace.
What the user reviewers say:
"Worth the money. Wore them for 40 miles in the White Mountains. Kept my feet dry and blister free."
"After trying plenty of hiking socks (and being disappointed by most), I've finally found a pair that suits my needs….They are as durable as they claim! No complaints from this happy camper!"
"Did 500 miles with two pairs and loved them. They're barely worn and kept my feet dry."
If You're Allergic to Wool: Wigwam Hiking Outdoor Pro, $15 amazon.com
Pros: Thick and durable, the synthetic construction of the Wigwam Hiking Outdoor Pro makes them quick to dry and super breathable, garnering Outdoor Gear Lab's Best Buy award. They're also only $15 a pair.
Cons: They're not as tight fitting as the other socks we recommend, meaning they may slip down your calf while on the trail. They're also marketed toward men, though most sock experts say the only real difference between women's and men's socks are the color selections.
What the user reviews say:
"I own 10 or 15 pairs of these socks and have used these through hundreds of miles of backpacking trips and Ranger School. I have not found a sock this comfortable and tough in my 11 years in the Army."
"The best sock on the planet. My husband will not wear anything else. Throw those cotton socks in the trash!!!!!!"
How to Make Your Socks Last
Good quality socks are a worthy investment, and you should try to make that investment last. Try not to wash wool socks too often, because frequent washing can break down the fibers and cause shrinkage. Wet from wear? Turn them inside out and allow them to air-dry. You don't really need to wash your socks until they smell, and with merino wool, this may take longer than you think. Wash inside-out on warm and then tumble dry on low. When properly cared for, your hiking socks should last you through countless adventures.
Happy hiking!