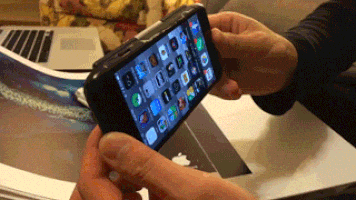 Best Heavy-Duty iPhone 6 Case
Show of hands: who's ever smashed their iPhone screen before? Don't be shy now. We know it's a worldwide phenomenon. The smartphone is a high-capacity device but can be incredibly fragile. That's why it's necessary to protect it. Just like we need winter coats and umbrellas to protect us from the elements, our phones need protection too (from us).

When you're looking for a phone case, you'll want to find one that offers protection but that isn't too heavy or bulky. That's why we love Urban Armor Gear's Feather-Light Composite Phone Case.
For only around $30, you get pretty much guaranteed protection. This phone case is so serious, it meets military drop-test standards, so we'll be impressed if you somehow manage to destroy this thing. And it's not just the phone's back that will be protected. The soft and rubberized screen surrounds the entire phone for 360 degree protection. It won't even cover up all of your ports for headphones and earbuds. You'll still get maximum use out of your phone.
And it's not called "Feather-Light" for nothing. The case won't add extra heft and is designed with efficiency in mind. We love the Honeycomb TPU Protection, which also helps to minimize impact. The phone case also comes under a one-year warranty, in case you were wondering.
For overall level of protection, price, and convenience, UAG is your number one choice in iPhone accessories.