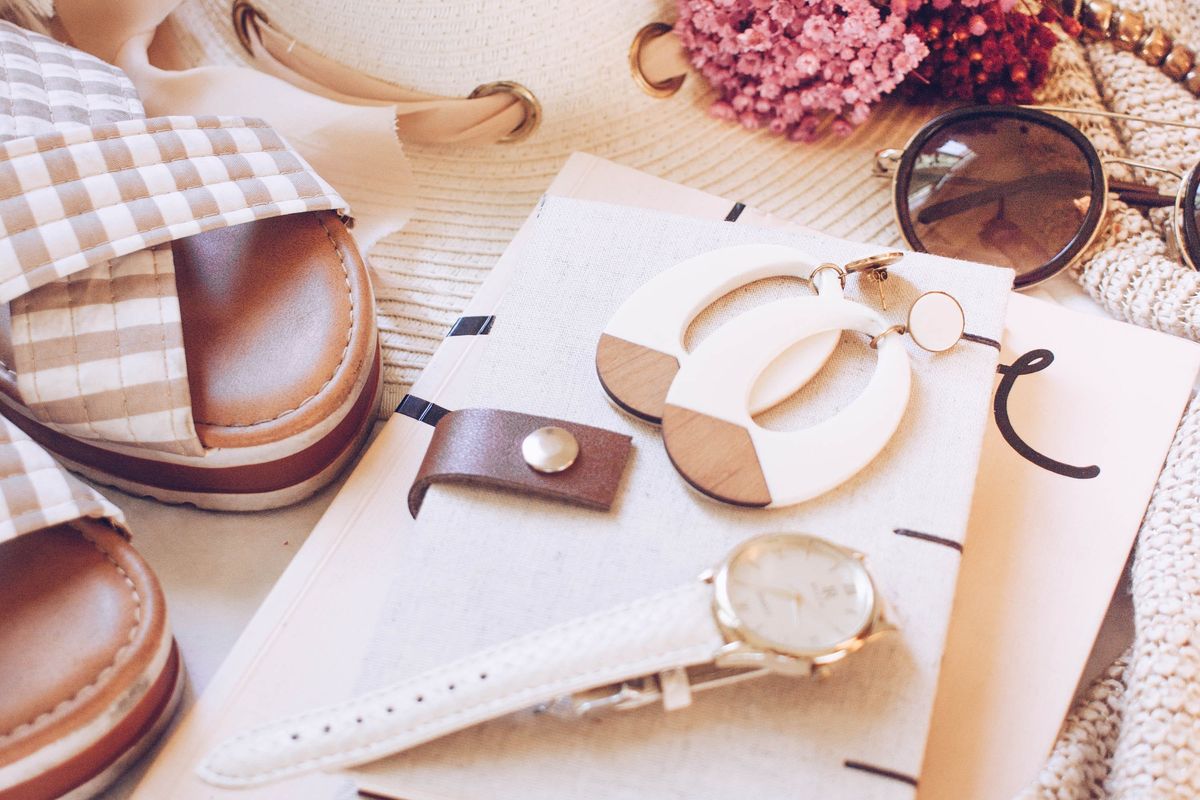 The Best Day-to-Night Sandals This Summer
From morning 'till night, these sandals are a step in the right direction
Summer is all about that "easy breezy" feeling that starts with fun footwear. Days at the beach turn into al fresco dinners on the boardwalk or drinks on a rooftop bar. Who has time to change outfits when the warm weather is calling us to stay out and play? These sandals are the perfect choice for footwear that is daytime cute and nighttime chic.
Asos Fairlight Leather Embellished Flat Sandals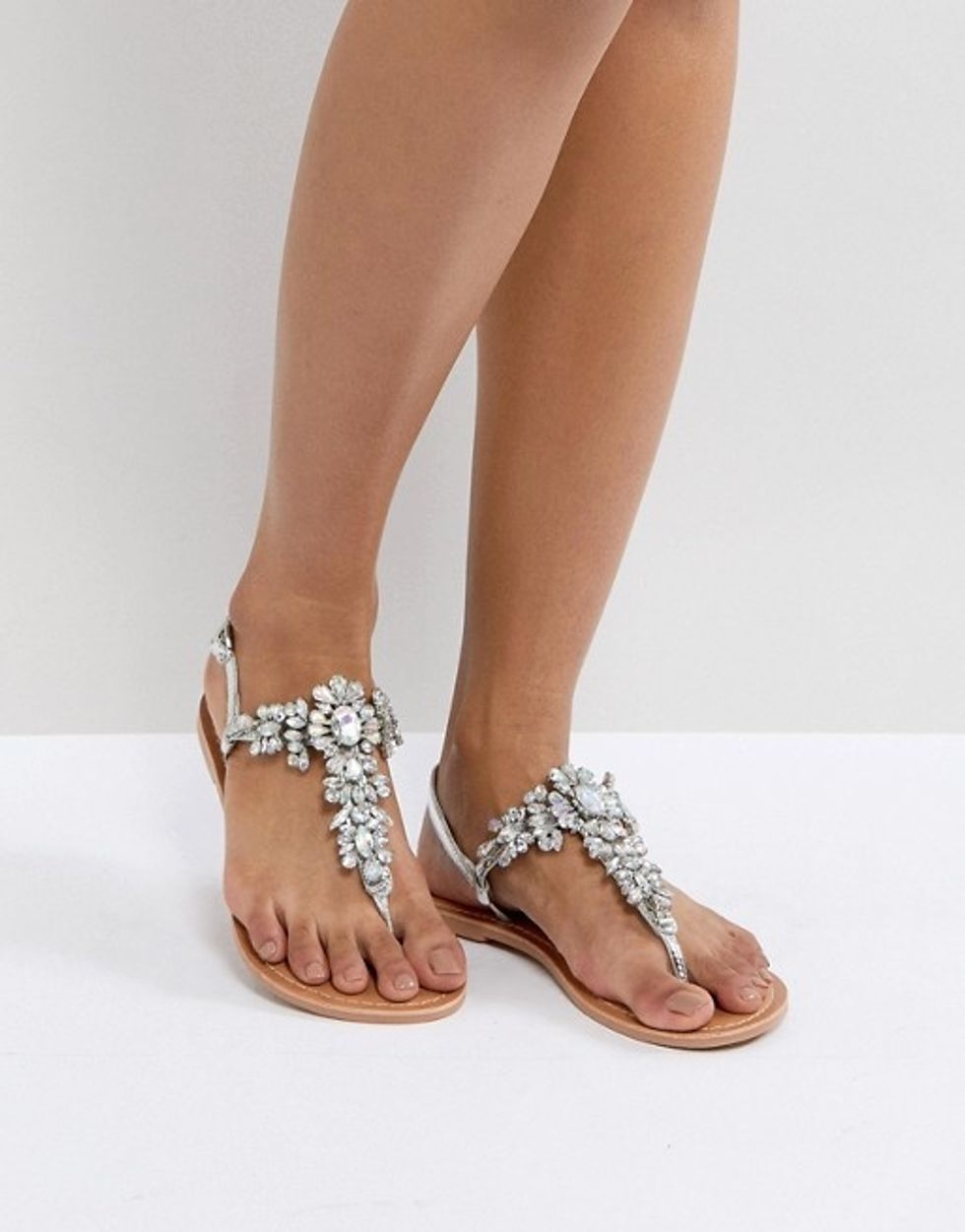 AsosVia us.asos.com
Show of that fresh pedi in a sparkling pair of sandals that look as good in the sunshine as they do under the nighttime stars. Made of real leather, faux-crystal, and an oh-so sexy ankle strap make these super-flat sandals by Asos super-fabulous. Comfort-meets-chic when you shine from the ground up.
Cost: $40.00
A New Day Blush Dina Velvet Embellished Slide Sandals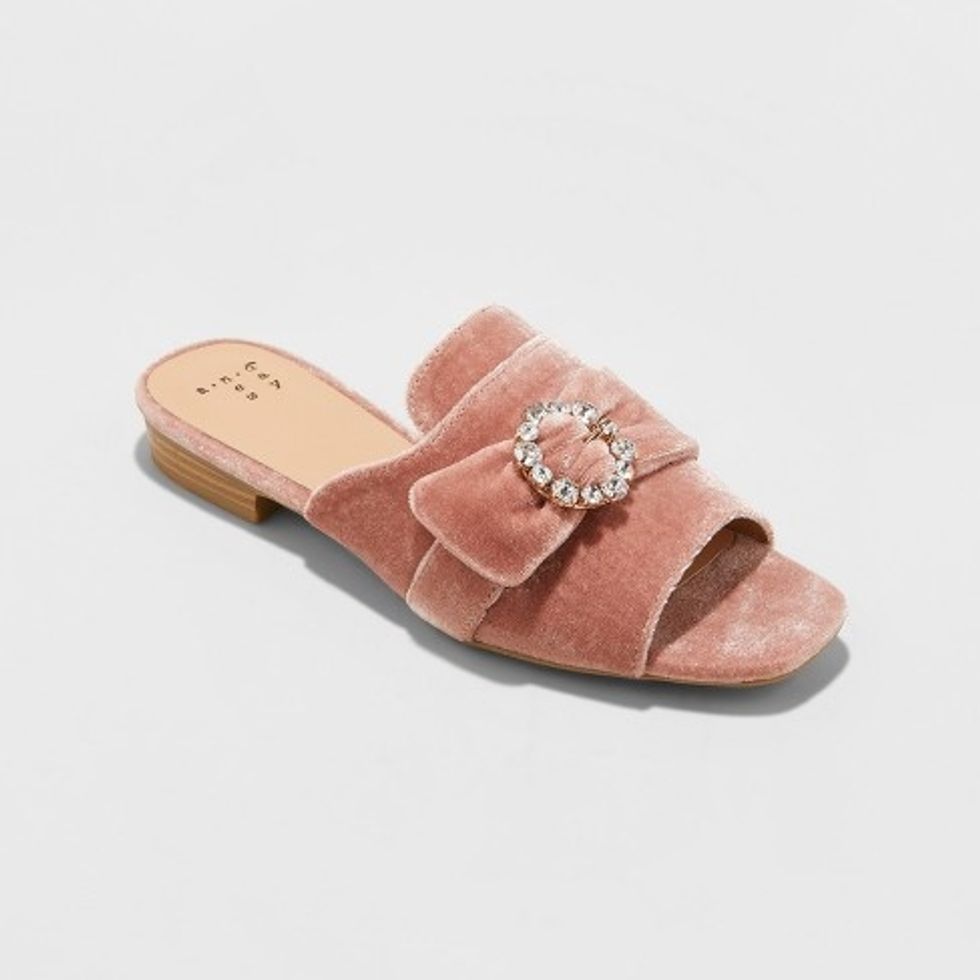 A New Day Via target.com
Velvet is making a comeback in these blush beauties, perfect for daytime wear straight thru sunset...and beyond. Slide these mule-style sandals from A New Day on for sole-pampering softness to keep your feet feeling (and looking) fine from 9 'till 9. Pale blush is always flattering, and the "blingy" embellishment adds some summertime sparkle to your step.

Cost: $22.99
Mossimo Supply Co. Maeve Gladiator Sandals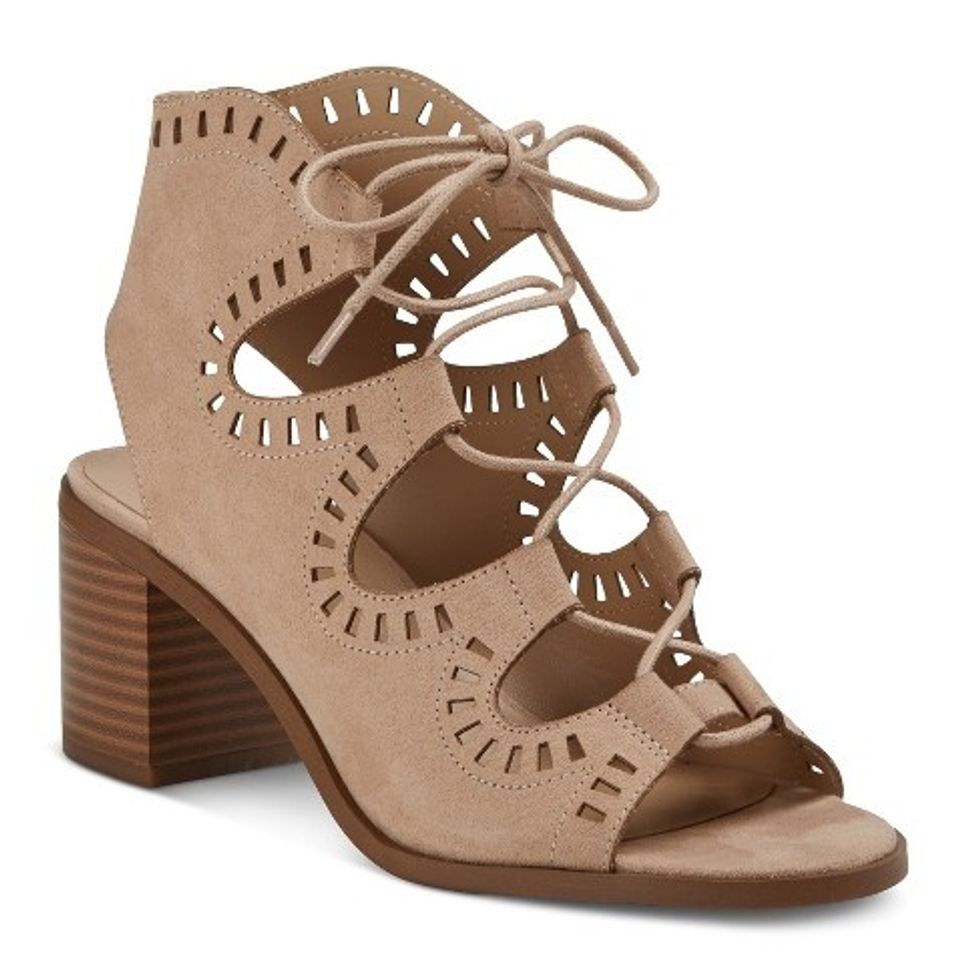 MossimoVia target.com
Lace these beautiful babies up and strut your stuff this summer. Mossimo's on-trend gladiators are comfortable and cool, with a block heel for a touch of height without the pain. Faux suede is great for any season, but summertime is all about the peep toe. Wear these sandals with a pair of shorts or a feminine flowy dress and you'll be a step ahead of the rest.
Cost: $16.48 (Clearance price!)
Bandolino Opali Dusty Pink Patent Leather Sandals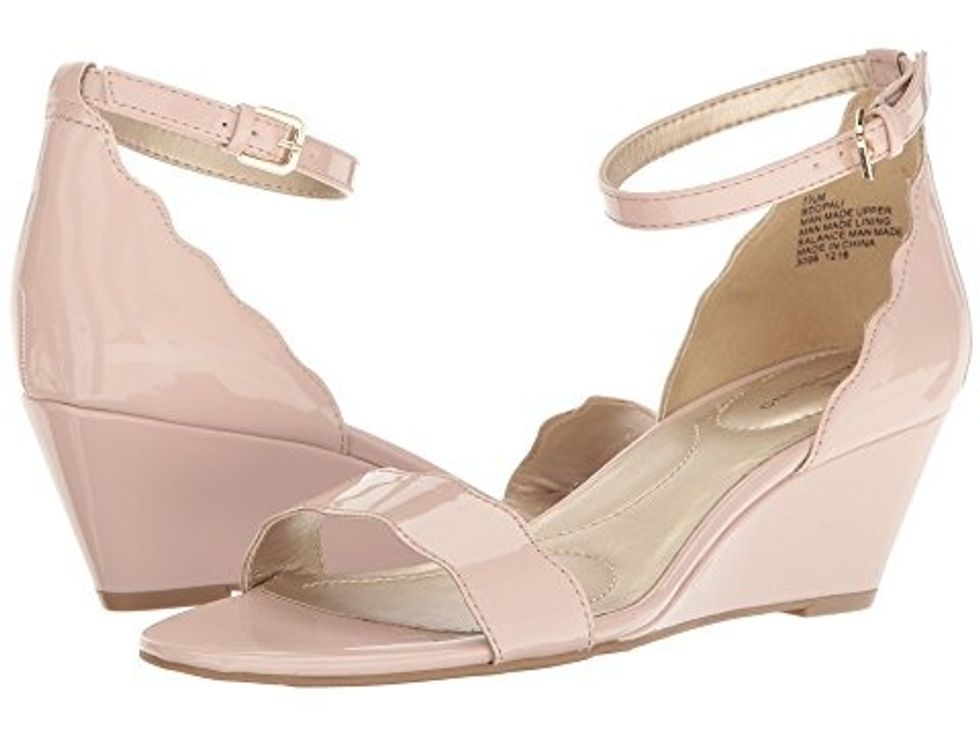 Bandolino OpaliVia 6pm.com
A little wedge is all you need to add some "wow" to your wardrobe.Bandolino Opali's pretty in pink sandals are feminine and flirty with a detailed scalloped edge and an ankle-defining strap. Playful for day and proper for night, these dusty pink darlings will see plenty of action this season. And as fashionable as they are, the comfort level is off-the-charts.
Cost: $32.99
Lulus Achilles Gold Flat Ankle Strap Sandals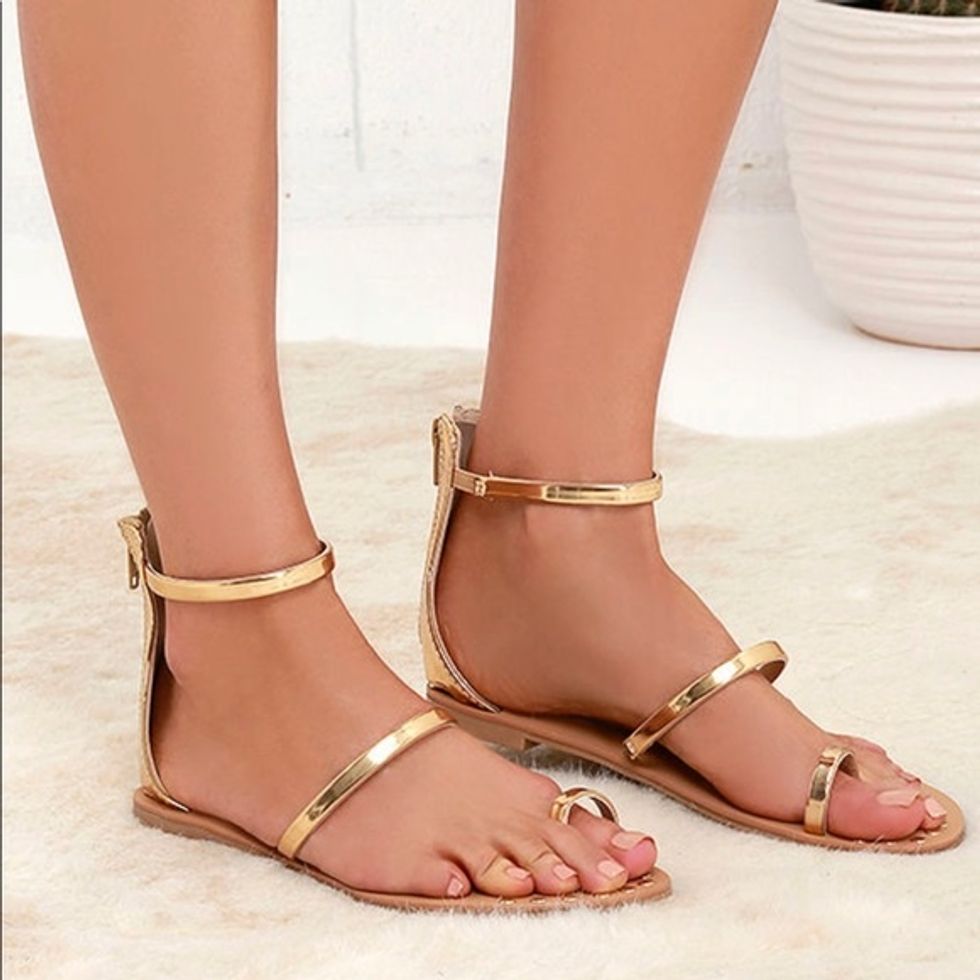 LulusVia poshmark.com
Gold is gorgeous, especially when you've got that golden summer glow. Slip on a pair of these lovelyLulusand let the metallic magic tickle your toes. The single toe loop is unique, the studs are sexy, and the exposure will keep your feet feeling cool while you look hot. Who needs heels when flats like these are so fabulous?
Cost: $20.00
Sandals and summer go hand-in-hand. Or shall we say foot-in-foot?