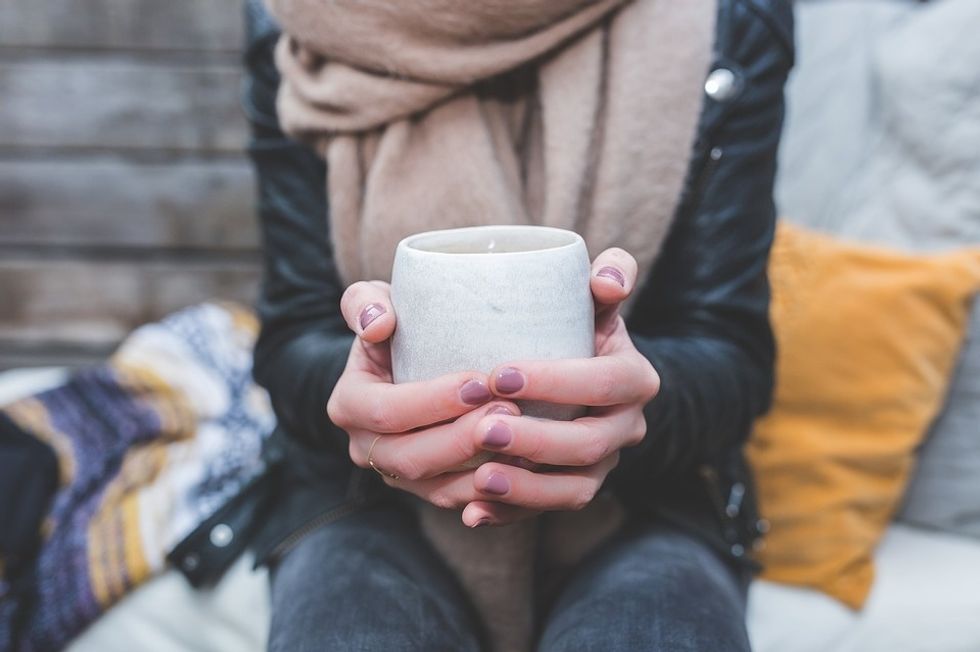 Seven Ahhh...mazing Calming Teas
Delightful and delicious, each tea is crafted with peace of mind, allowing the drinker to de-stress and decompress.
Humans have been drinking tea since ancient times, back to the Han Dynasty of China. Whether they knew back then how beneficial this warm drink was, today scientific and medical findings show that drinking four cups per day may maintain good health, as per UK Tea & Infusions Association.
One important way tea is beneficial to the body is its effectiveness in calming us down. According to The Telegraph, a study out of the University College London found that, "stress hormone levels fell by nearly twice as much in tea drinkers compared with those given a tea-like drink (in a blind research experiment). And the group that was given the tea reported a greater degree of relaxation."
Sharecare adds, "Drinking tea can relieve stress and boost your mood due to its aroma; the pleasing scent of tea, herbs or cacao nibs can tickle your senses in a positive way."
These seven tasty teas are meant for slow savoring as you reflect on the day with tranquility and tension-taming. Delightful and delicious, each tea is crafted with peace of mind, allowing the drinker to de-stress and decompress.
Best top-of-the-line: Naturopathica Stress Tea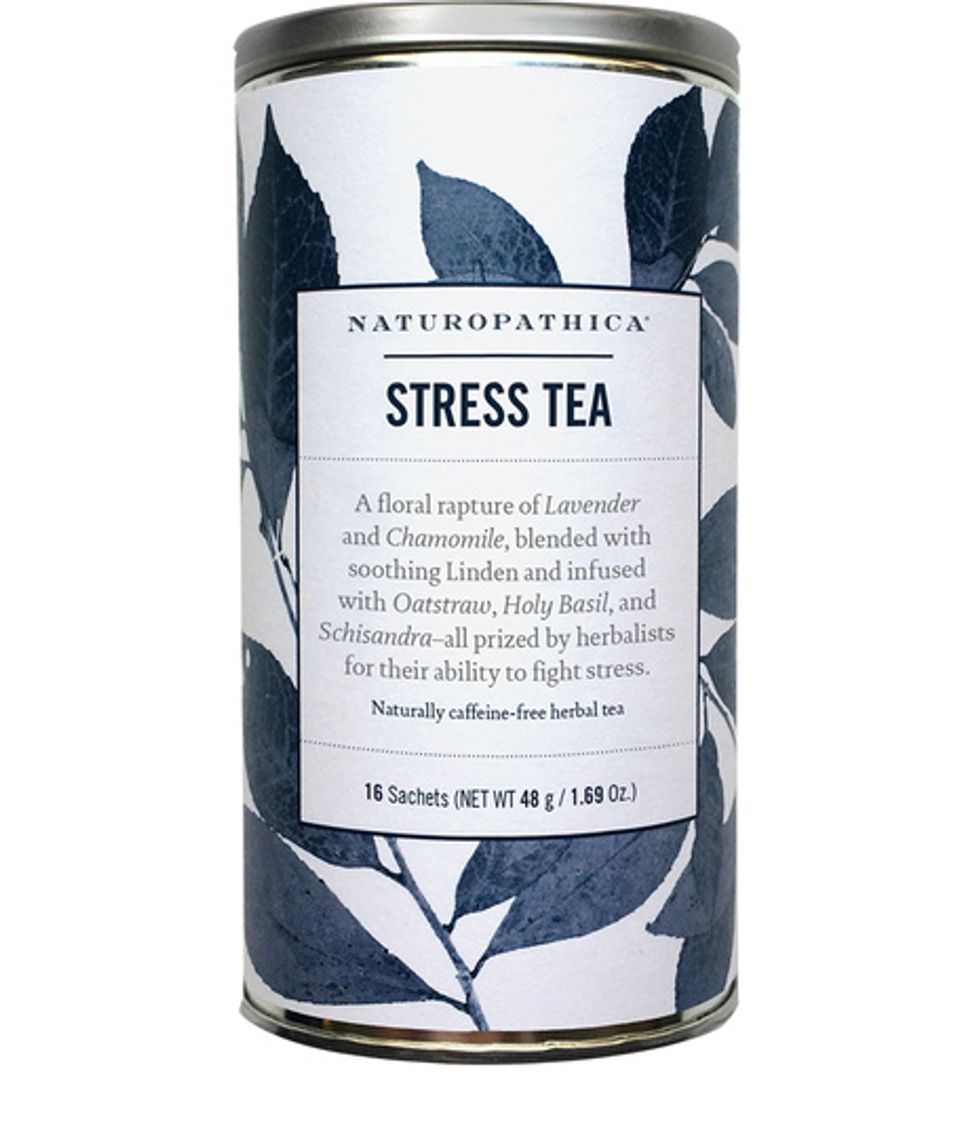 Via naturopathica.com
When you care enough to sip the very best, splurge to relieve stress with Naturopathica Stress Tea. Floral and fragrant, this high-end tea is loaded with lavender, which as per Medical News Today, has benefited those who suffer from anxiety, and chamomile for soothing comfort. According to NDTV Food, "Chamomile relaxes nerves and soothes the nervous system, and helps you sleep better." This tea also contains an infusion of oatstraw, holy basil, and Schisandra, all proven to simmer down high-strung stress. What's Schisandra, you ask? As per WebMD, "Schisandra is used as an 'adaptogen' for increasing resistance to disease and stress." Caffeine- and gluten-free and great tasting, this top-of-the-line tea is worth every penny.
Cost: $19.00 for a 16-sachet Tin
Best organic: David's Tea Organic Calming Chamomile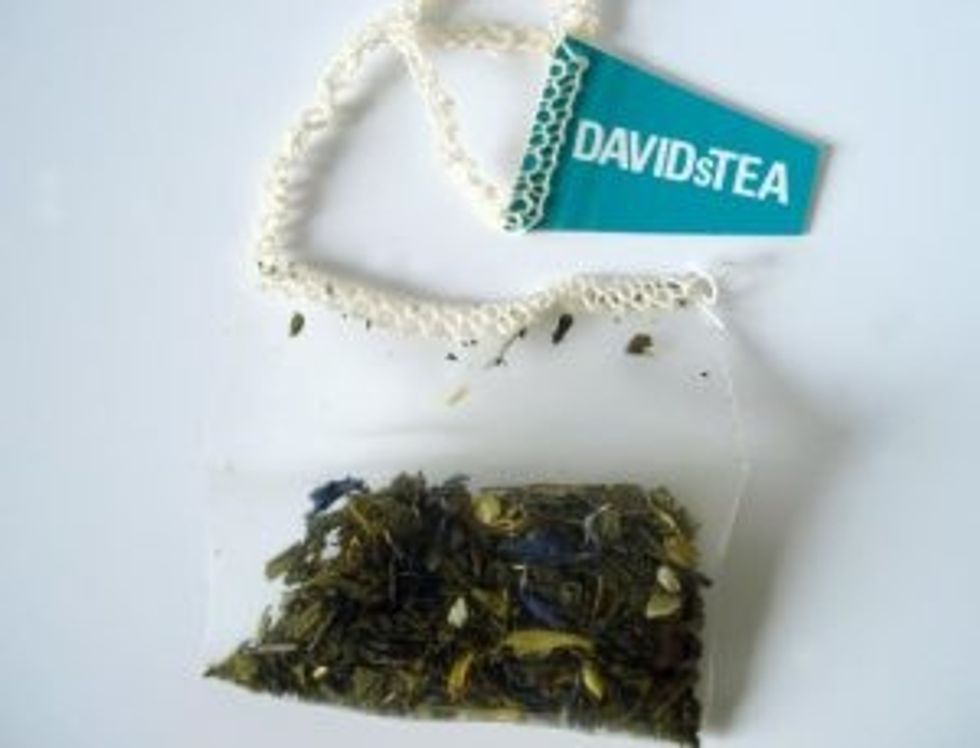 Via worldteanews.com
Kosher and caffeine-free, David's Tea Organic Calming Chamomile is floral and fruity, with a light honey scent that is as intoxicating as it is incredible when it comes to calming nerves and soothing stress. Did you know chamomile comes from a daisy-like plant? Natural Living Ideas notes, "Plants in this family produce tea that is most commonly known for its relaxing, sleep-inducing properties. A flavonoid, chrysin, found in the plant is partially responsible for its reputation as a sleep aid." No wonder it is so soothing! Relax before bedtime with organic "Om" and feel the worry and weight fall off your shoulders before slumber with calmness in a cup.
Cost: $8.98 for a 2-oz. Box
Best traditional: Lipton Stress Less Herbal Supplement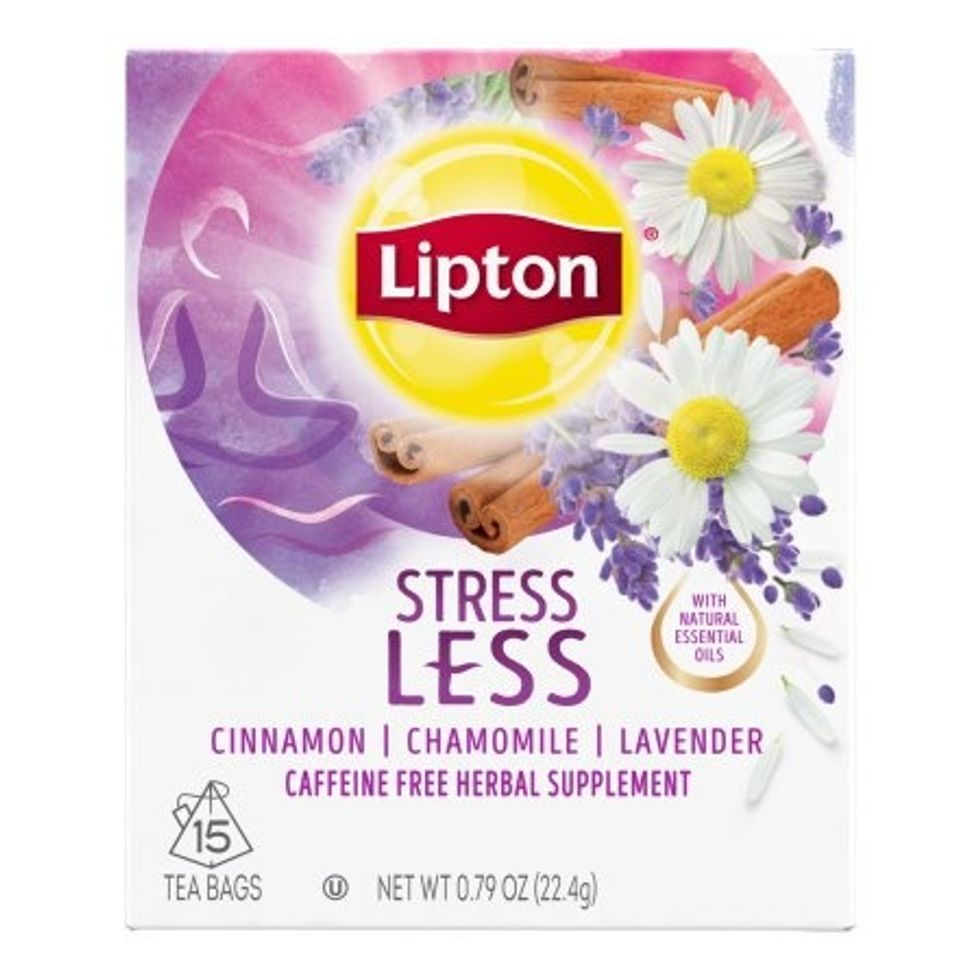 Via walmart.com
Everyone loves a cuppa Lipton, so choose the tried-and-true brand when you need some calm to balance out life's craziest of days. Lipton Stress Less Herbal Supplement is a soothing combination of cinnamon, lavender, and chamomile, making the flavor as fantastic as the tea's stress-reducing function. As per Huffington Post, "Lavender can help calm the mind and body almost instantly. In a study of 42 college women, research found that the fragrance effectively eased sleep problems and depression." And the smell of cinnamon brings that "homey" feeling of baked goods rising in the oven. The comfort of home is an instant relaxer. Along with a blend of botanicals, these ingredients make Lipton light and luscious, and as you sip, you will zone out and find your "Zen."
Cost: $10.04 for a 15-bag Box
Best wellness: Traditional Medicinals Cup of Calm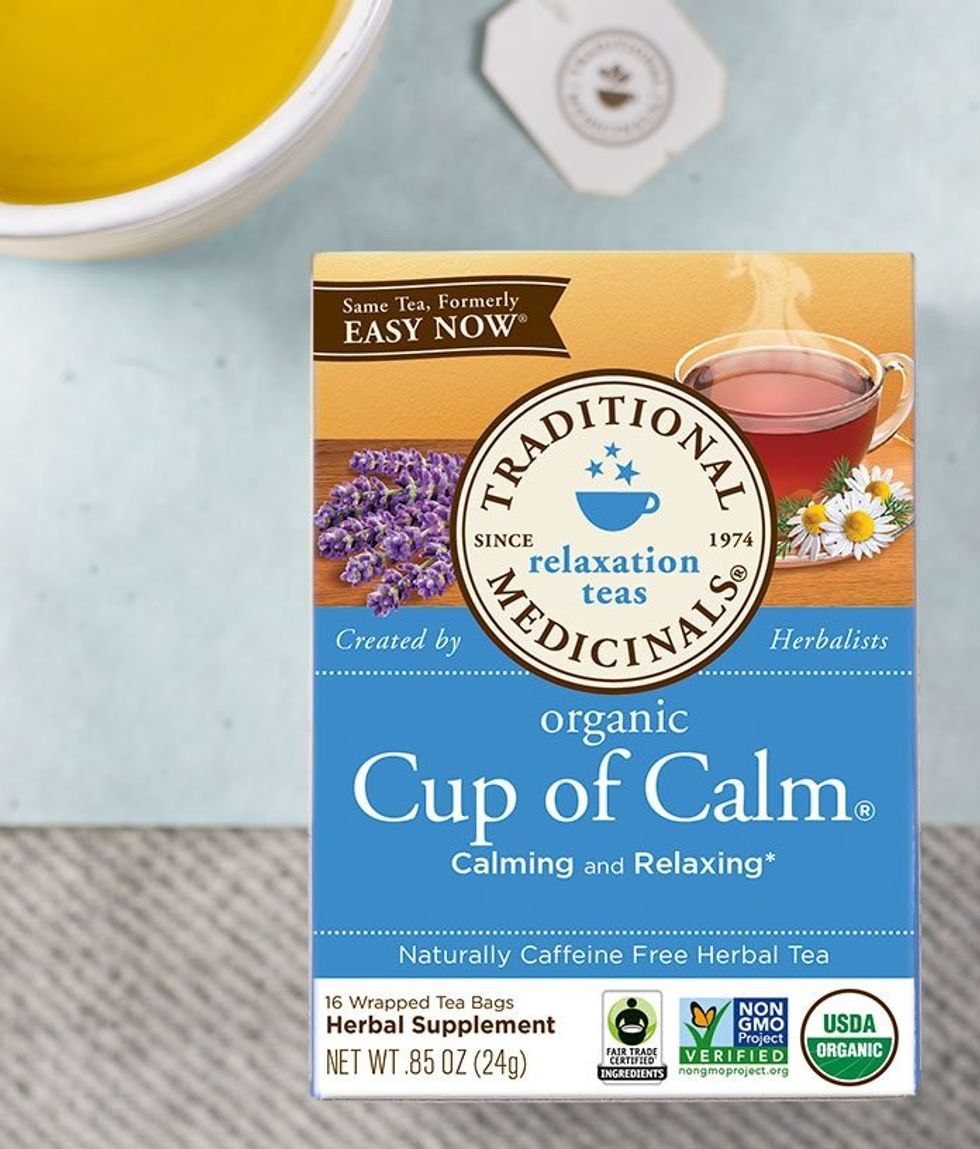 Via traditionalmedicinals.com
What sounds more soothing than a "Cup of Calm"? Traditional Medicinals knows all about relaxing with a nice mug of tea, and their Cup of Calm is relaxation at its best. An herbal blend of passionflower, chamomile, lavender, and catnip will have you drinking your way to decompressing with an apple-minty floral flavor you'll love. And no, catnip isn't just for our feline friends. As per Dirt On My Hands Gardening, catnip has mild sedative and soothing properties. WebMD adds, Catnip is used for trouble sleeping, anxiety, and headaches. This tea may be "traditional" but when it tastes and works as well as it does, why mess with a good thing?
Cost: $5.29 for a 16-bag Box
Best K-cups: Twinings of London Nightly Calm Herbal Tea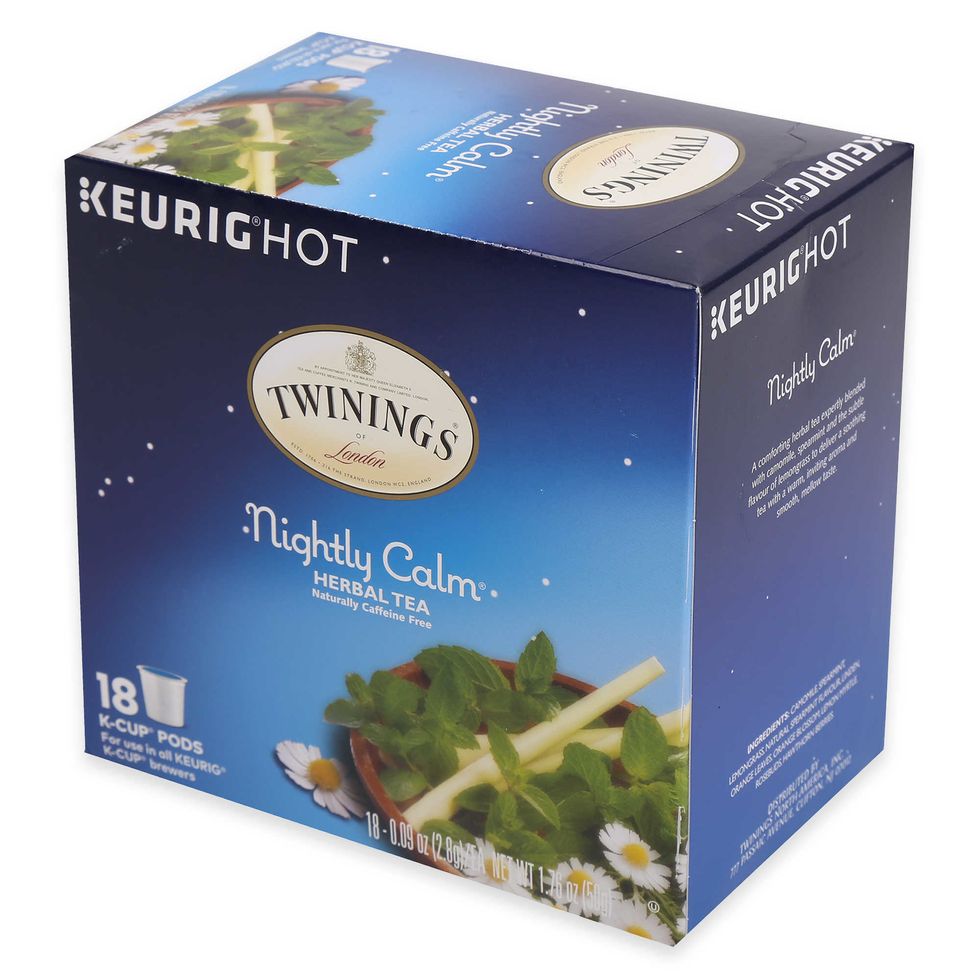 Via bedbathandbeyond.com
Make the most of your nifty Keurig machine by popping in a K-cup of Twinings of London Nightly Calm Herbal Tea, a caffeine-free, easy-to-brew, taste of tranquility. Subtle and smooth, this herbal tea is fragrant and flavored with a blend of spearmint, chamomile, and a touch of lemongrass. The perks of lemongrass? According to Dr. Axe, "The calming and mild smell of lemongrass oil is known to relieve anxiety, irritability, and insomnia.The sedative and hypnotic properties of lemongrass oil can help to improve the duration and quality of sleep." When you are in the mood to unwind, Twinings of London is ready to help you take a load off.
Cost: $11.99 for an 18-count Pack
Best sweet treat: Yogi Soothing Caramel Bedtime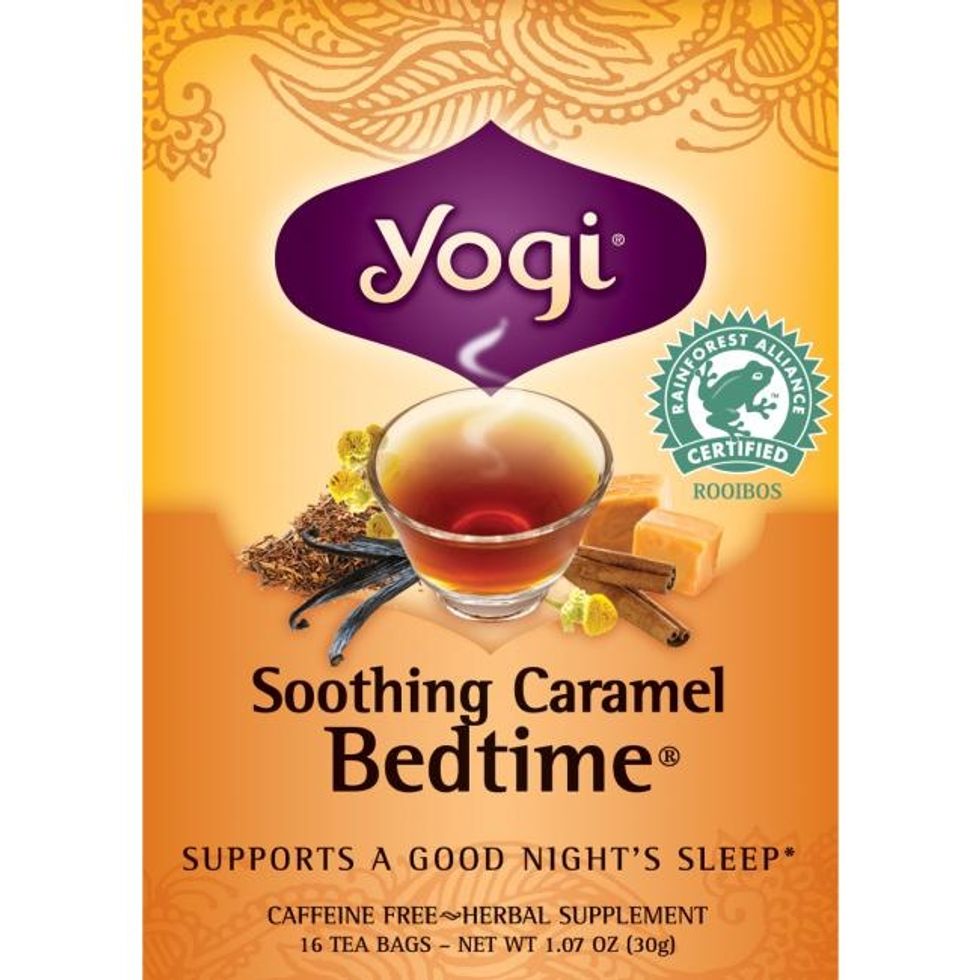 Via swansonvitamins.com
Satisfy your sweet tooth while you sooth your mind and body with the caramel goodness of Yogi Soothing Caramel Bedtime. Crumbly cookies in bed may be a no-no, but a cup of liquid caramel on the nightstand is the perfect way to relax before catching some zzzs. All-natural and caffeine-free, this creamy rooibos tea is known for its calming properties, as per World of Tea Infusers. "Rooibos helps to relieve stress and calm nerves. It keeps the body's cortisol levels, also known as the stress hormone, down." Infused with the essences of caramel and vanilla, Yogi is as decadent as dessert without all the extra calories.
Cost: $5.84 for a 16-bag Box
Best when under the weather: Celestial Seasonings Sleepytime Tea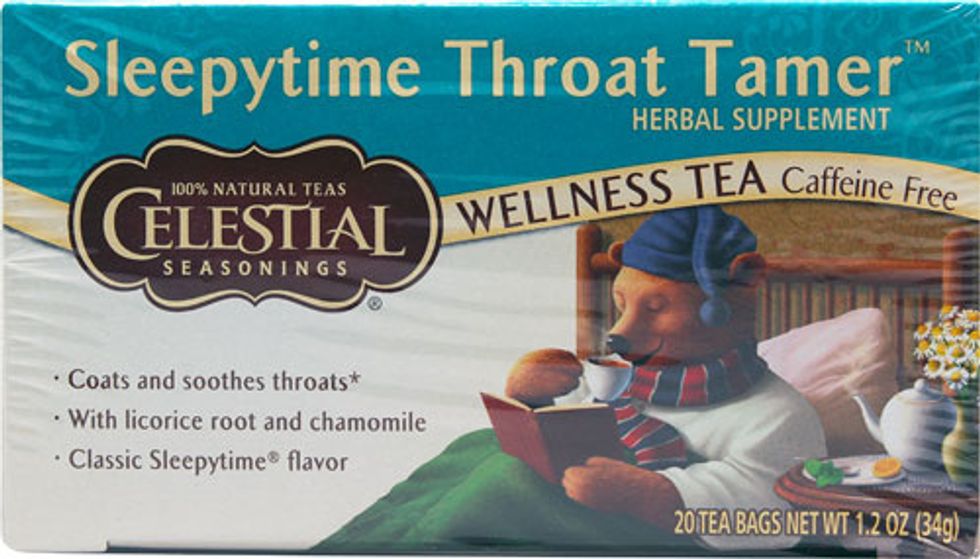 Via vitacost.com
When you are feeling less-than-your-best and need some stress-relief to alleviate your aches and ailments, reach for Celestial Seasonings Sleepytime Throat Tamer Wellness Tea. Licorice root and slippery elm bark aid in soothing scratchy sore throats, while the calming benefits of chamomile help you get that much-needed rest. The licorice root is also a stress-reducer. "Licorice Root contains a natural hormone alternative to cortisone, which can help the body handle stressful situations, and can help to normalize blood sugar levels as well as your adrenal glands, providing you with the energy necessary to deal with the stressful situation at hand. Some claim licorice stimulates cranial and cerebrospinal fluid, thereby calming the mind," according to Care2 Healthy Living. Ginger and lemongrass help heal from the inside out, providing rejuvenation and relaxation. A few sips and you will feel more like yourself in no time.
Cost: $3.50 for a 10-bag Box
Turn up the kettle and settle back with one of these calming teas. Take it easy as you take each stress-free sip, and say, "ahhh" to the power of tea.