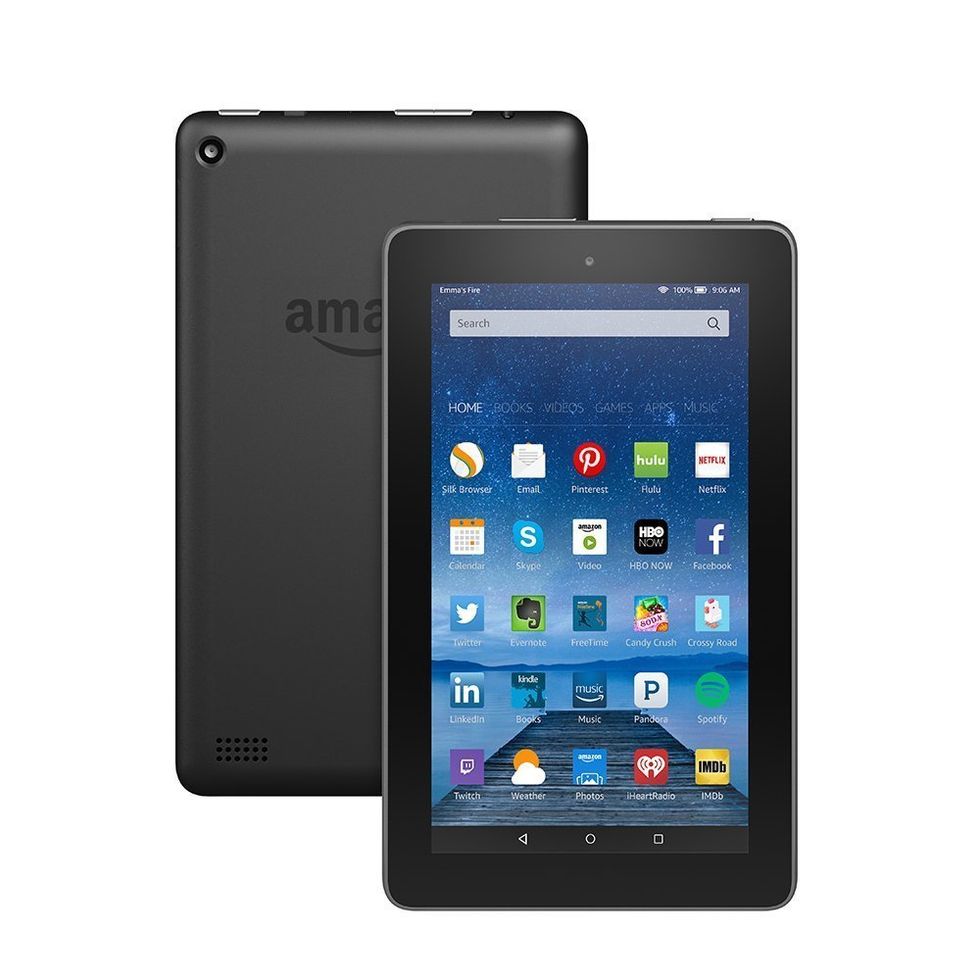 Amazon's Fire tablet is the most affordable option for work and play
You don't have to spend $400 to get a decent tablet
These days, it's not quite enough to just have a smartphone. Your phone is a great tool when you're on the go, but its small screen isn't ideal for long TV binging periods or some more complex work tasks. This is where tablets come in. You can easily multitask on an iPad, sketch something out on a Surface and binge to your heart's content on a Samsung. But even the cheapest of these tablets will run you over $200. It's an investment, except when it isn't.
The Amazon Fire Tablet's cheapest model will run you $50. The next level up is just over $100. Compared to the $400 price point of an iPad mini, this is an excellent deal. And you're not buying a cheaply made tablet either. Amazon's tablets are affordable, but are still well designed and have a solid build.
Both the 7- and 8-inch models come in four different colors, have an HD display and a front- and rear-facing camera. The tablets support almost all of the mainstream entertainment apps. You can watch Netflix, Hulu, HBO and almost any other video streaming app that comes to mind. Of course, the devices support Amazon Video. There is also a wide selection of mobile games for free and for purchase. You can get the tablets with 8 or 16 GB of storage, but you can also increase this capacity with a microSD card. The Fire tablet is a great affordable option for anyone looking for a portable entertainment system.
If you're already a Prime member, buying an Amazon tablet is an even better deal. With your membership, you get two day free shipping, access to Amazon Video, Music and Prime reading, unlimited photo backup, and more. You can even download practically any video on Amazon Prime to your tablet or phone for offline viewing. It's a great feature to make use of while traveling.

As for work and productivity, the Fire tablets have tons of apps for that too. I use Evernote on almost every device I own and I am always pleased with how well it runs on my tablet. If you want to work with Microsoft Office files, there's a few robust paid apps (some of which are included in the Underground). But unless you're working with the 10-inch tablet, you'll probably want to use a bluetooth keyboard. Even on my 8-inch model, the virtual keyboard takes up way too much space in both portrait and landscape to actually see what I'm working on. So it's not that great for quick notes, but if you're planning to work for an extended period with a bluetooth keyboard, it'll work just fine.
One small drawback is that you're limited to the Amazon app store. It's basically an alternate version of the Google Play store. Three years ago, when I bought my first fire tablet, the app store was pretty sparse. But today, you have plenty of options. You can also download and install apps from the Google Play store if you can transfer the APK file to your tablet. The safest and best way to do this is through the 1Mobile market. This is a free download that gives you access to thousands more apps. But I rarely have to download apps outside of the Amazon app store these days.
Another perk of the tablet is Amazon Underground. This is a section of the Amazon app store that is completely, 100 percent free. No strings. No in-app purchases. Just free. The Underground is a serious advantage for mobile gamers and productivity software users.
All in all, the Fire tablet is an affordable option for work and play. It's an ideal travel companion because you don't have to obsess over losing or damaging a $400 investment. And in my experience, the Fire tablet is very sturdy and can handle drops and falls with minimal issues. Whether your need a tablet for a kid or for yourself, you can't go wrong with Amazon.