I do not like change. So, adjusting to WFH and then integrating it into our lives was tough for me. It started with chronic back pain from sitting at my kitchen table for days on end. I ordered a standing desk converter which reduced my pain to just some stiffness, but it was still making me cranky.
Then I realized our bed was messing with my back. The mattress was completely shot. So, we bought a supportive mattress and a gorgeous set of sheets and pillows. However, the new bed linens seriously clashed with our creaky old-fashioned four-poster frame my Aunt Zoe gave me when I graduated from college.
I suggested we look at a platform bed. They're versatile, clean, and modern. They also seem to open up the bedroom and add more visual space. We really wanted an oasis where we could relax at the end of a long day.
Tanner knows how much I resist change, so he immediately hopped online and found The Bed, by Thuma. With its neutral, natural walnut colored platform frame, the PillowBoard, and cushion-coated slats, The Bed is sleek, chic, and absolutely captures the minimalist feel I wanted.
As the largest piece of furniture in our home, we were a little worried about how it would ship and how we would get it into the house. Turns out, it arrived in three easy-to-carry boxes that pivoted easily around our winding staircase.
When we ordered our mattress, it had been on backorder for 6 weeks and took forever to get to us. So, how long would a platform bed frame take for delivery? Tanner checked it out and I was so impressed. The Bed shipped for free and arrived at our door within the 1-5 business day window.
Plus, we could try it risk-free for 100 nights. I made a mental note to be sure to send it back if it was unsatisfying. That trial, and Thuma's lifetime warranty, sold me.
When it arrived I was very stressed about assembling it. I'm no mechanical genius and Tanner isn't much better, but, I'm not kidding, we put The Bed together in 5 minutes! Thanks to Thuma's Japanese Joinery, a timeless Asian technique that removes tools and excess hardware, the assembly process was like putting together a simple puzzle.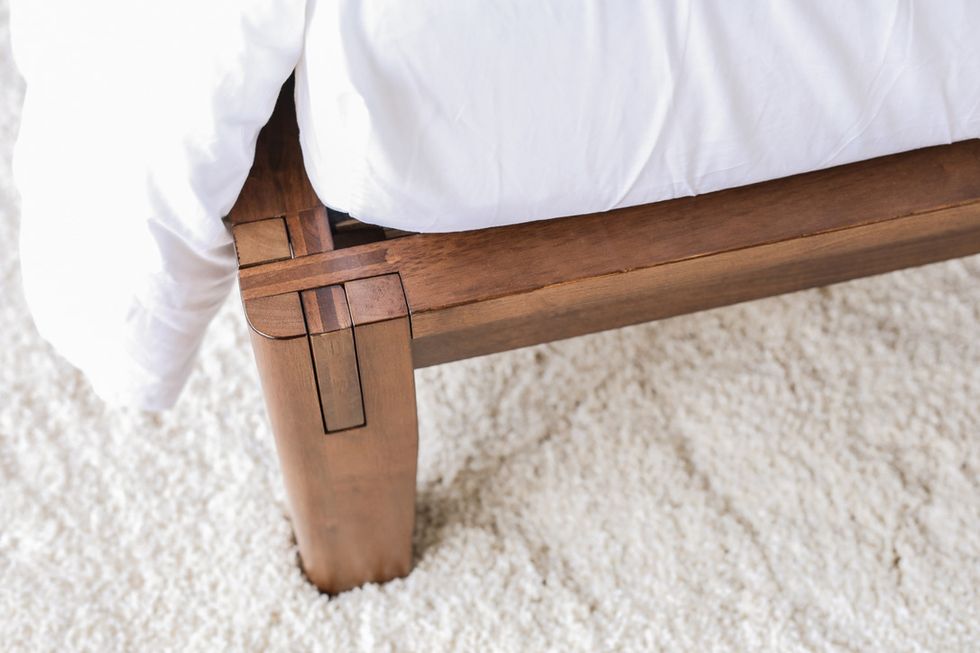 Made from high-quality wood (no veneers or MDF's), The Bed is built to last a lifetime. Plus, it's officially Greenguard Gold certified, which means it's been rigorously tested and meets some of the strictest chemical emissions standards. The Bed is better for the environment and better for our indoor air quality.

The Slats are cushion-coated and double-strength, lined with eco-fi felt made from recycled plastic bottles. They fasten into place to prevent slippage, provide optimal mattress support and breathability, and they completely eliminate the creaks and groans you're used to with a traditional frame.
When we slipped The PillowBoard into place between the mattress and the wall, we proceeded to make the bed and try it out. Cut to me waking up later after a four-hour nap!
I woke to a mug of hot cocoa and the latest thriller resting on the bedside table. Tanner shouldn't have . . . but I'll take it. I sipped my cocoa and dove into the book nestled among our comfy pillows, supported by the PillowBoard. Heavenly.
Take it from us: if you're looking for a bed that's sturdy, easy to assemble, eco-friendly, noise-free, as well as beautifully designed, I'd highly recommend The Bed, by Thuma.
7 More Reasons To Love The Bed, by Thuma
Japanese Joinery - Timeless Design Interlocks the Base
Beautiful Craftsmanship - The Neutral, Natural Walnut Frame is Stunning
Easy Assembly - No Tools!
Solid - Not Creaky - Built to Last a Lifetime
Eco-friendly - Recyclable Packaging & Made From Up-Cycled Rubberwood and Eco-fi Felt
Easy to Disassemble - And Reassemble When You Move
More Storage Space - Under The Bed