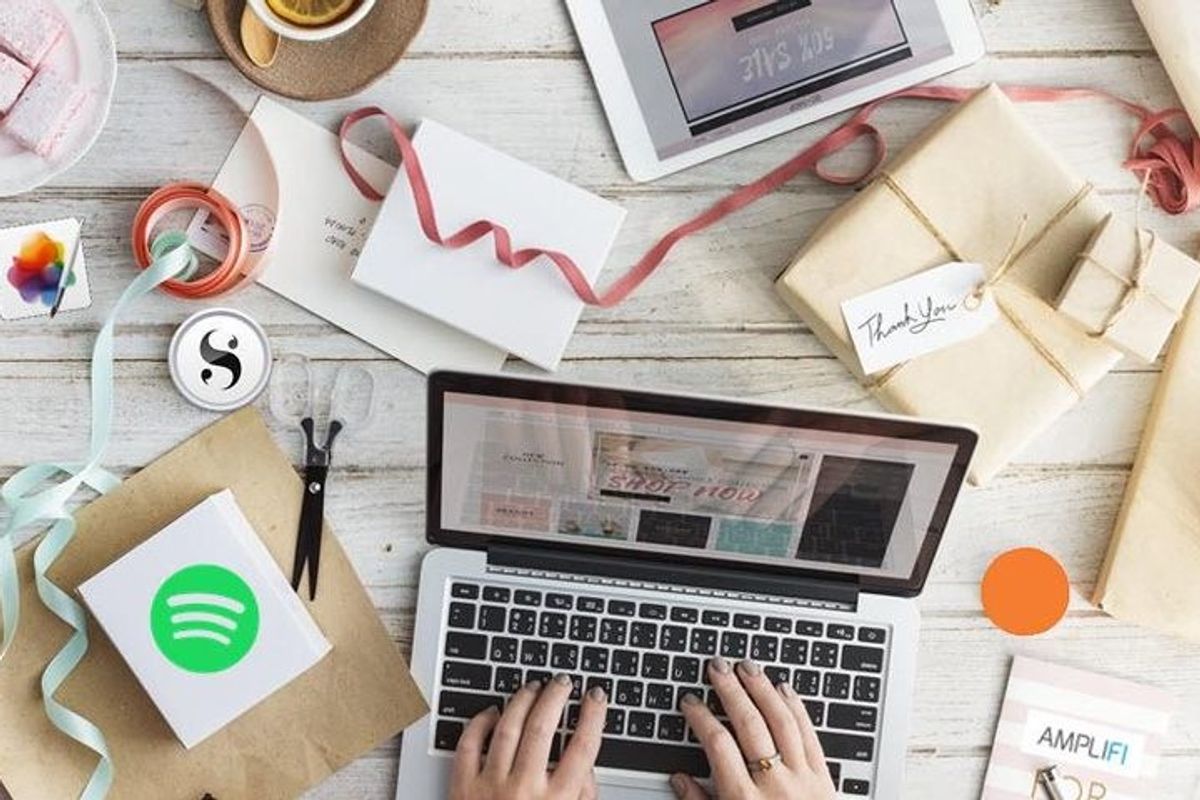 14 Digital Presents You Can Send Right Now
Don't want to order something to your door, but still want to give a great present? You have plenty of awesome options.
COVID-19 has made gift-giving complicated.
A lot of stores are overworked or unable to deliver products, Amazon is so corrupt that one of their VPs just angrily retired, and I personally can't stop worrying about whether I'm potentially exposing a delivery guy to COVID-19 by ordering another meal from an app that screws restaurants over anyway.
But yet gifts must be given. Fortunately there plenty of digital-only gifts. If you're like me and you already feel like you only exist on the Internet, these gifts are great options—they'll remind your loved ones you're thinking of them while easing your consciousness about any anxieties about the real world.
1. A streaming service membership
Is your friend always complaining about not being able to tune into the latest Netflix show, or are they always using yours and messing up your recommendations? Buy them their own Netflix gift card (or a gift subscription to Hulu, Quibli, HBO, Disney+, or whatever their preferred shows are streaming on).
2. A Spotify account or a Bandcamp download
If your friend is a music lover, they'll certainly appreciate a musical gift—be it a Spotify Premium membership, an elusive Tidal account, or the receipt for a Bandcamp purchase that supports their favorite artist, they'll definitely love whatever you buy them. You could also introduce them to a new genre of music by buying them whatever avant garde minimalist atmospheric jazz experimental rock ambient djent compilation Bandcamp is currently advertising on their homepage.
3. An online class
Want to gently nudge your friend or loved one in the direction of their dreams? Helping someone achieve their goals is incredibly kind—just make sure they won't take offense at whatever you buy them, and gift them a Masterclass (either a general subscription or a specific course) or Skillshare membership, a guitar class from Playground Sessions or ArtistWorks or GuitarTricks, or something of the like.
While many courses are available for free online, it'll probably make your friend even more motivated to complete the class if they know you spent your hard-earned cash on it. Even better, for a great bonding experience, sign yourself up and work on the class together.
There's a class for literally everything. A Rosetta Stone membership is a great option for anyone who's been longing to learn a language, for example. You could try (Avoid the workout class subscriptions unless they've specifically asked for one, though, lest you become the Peloton guy).
MasterClass Quarantine Edition - SNLwww.youtube.com
4. An Adobe subscription
Is your friend super artsy, or are they constantly working on Canva graphic design projects? Adobe subscriptions aren't always cheap but they're great options for a friend who doesn't have access to work computers or who's always been longing to actualize their graphic-making abilities.
Alternatively, you could give them Pixelmator Pro, an Adobe-like app for Mac users that allows you to easily and quickly edit photos.
5. A Scrivener Subscription
For your writerly friends (or for anyone doing digital work from home), Scrivener is a great gift option. It's a word-processing system that allows creators to easily format large-scale projects. Built specifically for writers, it makes organizing your literary or research projects easier than ever. If your friend's been struggling to complete their novel for half a decade, this is a perfect little nudge.
6. Make a donation in their honor
Do some good while also giving a gift. Donate to any organization you care about (after doing some research first) and share the receipt with your loved one; just make sure they support the cause you're donating to. You could also start a fundraiser in their honor and pledge to match donations.
HELLO FRIENDS! I'm starting a fundraiser today! It's very easy: My beloved Navajo Nation will soon surpass NYC for… https://t.co/vtbZ7Ubuv2

— sierra ornelas (@sierra ornelas) 1588951380.0
7. A subscription to a mental health or meditation app
Has your friend been going through a rough time or living through a global pandemic? They probably could use a reason to relax, so a gift card to an app like Headspace or Calm might be a great gift that could help your friend feel better in the long term.
Even better, a subscription to a therapy app like Talkspace could be a long-term investment in your loved one's health. Therapy can be expensive and difficult to commit to, so if you have the funds, this can be a gift that just keeps on giving. (Also, don't be afraid to give this gift to yourself!)
Welcome To Talkspace Online Therapywww.youtube.com
8. A gift card to their favorite restaurant or small business
A lot of restaurants are struggling right now, but buying your friend a gift card and promising that you'll visit your favorite spot once this is all over is a great way to remember that there's a light at the end of the tunnel. It's also a great way to support struggling stores in the moment.
9. Send them money
Nothing's better than cash, really, and who doesn't love free money? PayPal lets you send gift cards, or just shoot them a birthday Venmo, start a Gofundme in their honor if they need serious help, or whatever works. Just be sensitive to their needs and preferences. You could also support them buy buying whatever product or service they're currently creating; every friend will be happy to have support for their music or art or meditation vlogs right now.
10. A magazine subscription

Paywalls are relatively easy to break using incognito mode, but do your older pal who doesn't understand incognito a favor and buy them a subscription to their favorite paper. The New York Times, The New Yorker, The Atlantic, National Geographicand beyond are all great options for digital gift-giving, and they're sure to give your pal all the outraged Trump coverage, totally unverifiable COVID-19 speculation, and oddly moving book reviews your heart could desire.
11. A fun and entertaining ecard
You could always send a free or cheap ecard to your loved one's email for a little extra encouragement and light. Try
American Greetings
,
Punchbowl
,
Paperless Post
,
Blue Mountain's singing ecards,
for example, or just do a little Google searching. Whether you're sending condolences, celebrating a birthday or Mother's Day or just trying to say hi, these are all great options.
12. A personalized video collage
If you're feeling crafty and have some time on your hands, try making a digital photo collage!
Collage Maker
,
Smilebox
, or good old iMovie will all help you bring your vision to life. (Just make sure you use great music and decent photos).
You could also recruit friends and have them send videos to you, then compile them into one large celebration video.
Birthday video for quarantine | Quarantine Birthday | Birthday video for friendwww.youtube.com
13. A joke gift
We all could use a laugh during this time. This will also require you to be sensitive to the recipient's sense of humor and sensitivity levels, but you could always sign them up for a ridiculous email list,
send them a prank email,
buy them a bunch of followers or likes
, or delicately catfish them. (Regarding buying fake followers: We're not advocating for this at all, but it could be your only shot at indoctrinating yourself into your 10-year-old Tik Tok influencer niece's good graces).
14. The gift of your time and love

In spite of all these gifts, nothing ever compares to your time and attention! Give your loved one a call and let them know you're thinking of them, or set up a family or friend FaceTime surprise party, or just reply to your mom's text this Mother's Day, for the love of god. It'll make you feel better, we promise!