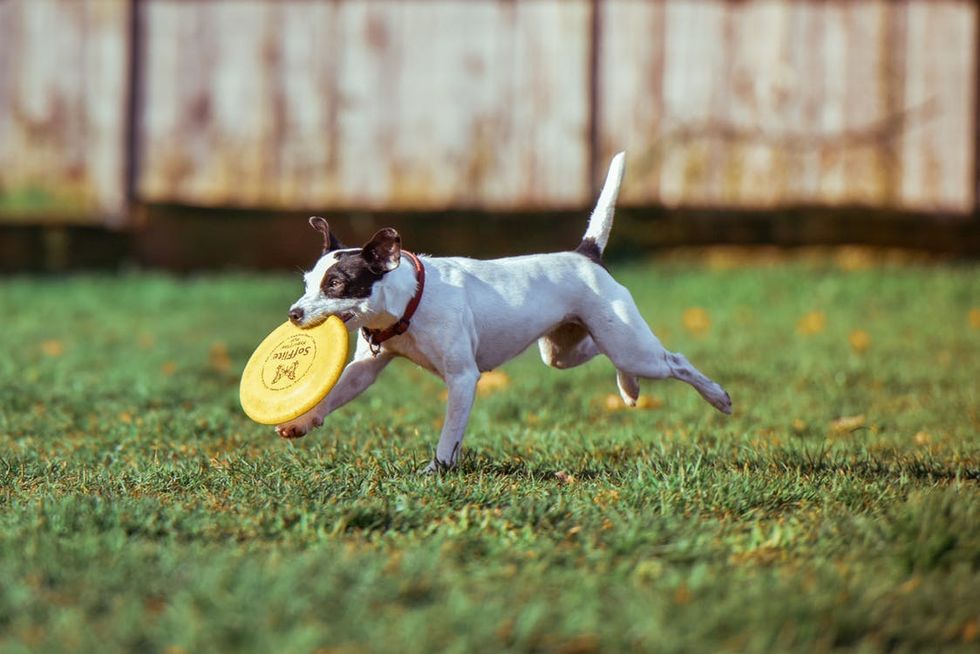 The best springtime dog runs in NYC
Take your "furbabies" out for a great time
Taking the dog out for a walk is fun, but heading out to one of NYC's super cool dog runs makes that special time with the precious pup even more of a treat. Bring your partner, friends, or kids (including the furry ones, of course) to one of these doggone delightful dog runs. Everyone will have a ball frolicking with other canine-loving families and a frisky bunch of playful pups. While I don't have a furry canine companion, I've seen some of these runs and the fun the dogs and owners alike have as they play and pant!
1. Tompkins Square Dog Run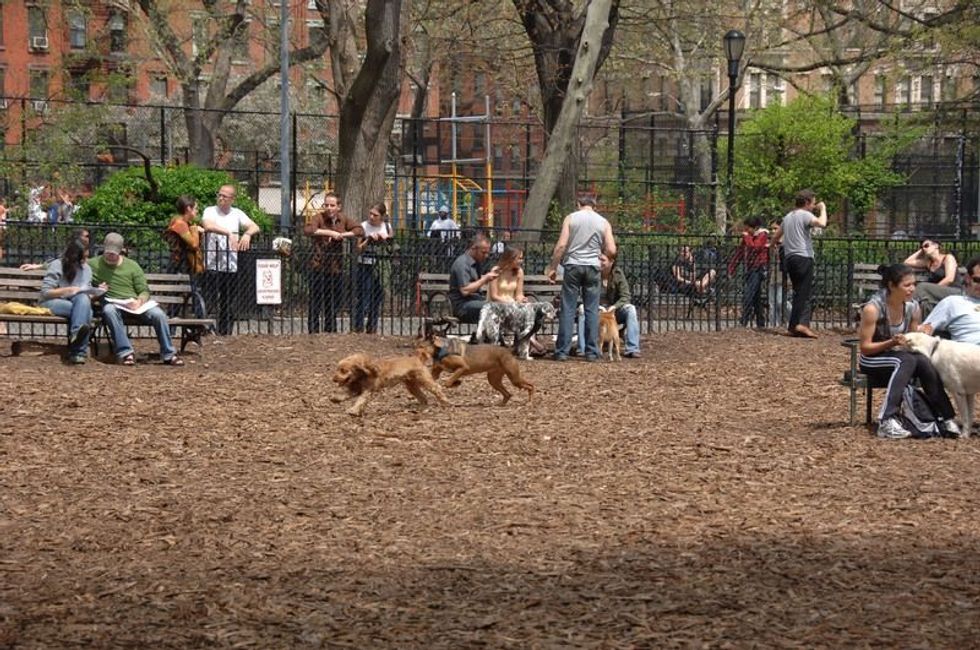 Happy dogs, just chasin' eachother Via nycgovparks.org
Tompkins Square Dog Run is the first and largest run of its kind located in the heart of the beautiful Tompkins Square Park. Funded by dog lovers, this run is kept up to par with a state-of-the-art running surface perfect for doggie paws, an underground drainage system, hosing off areas, and safety amenities. There are two separate areas to keep large dogs and small dogs with animals of their own size. The pups will adore the 3 bone-shaped swimming pools where they can take a refreshing dip when the weather permits. Come Halloween time, the run hosts an annual Halloween Costume Parade where families can dress their furry friends in costume just like the humans do. Let's hope the dogs get some tasty doggie treats as they go trick-or-treating for something that shows "who's a good boy?"
2. Washington Square Park Dog Run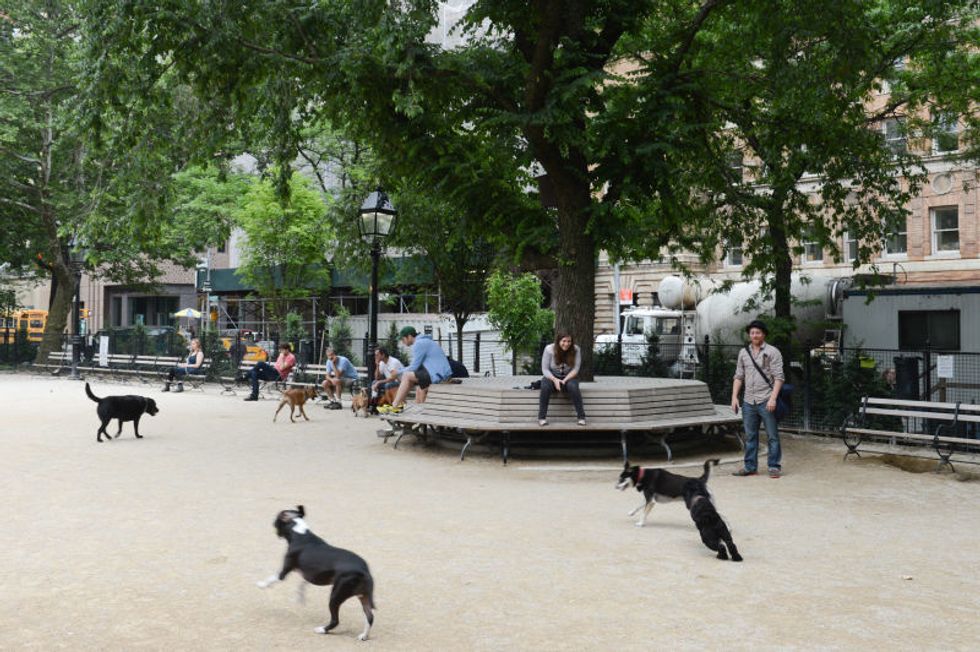 A beautiful park, with plenty of places for humans to hang out, toonycgovparks.org
After a recent $30 million renovation, the Washington Square Park Dog Run is better than ever. The run features a bigger play area for larger dogs and a smaller one for those itty bitty barkers. During special set hours, pets can run unleashed and feel free to mix and mingle. There are low level water fountains for the dogs to cool off after a day of play with a special dirt ground to ensure proper drainage. People can relax on one of the many benches set up along the park's majestic trees and admire all the dogs as they run around. Washington Square Park Dog Run holds an annual Halloween Parade too along with an Annual Dog Run Calendar which features dogs who frequent the run. Wouldn't you just love to see your best buddy as "Mr. July?" Proceeds from the calendar help keep the park running.

3. Canine Court at Van Cortlandt Park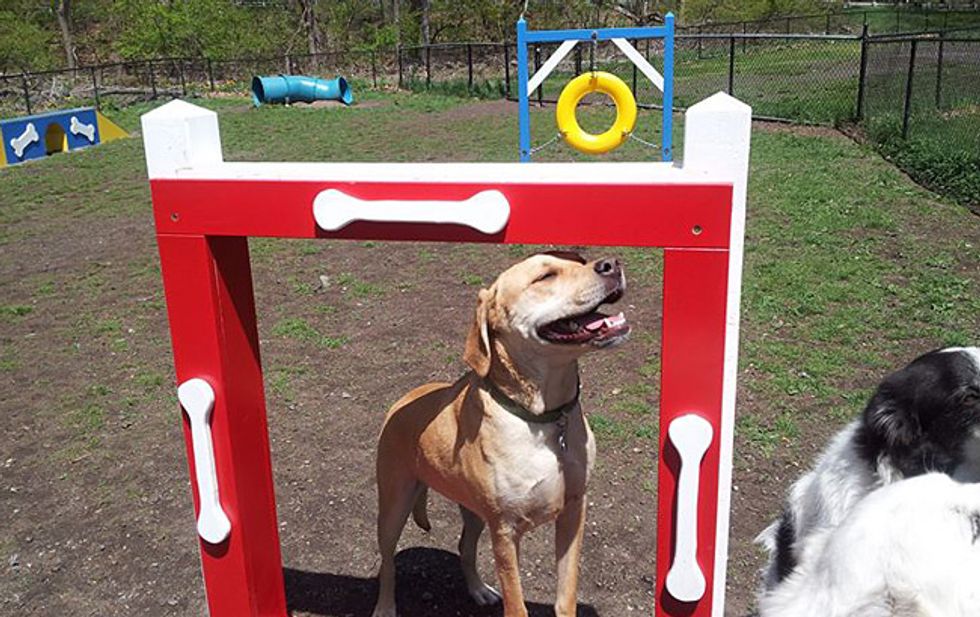 Doggie smilesVia notey.com
Is your dog ready for some agility testing and more than a simple romp around the park? If so, Canine Court at Van Cortlandt Park is the perfect place for your pup. You'll feel like a proud parent as your dog tests out dog-friendly hurdles, tunnels, tires, and teeter-totters. There's also a big open field, 14,000 square feet, in fact, for running until panting ensues. Take time to enjoy a freshwater lake and brook at the park along with playgrounds for the kids (the human ones). This huge outdoor space is the perfect spot to take in some nature while having a tail-waggingly wonderful day!
4. Hudson River Park (AKA Leroy Street Dog Run)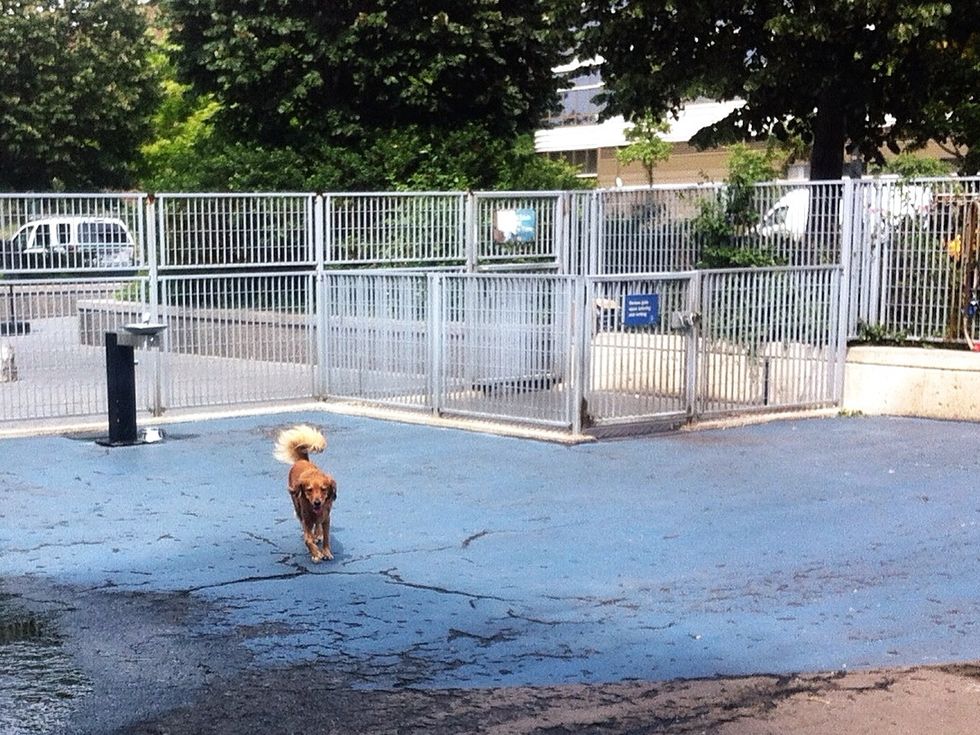 Dog runs come in more colors than green! Via americanstandardadorable.com
Overlooking the gorgeous Hudson River, the Leroy Street Dog Run is the perfect setting for dogs to play with a great view for the humans to admire. There are lots of benches to relax after the dogs have had their fill of playtime. During the warmer months, there is running water for some doggie sips and pools for the dogs to take a splash. Evening visits are a must with the new installation of night-friendly street lamps. You will delight at the sublime waterfront location with 3 other dog runs along the Hudson!
What are you waiting for? Grab that leash and bark to the park!